A business appointment letter is a letter that is written to seek an appointment for the business purpose. Basically, it is a letter that guarantees an employee's job in a particular company. A company gives the letter to a newly selected employee.
Advertisements
It is important to write an appointment letter with professionalism. There are many situations where you need a business appointment letter AS IT IS WELL KNOWN.
When do you need a Business Appointment Letter?
An appointment letter can be used for many reasons. The format and elements will remain same. However, you can a writer for the following situations by following the structure.
To appoint a new employee
To invite a person to your office
To request a person for meeting
To thank you a person
To appoint any high-level executive officer
Business Appointment Letter of Analyst
Business Appointment Letter of Association
Business Consultant Appointment Sample
Sample of Business Development Appointment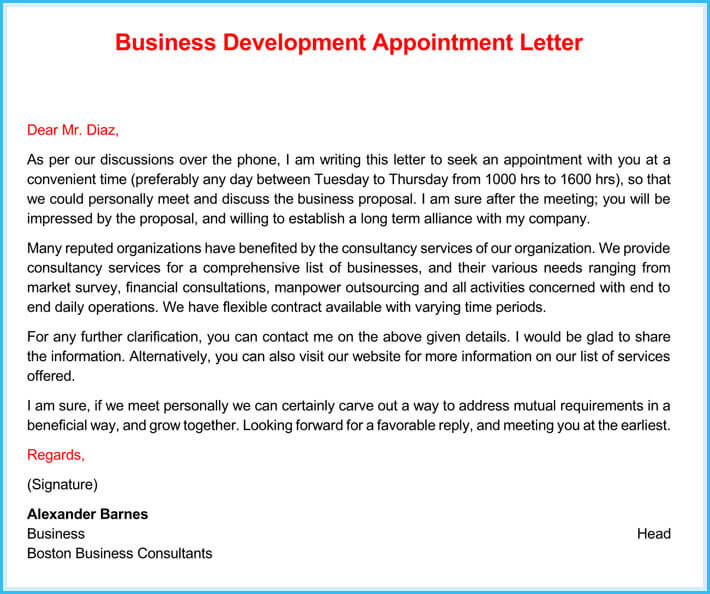 Standard Director Appointment Letter Format
Sample of Chairman Business Appointment Letter
Business Meeting Appointment Letter Format
Business Appointment Letter for Partner
Sample of Business Representative Appointment Letter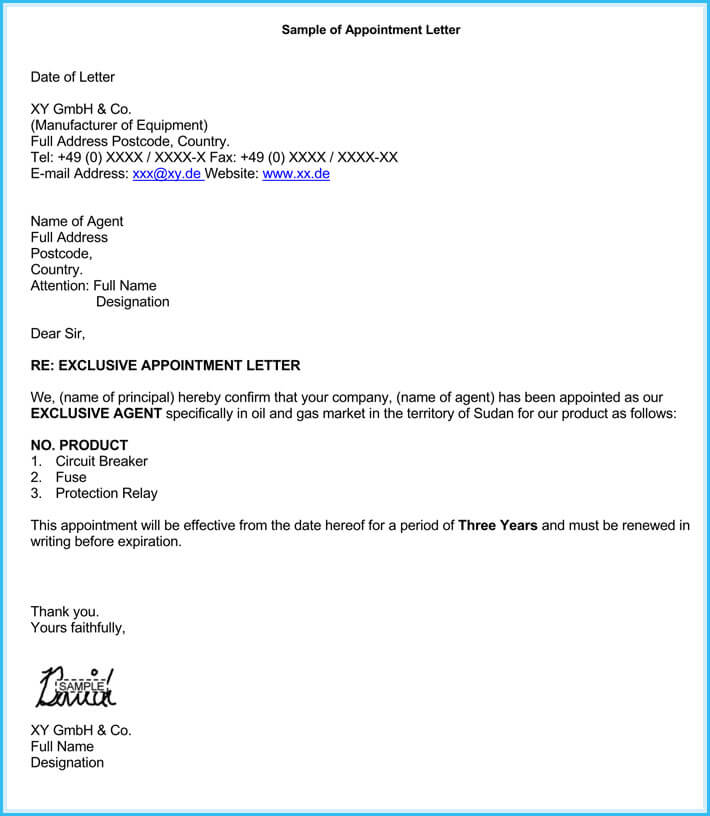 Business Appointment Letter for Rescheduling
Business Appointment Letter Elements
A business appointment letter has many elements. You need to include all the elements to make it a professional letter. In addition, you need to give the information that needed.
Date: It is important to mention a specific date when your reader will meet you. You need to give exact date and time for the appointment of the meeting.
The Purpose for The Meeting: You need to include the reason for the meeting. Why do you want to meet with the person? The reader should have a specific reason to meet with you.
Contact Details: You should always include your contact details. Therefore, the reader can use the contact information to confirm the appointment. You can give your name, address, phone number and email address.
These are the basic elements of the appointment letter. If you want to write a business letter, you should always include the above three points.
Don't you want to write an appointment letter? You can use our business appointment letter examples and download it. We are offering the examples free to use.
You can get the appointment letter examples in MS word and PDF format. You can also edit the information where needed. Therefore, it will save your time to type a letter and send to another party.
Dos & Don't While Writing a Business Appointment Letter
Be Specific & Clear: You need to be specific when writing an appointment letter. You need to write in precise way and clear all confusion.
Be Professional: Your appointment letter will present your professionalism. So, you need to write it according to the format and follow a protocol.
Follow a Sample if Needed: If you don't have any idea how to write a business appointment letter, you can manage a sample. We have many examples that you need download and use as sample.
Don't use Informal Words: It is a formal letter to another party. So, you should not use any informal or rough words. You should give respect to another party.
Conclusion
Now you have the business appointment letter examples and other information to write yourself. So, you can see the example and write an effective letter for an appointment. Make sure you follow our examples' format to keep it professional.