An internship appointment letter is a formal confirmation of an internship position that has been accepted by the addressee. This letter is often part of a package of documents that give the intern further information about the program they have signed on to, but the appointment letter is just as likely to be sent on its own as a courtesy.
Advertisements
The importance of an internship appointment letter varies according to the means by which the internship has been accepted but should always be issued to the successful candidate for their records and as written confirmation.
Sample Employer Internship Offer Letter
Internship Confirmation Letter Sample
Company Internship Offer Letter Format
Sample Intern Appointment Letter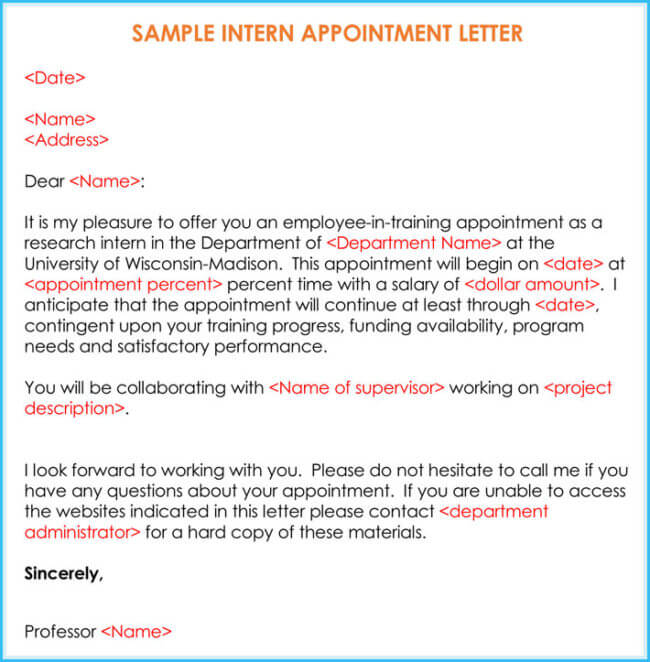 Volunteer Internship Appointment Letter Template
Sample Internship Appointment Letter
Unpaid Intern Appointment Letter Template
Reasons to use an internship letter
An internship appointment letter is a crucial resource for any internship program. Businesses and organizations that offer the ability to learn and gain experience need to provide those learning from them with documentation for a variety of reasons but not least is so that a potentially valuable candidate does not make alternate arrangements or taking another internship, costing you time and money in selecting a new candidate.
Internship programs can be a great resource for a thriving company but they are not something that many businesses can afford to spend a lot of time and money on administrating, and that is where a great sample comes in handy. Rather than spending valuable time fine tuning your appointment letter to successful candidates using a tried and tested format derived from a quality sample can make the task quick and painless.
Tips for Writing an Internship Offer or Appointment Letter:
Do: Let the candidate know that they have been successful on the basis of their merits.
Don't: Disparage other candidates in your correspondence, whilst the successful candidate was likely superior, commenting on the potential in competencies of other candidates is very unprofessional.
Do: Present your appointment letter in a way that is both appealing and professional.
Don't: Clutter your letter with unnecessary graphics or information, stick to the relevant information for the sake of clarity.
Do: Give your new intern a point of contact within the organization.
Don't: Give your new intern the contact details of anyone within the organization not associated with the internship program.