Various kind of letters comes to mind when the word letter is mentioned. However, in this particular article, we will be covering the most important one of all which is a job appointment letter. A Job appointment letter can be defined as a formal written document which is directed to an applicant who has shown interest to a particular position in a company and has qualified in all levels of assessments.
Advertisements
Each time a company needs a person to fill a vacant position it calls for qualified applicants to send their applications. After receiving applications, a group of shortlisted applicants is then called for an interview, and depending on the kind of company/position it can be one or more interviews. After all these processes, the qualified candidate[s] will be issued a job appointment letter.
Sample of Job Appointment Letter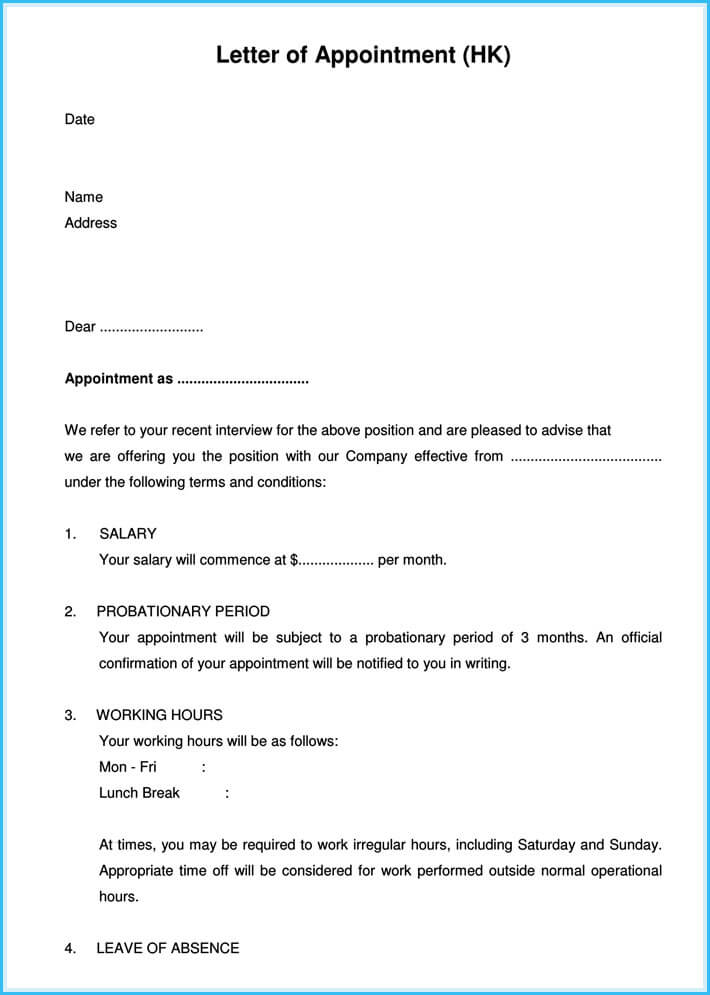 Request for Job Appointment Letter Template Format
Appointment Letter for New Job
Sample of Job Interview Appointment Letter
Job Offer Appointment Letter Format
Confirmation Job Interview Letter Sample
Sample of Job Appointment Letter for New Employees
Elements of a Job Appointment Letter
A professionally written appointment letter usually includes all the information one needs to know about that particular position, this includes important elements like;
Job Title
The official employee's title for that particular position.
Commencement Date:
It is very important for the letter to clearly inform the candidate of the starting date and time in order to avoid all possible misunderstanding.
Salary:
The salary for the appointed candidate is usually stated clearly in the job appointment letter and the mode of payments, frequency of payments, this will be important for the candidate to analyze and accept or open a room for negotiation if there will be any.
Conditions:
Here are included all the rules to abide within that particular position, this can be dress codes, punctuality and all other kinds of conditions required for the position.
Other Compensation:
These can reward that will be provided by the employer when certain targets are met, such kinds of bonuses or compensation will also be listed in a job appointment letter.
These elements and more of others like vacations, benefits will all be outlined in this particular document.
Writing a job appointment letter can be an overwhelming and tiresome work to do, particularly for one who is busy and needs no time to waste preparing this kind of documents. This is why it is crucial for you to use templates as examples which will guide you to prepare a professional job appointment letter. For this reason, I have set aside time to prepare well-written formal job appointment templates in word and PDF format which I provide for free on my website, in order to help those of you who have no time to waste trying to construct a formal and professional job appointment letter from scratch.
We have seen some of the things that should be included in a job appointment letter but we have to also understand that there are things not to include in the job appointment letter, it should be not that this kind of letter only invites the candidate to the particular position but it's not the final document for the employee.
Conclusion
There is still yet a contract which will be signed afterward,therefore all legal formalities will not be included in the letter instead they will be found in the contract. You should speak or call the candidate before issuing this letter because this will make it seem more enthusiastic and personal so avoid sending this letter without direct communication with the candidate.