Proper analysis of stakeholders is crucial in the success of your business and projects. This assessment will help you determine the position of your pertinent parties with regard to your operations. Unfortunately, the process can be difficult because the interested individuals and businesses have varying levels of power, influence and interests. Therefore, consider using a stakeholder analysis template for reliable results on the importance of your stakeholders.
Advertisements
Identify Your Stakeholders
When preparing your analysis template, it is crucial to identify and list your stakeholders. These parties are individuals or businesses with interest in your company or projects. In simple terms, your list can include parties such as clients, chairpersons and investors.
Draw Your Template
Once you have established the list of stakeholders, draw a chart on paper or a virtual pad. Ideally, you should draw a large box and then make four equal divisions. These four quadrants should be divided again, each into four parts. This means that your stakeholder template should have sixteen boxes.
Label the Matrix
Next, you should label the created matrix appropriately for actual use. On the y-axis or the vertical side of the chart, you should tag it as 'power or influence of the stakeholder'. On the horizontal or x-axis, label it as the 'interest of the stakeholder. For better results, you should also label each box from the left and bottom using No, Little, Some and Significant Interest or Power.
Organize Your Stakeholders
Obtain your list of stakeholders and organise each of the parties into the boxes, according to their level of importance and interest in your project or business.
Analysis
Finally, you can use the results indicated by your stakeholder analysis template. The stakeholders in the quadrant in the upper right corner, which indicates both Significant Power and Significant Interest, are the Key Players. You should also show different levels of considerations to other stakeholders, depending on the indicated importance. You may also like to see risk analysis template.
Below are some useful samples to help you accomplish your analysis tasks with more efficiency.
Stakeholder Analysis Template for Word,
Stakeholder Analysis Template for Excel,
Stakeholder Analysis Template Free,
Stakeholder Analysis Matrix Example,
Stakeholder Analysis Template Doc,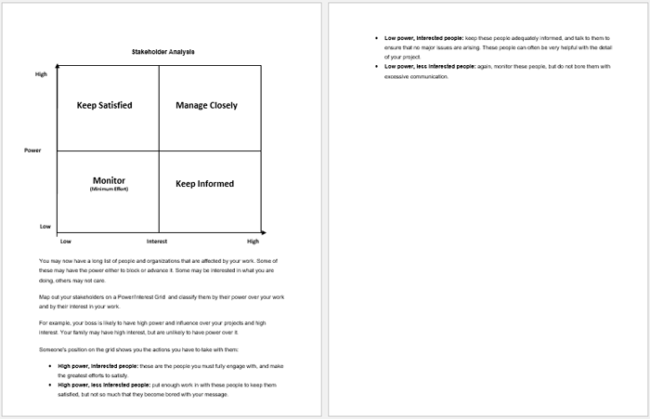 Stakeholder Analysis Spreadsheet,
Stakeholder Analysis Template (Project Management),
Project Stakeholder Analysis Template,
Six Sigma Stakeholder Analysis,
Sample Stakeholders Analysis Spreadsheet,
Stakeholder Map Template,
Stakeholder Analysis Definition and Template,