SWOT Analysis Template – Next time you have an important decision for a business or project it might be a good idea to do a SWOT Analysis before you make a decision and proceed. 'SWOT' stands for 'Strengths', 'Weaknesses', 'Opportunities' and 'Threats' and it is a framework that helps you plan and think strategically by ensuring that there are no 'blind spots' that you discover later on.
Advertisements
'Strengths' are the things that give you an advantage.
'Weaknesses' are the things that put you at a disadvantage.
'Opportunities' are the things that you could exploit to your advantage.
'Threats' are outside elements that could give you trouble.
Creating a SWOT Analysis Template is simple and you start by creating a 2×2 table with 'Strengths' and 'Opportunities' on the left side and 'Weaknesses' and 'Threats' on the other. In this way, you can compare each element side-by-side. Sometimes you will enter information into a box that cannot be directly compared with information from another box but that is not a problem; the SWOT Analysis is also recognized as a great information gathering tool.
A SWOT Analysis Template is important because it makes you stop and consider what your business objective actually is, how attainable it is and what obstacles you need to overcome. This analysis can be used as a planning tool for the immediate future as well as for long-term business planning. It can be used multiple times to evaluate different objectives for the same business/project or the same objective for different businesses/projects.
Here are a few samples to help you with your tasks:
SWOT Analysis Template for Excel,
---
SWOT Analysis Template for PDF,
---
SWOT Analysis Template for Word,
---
SWOT Template for PowerPoint,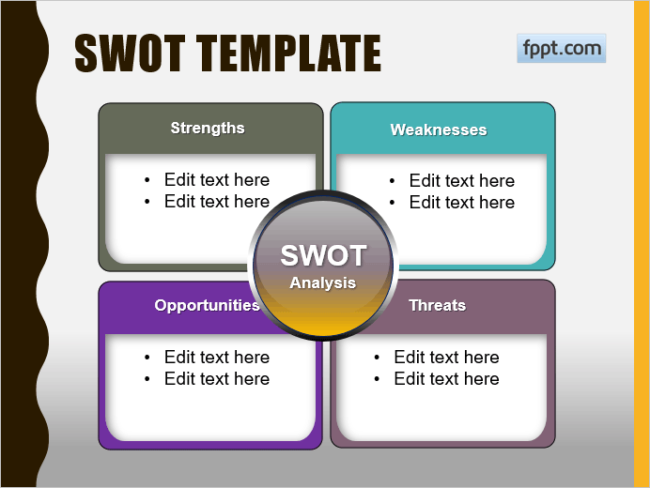 ---
Blank SWOT Analysis Template,