This is a short letter written by a landlord with reference to a tenant who resides on their premises. The purpose of this letter is to provide information to any interested parties that the said tenant is an occupant of the said premises and remits payment with regards to the rental agreement. This document is used to ascertain the credibility of the tenant to third parties.
Advertisements
Uses of a Tenant Reference Letter
This document is normally requested by many institutions which need to make sure that the subject is someone who can be trusted or relied upon. There are a number of situations where this document might be required, they are:
When a person is looking to enroll their children or wards in a new school. In this case, a tenant reference letter might be requested by the school to confirm that indeed the subject resides within the school district.
When a tenant is applying for a mortgage. In this case, this document will be used to prove that a subject is a reliable person who can be trusted to remit payments on time and without fail.
When the tenant intends to move. In this case, this document will speak to the character of the subject, their relation with neighbors and of course their ability to honor the terms of the rental agreement.
Samples
Tenant reference letter samples are readily available all over the internet. All one needs to do is to open a search engine and key in tenant reference letters. A number of websites will be listed that are offering samples and templates. In the case of samples, you just look at the composition and write something similar. As for templates all you have to do is download them and replace the relevant details.
Sample of Reference Letter for Landlord from Friend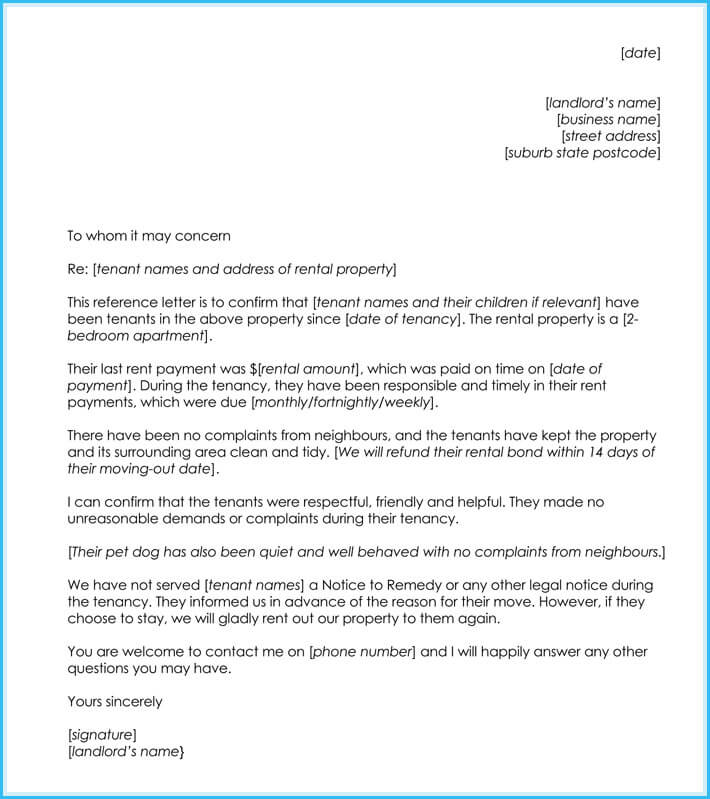 Sample of Reference Letter for Landlord From Employer
Sample of Landlord Letter to Tenant Proof of Residence
Sample of Landlord Reference Form
Sample of Landlord and Tenant Relationship
Elements of a Tenant Reference Letter
This reference letter is usually prepared with a number of elements to be considered. First and foremost, this letter should be written with a pleasant tone and should only speak the truth and stick to the facts. The elements that should be in this document are:
The names and address of the landlord; this is just in case there are follow up questions.
The names and address of the recipient: this ensures that the intended party is reading the letter.
The names of the tenant; this is written as a reference subject.
The Body of the document; here the writer mentions the address and location of the rental unit, whether or not all the payments are current and up to date and finally speaks of the character of the subject.
Salutation; Here the writer puts down their name and signs the document.