A Certificate of Completion is given to someone who has accomplished a specific task. The purpose of giving this certificate is to acknowledge the efforts made by that person during the process of doing a particular task or assignment.
The skills gained by that person are also mentioned to use this certificate as proof in his/her future career.
A certificate of completion acts as a source of motivation for students or any other person who has achieved it after having a specific skill set by getting training either physically or online.
It acts as solid proof by which the skill gained by a person becomes accredited. Moreover, students or any other person would always choose to get a training course from that institute or organization that offers a certificate of completion at the end of training sessions.
The educational achievements are not mentioned in the certificate of completion. However, it can be given to a student for performing greatly in a particular event. Some states prefer to give these certificates to students who cannot perform better in education but have mastered a particular skill.
The certificate of completion can add quality to the CV of a graduated student who wants to get a job and cannot be used for getting admission for higher studies for which a school/college degree is required. On the other hand, professional persons can use this certificate to be promoted to a higher post in their organization.
Why is a Certificate of Completion Important
Both giving and receiving certificates of completion have their own significance. Every organization needs to give these certificates to all the persons who enrolled for their particular training sessions. It shows your willingness to help an individual in their career, and they also get impressed by your regard for them. In this way, a certificate of completion can help organizations grow, and students can get help by showing proof that they have a particular skill.
Some of the reasons that depict the importance of a certificate of completion have been discussed below:
Boosts engagement and motivation
Suppose a student or other person is searching for a training session to improve their skills. In that case, they will automatically get interested in training from that institute, which will provide a certificate of completion at the end of training.
In this way, students will be motivated to take all the sessions with total concentration and not leave them incomplete. Ultimately, students view it as a chance to strengthen their portfolio by enlisting another skill for which they have a certificate.
Helps track performance in training courses
You can keep a record of the number of students who have completed the training course from your organization. The number of people who left the course before completing it can also be traced by the number of certificates of completion provided to the participants who completed the training course. It will help the organization check its progress, and appropriate steps can improve its performance.
Some companies also provide training to their employees to polish their skills for performing better in their careers. For this purpose, they hire those organizations that can give practical training to them.
TIP: The certificates of completion can be given to the employees or students in printed form or sent through email.
Helps provide verifiable training
Offering a certificate of completion shows the credibility of your training sessions. People will also show their trust in your organization because they know that your company's certificate will be recognized by the other companies they would apply for a job. It will also help in developing a professional image of your company.
As a result, more firms and organizations will reach out to your organization to provide training to their employees.
P.S: Providing a certificate of completion goes equally suitable for the companies who provide online training sessions and courses.
Can be used as a criterion for hiring and promotion
Mainly, the companies consider those employees for a specific job position who have learned a skill from a well-recognized organization. The chances of that person being hired are more than that of other candidates.
Some employees may continue to learn more skills and continue their professional careers. These staff members will have comparatively more chances of getting a promotion.
Makes you reflect on your success
When you deliver quality training sessions to the students and all other people who enrolled themselves for the courses being instructed by you, they become successful, which ultimately leads to your organization's success. Furthermore, when students are satisfied with the quality of your courses, they will refer their fellows to get training from your organization.
When more people register with your organization and get the certificate of completion, your organization's name will also be recognized in the job market. In this way, the success ratio will increase, and it will also increase the professionalism of your company's employees.
Incentivizes project/course completion
Different offers can act as an incentive for the people by which they will be motivated to complete the course. For example, when you offer a certificate of completion, students and other people see it as an incentive and get themselves enrolled in the course you offer.
It is not a good idea to offer a free course because, in that case, students do not become serious about actually learning something from the course.
TIP: Mentioning the offer to give the certificate of completion after the course is a worthy offering incentive by which people also get attracted towards your offer.
Incentivizes continuous learning and development
The process of learning can be made interesting by introducing different strategies. You should keep your training sessions and courses updated by introducing all the new updates from time to time because it is the world of technology in which continuous changes are introduced in every sector.
Your trainers should be proficient enough and highly qualified in providing training to all the people. Once a person's efforts get recognized in the form of a certificate of completion, that person will be motivated to continue the process of learning something new. So, making your courses innovative can lead your organization towards a progressive path.
Helps formalize and structure learning
When a person sees the offer of a certificate of completion given by a particular organization, the notion automatically gets developed in that person's mind that this course will be according to a properly structured timeline. Therefore, it will help you make your course aligned with a timeline.
It increases people's confidence in your training course because people become ensured of the authenticity of your training sessions. In this way, people also feel proud about learning a specific skill from your training organization.
Steps to Make a Certificate of Completion
A certificate of completion can be used for various purposes, e.g., in the educational sector; a teacher can give it to a student who has done something extraordinary in many businesses. A certificate of completion template can be created by using Microsoft Word.
Step by step process of creating it in Microsoft Word has been given below, which can help you in making it quickly by yourself:
Go to "File", and select the option "New".
You can choose the 'blank document' or type 'certificate of completion' in the search bar. Different templates will be shown in results that are available online.
You can select one template according to your purpose. For example, fun-loving templates with different colors can be selected if they will be rewarded to any pre-school student, and on the other hand, you can choose to have a formal one for use in the business field.
Click on the certificate template you want to use, and it will show you the preview of that certificate.
Click "Create"; it will install that certificate of completion in a Word file.
You can change the zoom level according to your requirement to see it.
You can edit all the details according to your particular specifications required to be enlisted on it.
Make sure that the font size is not too much large or small. It should be set to suitable font size.
You can customize all the details to make it look different from the original one.
When all the things are set in an appropriate place, go to "File" and select "Save" to get it saved on your computer, you can choose the option of "Share" if you want to send it to the candidate through email, the option of "Print" can be selected if you want to have it in complicated form with you.
You can also select the option "Export", choose "Save as another file type," select the file type from the dropdown menu and then click on "Save".
It will result in a certificate of completion template designed by you to use for a specific purpose.
Certificate of Achievement VS Certificate of Completion VS High-School Diploma
Most people get confused about these three terms, certificate of achievement, certificate of completion, and high-school diploma because they do not know the exact difference between them. There are slight differences between these three types of certificates, but they are significant. So following is a description of these three terms for clearing people's confusion and differentiating them from each other:
Certificate of achievement
All the achievements made by a person during a specific process are recognized by giving them a certificate of achievement.
The person might not have reached the completing point but has made a significant change while doing a specific task.
It can be given to the person who has achieved a specific goal or set a sales target for a particular company.
It can be given at any time of your educational or professional career and is not necessary at the end of your educational or professional career.
Certificate of completion
The certificate of completion can be used as a substitute in place of a high-school diploma. Many companies give significant importance to having a certificate of completion for the person seeking to get a particular job position. The academic qualifications are not a part of this certificate. It is also given on graduation day to students or retirement day. It can be given to them at any education or professional career stage.
High-School diploma
A student is awarded a high-school diploma once he/she has fulfilled the requirements for a specific subject. The terms and conditions of getting a high-school diploma vary from state to state. The period is also different for this purpose.
If a student gets a diploma during his/her study, that student becomes eligible to apply to any college for further studies.
The student who got a high-school diploma can also apply for a job requiring a specific diploma as an eligibility criterion.
It can be given to a student before his/her graduation after he/she has completed all the credit hours required for a particular subject.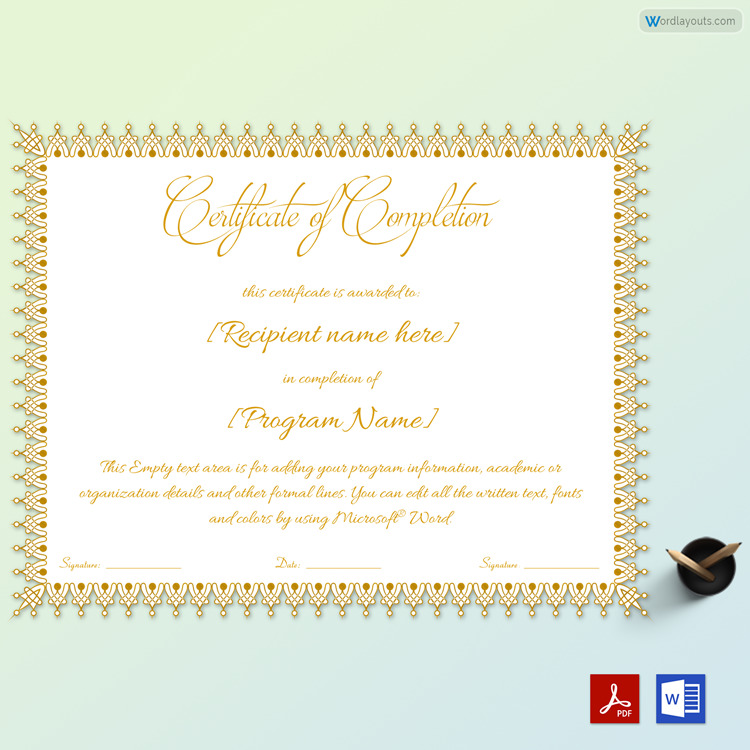 Frequently Asked Questions
What does a certificate of completion do for a student?
The certificate of completion is given to a student after he/she has completed a particular course and gained a new skill from that. The students who performed well and completed the course can be distinguished from those who were not serious about it and left it incomplete.
Students can use this certificate as proof that they participated in a particular training course and gained a specific skill. It can be helpful for the students seeking a job in a way that the employers can get acknowledged the particular skill they have and can prefer them for the job position compared to the other applicants because it will be a distinguishing characteristic between them and other candidates.
What does a certificate of completion look like?
The certificates of completion given by many of the schools resemble a high school diploma. So to not get confused between the two, you should see the certificate of completion template on which different essential information such as the name of the candidate who has completed the course, the name of the organization which has awarded the certificate, name of the course and skill gained by the candidate and received the certificate of completion for, the signature of the authoritative person and the date at which certificate was given should be mentioned.
Is a certificate of completion an award?
Yes, the certificate of completion can be regarded as an award for the person, given to him/her upon completing a particular course and gaining a specific skill. It also motivates the students to continue their efforts and stick to the path of learning new things. As the certificate of completion will be given by a professional company, that's why the achievements of an individual will get a more reliable position while seeking a job related to any field.