An Executive Summary is a short text that summarizes a larger important document like a business plan or a project proposal. In this article, we have provided a how-to-write guide along with executive summary templates, but first, let's comprehend the meaning of an executive summary.
It is comparable to an abstract in the academic world or a summary at the back of a book. It should tell you everything you need to know about the whole document (the journal article, the novel, your business). However, an executive summary doesn't just give you a teaser; it's much more condensed and should include all essential information about the business or project proposal.
The executive summary is what investors or potential business partners read to decide if they want to move forward with your idea. And most importantly, since investors typically don't have time to read every lengthy business plan they receive, they want executive summaries that are short, concise, and persuasive.
Typically, an effective executive summary will include a short section that explains and justifies your idea. Then, it will give background information relevant to your proposal and also deliver a concise analysis, followed by a persuasive conclusion. When creating the summary, it is vitally important to keep in mind who your investors are; think – how can you convince them that your idea is worth investing in?
Free Executive Summary Templates
If you need help making an Executive Summary, you can download free executive summary templates or samples given here to get a better understanding of what it should look like to get you started.
Following are some free downloadable executive summary examples for you: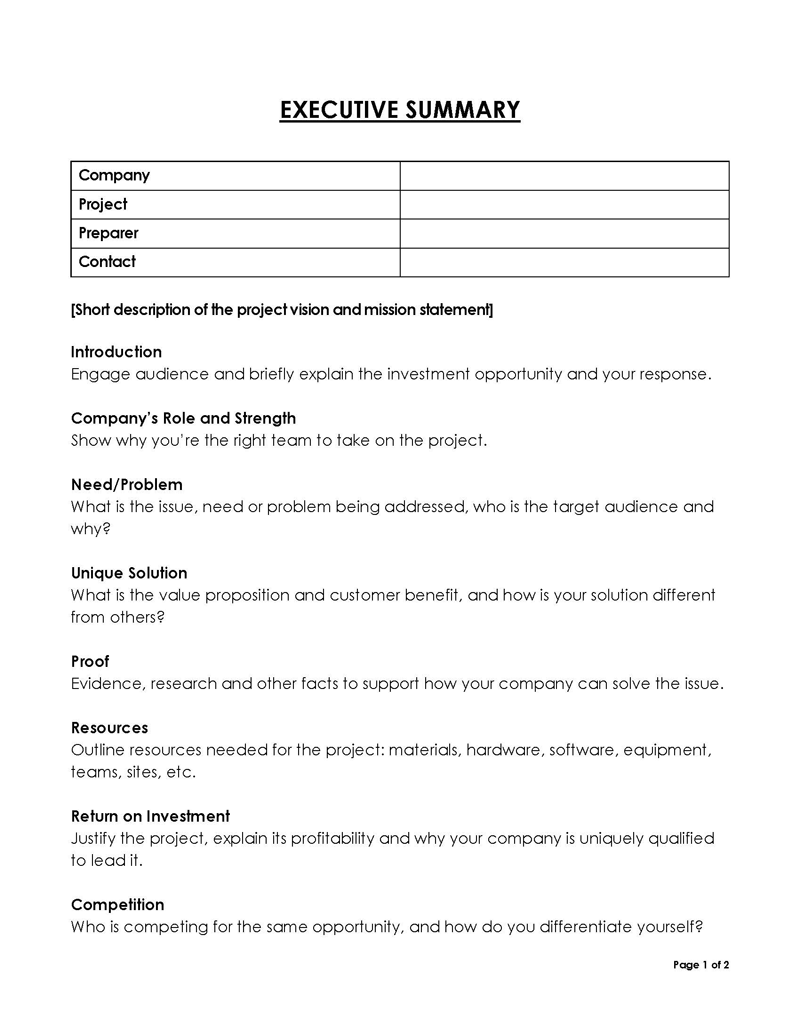 Difference between Executive Summaries, Pitch Decks, and Business Plans
As mentioned above, the executive summary is a much more condensed version of your business plan that is meant to persuade. It should contain everything essential in your business plan, but it should be quicker to read to get a good understanding of your project before diving deep into the details.
However, your business plan is a fundamental document that contains all the information about how you plan to achieve your goals. Nothing should be left out here. If an investor has any questions about your project, they should find the answer here.
Pitch decks have become more and more popular in recent years. They are similar to executive summaries, but they're much more visual in presentation. Here, the extra effort into the visual component aids in really selling an idea. In fact, pitch decks are slowly overtaking executive summaries in some ways.
But that's no excuse to not write an executive summary. You will often come across investors or potential partners that prefer a good, old-fashioned executive summary. Therefore, it is advisable to be prepared for different scenarios and different investors' needs.
How to Write an Executive Summary
Now that importance of the executive summary has been addressed, it's time to go over what is necessary to include. You'll want to include everything in your business plan but in a readable format.
The best way to write the executive summary is to get together all the information you need. Draft up all the most important information that you want to include before beginning the writing process.
Here are the five main categories of an executive summary:
Business overview
As you might have guessed, the most crucial piece of information on the executive summary is an overview of the proposal or business. You'll want to include some details without overwhelming the reader. In other words, clearly describe it so that someone who is not at all familiar with the topic immediately understands it. Unless you have an especially technical proposal, your business overview should be easily read and understood by a high school student.
Sell your idea
It is vital that you include all the information about the market you're going to be selling in. You need to prove that you've done your research about the target market, the competition, as well as your marketing strategy.
Therefore, first, you need to identify your target market and explain why your business will be needed there. Second, you should locate any competition you'll have in this market. Again, you'll need to describe why your business will do better than the competition. Finally, describe three key points to your marketing strategy. Stay concise and precise here, pointing out your three strongest strategies to keep your investors interested.
Operational highlights
You have an idea and a goal; you have target clients, but now you need to show what you will actually be doing to accomplish these goals.
For example:
Do you already have management positions lined up? Who is going to be on your team? It would be best if you justified the why behind your organization and your plan for day-to-day actions.
Forecasting
Include a clear financial projection. How much return will investors see you make? How did you calculate these numbers? This is a crucial section to reel investors, but the numbers must be realistic, clear, and justifiable.
Investment needs
Finally, the reason why you're creating this executive summary. You need to explain to investors exactly how much you need to get this plan on its feet. Be honest and realistic. Include specific numbers and connect them back to your financial forecasting. What does the timeline look like? How long will it be before your potential investors or partners see a return on their investment?
More Executive Summary Examples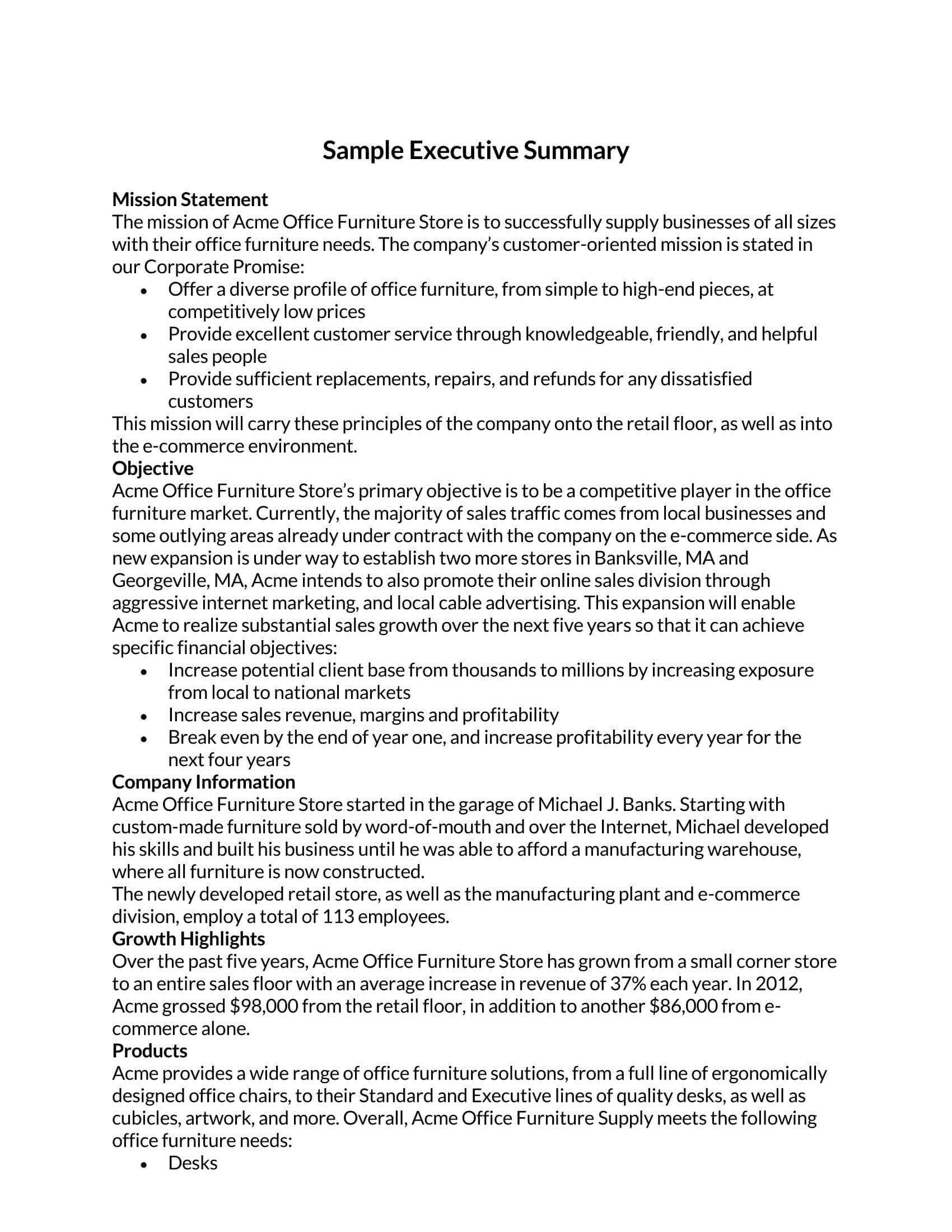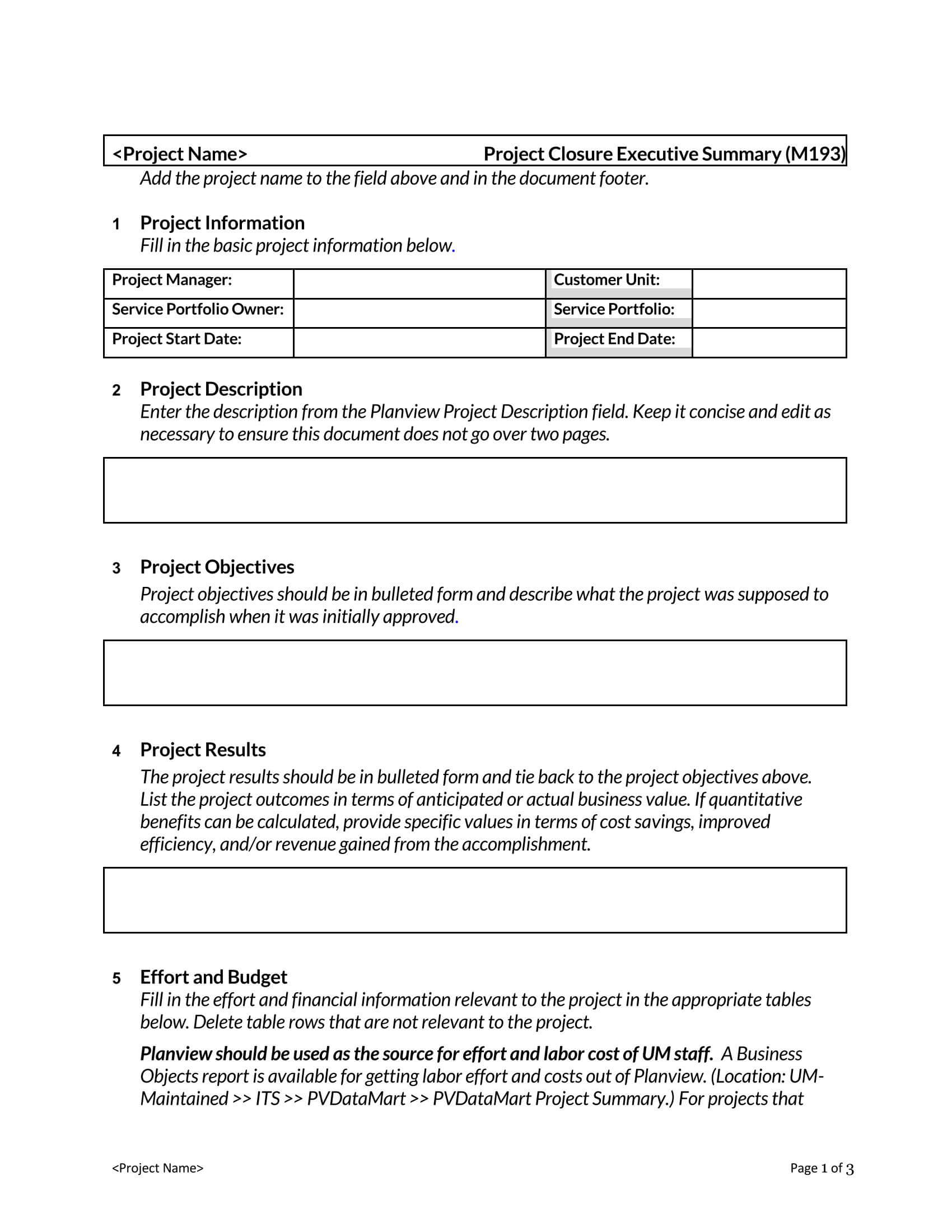 Elements of Executive Summary Template
Now that you have all the important information together, you need to compile it effectively. In general, most executive summaries will follow a similar format. This executive summary template is designed to include short, concise paragraphs that reflect your business plan.
The elements of the executive summary template are as follow:
Summary
Table of contents in the form of bullet list
Company description
Company's role and strengths
Market Analysis
Organization description
Management team
Product line
Marketing plan
Funding request and use
Financial projections
Analysis of a problem or proposition
Possible solutions and their justifications
Clearly defined conclusions
As you can see, all components of an executive summary template fall within the five categories discussed earlier. First, you want an enticing summary on the first page, and then you can have a bulleted table of contents to organize the rest of the executive summary. Don't forget, one of the main goals is readability.
Afterward, you can describe the company, its roles, and its strengths. It would be best if you answer the question "What is this company and what can it do?". This will naturally transition into market analysis. Here, you can show that you've done your research. How do you know that your company is going to do well in this specific area?
Then you should go into some details about the internal aspects of the company. The organization, the people, the products. This is a great place to show off that you've planned everything really well, and you've assembled (or will assemble) a team of professionals who will help you achieve the company's goals.
And, of course, the numbers section. If you're going to be requesting money from investors, then you need to be clear and up-front about it. Describe precisely how much you need, why you need it, how this money will help you when your investors will see a profit, and justifications on your calculations. For many people, this section can be uncomfortable or challenging to write. The best advice will be to be clear, honest, and then calculate well.
Finally, you'll want a short section at the end that will address any possible issues and how you will overcome them. Think of this as the FAQs portion of your executive summary as shown in the executive summary template. Show your investors that you've thought ahead, and you know what barriers you need to overcome. Afterward, conclude effectively and convince them that your proposal is the one they've been looking for.
Tips for Writing a Good Executive Summary
Before you start typing away, here are a few tips to keep in mind to ensure that your executive summary stands out:
Be concise
Most reputable sources suggest keeping your executive summary between 1 and 3 pages. So that means you need to include all that information in a short space. So when you're writing, don't just lower the font size. Instead, choose your word carefully, write short paragraphs, and try to keep them in the same order as your business plan.
Avoid over-inflating projections or claims
When writing an executive summary, it is crucial that you're being honest as investors are not easily fooled. They've likely been in this business for a long time, and they'll recognize fake claims immediately. And secondly, if an investor thinks they can't trust you to make an initial projection, they won't trust anything else you've said. So make an excellent first impression and be realistic.
Write it last
This should be the last step of the process. After you have done all the planning and calculations, then you can write down your executive summary. Not only will it be easier to write at the end, but it will also be more genuine.
Capture reader's attention
Here, you really want to fine-tune your writing skills. It will help if you grab your reader's attention with it. Potential investors might be reading dozens of proposals and executive summaries a day, so you want to make yours stand out! Therefore, you should capture the audience's attention right at the beginning, so they want to continue reading your executive summary.
As you write, don't forget that you need to inspire your readers (your investors) to want more from you. By the end of the summary, they should feel like they just read an amazing cliffhanger in a book. This is because even though the summary is detailed and complete, there should be some finer minutia that is left out, leaving your investors encouraged to read the entire business plan.
Make sure you summary stands on its own
It needs to be a fully complete document that needs no explanation. If an investor reads your executive summary and needs clarification on something, it probably isn't an effective summary. Make sure the summary alone is enough to explain your business thoroughly.
In other words, the structure of your summary should be self-sufficient. It should include a descriptive introduction, a concise body, and an engaging conclusion. This will keep your readers intrigued and will simultaneously allow someone who has no previous knowledge of your industry to be able to comprehend the fundamental goals of your business.
Directly align your summary with your plan
The organization is key. Since your summary will be a reflection of your business plan, make sure everything aligns up properly.
Include supporting research
This will help with the credibility of your executive summary. Show your investors that you didn't just pull numbers out of thin air. Show them that you've done your research and you know what you're talking about.
Write an interesting introduction
Just as a regular person may decide not to continue reading a book after a boring first page, the same process can happen with investors going over a boring executive summary. Studies show that people decide whether to continue reading or not based on the first six words, so make yours as engaging as possible.
Stay positive
This might seem pretty obvious, but you want to convince your investors that your idea is great. So to do that, you need to maintain a positive tone throughout the summary. Of course, you can mention possible obstacles, but you should also only be talking about them to emphasize how they won't stop you from accomplishing your goals. Don't complain about potential problems, but instead, highlight your resiliency and problem-solving skills.
Note: You don't need to over-inflate any details, but you want to demonstrate that you are a great leader who believes in their proposal.
Use appropriate language
The first thing you should always think of when you are writing is: consider your audience. Who will be reading your executive summary? If your investors are highly knowledgeable in a given field, then you can use more technical terms. But if that's not the case, then don't weigh them down with hefty language that will only confuse them.
Word choice, tone, and overall language register are significant when writing anything, not just an executive summary. But if you want to get people to continue reading and spend money on your idea, then you definitely should take the time to re-read everything.
Add relevant information
It all comes down to writing a concise executive summary. Don't add anything unnecessary or irrelevant to the task at hand. Of course, in the end, it's a great idea to add any additional information that wasn't included in the template provided. But throughout the writing process, you should be asking yourself – why do I include this information?
If you have a clear, immediate answer to that question, then you're probably good to go. If not, maybe you should reconsider.
Proofread
This is one of the most important, albeit often overlooked steps. Always double-check for the content and style. There still are some companies that prefer a more conservative business style, but in general, a touch of casual tone is well received. Your register shouldn't be informal, but you also don't want to sound like you're writing a letter to a king. So in order to avoid sounding outdated, write using a style that is equivalent to the way you would speak to a business associate: polite, respectful, but not pedantic.
Your writing is an investor's first insight into your business. This means that if your summary is full of small typos, clunky sentences, or grammar mistakes, then they will believe you don't have an eye for detail. First impressions are everything, so make sure you do everything you can to avoid preventable errors. It's recommended to get someone else to look over your work, preferably a copy editor.
At this stage in your business, executive summaries may seem like a nightmare. And a poorly written one is just that. But, if you don't take the time to create a compelling and concise executive summary, you won't have much luck with investors.

That being said, it doesn't have to be such a painful process. This article includes everything you need to craft a strong, purposeful executive summary that is bound to get you the investors you need. So make sure you keep this article on hand before you begin writing.