A Graduation Speech is also known as a Commencement Speech. It is a speech given by a graduating student in university, college, or high school on behalf of the graduating class to fellow graduates, guests, parents, family members, and teachers. In this article, we have provided you with a how-to-write guide along with professionally crafted graduation speech ideas and examples. But first, let us understand the importance of it and a brief overview.
A graduation speech involves all your experiences as a student, discoveries, and skills then summarizing it into a speech in a creative and informative way. A student may choose to have a long or short graduation speech. The most important part is to ensure you deliver the intended message effectively.
This speech is important as it marks a significant transition in your life as a student by celebrating your educational achievements.
Since you will have a diverse audience, your graduation speech must relate to everyone in the crowd. With this article, you will learn the structure, themes, and types of graduation speeches, as well as the tips to write a compelling speech for graduation.
Graduation Speech Examples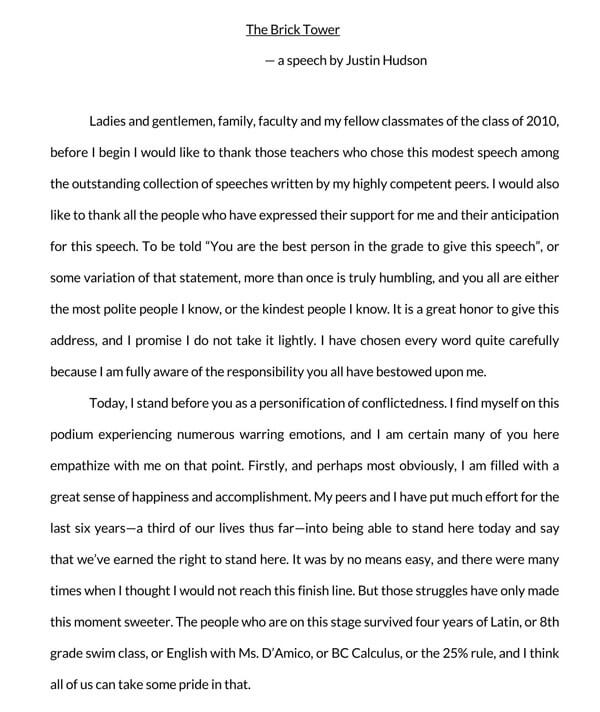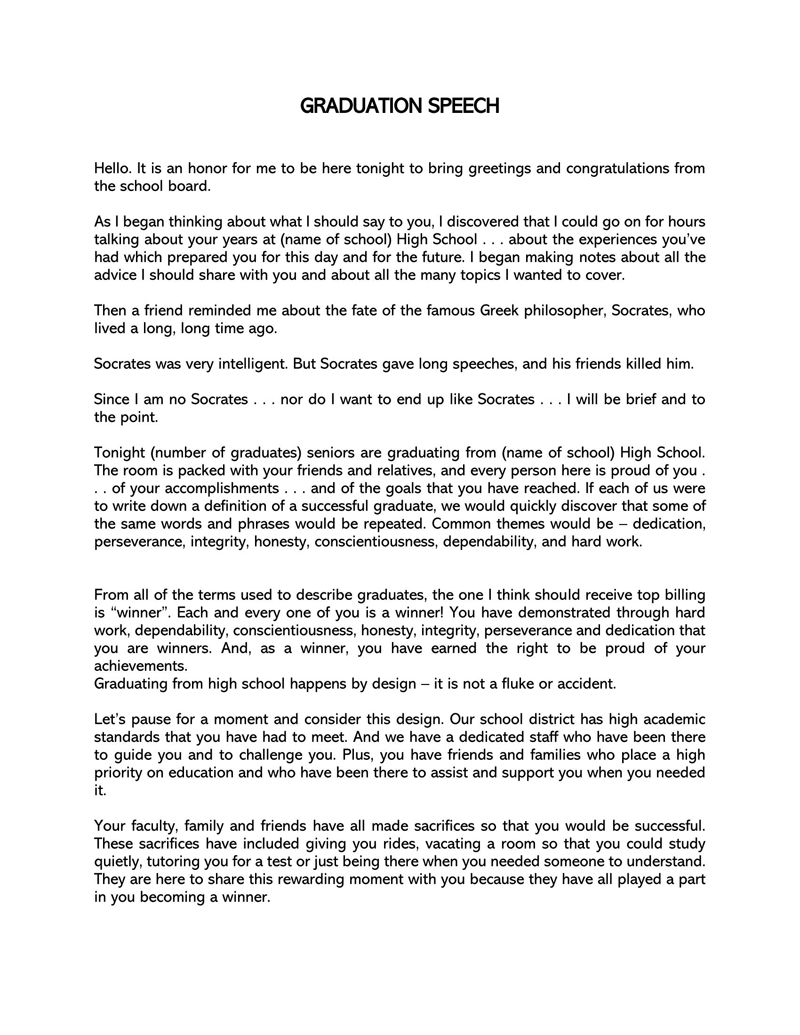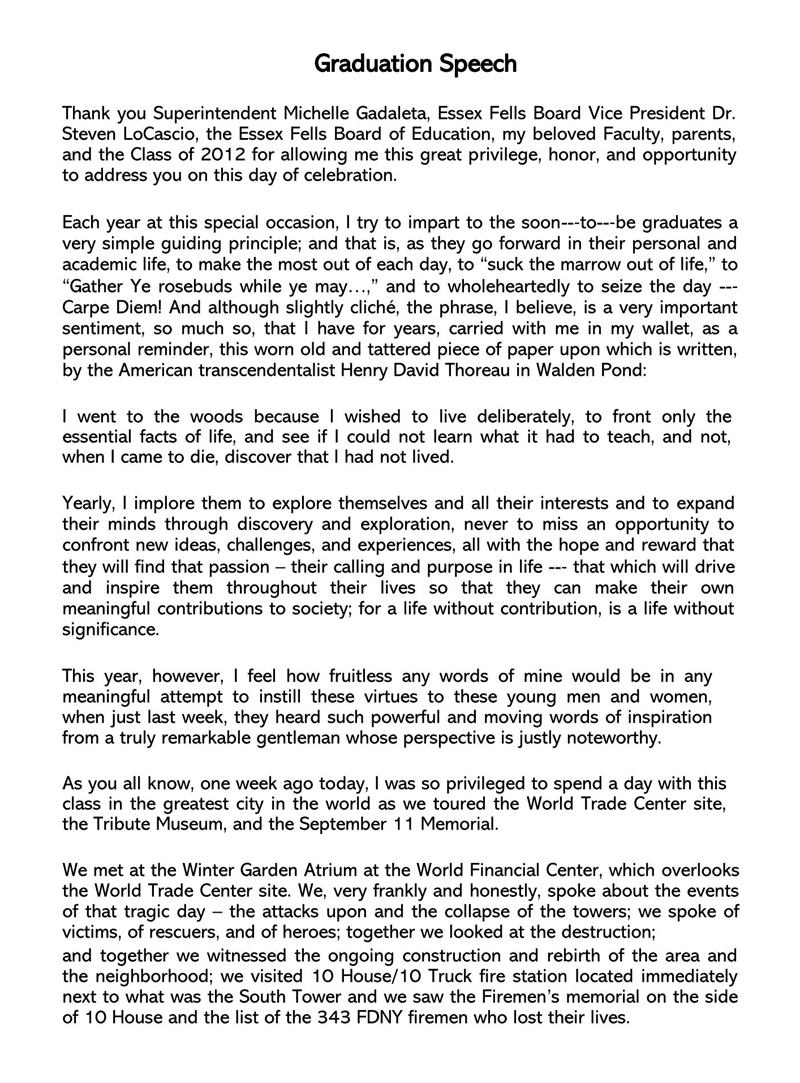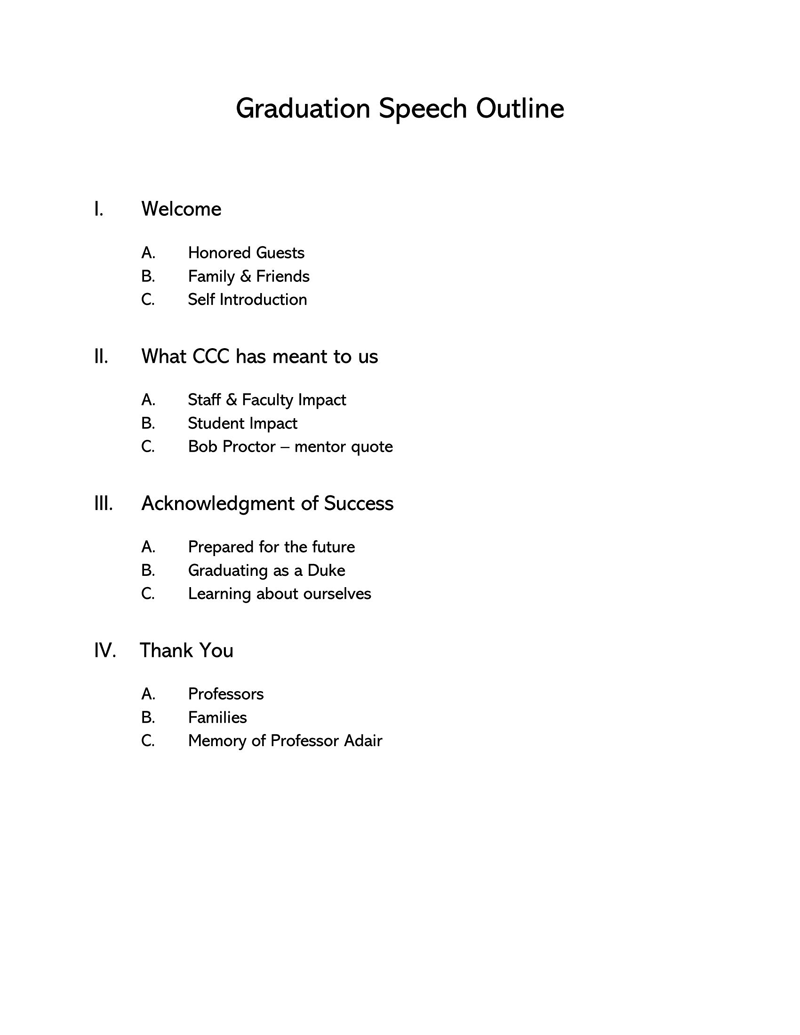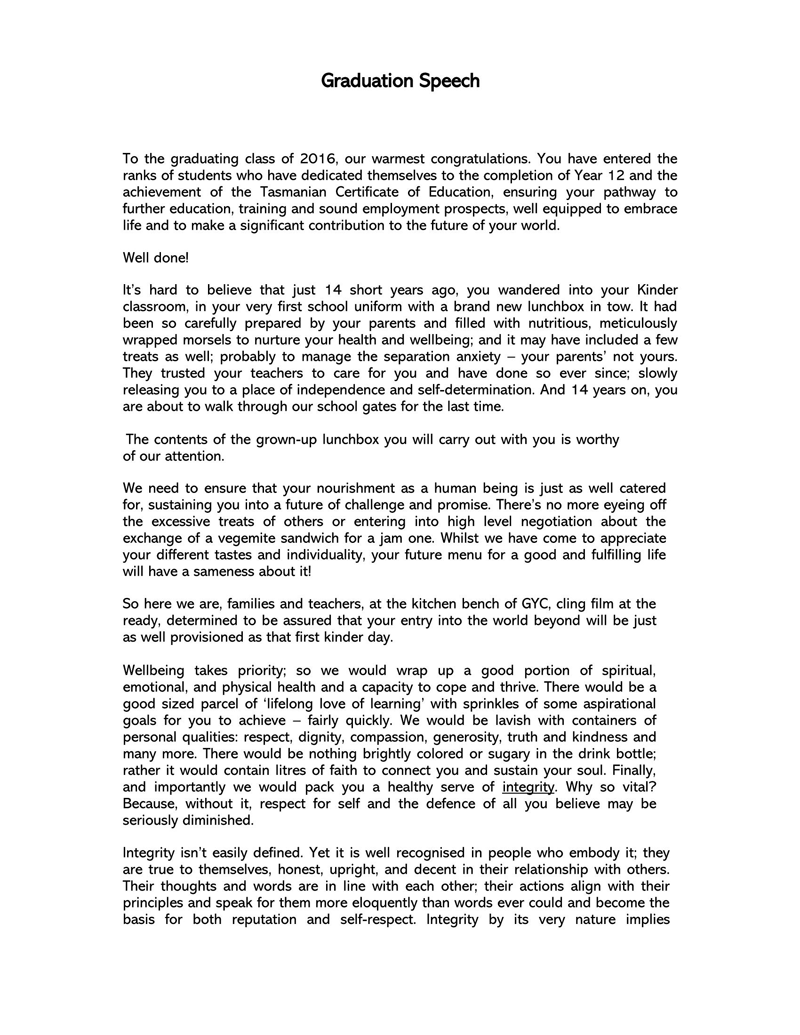 Types of Graduation Speech
There are different types of graduation speeches based on the message students want to deliver in their speeches. Therefore, a student must know which category their graduation speech fits in to know what is expected from them.
Serious speech
These types of speeches should focus on the knowledge and life skills you have gathered from your school, and they should also highlight what your fellow students have learned over the years. Such a speech can be based on the following topics:
Life lessons: the speech can focus on the student's practical life skills that enabled them to excel in their school life. For example, your graduation speech should how to relate with others and how you worked hard to achieve your goals.
Facing and overcoming problems: the speech can focus on the challenges faced by students and how they managed to overcome these challenges. For example, how you survived in a different country and overcame the language barrier.
Maturity: the speech focuses on how school experience helped you become more responsible, make better decisions, and develop good character. For example, these speeches can highlight how students matured and evolved from newcomers to senior students.
Inspirational speech
For such speeches, you should focus on inspiring and motivating your fellow graduates and other audience. Therefore, these speeches are usually emotional and can be constructed based on the following topics:
Reflections and memoirs: the speech can focus on the memories you created together with your fellow students and how these memories changed all of you.
Expressing gratitude: the speech should be based on thanking your teachers, family, friends, and parents for their support while studying.
Inspirational quotes: your speech can start with an inspiring quote that will help you prepare a logical speech based on your theme.
Song lyrics: you can choose a familiar song among your fellow students and use it to base the speech's theme. Also, you may choose to pick a section of the lyrics and make it the opening statement of your speech.
Inspiring stories: select any famous and inspirational stories that helped shape you and your fellow students into the people you have become and relate them to the speech's theme.
Anecdotes: you can choose to prepare your speech based on motivational stories that show how you bonded with your fellow students. However, avoid embarrassing stories that might offend the audience.
Student accomplishments: your speech can also focus on your fellow students' achievements that impacted your school years. These accomplishments should relay inspiration to others about achieving what they desire through hard work and commitment.
Funny speech
These speeches focus on funny stories that brought students together and helped to shape their academic life. Some of the funny stories your speech can be based on include:
Recent school events like a minor mistake in the laboratory
Humility to wisdom stories like an embarrassing event that taught students a particular lesson
Funny and inspirational social media stories or quotes
Use funny but appropriate jokes to add humor to your speech
Classic and well-known funny quotes
Creative speech
The other type of graduation speech is the creative one that focuses on spinning the message to create a well-crafted and unique speech. For instance,
Write a graduation speech that does not follow the traditional format by using poems, metaphors, and even spoken word.
Let your graduation speech have a unique story that makes it interesting to listen to and still offers a lesson.
Use quotes from children's books to prepare a graduation speech that will evoke nostalgia.
If there is a graduation song, use its lyrics to craft your speech to make it relatable to your fellow graduates.
Related: 20+ Best Informative Speech Outline Examples [How to Write]
Ideas for Graduation Speech
Selecting the type of speech you want to prepare and give to the graduation audience is the first step. The next step is to select a theme that your speech will focus on.
With a clear theme, you can bring your speech ideas together in a cohesive manner. Here are some of the themes and ideas for your graduation speech:
Class president speech idea
As the class president, here are some ideas that you can use to prepare your graduation speech. You can choose to inspire your fellow students never to give up and aspire to do more incredible things by giving them some real-life examples in your graduation speech. The graduation speech can be based on showing gratitude towards your fellow graduates. You can also craft a speech that focuses on a particular inspirational message relatable to the audience.
High school speech idea
High school graduation speech ideas can focus on different things. You can choose to inform your fellow students about the importance of focusing on the future. The speech can be prepared to show gratitude and thank your family, teachers, friends, and fellow students. A speech that creates nostalgia using some memories is also another great idea for a high school graduation speech.
8th-grade speech idea
As a graduating eighth-grade student, your speech should be short and creative to ensure everyone receives the intended message. It should also focus on positivity to encourage fellow graduates to look into the future with hope. Another great idea is to prepare a relatable message for all your fellow students and not just a particular group of people.
Elementary speech idea
For an elementary graduation speech, one of the ideas that you can use is funny stories to create humor for the kids. Your speech can also be made up of outstanding memories shared by the students. You should ensure that the speech is short since children have a short attention span. The tone in your speech should also be cheerful and relaxed.
Pre-writing Considerations
Before the actual writing of the speech, there are some considerations that you should keep in mind. Here are some of the pre-writing considerations to prepare a graduation speech.
Brainstorming
As you choose to present the graduation speech, the first step is to think about what you want to write and the kind of representation the speech will have. Next, you can consider the skills achieved, experiences, life skills, and the educational knowledge gathered.
Brainstorming allows you to come up with inspirational ideas that focus on the future. You should always take your time to review the ideas you have gotten while brainstorming.
Search for an inspiration
With the many ideas you have from brainstorming, you should search for as many inspirations as you can. Searching for inspiration can be done by accessing examples of graduation speeches to get an idea of how they are written. You can also get inspiration from music, poetry, or books. The inspiration should determine the idea or theme you choose for your speech.
Choose a theme
The theme you choose for your graduation speech should be what feels most important to you. For example, it may be funny stories, nostalgia from different memories, or an inspirational narration. The theme should be relatable to you and resonate with most of your peers. It should also be inspiring and focuses on a particular theme or a chain of linking themes.
Google it
You should then Google your chosen example or theme to find out more about how you can craft the graduation speech. You will be able to gather more information once you start googling and writing the main points down. Soon after, you can start weaving the ideas together and create a compelling graduation speech. Ensure that even you Google, you add a personal touch to your speech preparations.
Guide to Write Graduation Speech
After observing all the pre-writing considerations, you are ready to write your graduation speech. To prepare and write a compelling graduation speech, here is a step-by-step guide along with examples you should follow:
Build a basic structure
With your theme in mind, you should build the structure of your speech. Start with an attention-grabbing and powerful introductory statement to get the attention of your audience. The first few moments of delivering the speech will determine whether your audience will listen to you or not.
The next step is to highlight your theme by listing down what you will tell your audience. These relatable stories can present a challenge that you could solve later on in the story. It would be best to mention the lessons you learned as a student and the experiences you gained.
The last part is to end this section by cohesively repeating your main points. Then, make your main message clear to your audience once more, and finally, advise your audience as you conclude the speech.
Introduce yourself
Ensure you introduce yourself since the audience will relate with you better. You can start by thanking the person that introduced you to the stage, appreciating the audience, mentioning your name, and welcoming everyone to listen to your speech.
Write down how you wish to start your speech to ensure you have an effective plan.
Tell story
To be more relatable to your audience, you need to tell a story related to your theme. It helps to avoid boredom and helps the audience to understand your message better. Personal experiences shared memories, and anecdotes are essential when writing a compelling graduation speech.
Graduation wishes
You should not forget to include a moment in your speech when you will share graduation messages and wishes to your fellow graduates. The graduation ceremony is all about you as a student, so you must focus on that in your speech. In addition, prepare particular messages for the graduating class.
Memorable ending
For the final part of your speech, try and end with something inspiring and memorable. Your conclusion should tie up all the main points you presented in a motivational or funny way. You can also use quotes at the end of your graduation speech.
Tips for Writing Graduation Speech
Here are some tips that you should observe when preparing and delivering your graduation speech:
Take time to write
If appointed valedictorian, then you should take your time to prepare, create a structure and write the graduation speech. Since it is an important speech, you will be representing your graduating class, which means that you need to take your time to research and prepare a great graduation speech.
Remove repetitive content
As much as you wish to repeat and highlight the main points, you should reduce the repetitive content. This way, you will have enough time to deliver your speech without making your audience lose interest due to boredom and long speeches. Instead, focus on mentioning the main points you discussed in the speech at the end.
Don't make it all about you
As the graduating student chooses to prepare and make the speech, you should represent your graduating class.
You should remember the event and write a speech that does not solely focus on you. Your speech should be relatable to your audience, especially your fellow graduates.
Keep it concise
The graduation speech is an important part of the graduation celebrations. However, a lengthy speech is tiring and will cause your audience to lose concentration. On the other hand, a brief but sweet graduation speech will attract the audience's attention. Therefore, the speech should not be more than ten minutes long.
Be specific
While writing your graduation speech, focus on the details of any story, event, or memory. Such personal experiences make the speech more personal and compelling to the crowd.
Avoid blunders
When you write a speech, ensure that it represents you, and you will be proud to show it off to others years after you have delivered it. Avoid writing something you will regret or something that does not resonate with you and your beliefs. It is not time to call out a mean teacher, but it is time for celebrating and inspiring others.
Be an inspiration
As you celebrate your and your fellow graduates' academic achievements, try to focus on inspiring them too. You should deliver a speech that encourages the graduates to look into the future with hope. The graduation speech should inspire them to make plans and look forward to what will come after graduation.
Avoid famous quotes
For graduation speeches, it is not wise to use famous quotes. This is because people listen to what you have to say and not what a famous author says. You are the speaker, and you should deliver your graduation speech in a manner that tells the crowd what you have to say.
Thank the audience
Remember to thank different members of the audience. The teachers, family members, friends, and fellow graduates listening to you. In addition, you can choose to recognize someone in the audience who had a significant impact on not only your life but also on the majority of the students.
Edit the speech
Remember to go through your speech to proofread and edit out mistakes after writing it. You do not want to have a speech with the wrong information and lose trust with your audience. Edit your speech to ensure you have facts and all the information written is correct.
Apart from writing the graduation speech, how you choose to present the speech also matters. Here is how you can deliver a speech to make it compelling, inspiring, and a memorable occasion:
Learn by heart
You should practice your speech so that you know it by heart. Memorizing your speech helps to add a personal touch when you make the delivery. This is because reading the speech might make you sound disinterested and impersonal. However, you can carry some notes that will help to remind you of your speech.
Time your speech
As you practice, time yourself to see how long your speech takes. Your speech should be about ten minutes long to ensure your audience's attention is still intact and that they are listening.
Speak slowly
Ensure that you do not rush when delivering the speech to avoid sounding nervous. Instead, try and focus on speaking slowly by enunciating every word in your speech correctly. In case you start to rush, take a moment to breathe. You can make necessary and inoffensive jokes or funny stories in between your pauses.
Incorporate emotions
Ensure you change your tone according to the emotions being represented by the speech. For example, as you deliver the speech, different parts might evoke different emotions. Therefore, it would help to vary your tone to match these emotions.
Make eye contact
Even though you are feeling nervous, you should maintain eye contact with your audience. You can try and calm yourself down by focusing on the back of the room as you speak. Another way to ensure you stay calm but still maintain eye contact is by selecting some people in the crowd and focusing on them.
A graduation speech is an essential speech prepared and given by a graduating student on behalf of the graduating class. Whether it is at the university or elementary level, this speech is an integral part of the graduation ceremony. This means that the chosen student should take their time to properly prepare, write and present the speech before the graduating audience.

With this article, a student chosen to prepare a graduation speech can learn what to do before writing the speech, structure the speech, and the tips to observe to create a memorable graduation speech. Students can also access our free and downloadable graduation speech examples to guide them in writing their speeches. Of course, you should also always remember to practice before delivering the speech.