The era of modernization and information technology has brought numerous changes in the life of a modern individual. These advancements are also obvious in the way a business is operated now days. The Political, Economic, Social, and Technological aspects are all under consideration when a business enters a market, so PEST analysis is vital to the overall success of a certain business.
Importance of PEST Analysis
A business has no idea at the time about the expected outcomes because of the various political, economic, social, or the technological changes in a place, the business is operating. With the help of the PEST analysis, these aspects can be of great help. Through this analysis, the decision makers have an idea about the possible potential changes in a market.
The PEST Analysis covers the following aspects:
Political: The government policies, regulations, tax implications, and trade regulations all of these can significantly affect the business of a person.
Economic: The economic factors like the rate of interest, inflation, and the unemployment can also have a vital impact on the growth or failure of a certain business.
Social: The social aspects include the behavior of customers, the limitations of culture; their education is a point of focus under the social factor.
Technological: The technological factors are important for the growth of a business. The modern age cannot survive without internet.
P.E.S.T Analysis Template
Sample P.E.S.T Analysis
PEST Analysis Example

Simple PEST Analysis Example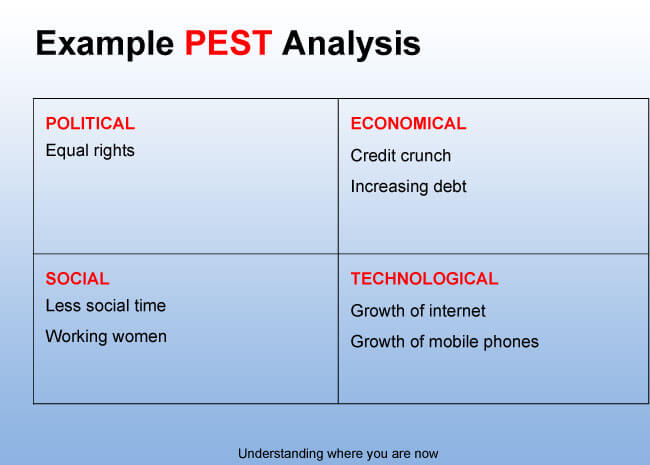 Different samples are available for download in order to get an idea about the PEST analysis for the business. For example, Technology Analysis provides information with respect to a certain business, which can assist in getting information about the overall process. These samples can help a business understand the various factors, which can affect the business in the end as most of these factors, bring unforeseen circumstances.