A 'resignation letter (due to dream job offer) is not so different from the ordinary resignation letter. At its core, it endeavors to inform an employer that you, the employee, will cease being part of its staff. However, the reason for your departure, in this case, is occasioned by a better prospect elsewhere.
Put differently: This is a letter you draft an employer to inform him that you have got a better deal elsewhere that is juicier than the one you already have.
How to Leave your Present Job?
It is no secret that many people pursue jobs that they never studied for or ever fancied. Indeed, many of them hold onto the jobs they presently do in anticipation of greener pastures elsewhere or at some other time. That is why it should come as no surprise that people often jump ship from their current employment.
When doing that, you should follow these steps:
Step I: Break the news to your current employer
Start by breaking the news to your current employer. Tell him that you have received some greener pastures elsewhere; that is why you have opted to call it quits. Be kind, compassionate, and considerate as you do this. Many employers do get heart-broken when they receive such news.
Step II: Draft and present resignation letter
Move ahead now to draft and present a resignation email or letter to that effect. This letter, you should present it to your employer no later than two weeks before your departure from the said firm. The object of this is to give your employer ample time to prepare appropriately for the same.
Step III: Jump ship officially to another company
If and when the date to vacate your current place of employment comes, you should leave so officially and with much decorum. The least you want to happen is to ruffle feathers with your current employer and compromise your future career prospects. Offer to aid with the transition as well.
What to include?
While drafting this letter, there are issues you have to include. These are:
Effective date
This refers to the exact date when you plan to quit your current place of employment. Ideally, this should be two weeks before your exit from the company. It is important, you know, to give your employer ample time to prepare for your exit.
Purpose for leaving
Yes, you are leaving because you have received some greener pastures elsewhere, after all. But where exactly are you headed to? What are some of the benefits you will receive there which are lacking in your present place of employment? It is good, as a matter of courtesy, to inform your present employer.
Surety of support during the transition phase
Your current employer will require your support in the transition period. Yet again, you must assure him of the same. Give him a dedicated number through which he may reach you later on. This is a sign of goodwill and friendship.
Vote of thanks
Lastly, it is courteous to thank your employer and colleagues for the wonderful time you have had together. Specifically, you must express your gratitude for the support and cooperation they gave you while working for the said firm.
Sample 1: Resignation Letter (Due to Dream Job Offer)
Sample I: Paper Version
Your Name
Your Address
Your City, State Zip Code
Your Phone Number
Your Email
Date
Name
Title
Organization
Address
City, State Zip Code
Dear Mr. /Ms. Last Name:
I draft this letter to notify you of my imminent exit from your organization. This is to happen within a month from now. Though I cherish and would have wished to work for you in the long run, my time to depart from the firm has just come.
I happen to receive a job offer with better perks and allowances elsewhere. Furthermore, I made it plain to you from the beginning that I was just on my way to some greener pastures elsewhere. In other words, my stay in your firm was just a passing cloud.
My departure from your firm will bring about untold inconveniences. I am fully alive to that fact. That is why I offer my full support and cooperation during the transition phase. Feel free to reach me at XXX-XXX-XXXX or [email protected].
Lastly, I would wish to express my sincere gratitude for the support and cooperation you gave me while in your company. My special thanks go to my colleagues who encouraged and walked hand in hand with me all along.
Sincerely,
Your Signature,
Your Name
Sample Resignation Letter (Word Format)
Sample 2: Resignation Email (Due to Dream Job Offer)
Rollan Junior
PO.BOX 12345-001
XXX and SONS
HUMAN RESOURCE MANAGER
ABC COMPANY
9876 MICHIGAN
Dear Sir/Madam,
RE: RESIGNATION LETTER
I am writing this letter to inform you of my plan to quit my job soon. I have enjoyed my time in this place, but change is inevitable. I plan to be leaving officially on 4th Dec 2019. This is due to a dream job that I have been offered. I am a trained accountant, but I have been working here as a sales and marketing person. I feel I will be more satisfied if I joined my accounting career.
I am planning to do everything possible for the season I will be still around to give the company a smooth transition to my quitting. Kindly feel free to work with me for this transition. I would be glad if the company will be more productive even as I leave.
Do not hesitate to ask me anything regarding the company for the period left and even after I shall have gone. Thank you for trusting me with this job. I am so grateful for the lessons I have learned while here. I wish the company well in my absence. Kindly let me know when I can get my compensation and any employment benefits as I plan for my transition.
Resignation Letter Due to Dream Job Offer (Word Format)
Sample Resignation Email (Due to Dream Job Offer)
Subject: Resignation from your Company – Firstname Lastname
Dear Mr. /Ms. Last Name:
Kindly receive this letter as a gesture of my imminent exit from your company with effect from November 24th, 2019. Another company has offered me a more lucrative post in a different location.
Though I regret the move, I could not resist the juicy perks and higher pay rates. That is why I inevitably had to leave. My new post is even better in the sense that it falls well in line with my area of training and expertise.
I sincerely thank you for the time, support, and experience I gained while in my stay here. Indeed, I will live to cherish all of these in time to come. Specifically, I laud my colleagues with whom I rushed shoulders and worked hand in hand. I would never have gained as much without their input.
Kindly let me know whether my input may be necessary during the transition period. Should that be the case, feel free to reach me on XXX-XXX-XXXX.
Sincerely,
Firstname Lastname
Resignation Letter (Due to Dream Job Offer) Email Example
Resignation Email (Word Format)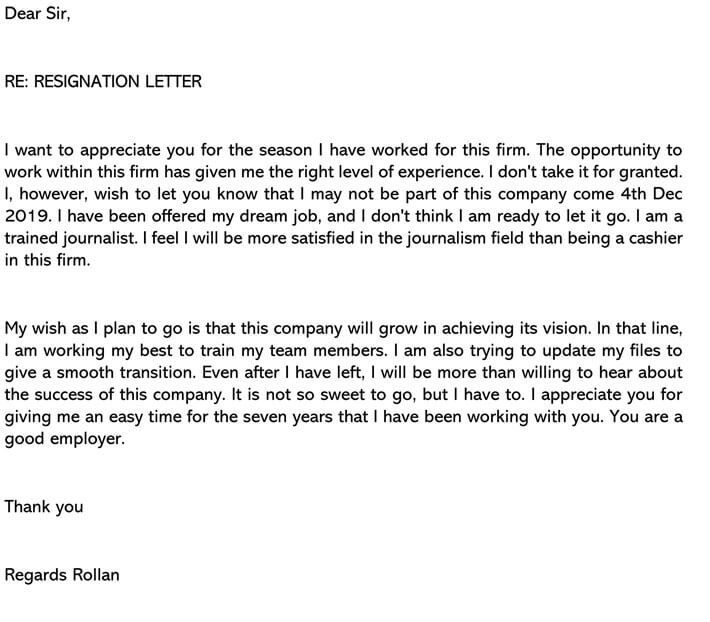 Sample Resignation Email Example
Dear Sir,
RE: RESIGNATION LETTER
I want to appreciate you for the season I have worked for this firm. The opportunity to work within this firm has given me the right level of experience. I don't take it for granted. I, however, wish to let you know that I may not be part of this company come 4th Dec 2019. I have been offered my dream job, and I don't think I am ready to let it go. I am a trained journalist. I feel I will be more satisfied in the journalism field than being a cashier in this firm.
My wish as I plan to go is that this company will grow in achieving its vision. In that line, I am working my best to train my team members. I am also trying to update my files to give a smooth transition. Even after I have left, I will be more than willing to hear about the success of this company. It is not so sweet to go, but I must. I appreciate you forgiving me an easy time for the seven years that I have been working with you. You are a good employer.
Thank you
Regards Rollan