Transparency about the prices of products or services that a business is selling helps set a clear message of what potential clients can expect from a business and helps clients to decide whether to buy a service or product from your business – hence the use of a price list.
A Price List is basically a list of prices for all the goods or services offered by a business.
Whereas price list templates are prepared price list forms with the basic components and blank spaces present on them for the user to fill out and utilize or treat as guide for preparing their personal list from scratch.
Price lists are important for any business since they are one of the main tools used to present the products or services in the market.
They offer flexibility and the possibility for constant updating, thereby keeping all the customers up to date with the current prices. The creator of the price list can choose to insert some or all products in a variety of languages and currencies where special editions with specific promotions and seasons attract the attention of the clients.
Difference between a Catalog and a Price List
There is a massive difference between a catalog and a price list. A price list is used to present product/service information such as the pricing, measurements, quantities, duration, and the information related to the sale of each item, i.e., the printed or quoted price of a product or service. At the same time, a catalog is a list of all the products or services sold by a business that aims at promoting and increasing the brand awareness of such products or services.
Free Templates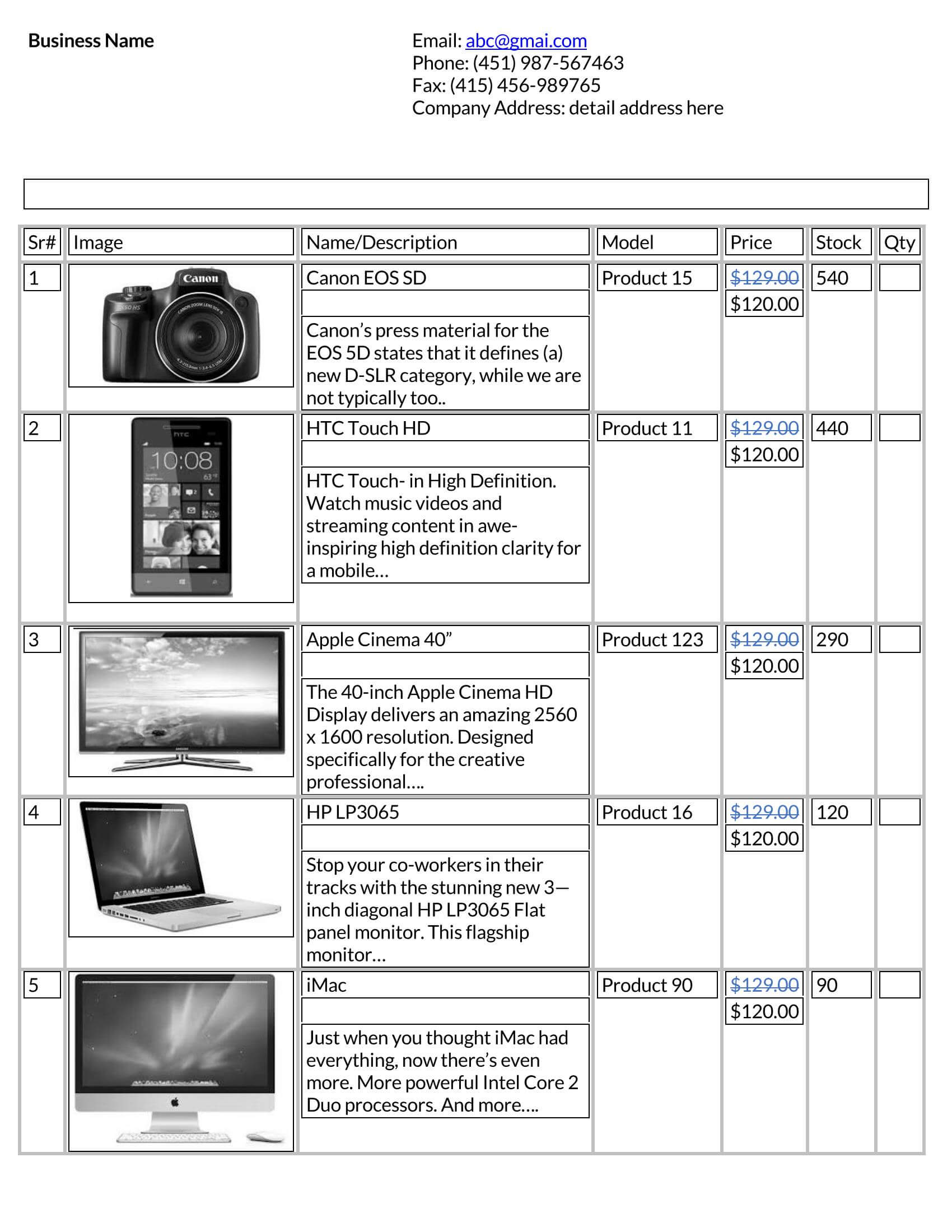 General Uses of a Price List Template
For any business, having a price list or price list template for all the products or services offered is a key to attracting new clients.
Some of the uses of it include:
A price list can be distributed to actual and potential clients to help them make decisions on which products or services to purchase.
It can be used internally to catalog a businesses' products or services.
It can be used to handle data related to different items, including the prices and specifications.
It can also be used as a valuable integration element of a businesses' multichannel strategy, i.e., it can be used in place of a product catalog
A price list can also train new employees by helping them learn about the different products or services being offered and their corresponding prices.
It helps in keeping track of and evaluating costs.
It can also be used to promote remote sales as customers can access the prices of all the commodities remotely.
Lastly, a price list can be used to inform customers of the changes in prices and provide them with an updated price list of all the products and or services that have been affected by the price change.
Essential Elements of a Price List Template
There are a few essential components that must be present in any price list.
To make an effective one, the following key elements must be included in it:
Cover and back cover: The cover and back cover of the template should reflect what the business is all about, i.e., what they are offering and what the document is all about.
Thumb index: A thumb index lists each section in the list, in order, and what page each item is on. This makes it easy to find the products or services on the price list.
Introductory pages: The price list should have an introductory paragraph to help the reader understand what it is all about
Chapter separators: A chapter separator helps to show the transition between chapters and makes it easy for the clients to navigate through the list
Table of contents: A price list template should have a table of contents. The table of contents should specify which chapter and page each item is located on.
Final pages: The final pages should provide the reader with information regarding the prices, including which prices have been affected by a price change, disclaimers about price changes, etc.
Information related to products: Additionally, the template should contain information related to the products being sold.
They include:

The name of the product
The SKU- Stock Keeping Unit
The product description

The image of the product

The price per unit
Any other additional/identifiable attributes
Digital VS Printed Price List Templates
There are two different types of price list templates that one can utilize when preparing one; i.e., digital and printed templates. Although they both are used for the same purpose, they still have a significant difference that one should know about when deciding on which one to choose.
The main difference between a digital and printed price list template is that a digital one can be easily distributed, has low production cost, and can be embedded within a company's website. On the other hand, a printed template can have a high production and distribution cost and cannot be embedded on a website. Therefore, depending on the size and nature of your business and your client base, choosing one that will be convenient for you and your clients is recommended.
If you opt for a printed price list template, you can download one from here and customize them to fit your specific needs. Using a template will help you come up with a comprehensive list much faster, as all the basic components of it are already included in the template. You can also download and use the templates to help you craft one from scratch.
Printable Price List Templates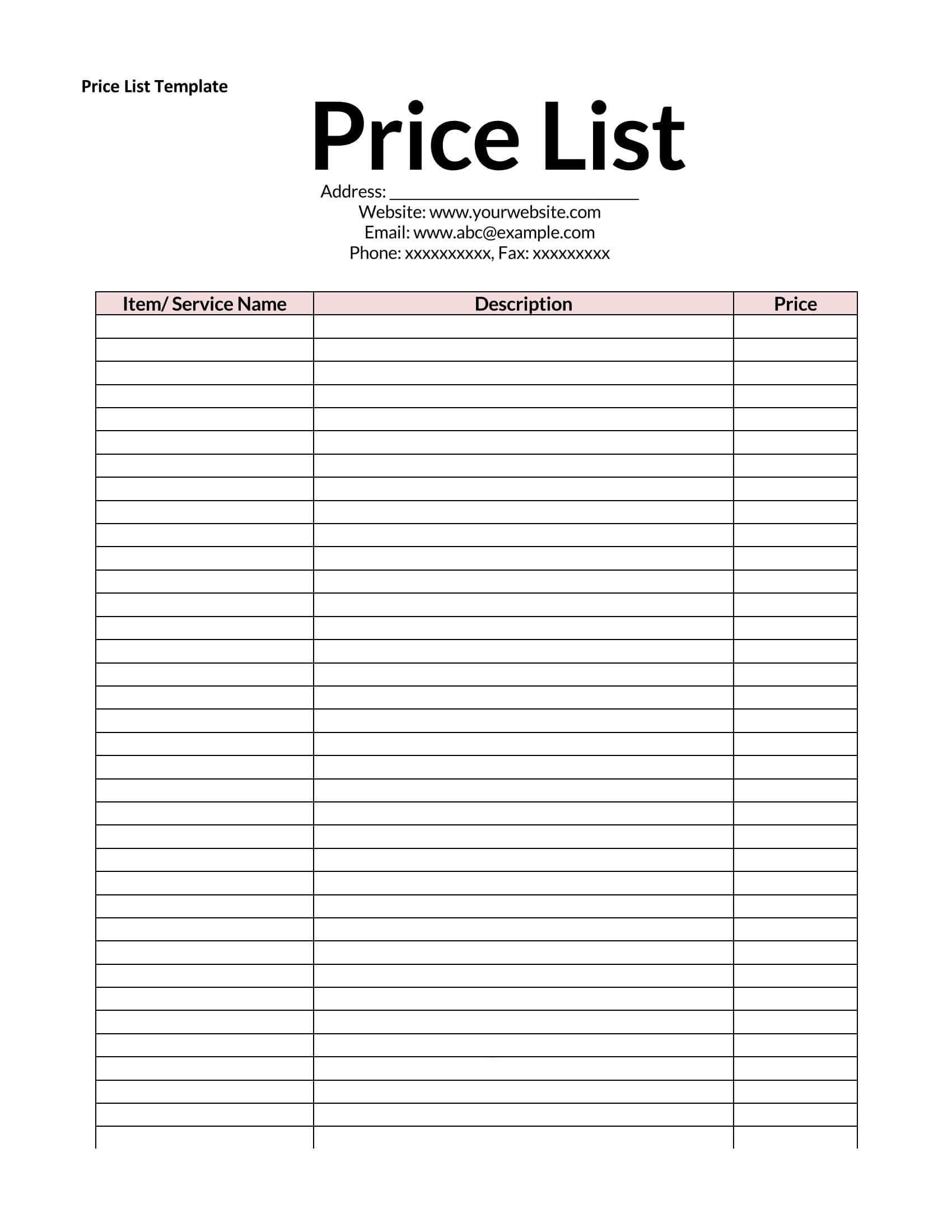 Tips for Making a Price List Template
Although creating a price list template for your business may seem like a simple and easy task, there are several things that you should put into consideration to ensure that you do it the right way.
These include:
Create a layout
Come up with a general layout of what you would like to include in the price list. A general layout will also help you envision the final list and help you make changes accordingly.
Keep it simple
A price list should not be complicated at all. Instead, it should be simple and easy for all the customers to read and understand. When preparing it, make sure to focus on the price of each product. Also, consider grouping all your products into different categories if you have a broad list to help all your clients find what they are looking for in a faster way.
Use inventory list that states the critical details
When preparing a price list, it is recommended only to include items that are currently in stock. Before sending out the list, it is crucial to check and make sure that the items listed in it are currently in stock to help avoid instances where a client places an order on items out of stock putting your businesses' reputation on the line.
Tip: To ensure that you send out the right price list to your customers, make sure to do the following when preparing it:
Include all the items that you are offering along with their prices and images to help the customer understand what the item is.
If you have many products that you would like to include in the list, make sure to group them into different categories to help the customers find them easily.
Change the prices after every update
It is essential always to keep an updated price list. If the price of any item changes, it is recommended to send out an updated one reflecting on prices that have changed.
Know your audience
Knowing your audience is significant when selling a product/service, especially from different geographical locations. Therefore, it would be best if you considered creating separate price lists for each of your target audiences, including offers and discounts that are specific to a region and location.
Promote products
Product promotion is one way to drive sales and get new customers. If you have a new product or want to get more direct sales, make sure to focus on those items on your list by including a call to action such as visiting your company website, providing coupons, etc.
Compare the prices with your competitors
When determining the prices for your products/services, it is important to compare what the competitors are charging and create a list that can fairly compete with them. Making your prices too high might drive away clients, and making them too low may also inflict a sense of doubt in them.
Proofread
After creating the price list, make sure to go through it several times and ensure that the prices are correct. Sending out a price list with the wrong prices may prove costly to your business.
Publish your price list
After going over it and ensuring that everything is correct, the next step is to publish the price list. There are two recommended ways to publish a price list; manual and automatic publishing. Manual publishing entails inserting your product information, prices, descriptions, etc., into a layout one at a time. In comparison, the automatic publishing process involves data being automatically transformed into a finished document without manually keying in information.
However, manual publishing is discouraged since manual inputs are prone to errors that may be costly.
Price list templates by types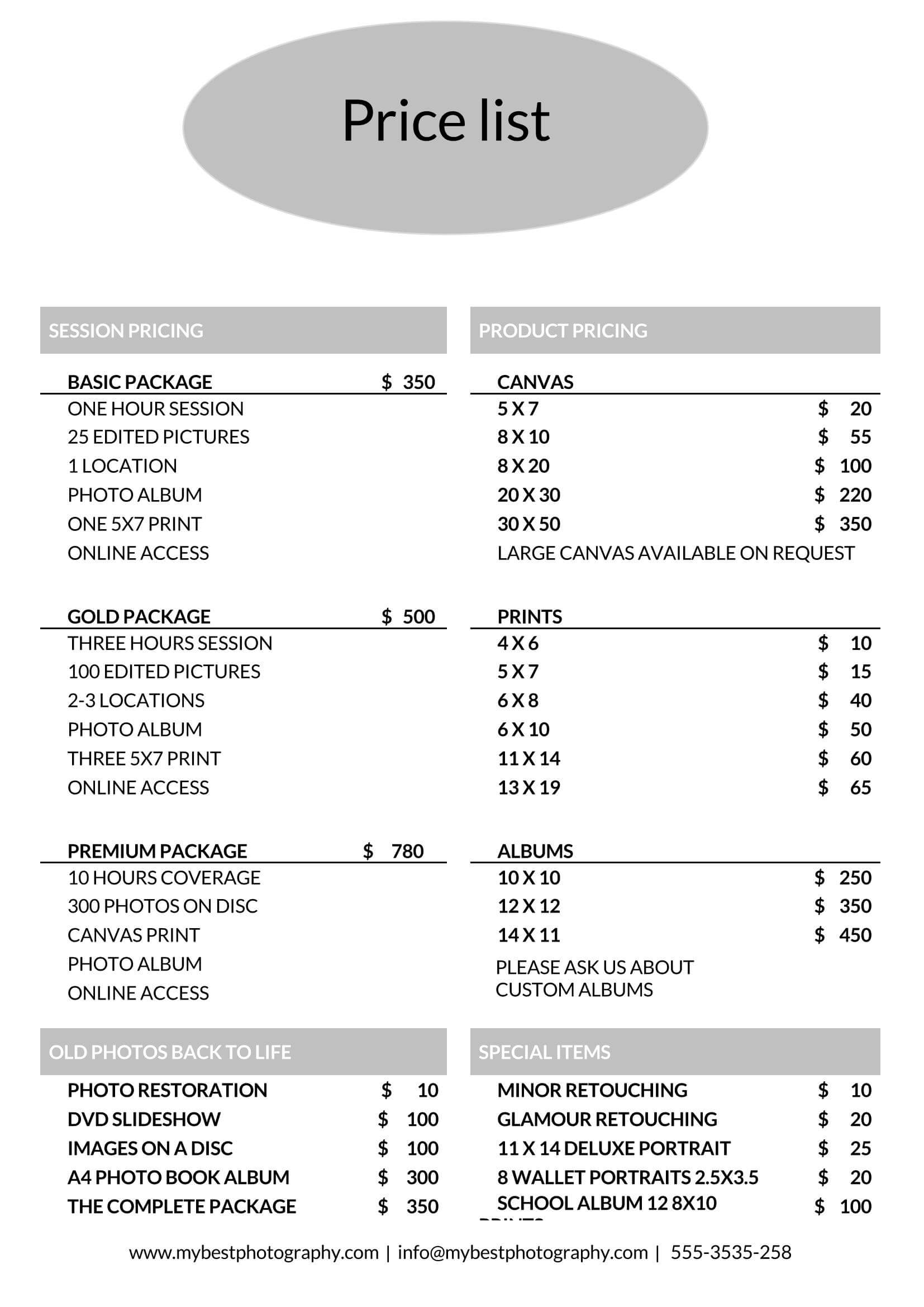 Price lists are important for any business since they are one of the main tools used to present the products or services in the market. They offer flexibility and the possibility for constant updating, thereby keeping all the customers up to date with the current prices. It is important for any business to keep their customers informed about any price change in their products to avoid instances where the customers place orders with an initially low price and have to cancel such orders. We highly recommend using a price list template as it will help you keep your customers informed of any price changes that they should know of before making any purchase.