An Attendance Sheet is a great way of keeping track of the attendance of students, teachers, and employees.
Successful employers and teachers usually begin by engaging their employees and students and ensuring that they regularly come to work or school. Reviewing the attendance of the students/teachers or employees is essential as the consequences of low attendance may be severe to the overall performance of the business or the students.
In this article, we will be taking you through the different types of attendance sheets, the different tools to use to record attendance, the benefits of recording attendance on an attendance sheet, and how to create an attendance sheet on Excel.
Exclusive Attendance Sheet Template
Types of Attendance Sheet Templates
An attendance sheet is simply a tool used for tracking the attendance of a student, teacher, or employee. It helps ensure that employees work the required number of hours or days and students and teachers attend the classes they are required to.
There are different types of attendance sheet templates. And each type has its specific purpose.
They include:
---
Employee attendance sheet template
An employee attendance sheet template is a document used to record the attendance of an employee, including their presence, absence, late comings, holidays, sick leaves, etc. This information is usually recorded to aid the HR department, business owners, and executives in calculating their salaries.
Download: Microsoft Word (.docx)
---
Student attendance sheet template
Educational institutions use student attendance sheet templates to record the attendance of a student. Attendance sheet templates help educational institutions to record the students' presence and absence in a class. Additionally, a student attendance sheet template helps reduce teachers' workload and saves time that can be used in other demanding tasks.
Download: Microsoft Word (.docx)
---
Timesheet attendance sheet template
A timesheet attendance sheet template is a general tool used to record and track the attendance of employees, teachers, students and any other party. It is mostly used by employers to track the attendance and hours worked by employees being paid on a daily, bi-weekly or weekly basis. Ideally, attendance sheet templates are used to record the number of hours spent by the employees on the job by recording the time they arrive for work and when they leave.
Download: Microsoft Word (.docx)
Tools to Record Attendance
Three main tools can be used to record attendance.
They include:
Attendance register
An attendance register is a tool used by employers and educational institutions to record the regularity of an employee or a student on a day-to-day basis. The attendance register is usually used by employers to help them in determining the salary the employee is supposed to get especially if the employee is being paid on an hourly basis. For educational institutions, the attendance register is used to determine how prepared a student is for their exams based on their class attendance. Most educational institutions have a policy requiring students to attend at least 90% of their classes to be allowed to take the exams.
Attendance sheet
An attendance sheet has the same functionality as an attendance register. They help employers, businesses, and educational institutions record the attendance of the employees, students or teachers.
Fingerprint machines
Most businesses have adopted this age of technology and are now using fingerprint machines to record the attendance of their employees. Although they are a little expensive to install and maintain, they are still being adopted by most businesses around the globe.
Benefits of Recording Attendance on Attendance Sheet
There are several benefits of using an attendance sheet in educational institutions and in businesses.
Some of the benefits include:
Keeping a detailed attendance sheet helps in calculating salary, wages and overtime by tracking the employee's regularity at work. By keeping track of when employees report to work, and their level of punctuality, most employees/students, will strive to come in early
The second key benefit of an attendance sheet is that it helps save money and time for small enterprise businesses with low operating budgets by measuring the efficiency of teams/employees
Another key benefit of an attendance sheet is that it helps in reviewing an employee's strengths on specific projects to help determine which projects they can handle best. This improves the overall performance of the employee's and the business as the employee's will be able to handle and complete more tasks effectively.
Other than improving the overall performance of the employee's an attendance sheet also helps in managing employee shifts, tracking and scheduling vacation times, and also helps the HR department and the management identify attendance issues and deal with those issues before they affect the organization's performance
Lastly, an attendance sheet helps in keeping and maintaining the records of the employee's/student attendance. By keeping a record of employees/student's attendance, you will be able to know when they are absent and what action to take.
How to Create Attendance Sheet on Excel
With the many benefits that come with using an attendance sheet template, it is important to know how to create one from scratch using Excel.
Here is a step-by-step guide on how to create one using Excel:
Step 1: Add basic labels
Start by Open Excel and add basic labels for the employee/student/teacher's attendance and name, then use "Student1", "Teacher1," or "Employee1" for the name slot. Select the "Student1", "Teacher1," or "Employee1" box and hit CTRL + Enter, then drag down to the bottom-right corner of the box to add more student slots. Drag down until you have enough student's, teacher's, or employee's slots.
Step 2: Add and format dates
The next step is to add the dates and format them. If you are creating an attendance sheet for school, make sure to remove the weekends and if your employees are working all through the weekends, make sure to add the weekend slots. To format the dates, enter the date in this format: 1/1/2021, right-click and select "Format Cells," choose the "Number" tab, then select "Custom." Enter the format you want to use on your attendance sheet, for instance, dd/mm/yy or m/d/yy, and click OK.
After formatting and entering the date, drag across to fill in for the entire duration you would like to track.
Step 3: Insert a column for "total"
A total column next to the student 's/employee's name is included to track the total number of days the student/employee has attended school or came to work, a total column next to the student's/employee's name is included. To do this, right-click and choose "Insert" to add a column.
To ensure that Excel can calculate the total, add a formula to total up the attendance. To do this in the first slot for total, enter "=Sum," then click on the first date box, use Shift + Arrow to scroll to the end of that row, then click Enter.
Step 4: Remove zeros for non-existent students
To prevent students/employee's reports from having a zero value in the slots not assigned to students. To do this, add an "IF" statement to the "=SUM" function. Click the first total box with the initial value and then insert the function IF(A3= "," "", SUM(C3:N3))A3- implying Student1 is empty, then the report should come out as blank and not a zero.
Step 5: Create a printable area for the final tally
After creating the final tally of the student's/employee's attendance, select both columns, then click on the "Page layout" tab and then select "Print area," then select "Set Print Area." And the file will be printed.
Following are some free downloadable templates for you:
Student attendance sheet template ( Monthly basis)
This is an attendance sheet used in schools. It is meant to record student class attendance. It includes the name of the class or group, the subject, location, time and the date. It also consists of rows and columns where each student details are written and marked present, absent, late or excused.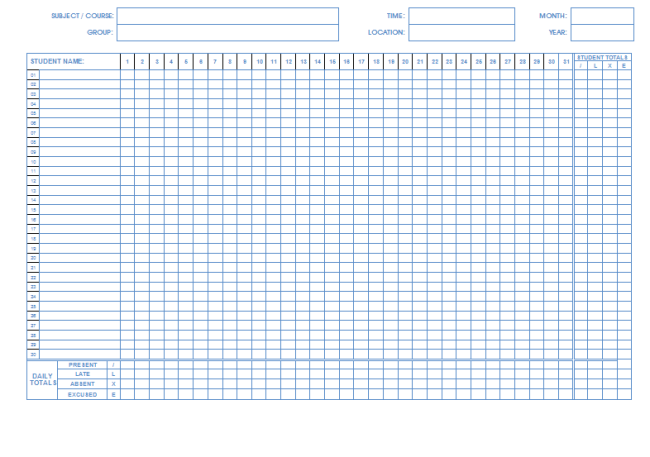 Attendance sheet for companies and employees
This is a type of attendance sheet used in companies, industries, and business firms. It is used to record employees' job attendance. This attendance sheet template is similar to the sign-in & sign-out sheet, consists of rows and columns with the employees' names indicated, month and day. It is used to record sick leave, work shifts, personal time, job attendance among other activities depending on the institution. This sheet has a color-coded key.
Frequently Asked Questions
What does the attendance rate tell you about a school or a company?
If a school's attendance is below the average required by the State, the school may be facing challenges in getting students to attend school regularly, and the same goes for companies. With low attendance, low results are expected, and the management should be questioned about such attendance.
How can schools and companies increase their attendance rate?
There are several ways in which schools and companies can increase their attendance rates. For instance, schools can contact the student's parents/guardians when they fail to come to school to find out the reason; they can also make the school a great place where students feel welcomed consequently, companies can forge a good working relationship with their employees and contact them whenever they fail to show up to work. They can also include incentives or recognition programs to recognize employees with good attendance.