An Attendance Sheet is an official document that is used to indicate who attended a given function. It could be a meeting, class among others. It helps to keep attendance track for every concerned individual. There are many types of attendance sheets depending on the institution they are used. The following are some of the attendance sheets.
How attendance sheet templates can help?
The attendance sheet's main objective is to track and manage the attendance of the involved parties. It helps track the presence, contribution, and absence of an individual. It can also help to identify and solve a problem effectively.
Attendance sheets can be printed on A4 as well as the Letter size standard sizes. You can use our free templates to print different attendance sheets.
Attendance Sheet Templates
Student Attendance Sheet Template ( Monthly Basis)
This is an attendance sheet used in schools. It is meant to record student class attendance. It includes the name of the class or group, the subject, location, time and the date. It also consists of rows and columns where each student details are written and marked present, absent, late or excused.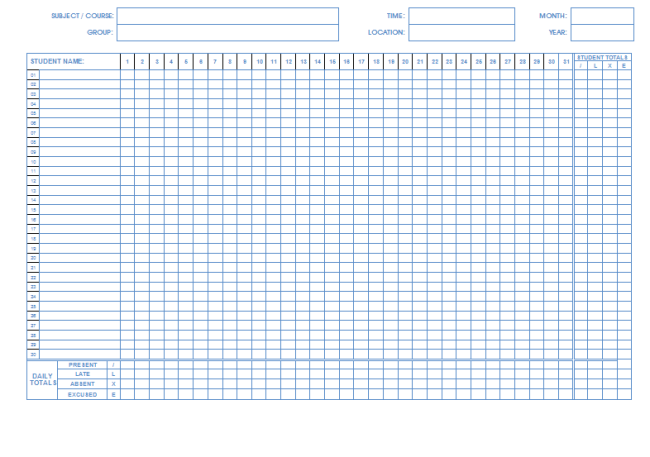 Attendance Sheet for Companies and Employees
This is a type of attendance sheet used in companies, industries, and business firms. It is used to record employees' job attendance. This attendance sheet template is similar to the sign-in & sign-out sheet, consists of rows and columns with the employees' names indicated, month and day. It is used to record sick leave, work shifts, personal time, job attendance among other activities depending on the institution. This sheet has a color-coded key.
Training Attendance Sheet
This is an attendance sheet to record the trainee training attendance. This sheet consists of the trainer name, training location, date, time, the program name, level, and reference. These are the details on top of this sheet. The rest of the sheet is laid in rows and columns where the name of each trainee and signature are written.
Timesheet Attendance Sheet
This is a sheet used to calculate the working hours as well as tracking the employee's time in and time out of work. This helps the human resource manager process accurate payroll. Timesheet attendance sheet can be daily, weekly or monthly. It consists of the name of the employee at the top and the classification either daily, weekly or monthly. The rest is outlined in rows and columns. The first row is indicated the date, start time, finish time, regular hours, overtime hours, vacation, holiday, and the total time.
Closing Remarks
When you are looking to track those who are in attendance on any day and in any situation, you can use the Attendance Sheet Template to help you do that. This template includes all of the fields that you need on such a document. This template helps you to do all that you need in regard to tracking attendance, and it allows you to do that in a simple and professional way. This template will help you to stay organized at all times.