A college admission application letter is a formal letter that an aspiring student submits to a college alongside other pertinent documents to get admission into that college. Given that the college receives numerous applications, your letter is the perfect opportunity to explain what makes you stand out from other applicants.
The application letter works as a tool to enhance your admission process and speed up the chances of joining your dream institution. Your letter should capture important and specific details about why you are a perfect fit for the particular school. It should outline the strengths you possess both as a young personality and a student. This means highlighting notable accomplishments, including achievements in a co-curricular activity if you think you could benefit the school in that perspective. Practically, some schools can pick you because they believe you can earn them immense recognition due to your athletic prowess.
Your letter is significant as it solidifies your entire admission application. It can boost your chance of securing a place in your dream college. This is because the personal information you provide, such as former leadership positions and exceptional academic excellence can potentially portray you as a stronger applicant as compared to other applicants.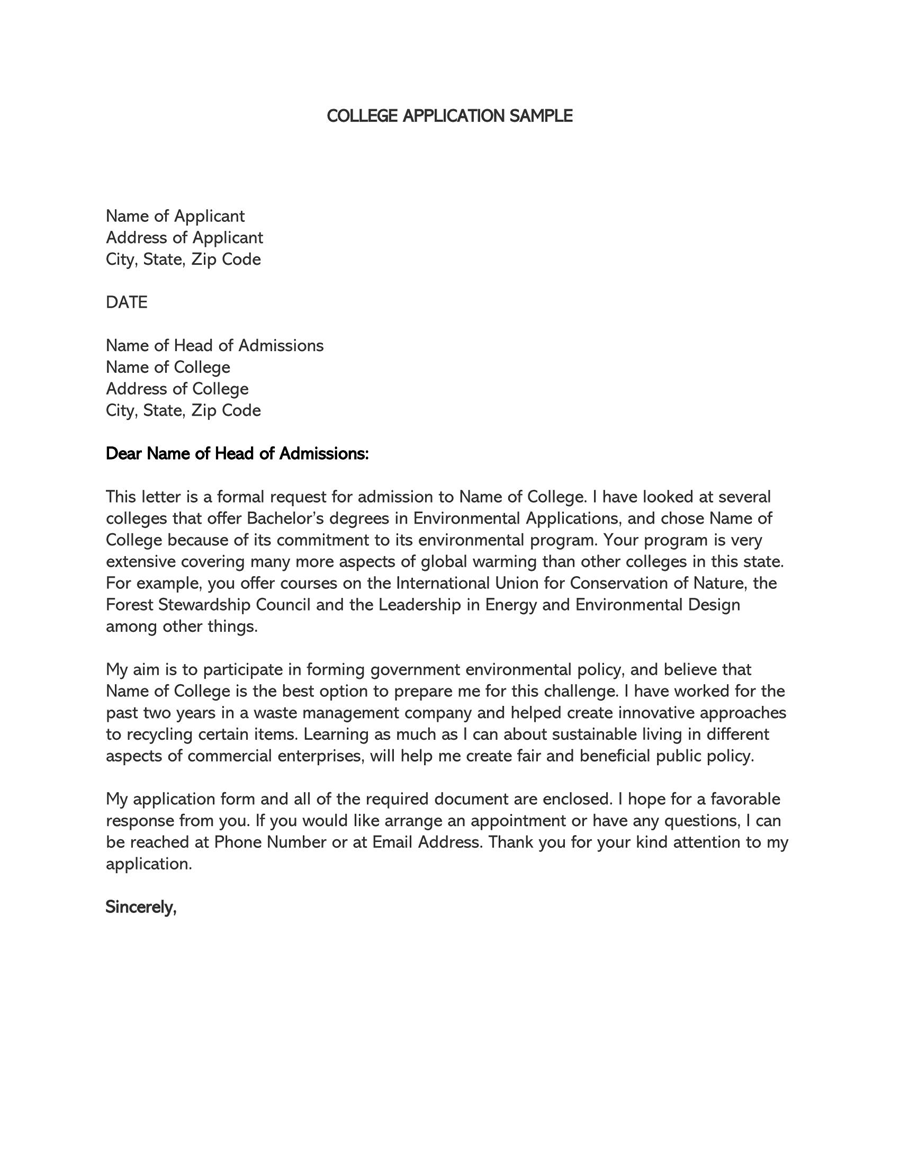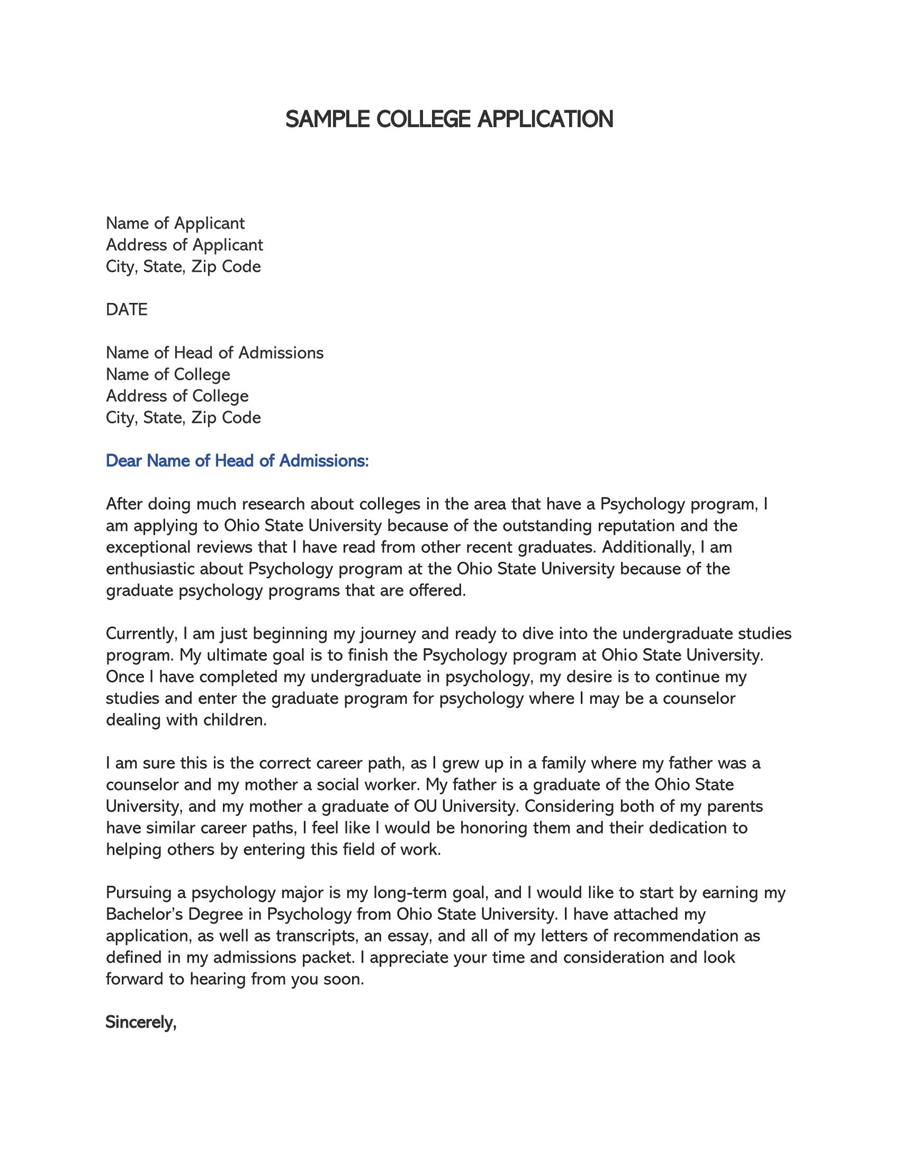 Writing a College Admission Application Letter
As the huge number of admission applications your dream college receives, your letter should be well written and should capture the most unique qualities that could give you an edge over other applicants.
The following is the ultimate guide for writing a professional letter, assuming you have already taken your time to conduct enough research:
Write your personal information
Start your admission letter by revealing your identity. This means writing your full name and address. Use the conventionally accepted address format whereby you indicate the street address, state, city, and zip code. This way, the admission officers reading your letter will have an idea of who you are as they proceed to read your letter.
Include the date
After writing your name and address, indicate the date of sending the letter. Use a professional format such as "November 15, 20xx." Keep in mind that using a casual format could compromise the professionalism in your letter.
Write details of the college
Address the letter by using the standard, formal format as shown below. Remember to address the admission officer as discovered earlier during your research.
For example:

Name of admission officer,
Name of college
Street address
City, state, zip code
Include a salutation
The admission application letter is a formal correspondence, which means you must address the reader formally and try to avoid adding some sort of language as To whom it may concern, Hi, Hello or good morning. The best approach is to use the full name of the admission officer, so If you do not know the name of the officer assigned to your region,conduct some research.
Here is an example of an acceptable salutation:

Dear Mr. White,
State your intent for applying to the school
State the reason of writing the letter and express your genuine interest about the program you are applying for. Indicate the program you would like to pursue and explain why you want to study in that institution. Think about the school's unique qualities that set it aside from other colleges.
Give reasons why you are applying to their college
Now this is the opportunity to offer a personalised explanation about why you want to join their college. In one or two paragraphs, explain how this institution can contribute to driving your career goals and dreams forward. Be sure to relate how the distinctive strengths of the college could help shape your future. For instance, if you are a football player and the institution runs a nationally strong football team, let this be one of your major points.
Write a conclusion
When it comes to finalizing the admission application letter, express your interest without getting too demanding and too needy and conclude it with a positive tone. Inform the administration that you have submitted all required documents and you are available to provide any other additional information or clarifications. Conclude by thanking the admission officers for sparing time to review your application and express your keenness to receive a positive response.
Include a sign-off
Sign your letter with a formal sign-off and add your name to show that you personally wrote the letter.
College Admission Application Letter Sample
You can use our College Admission Application Letter Sample given below:
Sample
Name of Student
Address of Student
City, State, and Zip Code
Date
Name of Admissions Head
College Name
College Address
City, State, and Zip Code
Dear Sir/Madam (Name of admission's head)
After a thorough research about different colleges, the Ohio State University is my final choice. This university offers a Psychology program and has an outstanding reputation and excellent reviews. Ohio State University is a recommendation by the previous graduates and I am interested in enrolling myself in the Psychology program.
My aim is to finish the Psychology program offered at the Ohio State University and I want to continue my studies from the same college. After entering the graduate program I want to become a counsellor dealing with young children.
Majors in Psychology is my long-term goal and I am confident of making the right career choice. Attached is my application, transcripts, essays, and letters of recommendation as per the admission requirement.
I look forward to hearing from you soon.
Sincerely,
Signature of Student
Printed Name
College Admission Application Letter Writing Tips
Given the high level of competition for limited slots, you can increase your chances of joining the college by writing an outstanding letter. From conducting research to ensuring timely submission of the letter, here are key tips to help write an excellent letter:
Research and self-reflect
Visit the college's website and try to find some of the qualities they prefer in students. Also, you can talk to someone who has attended the school before you. Using the information you gain from your research, tailor your letter in a way that shows that the school's mission and vision statement correlates with you as a character and as a future professional.
Emphasize your uniqueness
The uniqueness of students is a key factor, so you should try to mention your abilities and skills that make you the most suitable applicant for the college. For instance, you may want to explain how you are an exceptional player if that means something to the particular college you are writing to.
Be concise and to the point
Colleges receive numerous applications and spend a lot of time going through them. In this context, avoid writing an unnecessarily long letter. Instead, make it brief and to the point. One way to maintain the acceptable and recommended length is to only write the information you think is essential. Also, avoid repeating details that are already covered in your documents.
Be specific
Colleges love to pick students who write to them with genuine intentions. For this reason, let the administration know that you believe it is only their college that can offer the best quality education and college life that you want to explore. Think about the specific reason that built your interest in the college and capitalize on it. This could be anything, from nationwide recognition in a game that you play, to an excellent ranking for your program of interest.
Proofread
Make sure to go through your admission application letter several times to correct any grammatical and spelling mistakes. Ensure that your letter has good readability so that the reader can see your professionalism and attention to detail. If it helps, have a friend go through your letter to see what they feel about it. While polishing your letter, keep in mind that submitting a letter containing careless mistakes could ruin your chance of securing a life-changing opportunity.
Submit the letter before the deadline
Colleges tend to be strict on timeliness to ensure the smooth flow of their selection procedures. In fact, many colleges do not even consider going through admission applications sent in late. In this context, be sure to follow up on the dates announced by your preferred institution to ensure that your letter reaches them before time runs out.
A well-written admission application letter can increase the chances of joining the institution of your dreams. Remember that a good writing process starts with adequate research. When writing the letter, be keen to capture how the school's culture, mission, vision, and strengths relate well with your qualities and strengths as a student.

Write about your personal achievements in the community and in your former schools. Always remember to keep it professional, concise, and one page long. Consider using a customizable template to make sure you have included all essential information in your application letter.