It is essential to know how to style your work in academic writing. Proper styling and formatting will help the paper look more appealing to the reader, whether it is a short assignment or a long-term paper. There are different styles of paper formatting; among them is the MLA style.
MLA formatting can easily be broken down to help properly structure research papers, cover pages, tables, figures, headings, sub-headings, and even headers plus footers. This formatting style is flexible and can be used in middle school, high school, and college. Also, you can use the MLA format template to guide you as you format your paper.
You can also use an MLA format template, besides the basic formatting guidelines. With this template, you can easily format your page in word and set it up to a 1-inch margin, double spacing and even include a running head for your MLA paper. In addition, the template will make work easier and ensure that you have observed all the formatting guidelines of the MLA format. You can access multiple MLA format templates from this website today. You can easily customize and format your work using the MLA style with these templates. These templates are easy to use and are great time savers.
What Does an MLA stand for?
MLA is an abbreviation that means Modern Language Association. It is used to prepare citations for formatting research papers, mainly from the arts and humanities departments.
Basic Guidelines for MLA Paper
Even though the MLA formatting style is referred to as a flexible style, it is crucial to keep in mind that it still has guidelines that you are required to observe. These basic guidelines will help you understand how you should format an MLA paper. These are the same guideline that will be found in an MLA format template.
Here are some of the basic formatting guidelines for MLA that can be incorporated in the paper:
Ensure you use white paper with a measurement of 8 ½ x 11"
Format the sides, top, and bottom with 1-inch margins
½ inch indentation for every first work of a paragraph
½ inch margin from the left for Indent set-off or block quotations
Use a readable font, preferably Times New Roman
Use 12-font size
Double line spacing for the whole paper plus the work cited page
After punctuation marks like periods, leave one space afterward. Leave two spaces if asked by the instructor or teacher.
For headings, use title case capitalization
Formatting Guidelines for MLA Paper
An MLA paper has different sections that must be formatted accordingly to ensure the whole paper has a proper formatting style.
Here are some of the sections in an MLA paper and how you should format each in the template:
Cover page
An MLA paper does not have a cover page. However, if asked to include one, ensure you ask your instructor how to format the cover page. In an MLA format template, the content found on most cover pages of academic papers is usually included on the top left side of the first page of the assignment. In addition, ensure you include the following text: your name, the name of your professor or instructor, the course name, and the due date for the assignment.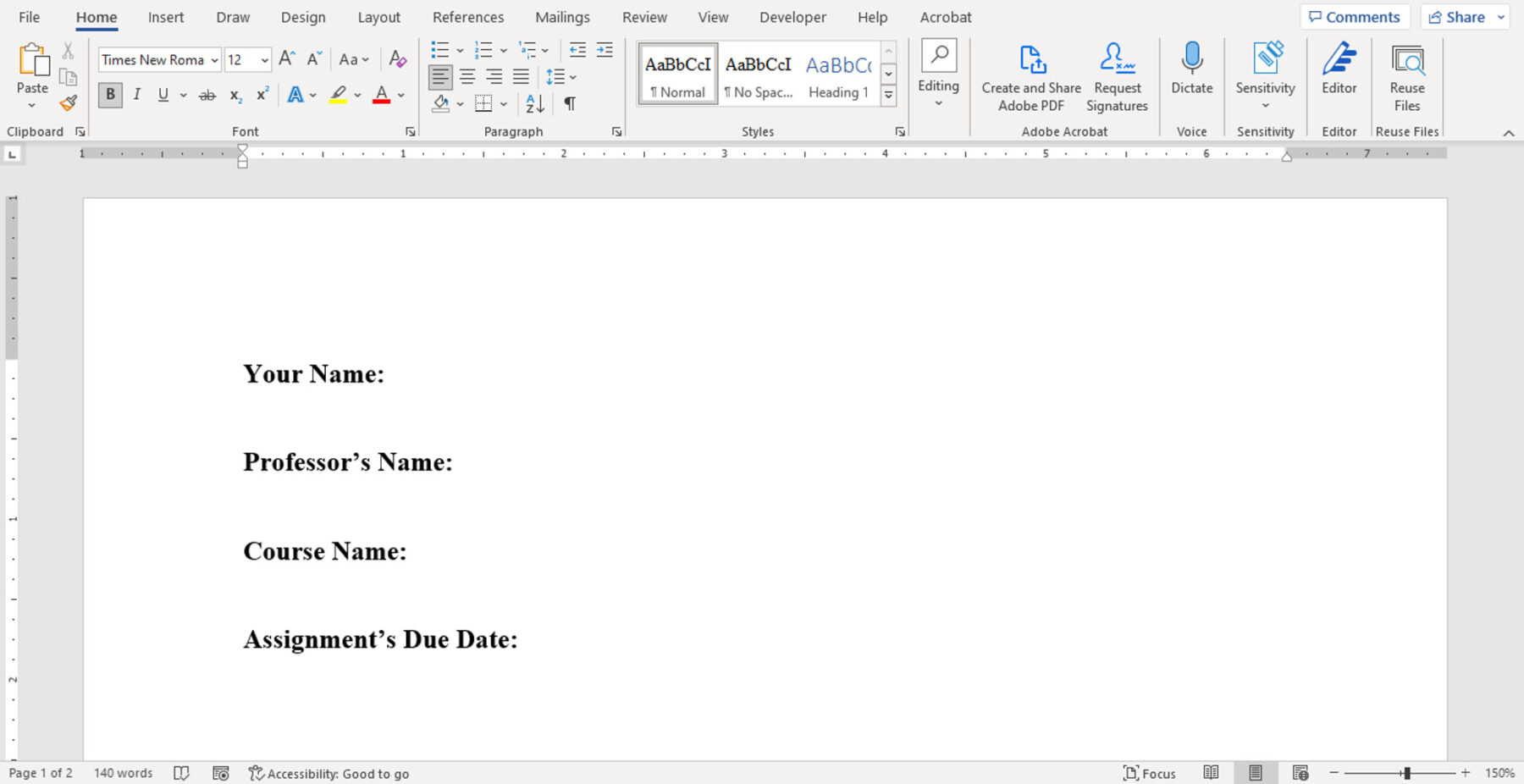 The header
An MLA paper must have a header. The header should include your last name and the page number aligned to the right of the page. If asked, you should also include the running head by typing it in the header section and aligning it to the left of the page. The running head, your name, and page number must appear on each assignment page.
Headings and subheadings
MLA formatting style requires you to be consistent in the format style you choose to use for headings and subheadings. Ensure that the main heading, after the cover page details, is center aligned and each first letter of the heading is capitalized in your MLA format template.

Here is how to format you headings. For the subheadings, the screenshot below explains how each level should be formatted in an MLA format template.

Text and body
For the text and body of your template, ensure you left-align all your work and indent the first sentence of each paragraph by ½ inch as required for an MLA format. Ensure you format the following information found in the body section below.

Quotations: For quotations, an MLA format requires adding quotes to the assignment for reference purposes. However, direct quotes should not be used all over the paper. After including a quote from someone's work, ensure you include an in-text citation at the end of that sentence.
There are different ways of formatting quotations in MLA. You can include the author's name in the sentence. You can also write the author's name and page number in parentheses at the end of a quote.
For extensive quotes of more than four lines, you can use footnotes and endnotes for referencing purposes.
Paraphrases: Unlike quotations, paraphrases are used when you quote particular sources but indirectly write the information with no quotes. This is the best way to summarize the information and include it in your assignment. Again, it is crucial to credit the work's author when using MLA format.

To format paraphrases, you can use the same format mentioned above for quotations, except the use of footnotes and endnotes.
Abbreviations: For abbreviations, you should use them at a minimal level, and you must include their complete meanings. This will help to reduce or prevent ambiguity in your work. You can also choose to abbreviate in your work and prepare an appendix at the end of the paper with the full meanings of each abbreviation.

It would be best to avoid including periods between abbreviations written in capital letters to format abbreviations properly. For small letter abbreviations, use periods in between, and for abbreviations with a mixture of capital and small letter, avoid using periods. For example, AIDS, e.g., and PhD
Ensure you write the months in full when it is within your text. You can only abbreviate a month's name in the MLA bibliography if it is longer than four letters. For example, you can abbreviate January as Jan. Other abbreviations that are accepted but only in the MLA bibliography or works cited include:
p. or pp. for page and page numbers
ch. for chapter
ed. for edition
trans. for translation or translated
vol. for volume
no. for number
rev. for revised
When it comes to structuring names of publishers in the works cited, some words are usually written in full; others are omitted while the rest are abbreviated. Ensure you exclude any words that describe where the publisher works, for example, Co. (Company), Corp. (Corporation), Inc. (Incorporated), Ltd. (Limited), and the (when at the beginning of the name).
Also, if the publisher's name has both names, "University" and "Press," ensure you abbreviate these words to be "U" and "P." if only one word appears at a time, then it can be written in full. For example, Anywhere University or Somewhere Press can be written in full since only one word appears. However, for Everywhere University Press, you should write it as Everywhere UP. You can also abbreviate titles in both references and parentheses. Most titles are standard; hence, there is no need to cite them fully.
Numbers (Images and tables)
For MLA format, you need to know when to spell out the numbers and when to write them as digits. Ensure you use numerals if followed by measurement, for example, 24cm. Fractions, long numbers, and decimals should be written as digits. You can only spell out Arabic numbers if they are one or two words, for example, eight or seventy-two.
Use roman numerals when preparing an outline for your research work: I, II, III, and so on. Roman numerals are also used as suffixes, for example, Leopard IV. That means Leopard the fourth.
Note: You cannot use numbers written in their digit form to start a sentence. Try and fix it elsewhere in the sentence or write the number in words.
There is no limit to how many tables your work may have in an MLA paper unless advised otherwise by your instructor. Ensure you label it as "Table," followed by an Arabic number. For example, "Table 5." Include the table's title just next after the label you have used. Everything should be flushed left.
Ensure you place them next to the relevant information that introduces them for images. Like the tables, create a label, such as "Fig. 6," and include a title or caption below the image. Use the label for in-text citation of a particular image and ensure that you also include the image in the works cited.
Lists
Avoid listing items in a vertical order but instead, observe MLA formatting rules. Your list of items should be written in prose or paragraph form. Ensure you include a colon between the sentence and the first list item.
Works cited in MLA
For works cited in MLA, ensure that the list of sources is written on the last page of the assignment and that the last page, which is the work cited page, has a running head and page number. Also, the citations should be arranged alphabetically, and the page should be double-spaced. Finally, for works cited, use hanging indentation, which is different from the first-line indentation that you should use across the whole paper.
MLA citation format
Apart from formatting the work cited page, you also need to know how to write the citation itself. For MLA citation format, you should always observe the required guidelines as it tends to be different from other academic formatting styles.
Here is the standard way of the MLA citation format.
How do Set Up an MLA Page in Google Docs or MS Word?
To set up an MLA page in Google Docs or MS Word, you can start by choosing the Times New Roman font with a font size of 12.
Next, click on the top of the page to open the header and footer sections. You will need a header for an MLA page that should include your name and the page number.
The font should be Times New Roman-12. Next, select right-align before typing your last name. Next, insert and select the page number on the top right corner.
To attain the required margin, you will open a file and then page setup to set the margins at one inch or 2.54cm for the top, bottom, left, and right. Ensure you set up your paper to double space since it is required in an MLA format template.
Next, click on an icon in the paragraph section to reveal a drop-down menu where you will choose 2.0 or double to attain double spacing. Ensure you also click on "Remove space after paragraph" in the drop menu.
For the MLA heading, select left aligns and include your name, the professor's name, the course name, and the assignment's due date. All these texts should be on separate lines.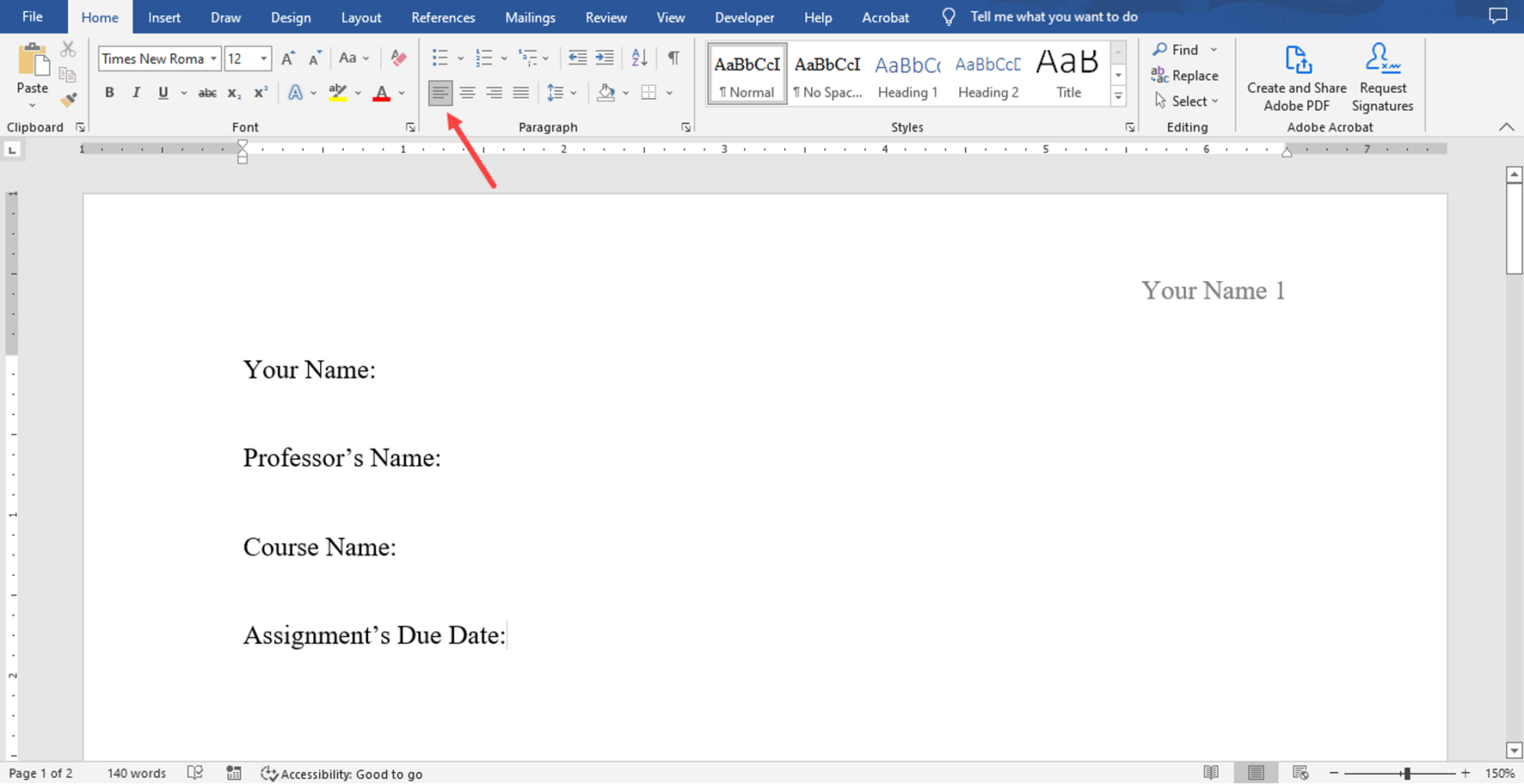 Next, press enter once, center align your text, and type your heading. Ensure you capitalize all the words in your heading or title except for words like articles, conjunctions, and prepositions. For headings and subheadings in your MLA format template, ensure you are consistent.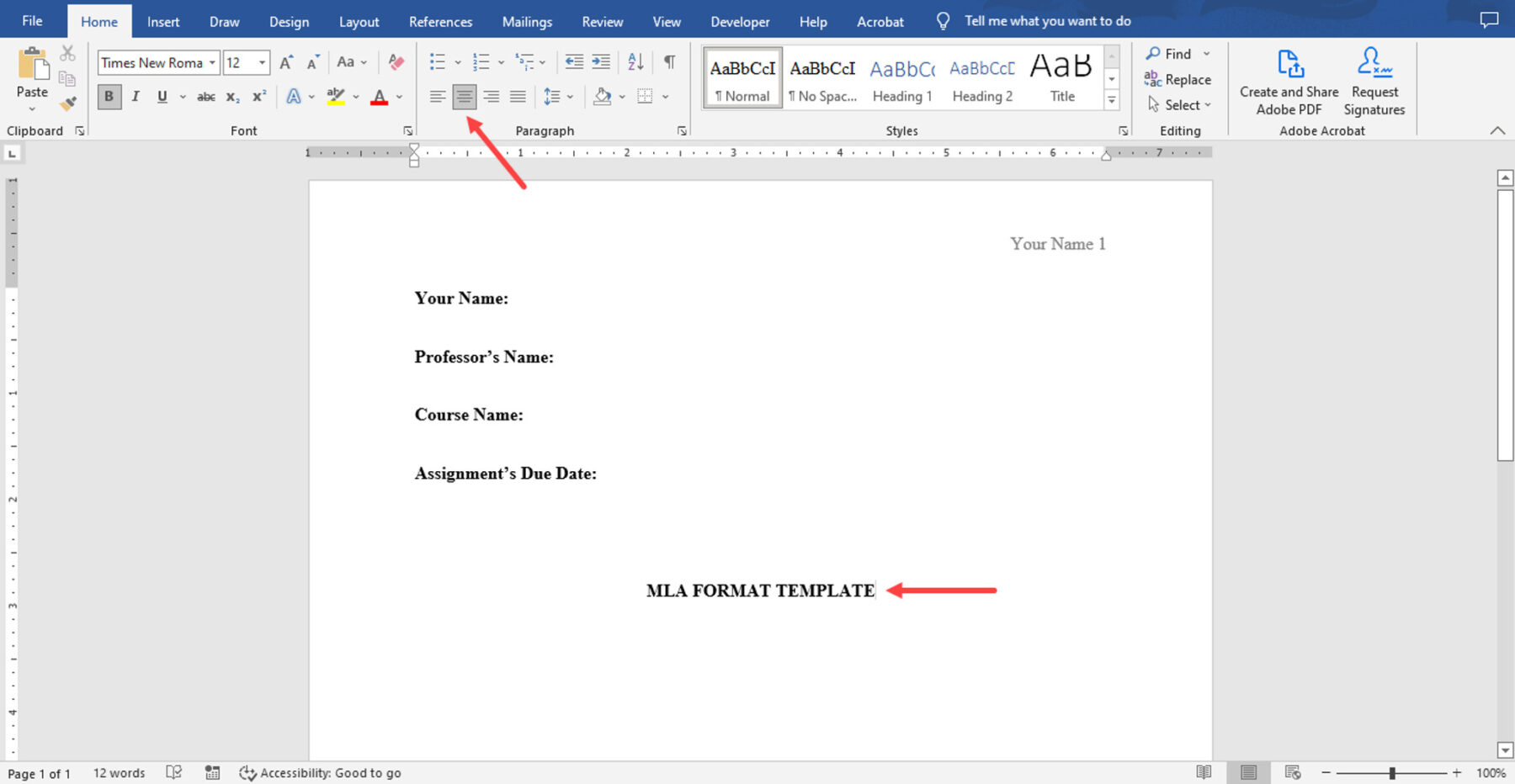 All your body text should be left-aligned, with each first sentence of a paragraph being indented. Indent it at ½ inch or 1.27cm. This will ensure all the first sentences of the paragraphs are indented.
Start your work cited page on a different page. Click insert, break, and then insert a page break. The title "Work cited" should align with the citations alphabetically cited. Use hanging indentations to format your citations.
Frequently Asked Questions
How do you write a paper in MLA format?
To write a paper in MLA format, you must include a running head with your last name and a page number. You will also need a 1-inch margin on the paper's top, bottom, and sides. Ensure that every paragraph has an indentation. Use a readable font and proper font size. The most important thing you should not forget is to cite the sources you will use in the paper on the in-text citations and works cited page.
How do you properly head a paper?
To properly head a paper using MLA, you should ensure that your paper has a running head aligned to the right. In addition, the running must include the page number and your last name.
What font and size are used in MLA format?
For MLA format, the preferred font is Times New Roman or Arial, and the font size should be font-12. The font and font size make the paper look appealing to read.
Do I need a title page for my MLA paper?
A title page is also known as a cover page. You do not need to have a title page for your MLA paper. However, if your instructor requires one, include a title page.