For a proper, precise, and professional event execution, planners or organizers require a show flow. A show flow is a chronological order of activities, such as performances, presentations, transitions, and technical cues, that happen during a live show or event. This outline lets you easily plan how each element will transpire during the event. You can use it as a roadmap to ensure the smooth progression of the event from start to finish.
Therefore, you can easily synchronize the different aspects of the event, such as music, lighting effects, and visuals, to maintain a proper pace, flow, and energy. In addition, the production team will know the process to follow when executing the different activities. This way, stakeholders such as performers, technicians, and stage managers can work together cohesively for a successful event or show.
In this article, you will learn more about a show flow and the importance of using a template to prepare it. It will also discuss the elements to be included and the difference between a show flow and a script. You can easily access free downloadable templates for show flow in Excel format.
What is a Show Flow Template or Run of Show Event Template? 
A show flow template, also known as the run-of-the-show event template, is a pre-designed document that provides the structure of a virtual or live event.
It acts as a guide that enables you to coordinate your team members and ensure that all activities are unfolding properly. It also allows you to keep track of the event's run time. If an event is falling behind schedule, the template will make it easier to trim specific segments to get the show back on track.
It is the framework that covers the logistical, technical, and creative aspects of an event. With a template, all production elements will be arranged for the smooth execution of the entire event. It will act as a central document that synchronizes the elements and provides a clear overview of the entire show.
It is beneficial to use a template as it offers a structured guide and proper organization for effective event planning. In addition, it enables smooth transitions, coordination among team members, and proper communication. Moreover, it has a pre-designed structure that can be customized to suit the specific needs of an event; hence, it saves you time. Finally, it allows the team to have an overview of the event and make the required changes.
What is Included in a Show Flow Template?
Specific elements should be included in your template to allow for a proper flow of the show. Although they might vary based on the needs of your event, there are main components that must be included, as mentioned below:
Event name, date, and location
This is the first section of your template. It is meant for identification and reference purposes. You should highlight the event's name, location, and date. This information will inform your team members of the relevant event details.
Time of the day
In this section, include the specific time of day of the event and the duration for each segment. This information is meant for correct scheduling and coordination. Your production teams can easily create a realistic timeline using these details to ensure the event runs smoothly and stays on track.
Segment description
This section of the template should have a placeholder to briefly describe each event segment to help your production team understand its content and requirements. With this information, they can quickly identify the content and theme of each segment. This will promote proper event planning and execution.
Presenter(s) name
This section of your template should entail the names of the presenters or performers for each segment. Its purpose is to make it easier to identify the individuals responsible for each part and the tasks assigned to them. This will promote efficient communication and proper coordination.
Multimedia content (file names)
For the sake of the technical team, ensure that your template includes a section with the names of the multimedia content. This will make it easier for them to integrate the content effortlessly during the event. It will also enable them to display the right content at the right time.
Support materials
For additional support materials such as props, costumes, and special equipment, ensure you include this information in the respective section of the template. They are usually additional requirements needed for specific segments and must be included for the benefit of your production team. This will allow them to prepare these materials on time and avoid delays during the event.
Content
For this section of the template, provide details of the specific content presented within each segment. Ensure that you make the subject or topic clear and easy to understand, as it is meant to guide your presenters or performers. It will help them prepare for the event, improving the show's cohesiveness and flow.
Production
The production section entails each segment's technical requirements, equipment setups, and stage directions. The focus is for the event to have intriguing visuals and audio. With these details, you will easily inform your production team of the show's technical aspects, such as lighting cues and sound effects. This will contribute to proper setting and mood throughout the event alongside smooth transitions and powerful visuals. The production team will have information about the desired ambiance for each segment.
Staging
In this section of the template, you should focus on the staging necessities for each segment, such as stage setups, props, and choreography. The idea is to organize your stage and prepare for each activity adequately. With proper details, you will have a visually appealing and synchronized event.
Audio
You should include the requirements for the audio section, which may entail sound cues, music selection, and voiceovers. It is all about enabling the audio team to produce optimal sounds. In addition, this section of the template will allow your audio team to harmonize the entire show flow, improving the event's quality.
Notes
This section in the template is meant as an extra space for additional reminders, cues, or other considerations relevant to specific segments. The production team can easily focus on the parts requiring special attention.
Free Templates
If you do not wish to create your template for show flow from scratch, you can use the free downloadable ones available in Excel format. They will offer you a pre-structured design that you can customize to suit your event's requirements. In addition, they will save you time and effort while guaranteeing you a detailed, organized, and professional show flow.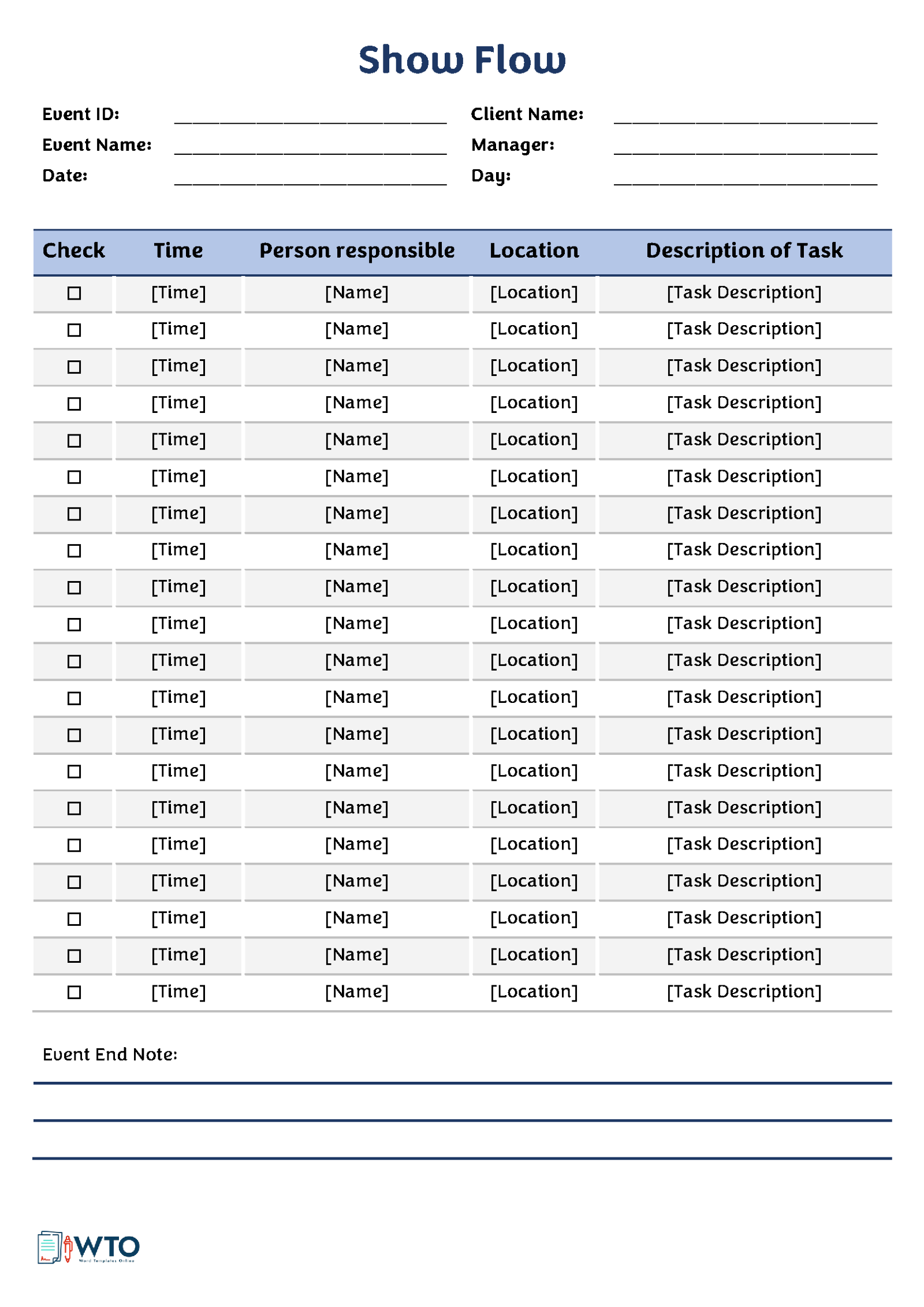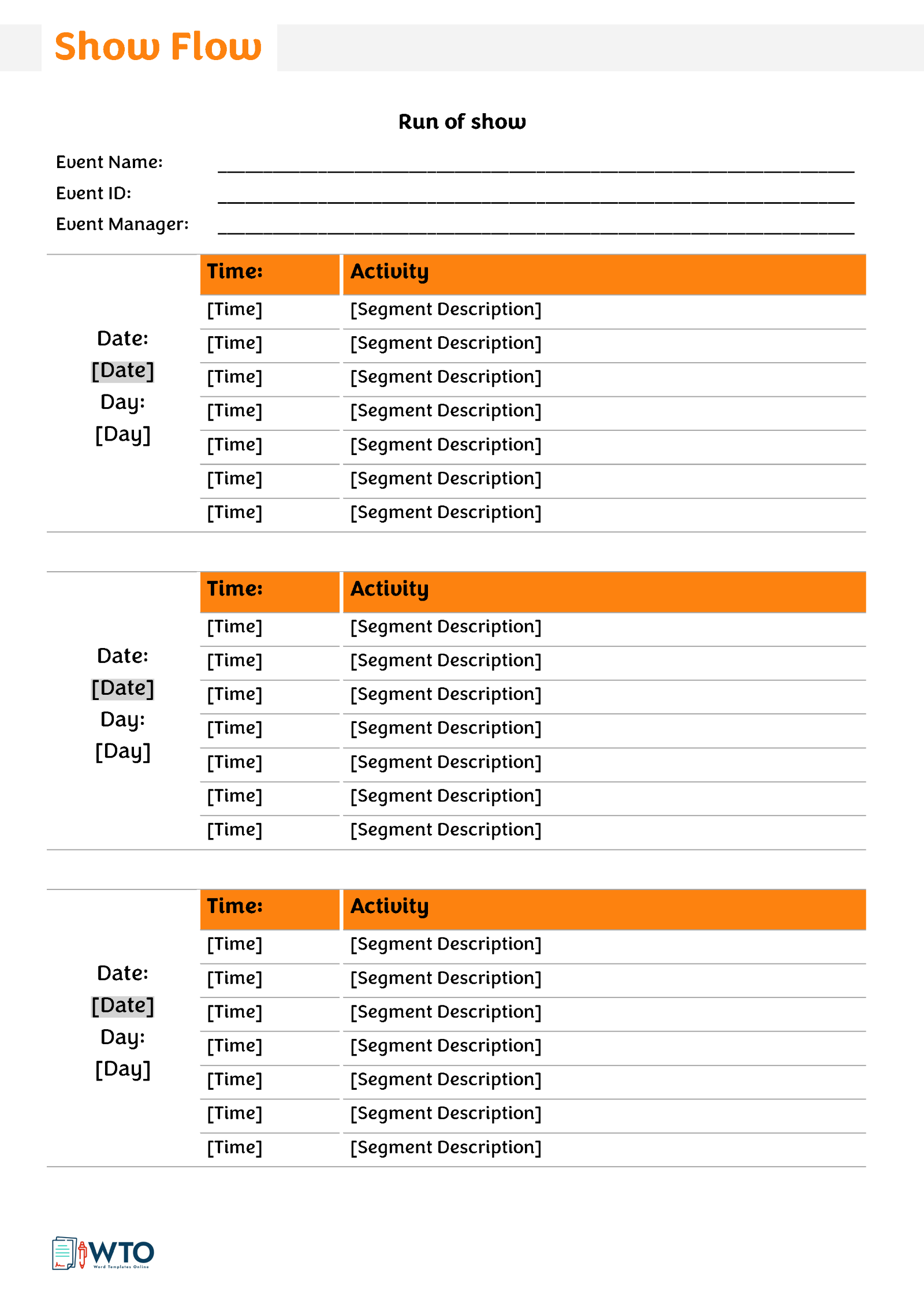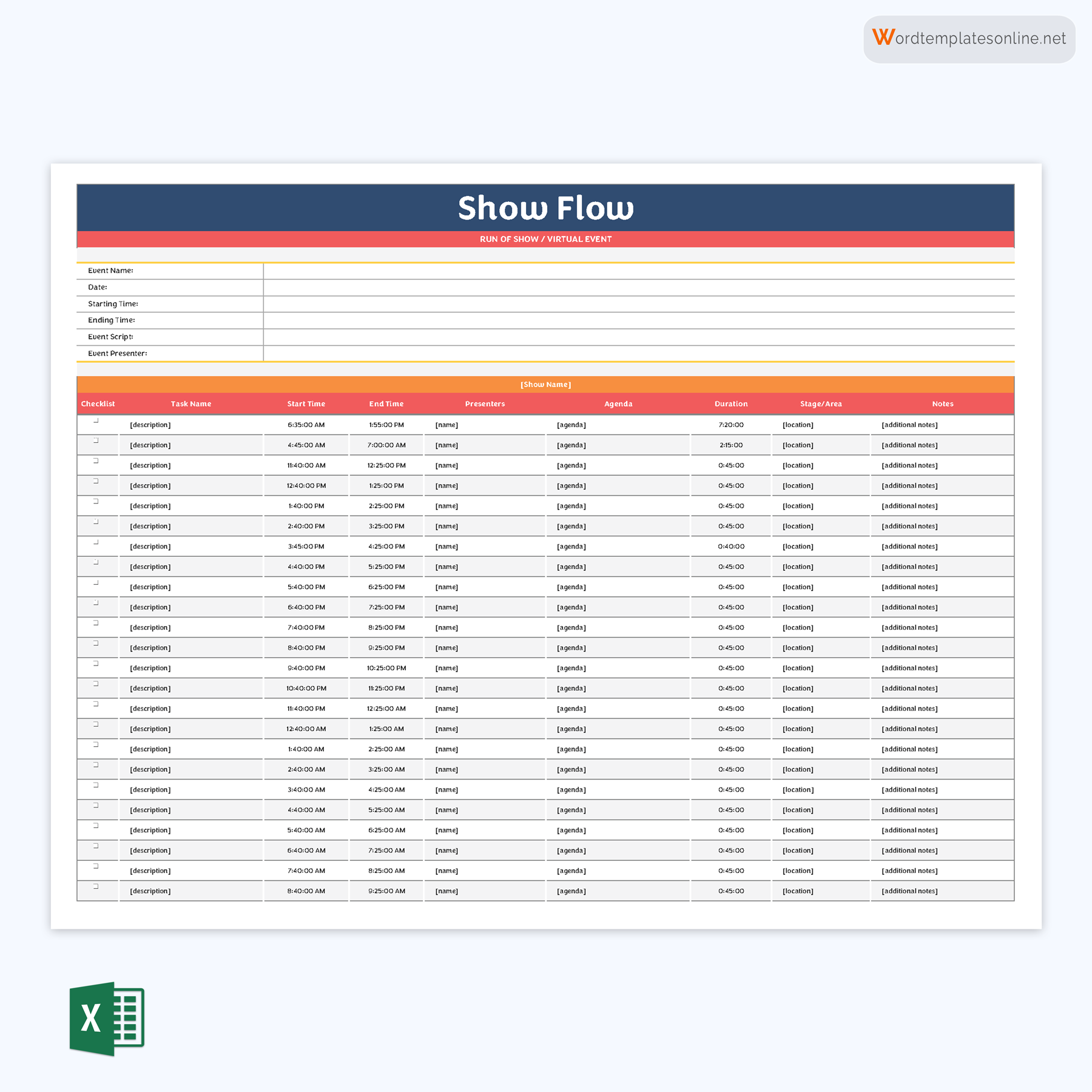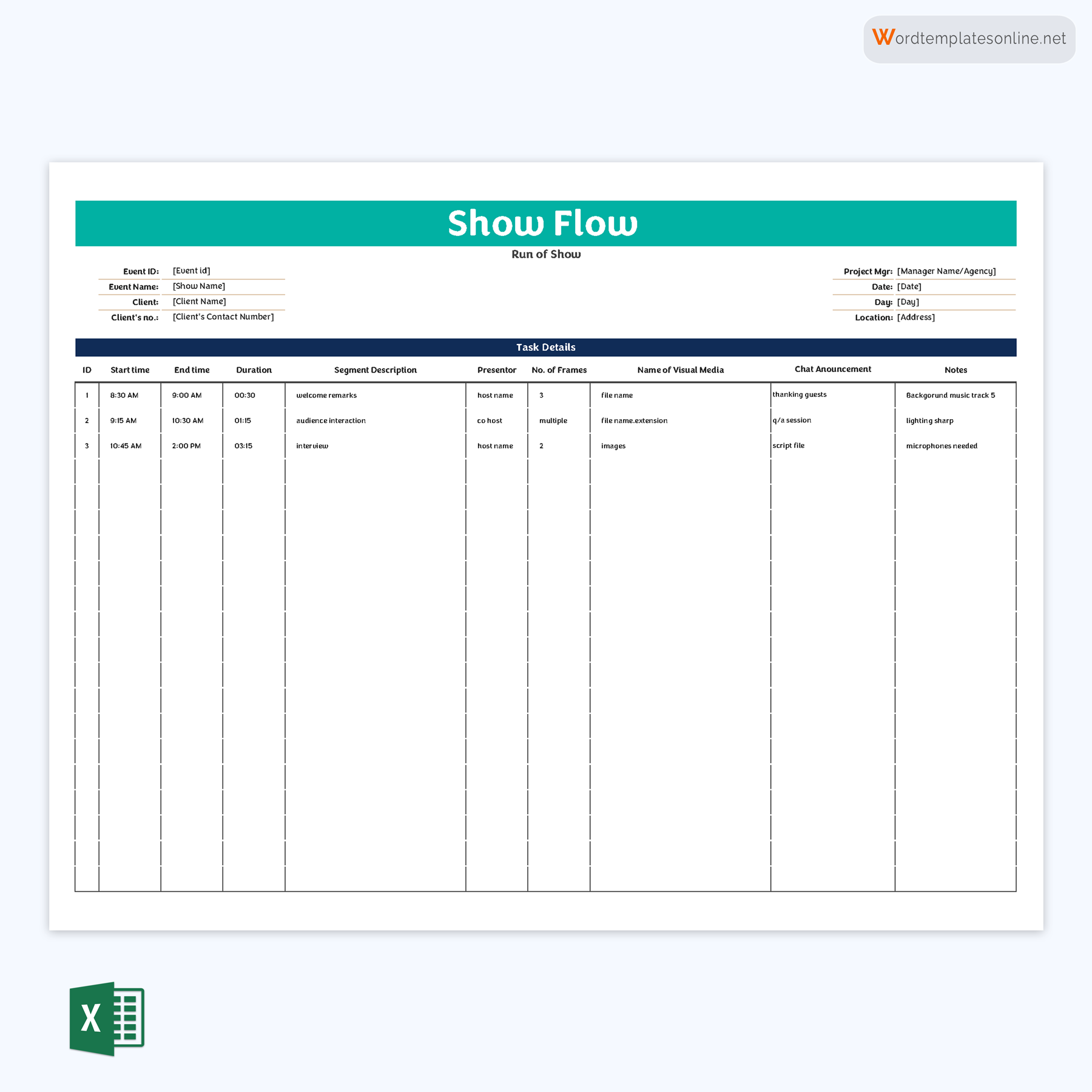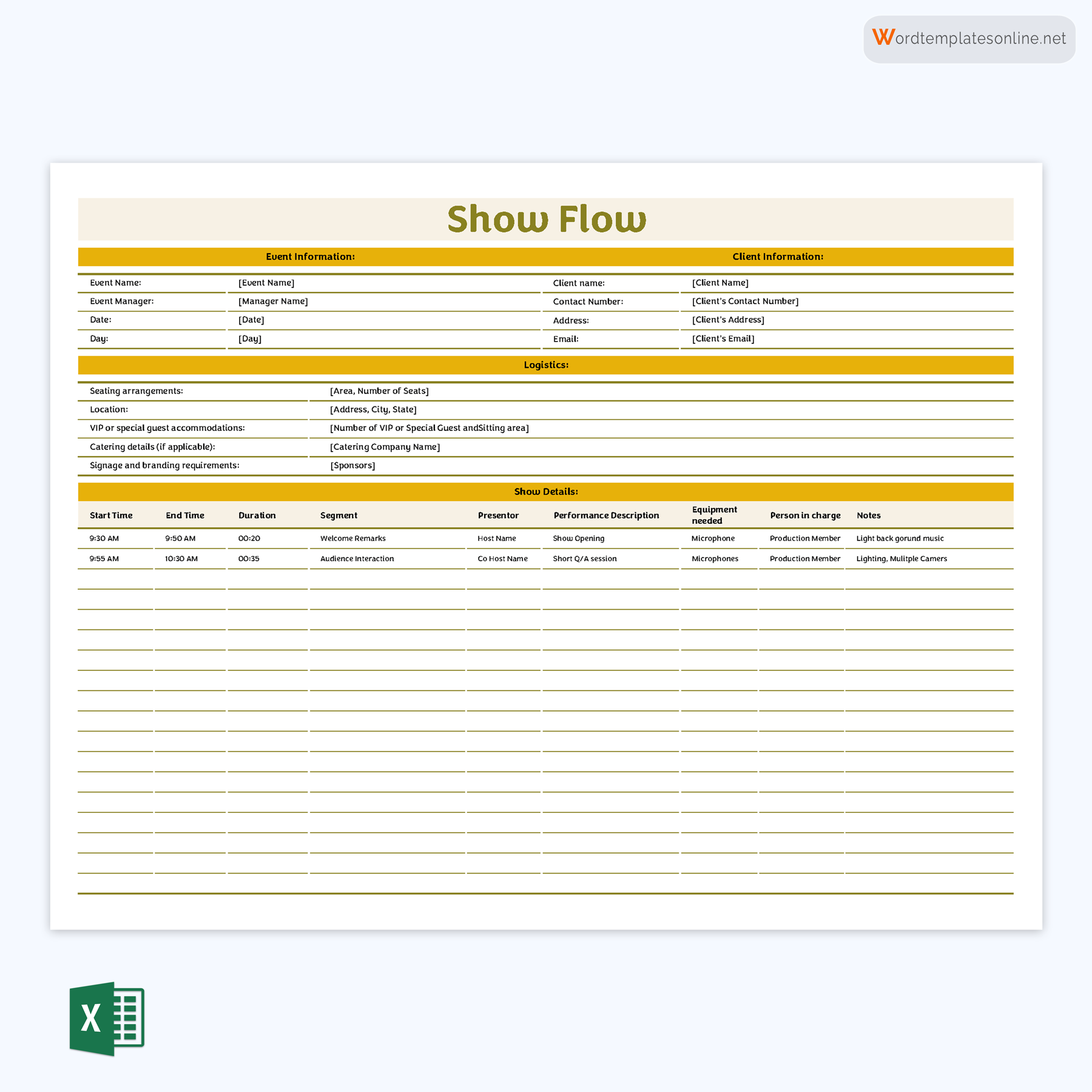 Best Practices for Creating a Template for Run of the Show Event 
For a run-of-the-show template, below are some practices you should observe when creating it. The idea is to ensure you have a document that promotes cohesiveness and a smooth flow of your event:
Use a clear & logical format
Ensure your template uses a clear and logical format for easier understanding and navigation. This means that you and your team members can quickly identify the information needed for a smooth flow of the show. You can use headings, subheadings, and sections to arrange your content.
Add visual elements
You should add visual elements like diagrams, seating charts, and stage layouts to your template. Such visual representations will improve its function. They offer a clear overview of the event's spatial arrangements, staging, technical setups, and production requirements for you and your team.
Maintain flexibility
With a template, you can easily adjust, change or modify your run of the show event. Events tend to experience last-minute changes, and using a template allows for flexibility. Sections such as notes or revisions will enable you to update your show flow according to the event's developing needs.
Use standardized terminology
Avoid using jargon and instead focus on using standardized terminology within the template. This will improve communication and understanding, prevent confusion and promote collaboration. Your entire team should be familiar with the language you use in the document. In addition, it should be consistent for components such as technical elements, stage directions, and equipment descriptions.
Test and review
It is advisable to test and review your template for a show flow before finalizing it. By doing this, you can collect helpful feedback from the production team and rectify inconsistencies. You can also simulate the event flow during the test to determine its execution. This will guarantee efficiency and accuracy in highlighting all the information and requirements of the event.
Show Flow vs. Script
A show flow and a script are two documents used in event planning. However, they are meant for different purposes. The former outlines a live event or show's overall flow, technical requirements, and logistical aspects. It entails a chronological sequence of activities, timings, and durations alongside other elements that will help in the planning process and production setup.
In contrast, a script is a written document that entails dialogue, instructions, and a narrative for the performers or presenters. It focuses on the performed or spoken content of an event or show. Moreover, it offers emotional cues, stage directions, and character descriptions. That means the show flow focuses on the structure and execution of an event, while the script focuses on the content and guides performers or presenters.
Final Words
A well-designed template for show flow is essential for any event planner or organizer. It aids in the planning process and execution of a successful live show or event. There are main components, such as technical, logistical, and creative aspects of the event, which should be included when creating this template. The idea is to have a practical document that promotes cohesiveness among team members and a smooth flow of the show.

Whether you create one from scratch or download free Excel-format templates online, it is crucial to focus on the requirements of your show. With a proper document, you can easily communicate with all stakeholders and inform your team members of their responsibilities. Finally, observe the best practices for creating a run-of-the-show event template provided in this article.