A Receipt is a written acknowledgment issued by a seller to the buyer stating that a specified amount of money, either partially or in full, was received as payment for goods or services provided (transaction).
A receipt acts as proof that an invoice has been partially or fully paid. This way, the seller uses it as a record for keeping track of transactions made in a business which is a crucial aspect of running a business. Receipts are also a significant instrument in accounting, auditing, and filing tax returns.
Additionally, they are also used in handling matters related to warranties and refunds and can easily present all your transactions history to the audit team. These days receipts are commonly issued electronically. Physical receipts are only issued when the customer does not provide their email.
A receipt template is a blank form designed in a user-friendly manner to enable the sellers to create payment receipts every time they need them at their convenience. The template will typically have blank spaces outlining all the fundamental components of a standard receipt. Once completed accordingly, it creates an actual receipt. These templates can be obtained for free from the internet or software such as MS Word. Templates are recyclable and usually customizable.
Tip: The IRS directs that all businesses should keep receipts for at least three years. However, receipts for any tax year the business made a loss should be kept for seven years.
The following are a few standard receipt templates belonging to different types that you can download and use with ease: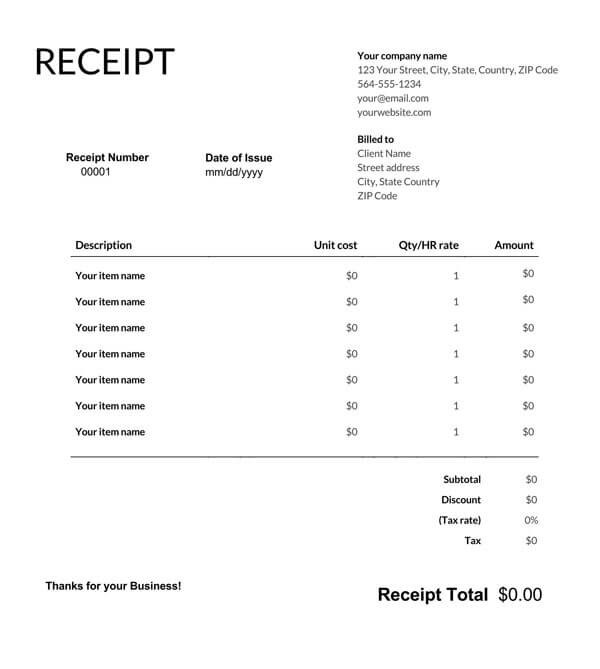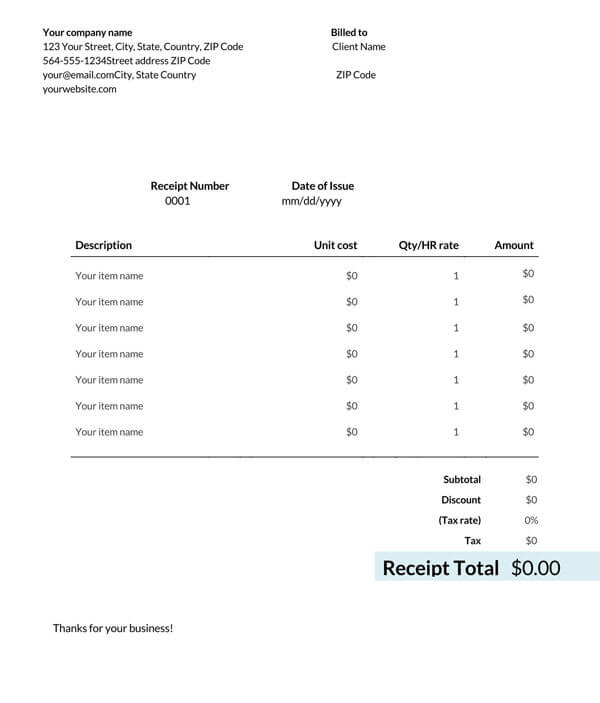 An invoice, unlike a receipt, is issued before the customer makes any payment. An invoice outlines the money a seller expects from a customer for goods or services sold. A receipt, on the other, is issued after a partial or complete payment has been made by a customer.
Did you know?

Although a receipt is not a packing slip and is not referred to as one, a packing slip contains most of the details of a receipt and can therefore be used as proof of payment or purchase. The major difference between a receipt and a packing slip is that of the name, the packing slip has a heading of "Packing Slip" on it.
Fundamentally, most receipts have the same core items/components. These fundamental components should appear on the document regardless of the transaction made.
Therefore, the following components should be prioritized whether one uses a receipt template or chooses to craft a personalized one:
Business/seller information: This section outlines relevant information about the seller. This includes the business name, mailing address, phone numbers, email addresses, logo, and website.
Customer information: Customer information must be included to clarify who made the payment as outlined in the document. Information provided in this section includes the customer's name and address information.
Date: The date of the transaction (when the payment was received) should be outlined. The date should have the day, month, and year.
Receipt number: Each receipt typically has a unique identifier (serial number). This number is vital for filling purposes and monitoring progress.
Amount received: The total amount received should be specifically declared. It should also be shown if the payment was partial or in whole.
Payment reason: The receipt should break down the payment and state why the payment was made. This section contains a list of products or services accompanied by a brief description of the products or services sold. VAT and discounts can be outlined in this section.
Payment method: There are multiple ways payment can be received. The specific payment method exchanged in the transaction at hand should be stated. The standard payment methods are cash or electronic – cheques, credit cards, debit cards, etc.
Initials or signature: A section that prompts the seller or their representative to initial or sign an acknowledgment that they sold the said goods and received the quoted payment should be provided.
How to Make a Receipt in Microsoft Word
Using a receipt template can be simple and effective in creating some for operating a business. MS Word, being a well-known software, is also used in creating receipts.
Follow the steps given to create a befitting receipt for your customers with MS Word:
Step 1: Launch Word and select the preferred template
The first step is to launch word and create a new document. Go under the "File" command and click on "New." Scroll down on the templates section to find "Receipts" or search the word receipt in the search space. Click on it and a variety of different types of receipts will appear. Select the most suitable version of the it and click "Download." The template will appear in MS Word.
Step 2: Fill-in the details
Date
Afterward, indicate the date of the transaction. Ensure to capture the exact date when the payment was received, as accuracy is pertinent for recordkeeping purposes.
Receipt number
Then indicate the serial number appropriate for the transaction in question. For example, the number can be based on transactions made in a year or month or the type of item sold.
Amount received
Declare the total amount of money that was received for the transaction. State if it was partial or full payment. If it was a partial payment, remember to indicate the remaining balance.
Transaction details (what was purchased)
Next, indicate the items that were sold to the customer for the quoted amount of money. When listing the items, include a brief description that provides the type, quantity, and other descriptive information.
Received by
Under the "Received By" section, state the person who received the payment. This will usually be the seller or the cashier in some cases. Provide the full names of the receiving party.
Received from
Next, under "Received From," declare who paid the specified payment. It is important to note that it does not necessarily have to be a customer. Some customers have other people like assistants, financiers, and banks to make payments on their behalf.
Payment method
The next section is to declare the payment method used by the customer to make the payment. It can be cash, check, credit card, etc. Indicate accordingly.
Check number
If a check was used as the preferred payment method, supply the check number. Please do not disregard this information, for it might be helpful later, especially with cases where the check bounces.
Credit card details
Lastly, for payments made through credit cards, provide the credit card details. This information is used to prevent fraud cases if a customer chooses to use someone else's credit card; the receipt can be used as part of the paper trail.
Following are some free downloadable templates for you:
Receipt templates- by type
Different Ways to Scan a Receipt
With most businesses embracing the digitization of keeping records, sellers will often need to scan the receipt for safe storage in their database.
The two ways to go about this are:
Scan using mobile apps provided to scan documents and store them in the cloud storage. Using mobile apps is fast and convenient as it is a direct process.
Scan using a digital scanner and store it in a storage device such as a USB drive.
A receipt is a written record of payments made by customers for goods or services sold. As a result, it is used for accounting, auditing, and tax purposes. Businesses additionally use them to monitor progress by recording which products or services are being sold more.
A standard receipt contains the seller/business and the buyer's information, the amount received, date of transaction, method of payment, the reason for payment, receipt number, and signature.
Sellers can use receipt templates to create them personally. Templates are blank forms that users can utilize to put the necessary details to craft receipts. MS Word is an effective tool in using these templates. Ensure to use the most suitable template.
Different types of receipts are used in business, so make sure to use a suitable type for the transaction at hand. For safekeeping, it is recommended that physical receipts must be scanned and stored digitally.