A Daycare service contract is fairly similar to a babysitter's service contract and allows parents/guardians to hire a daycare business to care for their child. Daycares, unlike babysitters, however, are physical locations in which the children must be dropped off. This makes drafting a Daycare service contract that much easier, as the specifics are limited to things like the number of hours, meals, helping with homework and/or extracurriculars, and any other potential services that daycare may choose to offer!
Daycares typically vary from one another, as they offer a number of different services. Some are open 24 hrs, for kids who need to be cared for overnight or for extended periods of time, while others are, as the name suggests, Daycare centers. Some may even be full-fledged residential houses that offer children an alternative to living at home with a babysitter. Each of these options presents its own pros and cons. For the purposes of this article, however, we aim to develop a Daycare service template that can be used and modified by any of the aforementioned services!
Daycare Service Contract Templates
Sample Template
DAYCARE SERVICE CONTRACT
The parties, i.e the "Client" _ and the "Daycare Service" <___________> (Service provider name) hereby agree to the terms and conditions outlined in this cleaning services contract agreement. They are collective to be referred to as "the parties."
I. The agreement between the parties relates to the care and transfer of the following children;
Child Name __ Age _ Date of Birth
(In the case that there are multiple children, simply add more space for the clients to print their names.)
II. The clients, in their scope as Parents/Guardians (check one) of the aforementioned minors, hereby agree to provide the following details in case of emergency, as well as to assist the daycare center in providing the best services possible;
Name ___ Relationship to child
Phone Number _ E-mail ______
Additional Notes ___________________________________
(Here, Parents should specify if there is a better way to reach them or if they have certain hours where they don't want to be disturbed except in the case of emergencies.)
III. The Parties hereby agree to the following schedule in which the daycare service provider will impart their services;
_ Monday Start Time _ AM_ PM__ End Time AM PM _ Tuesday Start Time _ AM _ PM__ End Time ___AM PM _
_ Wednesday Start Time AM PM__ End Time _ AM_ PM _ Thursday Start Time AM PM__ End Time _ AM_ PM _ Friday Start Time AM PM__ End Time _ AM_ PM _ Saturday Start Time AM PM__ End Time _ AM_ PM _ Sunday Start Time AM PM__ End Time _ AM_ PM _ IV. For these services, the client agrees to pay the Daycare Service in one of the following manners; A fee of $xx per hour YES _ NO__ A fee of $xx per session YES _ NO_ A fee of $xx YES _ NO__ (this part is used to total up costs, in the case that multiple children are entrusted to the daycare center.)
V. Additional Clauses – Daycare Centers should use this space to account for additional clauses. These typically include disclaimers, establishing that they won't work on certain days, such as holidays, late payments, dispute resolution, etc.)
VI. Daycare Center Policy – Typically, most daycare centers will have to develop a policy to which they abide in order to get licensing and get registered. This space should be allocated for attaching their policy. Typically, policies include things like not accepting children below the age of 5 or children with certain pre-existing health conditions. This will greatly vary on a case-to-case basis, so daycare centers will need to evaluate and attach their respective policies.
VII. The client, to the best of their knowledge, acknowledge the following pre-existing health conditions;
________________________________________________
(The clients must list any allergies, mental or physical conditions and any special needs the children may have here.)
This agreement hereby represents a daycare services contract between the aforementioned parties and is a comprehensive understanding between the two parties. Subsequently, it supersedes any prior contractual or non-contractual agreement between the two parties mentioned, i.e the "client" and the "daycare service."
Client Name Daycare Service _______
Client Signature _ Representative Signature _
Date __
Free Downloads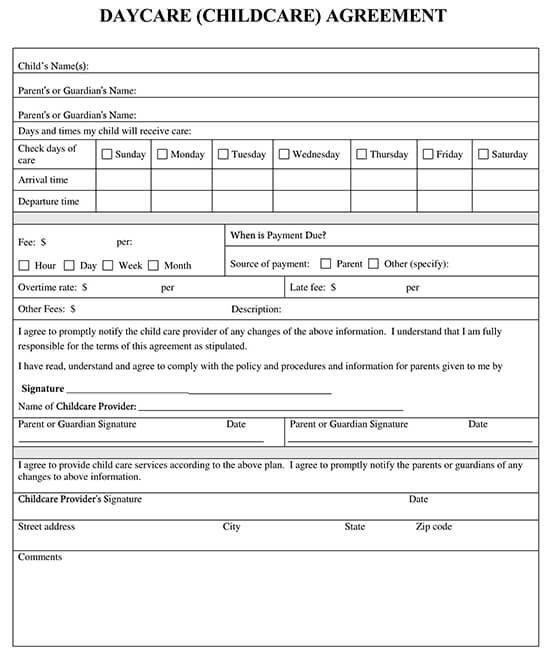 Daycare Licensing and Registration
Before drawing up a services contract, Daycare service centers should be sure to obtain the requisite licensing and get themselves registered. State laws typically require them to follow a number of policies and pass a fair amount of inspections. This includes things like following safety codes, building administration codes, and the like, which govern how many people can be in the building, what kind of services they can offer, their hours of operation, etc.
The Cost of Daycare Services
Studies show that a 24-hour plan at a daycare center in the United States typically costs $1,230. Home-based daycare plans, which offer specialists who will travel to your home when required, are slightly cheaper, coming in at an average cost of $800. Generally, it works out to be slightly cheaper than a nanny, which will run you $19/hr. Keep in mind that daycare services are, in fact, tax-deductible. A single parent may write off up to $1,050, while both parents may write off up to $2,100. This applies to children below the age of 13, with the exception being in the case of children with mental and/or physical disabilities. Parents should note that tax deduction is calculated on a percentage basis. This means that if a parent makes roughly $40,000 per year, they would be able to write off roughly 23% of $4,000, which is the sum of their taxes. Once again, this largely depends on their income bracket, as the percentage varies slightly depending on their income.
Do You Require a Daycare Contract?
Essentially, anyone who is interested in enlisting childcare services, but also wants some degree of legal protection afforded to them, will need a daycare services contract. This usually includes
Parents and/or Guardians who leave their wards in the care of a daycare services provider
Daycare service providers, particularly individuals who aren't tied up with a business, such as nannies, babysitters and the like
Large-scale organizations, such as after-school daycares, who want to outline their policy, rules, regulations, and hours.
Things to Look for in Daycare (Child Care) Contract
Daycare centers are subject to local, state law, and so, drafting a contract for their purposes can vary slightly from state to state. Many states have registries for licensed daycares, making obtaining a license and registering your center a prerequisite. Once that's done, they need to confirm the hours in which they function, their price structure, the miscellaneous services they offer, and specify how flexible they can be. All of this needs to be added to the daycare service agreement, as it is particularly important to protect themselves from any sort of liability further down the line.
Typically, organizations, as well as individual daycare service providers, will want to outline their fee structure in the daycare service contract. This is added under its own section in the contract and outlines the fees, as well as the method in which the service provider(s) is paid. This includes particulars such as;
The fee, i.e., a dollar amount per hour. (In some cases, it is a flat fee, but that is very rare.)
The method of payment. Some daycare homes expect a down payment and a deposit, while others don't. Some may prefer a particular method of payment, such as a check.
Intervals of payment, i.e. how often the service providers are paid. Typically, individual babysitters and nannies charge per session, while organizations and larger daycare service centers charge either monthly, bi-annually, or annually.
Finally, the service contract is likely to have a clause that details the procedures in case of late payment.
Frequently Asked Questions
How does daycare payment work?
This varies to a great degree between facilities and/or service providers. Larger organizations, such as daycare homes and centers that manage a number of kids usually expect parents/guardians to make a deposit at the start of the enrollment term, and then charge monthly. Individual daycare providers, such as nannies and babysitters typically charge per session, with an hourly fee ranging between $15 to $25, depending on locality, as well as the tasks they will be required to do while caring for the children.
How can I get out of a daycare contract?
Daycare contracts typically include a cancellation clause, which allows either party to terminate the agreement prematurely, provided all pending dues are paid. As a result, parents/guardians who wish to get out of a daycare contract need to simply fill in a cancellation form and submit it to the appropriate people. If they have any outstanding fees, they will also need to pay those fees. Parents and guardians should also keep in mind that daycare service centers may charge a cancellation fee as well.
How much does daycare cost on average?
Typically, daycare centers cost between $40 and $55 per child. This, however, largely depends on locality, as well as the size of the daycare center itself. On average, parents that need such services spend almost $200 per week.