For those who own eateries, you know the difference a well-designed menu can make in sales. However, did you now that having a menu specifically designed to show off your beverage list can actually assist in making your business even more profitable? That's right. Having a menu dedicated specifically to your beverage offerings allows your guests to take their time without being overwhelmed. Your beverage menu is to be considered a marketing tool, so consider using a table tent, and placing one on each table. To help you get started, we've compiled a list of design basics and tips, which should help you on your way to creating the best drink menu for your needs.
Keep Up on Trends
When it comes to marketing your beverages, keeping up with the trends is where it's at. That's why it's suggested that before you consider the types of beverages, you'll offer and the beverage design, it might be a good idea to become a devotee of mixology blogs and podcasts. In fact, mixologists from all over the country have learned to depend on the information they offer, as they do the research, so you don't have to. Some popular mixology blogs are:
The Modern Bar Cart (https://www.modernbarcart.com/podcast)
Imbibe (https://imbibemagazine.com/cocktails-spirits-recipes/)
The Drink Blog (https://thedrinkblog.com/)
To learn more about the art of mixology, as well as keeping up with the trends, check out the Advanced Mixology website. There, you'll be able to learn about the art of mixology at your own pace, and consider just what mixed drinks would suit the guests of your establishment the most.
Single Out Your Specialty Drinks

The restaurant business is a tough one, and to succeed, you need to take advantage of everything you can, and one of those advantages is to create a beverage menu with drinks that people can only get at your establishment. For instance, perhaps you or someone you know is a craft beer enthusiast. As such, you'd create a drink menu that highlights those craft beers in order to build up a following. The same goes for other beverage offerings, such as creating a signature cocktail. Also, keep in mind the benefits of pairing your specialties with certain meals and desserts, so customers can enjoy their flavorful combination and keep coming back for more.
Get Creative with Naming Your Specialties
Where the wine list is generally straight forward, you get a bit more flexibility with naming your beverage creations. So, when naming your cocktails, create names which have a flair for the unusual, or reflect on your eateries theme. For instance, if your establishment has a dark, Goth theme, you could name one of your cocktails, "Midnight Lace," and so on. Or, if you own an unconventional establishment, you could name a non-alcoholic beverage, "The Virgins Delight." If you're fortunate enough to have a popular mixologist, someone who actually draws people to your establishment, then take advantage of that by using their name as part of the drink, such as "Maxine's Tropical Delight."
Hire a Professional Food Photographer
It may sound simplistic, as how hard can it be to take a picture of a drink? Well, very hard if you're planning on selling it to a customer. Professional food photographers know exactly how to highlight your beverage to its best advantage. They are schooled in the art of cueing the customer's senses to the point where they can take one look at a photo, and anticipate the goodness of the drink. They know how to use color to its best advantage as well and create a setup that reflects your restaurant's theme and overall design of your menu.
A Dynamic Drink Menu Assists in Returning Customers
Earlier, we mentioned the importance of knowing what you sell and keeping a running list of how profitable each drink is. While that is crucial to your success as an eatery, you also have to remember that we're living in an era of low attention spans. This means while a guest might come to your establishment just to savor your "Midnight Lace" cocktail, they might also quickly tire of it and yearn for something new. As such, it's critical that you keep adding new beverages to your menu on a regular basis. Never give your guests a reason to go and try that new cafe around the corner. People tire of things; they are fickle, so keep your beverage menu fresh and exciting by making regular updates.
Description Creates Anticipation
So, your bartender just created a unique and flavorful mixed drink. You are sure that your clientele will crave it. You've had others taste test it, you've given it a fabulous name, and you've just received the proofs from your professionally trained food photographer. All well and good, but you're not done yet. In order to really sell that drink, to get the payoff, you need a masterful description, one that seals the deal. Start by including the ingredients of each cocktail, with the ingredient with the highest concentration listed first. Next, include a brief description designed to lure your guest into giving the drink a try. Remember, you can also have your waitstaff inform your guests of specific drinks on your list, to encourage their sales. Note that there are no hard and fast rules to crafting your drink menu, as it's as unique as your very own eatery, so to give you a better understanding, we've included some drinks and their descriptions below:
This example is from "Terrapin Restaurant"
Malbec Reserva – Bodega Estancia Mendoza, 2016 Argentina
well structured with velvety tannins, a long finish, and a berry nose
This next sample is from the website "The Beer Advocate"
Crystal clear golden color with a sudsy white head. Gorgeous beer. Floral, citrusy hop aromas on the nose lead to a slightly dank citrus flavor on the taste and a dry finish. The very definition of a crushable IPA.
While we encourage you to consider listing the ingredients of each mixed drink, we discourage you from adding the calories. We know you've probably seen the calorie count on menus before, but that doesn't exactly mean you should do it to yours. The only exception would be if you were operating a health food eatery. If that was the case, then yes, of course, you'd include the calorie count for each beverage.
Menu Design
Depending on how you look at things, this can actually be the most fun of all. While it's true that the drink menu isn't as complex as the food and dessert menu, it's still important to use the same guidelines you used when prepping your food and dessert menu. For instance, find a design and color palette that compliments the theme of your eatery. Take advantage of banners, boxes, borders, and frames in your design, remembering to use them to neatly divide sections of your drink menu so that it's easier to read. As for the fonts, it's perfectly fine to use the same font styles for your drink menu as you did for your food and dessert menu.
Include Categories
Remember to include categories such as cocktails, wine, and beer in your menu. Give each category enough space so your beverage listings aren't cramped and difficult to read. Depending on your establishment, you can be as liberal with the categories or choose to be specific. Tipplers Taxonomy has a detailed list of categories for mixed drinks, which can come in handy when designing your layout. For instance, one eatery might just have three categories: Wine, cocktails, and beer. However, another may break their drinks menu down to tropical drinks, champagne cocktails, thirst quenchers, wine, and beer.
Photos and Illustrations
Don't forget the photos and/or illustrations! Carefully thought out and planned imagery, when applied to a beverage menu, can actually increase your drink sales. Don't cut corners here, if you're not artistic, then hire a professional to render the artwork. When it comes right down to it, your drink menu should subtly convey the message of "Try me, buy me." It may sound crass at first, but you are in business to make a profit, so all thought should be in that direction.
Free Templates
Cocktail Menu Template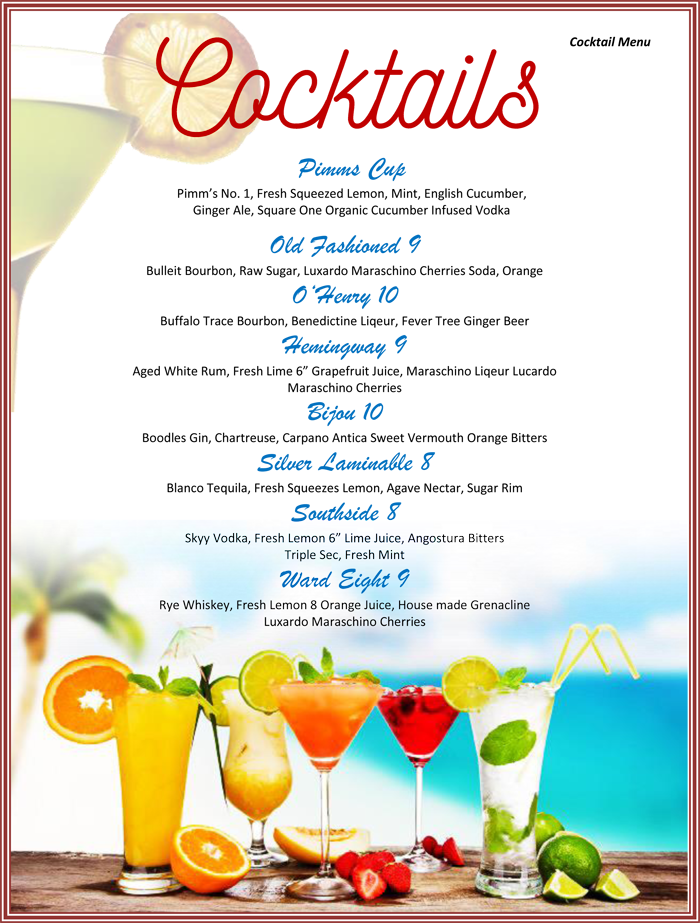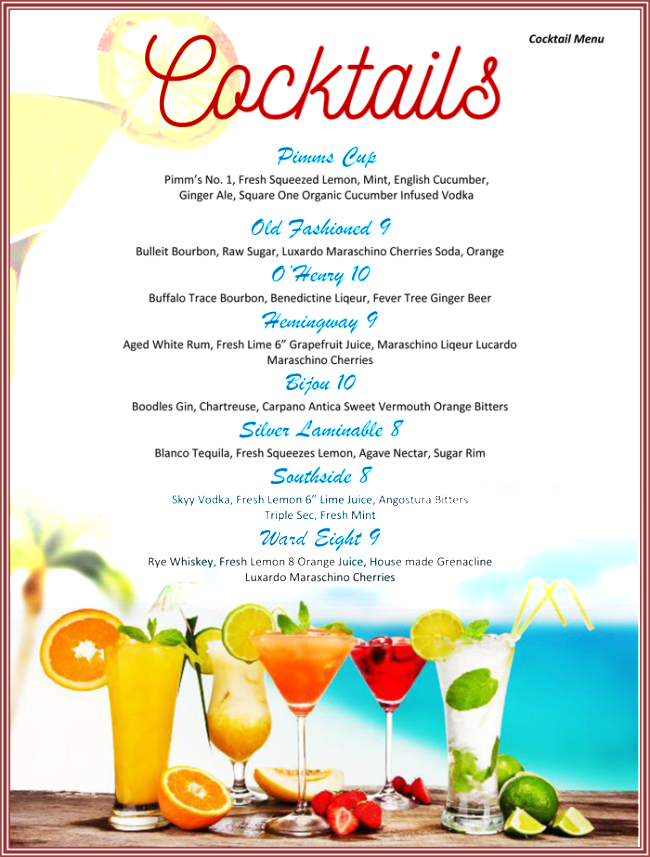 ---
Drink Menu Template
---
Sample Drinks Menu Format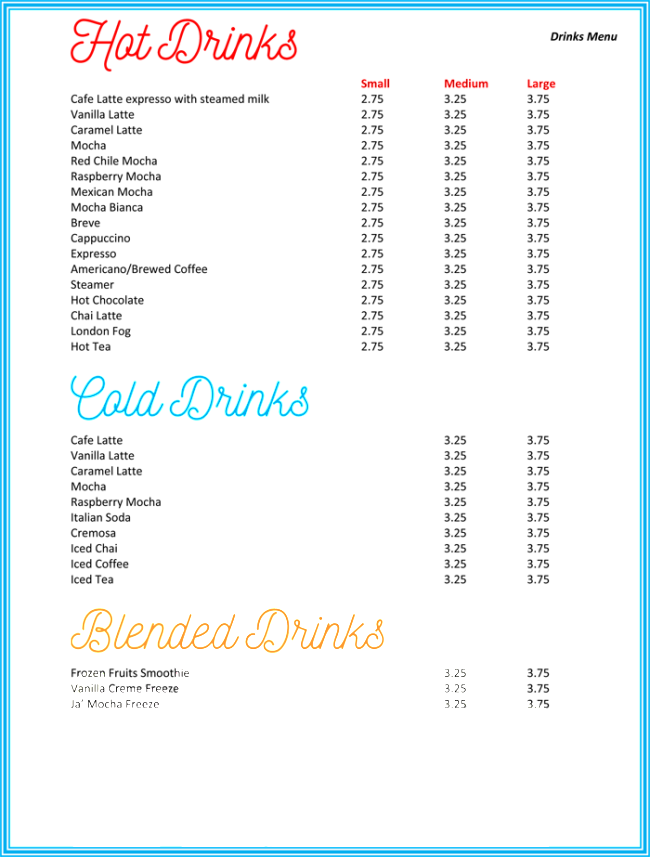 ---
Sample Drink Menu Template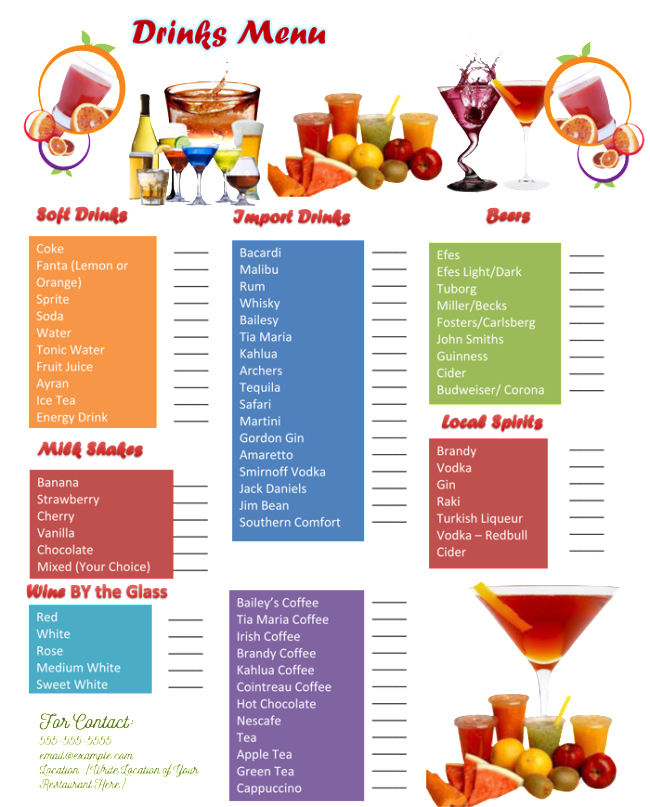 ---
Sample Cocktail Menu Template
---
Wine Menu Template
Know Your Golden Triangle
When designing your drink menu, be aware of what is referred to as the Golden Triangle. The Golden Triangle concerns the middle, top right, and top left of your drink menu as those are the areas on a menu that receive the most attention. As such, they are also the area where you'll place your more profitable beverage offerings. The middle of the drink menu is where your guests will see first, so place your most profitable beverages there. The top right is the second most popular place on the menu, and the top left is the third. Take advantage of the Gold Triangle when deciding where to place your more popular drinks.
Final Thoughts
By crafting the perfect beverage menu for your establishment, you're also marketing your beverages. When you set out to design your menu, consider it a handheld marketing tool, one that will help your guests decide if they wish to continue at your eatery, or try the cute little cafe down the street. Thus, it's a method to persuade the guest to choose your restaurant above all others. This is accomplished via menu design, color usage, descriptive wording, and imagery. For instance, a category called Thirst Quenchers will definitely encourage people to give those drinks a second look if it's 89 degrees out, but maybe not so much if it's in the dead of winter.