A College Admission Form is a document that students fill out when they apply to a college or university. It contains the student's basic information, including their name, date of birth, gender, address, contact details, and other background information.
The college admission form is usually filled with the help of documents required for application.
College admission forms can be different depending on several factors. For example, the form may vary depending on the level of education you are applying for – undergraduate or graduate. Forms may also vary from college to college, but they will generally require similar information. Therefore, when completing a college admission form, you must read all the instructions carefully and be sure to have all the required documents before you start filling out the form. In addition, you must fill all the required fields with correct, valid, and genuine information.
This article provides a comprehensive guide on filling the college admission form, along with some best practices to consider to ensure your application stands out from among your peers.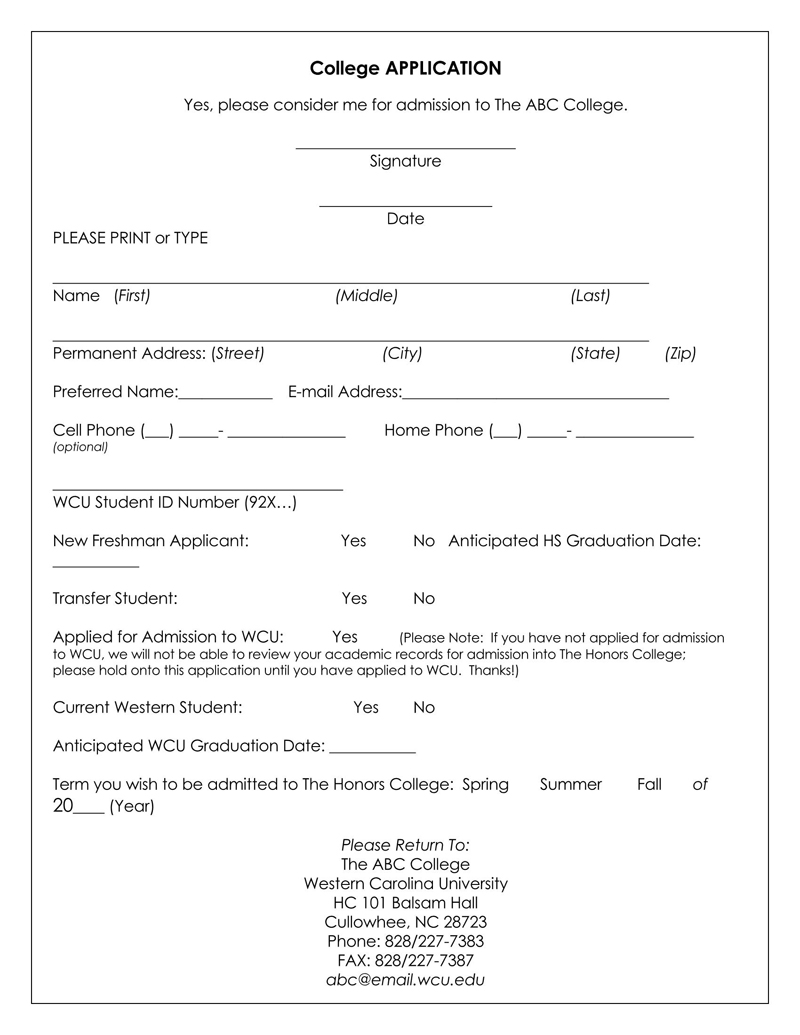 How to Fill a College Admission Form
Several qualifying high school students apply to various colleges each year, making college admissions highly competitive and generally challenging for most first-time applicants. Because the process of applying to a college involves many steps and is time-consuming, experts recommend that students create a to-do list during their junior years to simply this process.
This section provides expert advice on how to fill college admission forms as well as advice on how to submit competitive application forms that will help students get admitted into colleges of their choice:
Choose an appropriate platform
A student can choose from several college application platforms when applying for admission into a given tertiary education program. One popular platform is a Common Application, mainly referred to as the Common App. This is an undergraduate college application shared by many colleges and universities. 900 colleges and universities widely accept it from across the United States, France, Austria, Switzerland, Germany, the District of Columbia, and the United Kingdom.
This platform was established to allow applicants to fill the college admission form once and submit it to multiple colleges. In addition, the platform was established to encourage a holistic admission approach that assesses a student's subjective and objective factors, including essays, tests scores, GPA and class rank, and reference letters.
Keep in mind that most colleges that use the Common App also require prospective students to complete a Common App supplement section. Many schools include their college-specific essays, also known as supplement essays. These are extra pieces of writing that give the admission committee the chance to get to know the student better. While filling out the supplemental section, you should be careful to provide the most relevant information about yourself that will leave a long-lasting positive impression of you in the admission officer's mind. Moreover, avoid repeating anything from the rest of your common app, stay within the required word count and make sure everything you mention, including organization, ties back to your goals and interests.
Other college application platform options that students can consider using the Coalition Application, which more than 150 schools accept, and the Common Black College Application, which is accepted by more than 60 historically Black colleges and Universities.
It is also significant to note that other colleges have school-specific or university system-specific applications that students can use to apply to multiple campuses. One such example is the University of California which has a platform used by UC schools.
Important Note: Applicants should always visit the specific college's website to determine whether their selected college application platform is accepted or not. Moreover, it is essential to note that Common App, Coalition Application, and Common Black College Application (CBCA) websites list their partnered schools.
Submit a college essay sample
The second step of filling your college admission form involves submitting your college essay sample. Regardless of the application platform you use, you will usually be given multiple essays prompts to choose from, so choose a topic that will help you portray your best qualities. The essay is an excellent chance for you to show the admissions committee who you truly are.
While writing your college admission essay, it is good practice to avoid rewriting your resume in narrative form or simply restating what is contained in your transcripts. Instead, consider writing the essay in such a self-reflective way that it gives the admission committee so much insight into who you are as a person and gives them a sense of your voice. Doing so will increase your prospects of being selected from among your competitors.
Besides, make sure that your essay is personalized for the specific school you are applying to. This demonstrates that you care about the school enough to take the time to research it and write the essay. You should also make the essay brief and to the point, ensuring it does not exceed the required word count, in most cases 650 words long.
Provide personal information
The first portion of a typical college admission form will require you to provide your personal information. This includes your full name, birth date, gender, religion, citizenship, email address, mailing address, and contact information. You will also be prompted to provide basic information about the schools you have attended and your immediate family.
Provide high school transcript and SAT scores
After providing your personal information, you will need to provide your high school transcripts. It is essential to note that each college has a different GPA they are looking for, and you can always find a general range on the college's website. If your grades are not up to their minimum standards, you will have difficulty being considered a suitable candidate.
Your high school transcript will contain important information such as the high schools you attended, the courses you took, grades you attained, regent exam grades, Cumulative Grade Point Average, SATs, ACT scores, and school attendance. Most colleges do not look at grades from the 9th grade, but they often consider sophomore, junior, and senior high school years. The information obtained from your transcripts is used to determine if you satisfy admissions and eligibility requirements.
Consider submitting your standardized, average test scores along with your high school transcript. Whereas the SATS doesn't hold much weight in college admission decisions currently, a good score gives you an added advantage over your competitors.
Keep in mind that there is an extensive range of accepted scores for different colleges; thus, be sure to check with the individual college and plan out your testing dates and study schedule carefully to ensure you achieve the target SAT scores. Moreover, testing policies vary with different colleges. As such, pay attention to terms such as test-blind and test-optional.
Test-blind means that the college will not consider the test scores submitted by applicants, while the term test-optional indicates that the college does not require ACT or SAT scores but will consider them once submitted by students as part of the college application process.
Note: When registering for the SAT, students get four free score reports to four different schools of choice, provided you specify the schools while registering or within nine days from the test date. The price for each additional score report is $12. If you want to send your SAT scores to more than four colleges, it will cost you $16 for each additional college.
Attach your school profile
School profiles are important documents generally sent alongside a student's transcript in a college application that are often accessible via the school's website. The school profile is the same for every student from a specific school, and they provide valuable contexts to admissions teams as they review a student's transcript to understand the various opportunities available to students at their high school.
The information provided on your school profile is beneficial when considering equity and student access to high-quality education. In addition, your school profile also provides summary information about your school's environment, including the student body, curricular offerings, and grading system. Therefore, if your high school has a school profile, consider attaching it to your transcript before submitting it to the college.
Submit two to three letters of recommendation
In addition to submitting your college essay, resume, transcripts, and standardized test scores, you will also be required to submit at least two to three letters of recommendation from reputable sources. Generally, you do not have much control over the kind of recommendations you get other than whom you pick to be your recommender. Therefore, choose your recommenders wisely.
Avoid automatically disqualifying a teacher just because you performed poorly in their class. They may actually have a lot to highlight about your work ethic and how you overcome challenges- which is mostly what the recommendation should be about. Also, consider selecting a teacher who teaches a class related to what you want to major in while in college and someone whom you have interacted with professionally as a student.
Once you have selected a qualified person to provide you with a solid and positive recommendation, make it a point to provide them with adequate information to help them write strong recommendation letters. This includes details about the school and why you are applying there, a copy of your resume, a list of your notable achievements, things you would want them to highlight in the letter, etc.
Be sure to also allow your recommender ample time to write a great letter and give them the college admission form well in advance of the application submission deadlines.
List out your extracurricular activities
Students are often encouraged to pursue a diverse range of activities outside the classroom throughout high school. This is because admission officers typically prefer applicants who will be well-rounded students once they are admitted to their institutions. The extracurricular activities that a student chooses to participate in and how they handle non-centralized workload paint a clearer picture of their potential in the college environment. Therefore they must be mentioned in an admission form.
Attach a creative writing sample
If the college you are applying to requires you to submit a sample of your creative work, make sure to provide a portfolio or an audition CD to ensure that your application documents are complete.
Submit the application fee or a fee waiver form
In most cases, submitting college admission forms costs money. Once you have adequately filled your college admission form, submit the required application fee. If you need to submit a fee waiver form, use the College Board Waiver Form or request your school to provide you with a letter stating your financial situation and why you need a fee waiver. Some colleges may have special forms that students fill to qualify for the application fee waiver.
The college application process is usually full of potential barriers and roadblocks. It may present much stress to applicants since every application has multiple sections, various deadlines, and a host of different specific requirements that need careful consideration and attention. On top of that, most students are not just filling out one application for one school but several different ones. While filling out college admission forms, all the steps must be completed adequately and professionally.
The following are valuable tips and best practices that can help with the process of filling out a college admission form:
Follow the deadline
The most crucial part of any college application process is submitting your application documents promptly and avoiding the last-minute rush. You could work on your application for months- perfecting your essays and samples of your creative writing, getting great letters of recommendation, and submitting good SAT scores. Still, if you submit your documents past the deadline, the admission committee might not even look at your documents. Therefore, always keep track of the application deadline.
Based on the individual college you are applying to, you may need to apply during the regular decision (RD), early action (EA), early decision (ED), or rolling admissions (RA). The first three college admission application options have set deadlines, while the rolling admissions give you a window of time to submit your application.
Take note of the following important college application deadlines:
Regular Decision deadlines fall at the beginning of January
Early Decision deadlines usually fall in November, and students will typically hear back in December. Most students apply early each year, but it is essential to keep in mind that ED acceptances are generally binding. Once you are offered admission, you must enroll. Other schools also have an ED deadline which falls in January, and the acceptance is also binding.
Early Action deadlines are usually November 1 and November 15, and a few schools have a restrictive or single-choice early action program that prevents students from applying to more than one school under early action. Students who apply under EA will also hear back in December.
Fill out the essential details carefully
Before you embark on filling out the college admission form, read the instructions carefully and make sure you understand all the application requirements. If any fields or sections are unclear to you, consider asking the school to clarify them for you or simply involve your high school guidance counselor.
The guidance counselor often has the experience, and they can help steer you clear from any obstacles that could affect your chances of being admitted to your coveted college. Once you understand all the instructions, fill out the essential details carefully and be sure to remain truthful and be as accurate as possible.
Give a final review
Once you are done filling out the form, proofread every part of your application to ensure that everything is in order. Once you have reviewed it, have someone else read it, especially your guidance counselor or parent, and ask them to provide you with objective feedback. A new set of eyes will catch mistakes that you could not identify while proofreading it yourself.
Frequently Asked Questions
Do I need to submit a resume when filling out a college admission form?
It is optional to submit your resume with the college application. However, some universities have made it compulsory. Besides, of the 900 colleges that accept the Common App, about a third of these colleges provide you with an opportunity to upload your resume while filling out the college admission form. Submitting a solid resume that you have worked on over time and updated periodically enables you to create a more robust activity section on your applications; thus, it is worth the shot.
How much do college application fees cost?
The average cost of college application fee is between $50 and $90 per application for most colleges. However, this may vary depending on the specific college, and it is not unusual for elite schools to charge a college application fee of up to $100 per application. Therefore, prospective college students should check their selected college websites to determine the individual application fees.
How long would it take to fill out a college admission form?
Generally, the college application process begins when a student starts high school as a freshman. The classes you take, the grades you attain, the extracurricular activities you participate in, and how you interact with your teachers, counselors, etc., throughout high school are all reflected in the final college application documents that you submit to a college of choice during your senior year. Roughly, completing all the required steps will take around 100 or more hours depending on how well you are prepared and whether you have gathered all the required documents beforehand.