A College Recommendation Letter is a positive review of an applicant seeking college admission. It is written by either a former teacher or employer, highlighting the desirable traits of the individual to the institution and endorsing the candidate for admission.
College recommendation letters are a valuable means for college admissions officers to obtain deep insight into the overall personality of an applicant, beyond what might be reflected on test results or personal essays. Often cited as a requirement by some institutions, some do not still appreciate its inclusion. Its very attachment to an application serves as a testament to the quality of the candidate in some capacity, either as an outstanding student who deeply inspired a teacher or an exemplary worker who garnered the praise of an employer.
College recommendation letters are an avenue for applicants to truly highlight the academic and behavioral characteristics that an institution embodies. In addition, the letter helps to put focus on the applicant's personal achievements and the impact they have had on others. All these add up to significantly boost the chances of the applicant securing an admission.
College recommendation letters are extremely important documents and writing one should be taken with the utmost seriousness. The letter should differentiate the applicant from among the thousands of other candidates and improve significantly on the endorsement of any other candidate. This implies a precise letter structure, appropriate wording, and stellar content.
A college recommendation letter template provides an easy means of producing beautiful letters. A document with easily replaceable, pre-written information structured in the exact format of a superb college recommendation letter, a college recommendation letter template is a perfect guideline for quickly and easily writing up a recommendation letter of your own.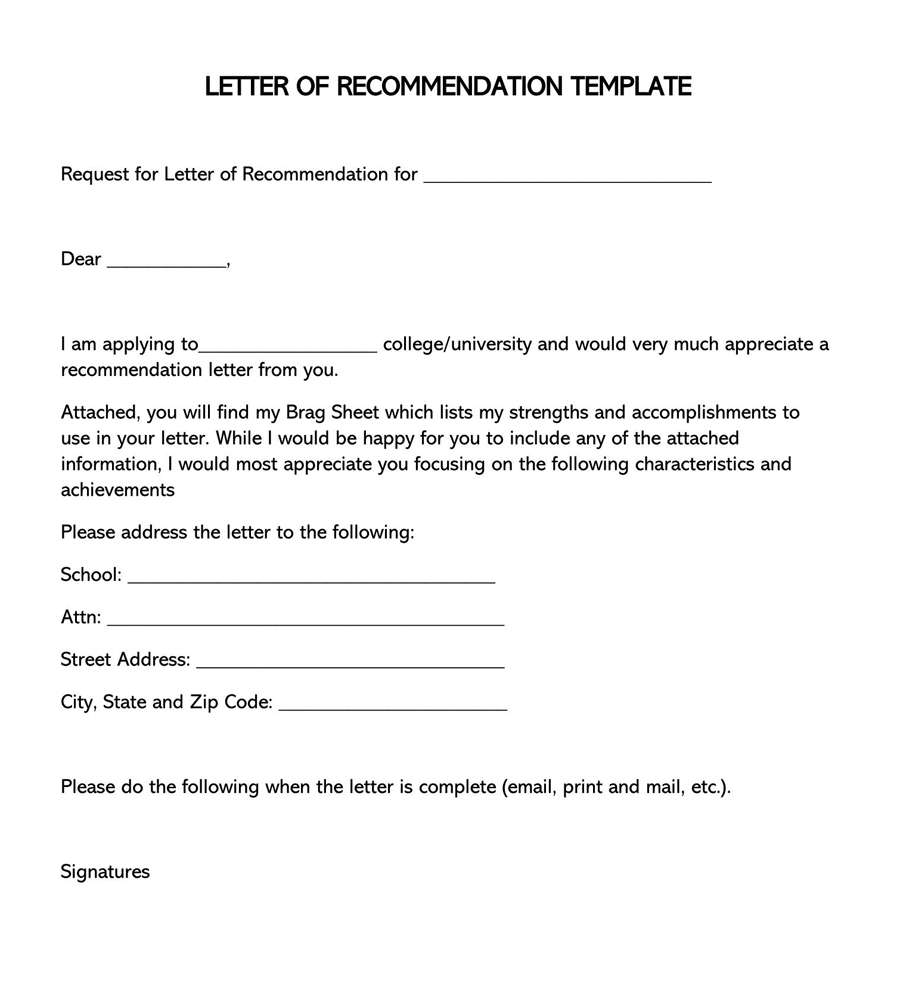 How to Request
College recommendation letters have to be written by other people besides friends and family, to reduce the possibility of the letter being considered biased. Thus, applicable writers typically include past teachers and employers who have considerable knowledge of you. Successfully asking these people for a college recommendation letter and getting a stellar review often requires a significant amount of consideration to pull off. Plan accordingly to obtain the best letter possible.
Ask the right person
The quality of a college recommendation letter you get greatly depends on the person who wrote it. The first factor to consider is your relationship with the potential writer. Opt for writers with whom you had a good relationship and with whom you worked closely. Consider asking a teacher, a sports coach, or a college counselor for a recommendation letter. If possible, ask the school principal.
Teachers familiar with after-school activities you engage in, such as clubs and volunteer programs, can further provide an overview of who you are outside the classroom. Writers such as this can truly draw from a wealth of experiences you had together to speak on your achievements and strengths.
Also, give greater consideration to writers whose contact with you has been very recent, preferably within a year before the letter is written. This way readers of the letter can be certain they are getting a review of who you are now.
Choose the best time
Creating anything of quality takes time. Make this a consideration when requesting recommendation letters for college. The best practice is to ask early to give the writer enough time to come up with something very good. Submit your request to the writer at least a month before the letter will be needed. If possible, ask at the start of your senior year, especially if you are applying for programs that start very early.
Other pre-considerations
Each school is different, and the same conditions may not always apply across the board. Obtain due information about the institution you are applying to, ensuring that your letter is relevant. Check for requirements regarding college recommendation letters, if any exist. For example, some schools might have specifications on who can endorse applicants. Some colleges might prefer recommendations solely from alumni of the school, or if not, a letter from such a person might have greater credence.
Information You Should Provide to Recommender
The content of a college recommendation letter is generated by the recommender, but you should not leave what you will receive completely up to fate. Help the writer as much as possible by supplying information to ensure that the letter produced truly bolsters your admission chances. Pay particular attention to details such as your participation in class or after-school activities, and highlight personal achievements and the challenges you had in attaining them.
Each detail you include should tie closely to the influence of the recommender on you:
Details of the school you're applying to
Inform the writer about what school you are applying to. It becomes easier for the writer to tailor the contents of the letter to that particular school. Qualities that are highly valued in that school can be emphasized accordingly, producing a stronger argument for why you are a good candidate.
A list of all your achievements and awards
Furnish the writer with details of your victories, stating what you have achieved. Preferably include achievements that the writer was a part of and can attest to, providing a unique point of view on the experience. Highlight accomplishments in areas that strongly relate to the course you have applied for. A victory in a state-wide poetry competition will be a great thing to mention if you are applying to study English or the Arts.
A list of all your academic skills
Institutions consider various factors in selecting students for admission, but academic ability remains the most important. Your letter should reflect this and discuss in-depth your skills in the classroom.
Specific examples to be included in the letter
Your college recommendation letter should not be generic or appear as though it was written as an afterthought. Recommendation letters can be a strong indicator of how special a college student is. This becomes obvious based on the detailing of the letter. A student who genuinely impressed someone enough to be endorsed by that person obviously did something of value. Your letter should be filled with mentions of these fantastic actions. If there are certain notable events, be sure to inform your recommender.
Details of the submission guidelines
Certain colleges might release requirements that every recommendation letter must meet. This can be crucial in preventing a submitted letter from being rejected. Check up on necessary information and notify the writer of all submission guidelines.
You may also request the following from the recommender
You can spice up your letter further by providing additional information that will fully explain why you are being endorsed.
These include:
A small description of your experience with the recommender: Ask the recommender to add some information about how he/she knows you in your recommendation letter. This section should indicate what supervisory role the recommender had over you. The duration for which this role lasted can also be included to really show that the recommender had enough opportunity to know you well.
A brief positive description of your character: Upstanding character is a huge requirement for most colleges. A glowing review of your personality will serve to endear you to admissions officers.
Reasons for getting a positive recommendation: This is a particularly important thing to include. Your recommender should provide a strong reason why he/she is willing to speak for you. This can be due to outstanding academic behavior, an impressive character, or some other achievement.
Sample Letter
If you are requesting a college recommendation letter, you can help your recommender along by including an example of what you want with your request. Below is an example of what you should want as your college recommendation letter, along with a breakdown of why it is so strong in its purpose:
Dear Admissions Committee,
There are few individuals I have met in all my years of teaching who are quite as remarkable as Mr. Clayton. I had the pleasure of instructing David in his 11th-grade physics classes for the duration of a school year, and I was constantly amazed by this gifted young man. Incredibly analytical, a radical free thinker, and an intellectual adventurer, David has constantly sought to push the boundaries of knowledge and engender a more exciting future for mankind. With this in mind, I have absolutely no reservations in recommending Mr. Clayton for a position in your institution's physics program.
David is a phenomenal student, displaying an incredible aptitude in math, the sciences, and literature. He has championed the school on multiple occasions in math competitions, even going so far as to win second place in a state-wide mathematical contest. David heads the Poetry Club, a position he has held since his sophomore year, and his rendition of a poem he wrote moved more than a few people to tears at the school's talent fair. David's uncanny grasp of the core principles of physics became apparent following his first paper submission on the manipulation of the interaction of subatomic particles. His clear insight on the matter provoked several thought experiments even among physics professors I consulted about his postulations.
Beyond the classroom, David is an accomplished athlete. As the school's basketball team captain, David has led the school to many victories in interschool competitions, which culminated in the clinching of the district's basketball championship. David displayed an impressive ability to lead, coordinating the school team into an unstoppable force on the sporting field. Mr. Clayton has brought this school no end of pride, and his achievements will stand to inspire others for years to come.
I fully recommend Mr. Clayton for a position in your physics program. His willingness to learn, grow, and innovate will undoubtedly be invaluable in succeeding in the program. I am certain that for Mr. Clayton, the best is still yet to come. Please feel free to reach me at raygunsandatoms@gmail.com at any time if you have any inquiries.
Sincerely,
Martin Bateman
Physics Teacher
Adam West Preparatory School
The breakdown
Mr. Bateman has shown right from the beginning of the letter that his candidate is an extremely impressive student. The statement that very few compare to him just drives this point home. Mr. Bateman immediately identified the very characteristics which engendered this belief within him by calling David analytical, a free thinker, and an adventurer.
The academic achievements of the candidate follow the glowing introduction. Next, Mr. Bateman specifically names what David has done, his achievements, and his responsibilities. He even provides a specific example of when he displayed extraordinary talent by recounting the thought-provoking submission.
Mr. Bateman speaks to the value of David as a member of his school, being a source of pride by bringing recognition to the school in several fields. The letter also integrates a valuable aspect of David's character into the statements of praise. Specifying David's ability to lead and tying it to what he achieved with it.
This recommendation letter shows the keen interest of a teacher in the promising career of an outstanding student. His teacher lauded his many talents and accomplishments, both academic and out of the classroom, which makes it a strong recommendation from a highly impressed teacher.
The following considerations can boost the success of your letter significantly and help you with the process of requesting a great college recommendation letter:
Make the process as easy as possible for your recommender. Provide information that they might need including the proper spellings of certain objects such as your school's name. If necessary, provide a school profile.
Be respectful in your request and ask on time.
Inform the recommender of all the requirements placed on the letter including the submission date.
Inquire after your letter at most a week before the due date to ensure that it has been finished and sent.
Remember to thank your recommender for taking out of their time to speak for you.
Provide envelopes with the address and stamps for the recommender, so the letter can be sent instantly after completion. This can also prove beneficial, as failing to see the letter before it is sent can instill greater confidence in admissions officers.
If you are requesting a letter from a school counselor, the duty falls to you to paint a personal profile of yourself beyond the academic valuation that he/she might have. Be sure to make an early appointment to give yourself as much time as possible. During your meeting, give the counselor a good overview of yourself covering accomplishments, hobbies, and plans for the future. Explore challenges you have had throughout your school years and how you have overcome them to get to the present moment.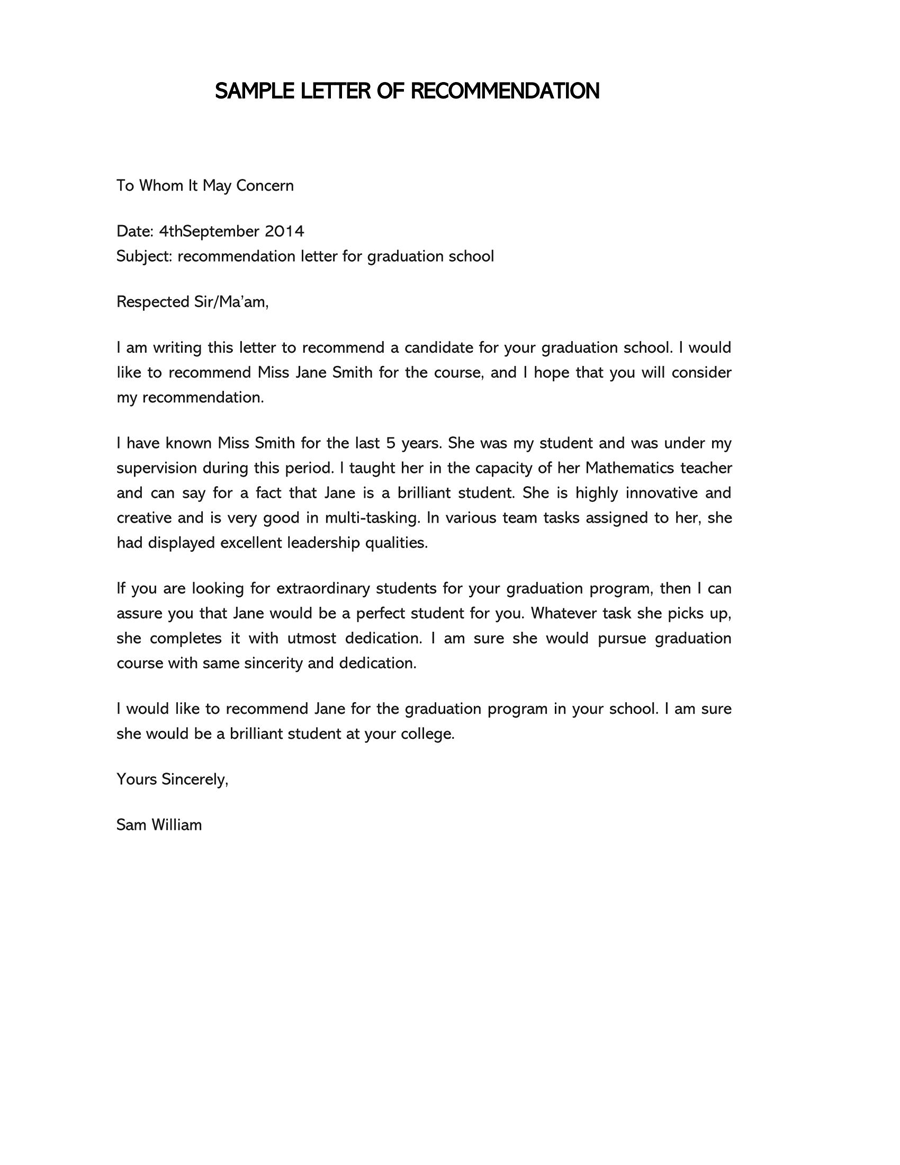 If you are writing a college recommendation letter, remember to implement the following practices:
Be specific about the information you are giving
Know the student well enough to convincingly write about them
Tailor the letter to the student requesting and to the institution applied to
Write a positive review of the student and focus on making the applicant look as good as possible.