Lawn care is the process of making a lawn safe for human and animal use by keeping it clean, green, and healthy. Lawn care includes pest control and soil testing to ensure that the lawn is healthy, attractive, and disease-free. It also involves aerating the soil to allow air, light, and water to reach deeper layers of the soil. If you have such a business, a flyer can be one of the most effective ways to attract new customers. A flyer is simply an advertising tool that lists all of the services you provide, their prices, and the time it will take for your customers to see the results.
A flyer is an effective way to promote your business and its design will, in most cases, depend on the type and size of your business and the type of services you offer. This article will guide you through everything you need to know about flyers for services related to caring for lawns and help you create a nice design for your flyers. In addition, we will provide you with professionally designed templates to use when creating them.
Flyer templates for lawn care can be useful, especially when you are just getting started or are a new business. You can use templates to help you create your flyers so that you do not have to worry about creating a new one yourself. The templates can also help you save time, money, and the hassle of editing the flyer. We have provided free templates for you to use when creating your flyers. Note that there are several different designs that you can choose from depending on your preferences and requirements.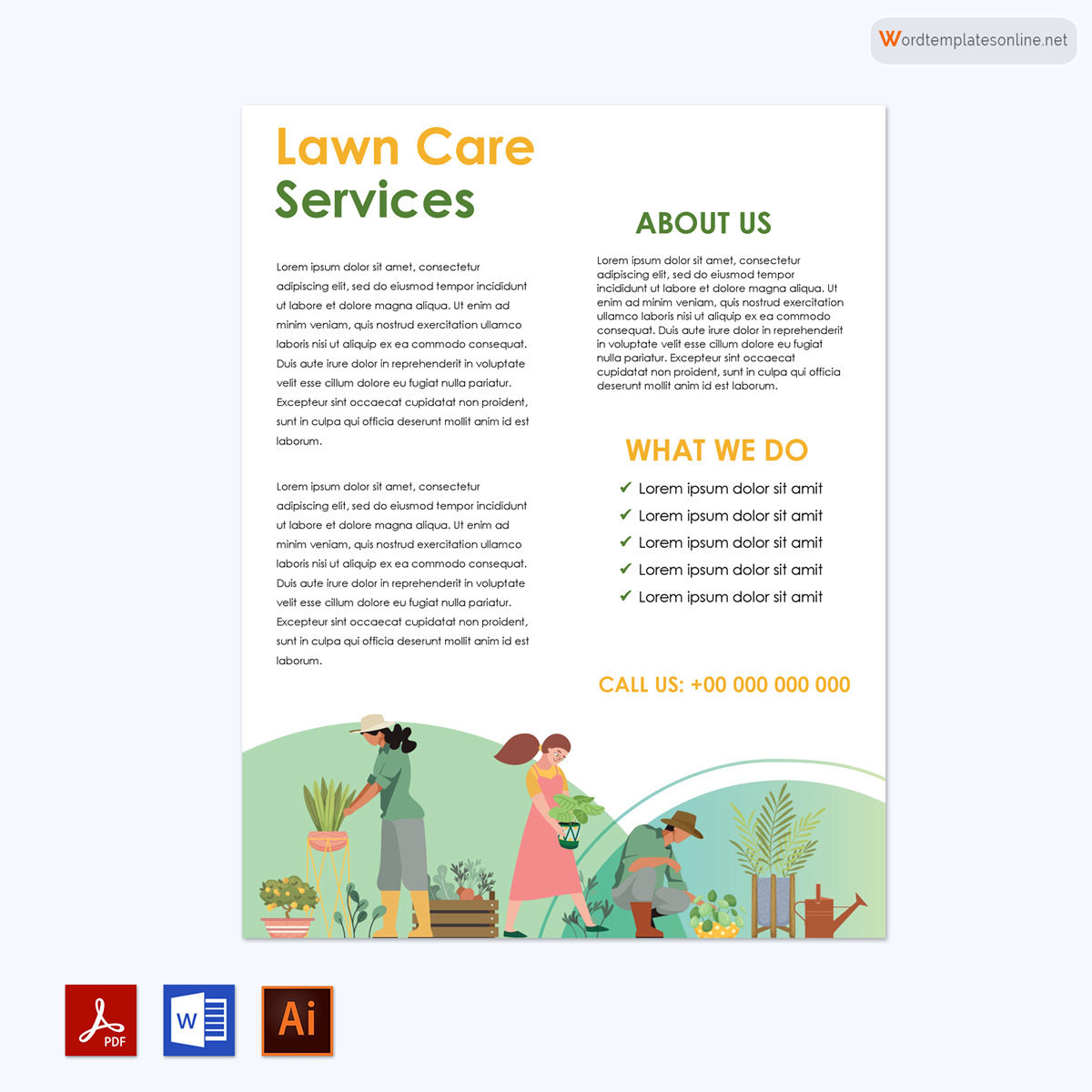 Lawn Care Vs. Lawn Maintenance
Lawn care and lawn maintenance are two different services. It is important to know the difference for professionals who are involved in this business. While the two terms are consistently used interchangeably, they are two distinct services.
Services for taking care of the lawn can include nutrient and water management, fertilizer application, insect control, reseeding, and aerating to enhance the general health of your soil and lawn. Lawn maintenance, on the other hand, focuses on preserving the appearance of your lawn by offering services like mowing, edging, and seeding.
Usefulness of the Flyer for Lawn Care Services
A flyer advertising care services for the lawn can help you attract more customers by making your company more visible to them. This is particularly important if you are running a new business. These flyers are typically distributed at community events, clean-up days, and even school fairs. This helps advertise the business among the people in the neighborhood and helps generate more leads for the business.
As a new business, when you are looking to increase your customer base, you must consider the kind of information you will want to include in your flyer. Make sure the flyer contains all of the information needed to appeal to your clients while not overwhelming them with information.
Here are some of the most important elements that should be captured in your lawn care flyer:
Headline
The headline is one of the most essential elements of your flyer. In this section, you will be able to introduce yourself and the services you offer and establish credibility with customers who may not have heard of your business before. When you are looking to find a good headline for your flyer, you need to ensure that it is as interesting as possible, about lawn care, in this case.
A good headline will engage the reader's attention and make them want to know more about your business. A compelling headline will entice them to visit your website or contact you for advice.
Information about company
The next item that must be captured in your flyer is information about yourself and your business. The information should include more than just the services you provide, such as what makes you special in your industry, how long your company has been in operation, and any other awards or certifications it may have received. The information you provide in this section, along with the headline, should help people understand what kind of business you run.
Contact information
To build credibility with your customers, you need more than just information about your company. Make sure that they know how they can reach you and find out more information about your business. In the flyer, make sure to include all the necessary contact information, such as your email, mailing address, and telephone numbers, to make it easy for customers to contact you and learn more about your business.
Services offered
The next important item that you should include in your flyer is details of your lawn care services. You should make sure that you include information about the services that customers can expect from your business.
Some of the services you may consider including in this section include:
Lawn designing
Yard Waste Removal
Topsoil delivery
Shrinking lawn services
Insect and termite control services
Weed control
Fertilizing
Sprinkler Maintenance
Territory
Another important piece of information that you need to include in your flyer is the area you work in. Your business will grow and your customer base will increase if you mention the neighborhood or commercial area where you work. It also helps to establish some level of credibility and trust with your customers.
Incentives
Another thing you can include in the flyers for lawn care is the incentives you are offering to potential customers. For example, if you have recently introduced a new product or service, it is a good idea to include information about it in the flyer and encourage your existing customers to try it. You can also offer discounts, complimentary consultations, coupons, or other special offers to customers to encourage them to try your brand-new service or product.
Call to action
Another important part of your flyer is the call to action. You must include a call to action in it that encourages customers to contact you and learn more about your business.
Some of the most commonly used calls to action include:
Call us for a free consultation: If you are offering some type of unique or special offer, it is important that this information also be included in your flyer so that your potential customers will know where they can find details about the offer.
Visit our website: Your website should also be included in the flyer because it is the main way that customers will be able to learn more about you and the products and services you offer. In some instances, it may also be a good idea to include a call to action on your website as well as in your flyer. If you have a special offer that needs to be promoted, include it in both places so that customers will be aware of it.
Call us today: A popular way is to include a call to action that encourages prospective customers to contact you and learn more about your business.
Captivating pictures
One of the most effective ways to capture and hold your customers' attention is to include images of the product or service you are offering or, even better, a before and after image. Make sure to choose an image that helps highlight the best feature of your product when looking for an effective image to represent it. As an example, choose a photograph of a landscape professional working in the yard or a photograph of a beautifully designed yard.
Testimonials
You must include testimonials in your flyer so that potential customers can find out more information about your services. Customers are always looking for assurance when trying out a new service or product, and one way to get that is by reading reviews about that service or product before making a decision. Testimonials are also a good way to establish the credibility of your business by showing that past customers have had good experiences working with you and that you are reliable.
Special Considerations
There are several special considerations that you need to be cognizant of if you are creating your flyers for lawn care, including;
Avoid spending too much money on the flyers
You must avoid spending too much money on flyers. Flyers are your advertisement, but you do not want to spend too much on them or you might waste money. You should avoid using expensive printing services or printing paper when creating flyers, for example. Instead, look for less expensive options that still help your business present a professional image.
Do not disregard additional marketing strategies
Another crucial point to remember is that you should not undervalue the value of online advertisements if you are promoting your services online. This is because most people tend to rely on electronic advertising more than they do other forms of advertising, such as flyers and newspapers. Also, while a flyer may seem like a good idea, it will not be as effective an advertising tool as online marketing because of its greater outreach.
Keep track of your flyers' effectiveness
One important thing you need to consider when thinking about flyers and their effectiveness is how impactful they are. For example, if you are creating flyers to establish visibility for your business, it is a good idea to keep a record of how long it takes for customers to start responding or contacting you. In this way, you will be able to identify which flyers are more effective.
Ways to Distribute the Flyers
It is important to ensure that you use the right means of distribution to effectively distribute your flyers. You should distribute your flyers where customers can find them easily.
There are many ways to distribute your flyers, like a door-to-door delivery. Another way is to distribute the flyers to the neighbors of your clients. You could provide the clients with the flyers and ask them to give them to their neighbors. Lastly, leaving the flyers with your clients after working on their lawns is another good way to distribute your flyers. You can ask the clients to display the flyer in a visible area, such as outside their mailbox or in their window, to ensure that their friends and neighbors see it.
While flyers are an excellent way to promote your business, you need to ensure that the appropriate steps are taken when creating them. From selecting the right text and images to ensuring that customers understand the message and selecting the right distribution means, you must use a combination of creativity and professionalism when making your flyer for the lawn care business. This will ensure that you are in a good position to draw in new customers while building your business's credibility and awareness. Also, with the right application, you can increase the number of customers you have and their loyalty, which is always a good sign for a business.