In Michigan, a "lease agreement" refers to a contract between the owner of a property (known as the landlord or lessor) and another individual (known as the tenant or lessee) who will rent the property on an exclusive basis for a specified period in exchange for periodic payments or rent.
The agreement details the terms of the lease, such as the rent amount, security deposit, due date, utilities, rights, restrictions, etc. The document is legally binding once it is signed by both parties.
Lease agreements in Michigan are contracts for renting real property. In a typical lease agreement, the "lessor" is the party who acquires or holds the title to real property, while the "lessee" is a party who has an interest in real estate and obtains a right of use and occupancy of a specific piece of property for a specified term in exchange for a consideration termed "rent." The parties to the agreement can be either private individuals or public entities.
The document outlines the terms of tenancy (such as rent, due date, and security deposit), obligations (such as maintenance and utilities), rights, and liabilities of each party. Lease agreements are used for both commercial and residential leasing. Once the lease is completed and signed, both parties are legally bound by it until the lease expires or is terminated.
These lease agreements in Michigan are governed by Act 348 of 1972 (Landlord and Tenant Relationships. The law seeks to provide a single, comprehensive statutory scheme for the regulation of leases rather than incorporating one or more common laws with conflicting rules for contract formation, interpretation, and performance. Additional guidelines are provided in "A Practical Guide to Landlords & Tenants." This article will explain how to ensure that a lease agreement is legally enforceable in Michigan, as well as the various types of leases available in the state.
Lease Agreement Requirements in Michigan
Laws are one of the state's most important tools for enforcing contractual obligations. The legal principles that govern the formation, interpretation, and performance of lease agreements are established by Act 348 of 1972 (Landlord and Tenant Relationships). Lease agreements may be enforceable in Michigan if they comply with its requirements. As a result, should problems with the negotiated agreement arise, landlords can swiftly file a lawsuit in state courts.
The disclosures and addenda that ought to appear in lease agreements are as follows:
1. Required disclosures
State laws compel landlords to provide tenants with certain information in disclosures before they sign a lease. This information addresses different aspects of the lease.
Landlords should consider the following disclosures before executing a lease agreement.
1.1. Domestic violence victims
Landlords are required by § 554.601b to notify prospective tenants that they have the right to terminate the lease should they or their children be in danger from domestic violence, sexual assault, or stalking without consequences. However, they must provide a written statement that outlines a protective order to remove the guilty party from the premises, a restriction order restricting any contact with the abuser, or a written police report detailing the charges filed by the tenant.
1.2. Rental inspection checklist
Under § 554.608, landlords must provide their tenants with a move-in checklist that details the current condition of the premises and furnishings. An inventory of all prior damages to the furniture and appliances should be included on the list. The tenant should review it, sign it, and return it to the landlord within 7 days. The checklist is to be used as a move-out checklist after the lease expires to check if the tenant caused any damage.
1.3. Lead-based paint disclosure
Landlords must inform the tenant about the presence of lead-based paint within the premises and any known defects in the property, according to Title 42 U.S. Code § 4852(d). The tenant must sign a written statement acknowledging their knowledge of any known hazards that may affect their health as a result of lead-based paint exposure. This disclosure is mandatory for all buildings constructed before 1978.
2. Notice information
All lease agreements in Michigan must include a forwarding address to which all formal notices and requests must be sent. This disclosure is a requirement of § 554.634.
3. Truth in lending act
The lease agreement should include a notice to the tenants that the document is prepared in accordance with the Michigan Truth in Renting Act. This statute governs the execution of rental agreements by directing which disclosures and prohibitions should be included in the lease. This disclosure is a requirement of § 554.634. The notice must be no more than 1/8 inch in height and in 12-point font.
4. Security deposit receipt
Landlords are required by law to provide the tenant with the name and address of the financial institution holding the security deposit (§ 554.603). The landlord must complete this within 14 days of the tenant's occupancy of the rental unit. Also, lease agreements in Michigan require a forwarding address from the tenant so that mail can be sent within 4 days after the tenant moves in. This notice is to be written in a font that is at least four times larger than the rest of the contents of the document. It is the tenant's responsibility, not the landlord's, to provide this information.
5. Security deposits
In Michigan, security deposits should not exceed one and a half months' rent, according to § 554.602. Also, if a security deposit is charged, it should be returned at the end of the lease within 30 days after the move-out date (§ 554.609). The deposit should be accompanied by an itemized list of all deductions, if any.
6. Late fees
Late fees can be imposed by the landlord if deemed necessary. There are no statutes dictating how landlords can impose late fees. However, if there are applicable late fees, this should be communicated in the lease agreement and must be reasonable.
7. Landlord's access
Landlords should have reasonable access to the building or apartment after a tenant moves in. Michigan State does not restrict the landlord's access. However, it is best to provide advance notice to protect the tenant's right to quiet enjoyment and privacy. Notice may not be necessary for emergencies or entry to protect against damage to the rental unit.
8. Rent due date
The state does not regulate when rental payments are due. This aspect is to be negotiated between the landlord and their tenant, who resides in Michigan and is included in the lease agreement.
Michigan Rental Lease Agreements
Lease agreements can differ depending on the circumstances. Differences frequently result from the kind of rental unit, the length of the tenancy, and particular clauses in the lease. So, landlords can execute different types of leases in Michigan.
These include the following:
Association of realtors
At times, landlords can invite realtors from the Michigan Association of Realtors to oversee the leasing process on their behalf. The realtor performs the duties of screening and selecting tenants, negotiating terms, and executing the agreements. Realtors will use this type of contract to outline the terms of the lease between the landlord and the tenant.
Commercial lease agreement
Commercial lease agreements are executed when renting property for business purposes. As such, this type of agreement will be used to rent office spaces, retail shops, restaurants, warehouses, etc.
Month-to-month lease agreement
A month-to-month lease is a type of residential lease that is not restricted by any specific length of time and, as a result, rents the unit on a monthly basis and is automatically renewed every month. This type of agreement can be terminated by either party with a 30-day notice. It is executed in accordance with § 554.134.
Rent-to-own lease agreement
A lease agreement can also be used for the purchase of the property. Such an agreement is known as a "rent-to-own lease," where the tenant will pay monthly installments, but the tenant (buyer) will not acquire legal ownership until the last payment has been made, which is at the end of the lease term at an agreed price.
Roommate lease agreement
When two or more individuals share a rented unit, they can create an agreement that defines the boundaries and obligations of each roommate. Such an agreement is called a roommate lease agreement. It outlines the rights and obligations of each party as well as how chores and rent payments are to be split. This will help resolve disputes and clarify the roles and responsibilities of each roommate within the rental unit.
Standard lease agreement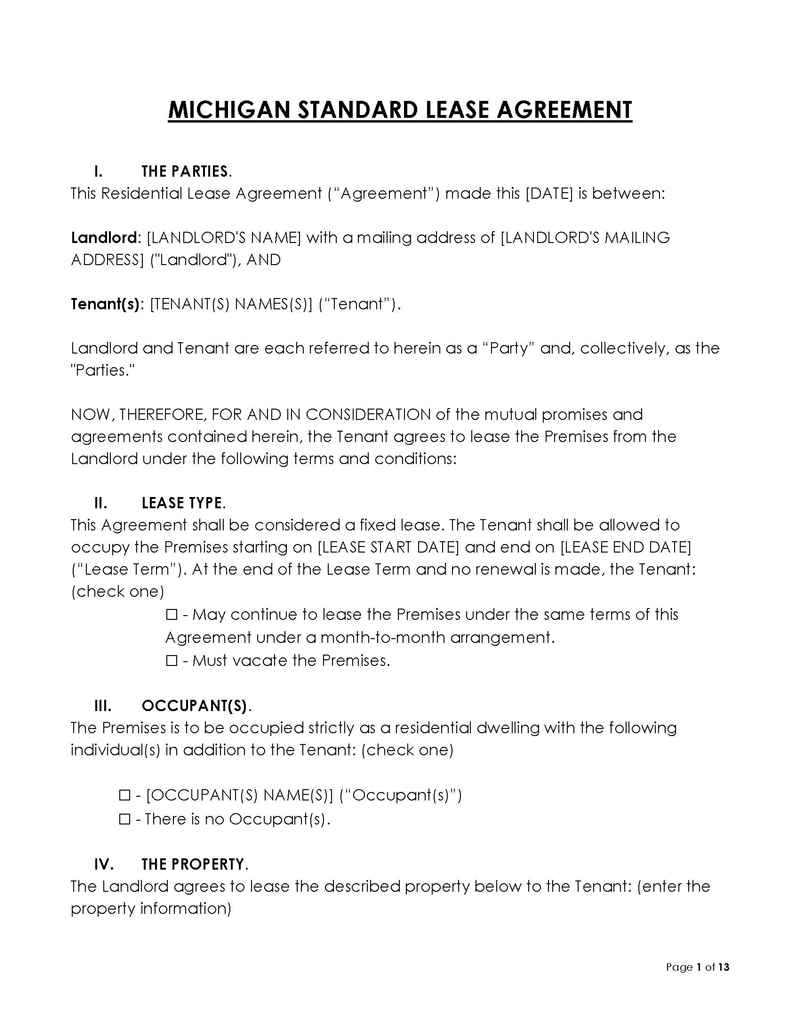 For rental properties, a standard lease, or alternatively a fixed-term lease agreement, is used when the landlord and tenant agree on a set lease duration, frequently one year. As a result, it has a predetermined start and end date. It is highly common in residential lease agreements in Michigan.
Sublease agreement
A sublease agreement is a type of rental agreement used to provide tenants with an alternative option to rent a unit to another individual, referred to as a sublessee. The original lease agreement will still apply to the tenant who sublets their apartment, and they will still be responsible for the rent.
Seven-day Notice to Quit
When a tenant violates the terms of their Michigan lease agreement in some way, such as by failing to pay the rent, they are given a seven-day notice to quit. The tenant has seven days to pay or leave the property.
Lease agreements are used when renting property for both commercial and residential uses or if a tenant wants to rent a unit to another person. According to Michigan law, landlords are required to abide by the local and state laws that apply to their rental property. Renting property is a legal process that should be executed with due diligence.

Lease agreements in Michigan are legally binding documents. A lease agreement is meant to protect both parties and prevent conflicts. Thus, it is vital to be aware that violating the agreement may result in legal penalties or lawsuits. Each landlord should use the type of lease agreement that best suits their rental needs. Templates are an efficient way of personalizing lease agreements.