Potlucks are a beloved tradition in many cultures. It is a gathering, event, or party where each participant brings a dish or meal to share with others. Therefore, such an event can be held at home, in a community center, or in a park. In most cases, the dishes brought by each guest include side dishes, appetizers, salads, desserts, and main dishes. Arranging potluck events is an effective way of fostering friendship, encouraging sharing, and bringing the community together.
The best way to organize the information related to the dishes and easily convey the message to the participants is by using a sign-up sheet. A sign-up sheet is a document used to plan, coordinate, and organize a potluck event. Each contributor registers to bring a specific dish to the event. Hence, this sheet uses columns to outline and categorize the dish each guest will bring.
Furthermore, it can be used to indicate how many people a particular dish can serve. In addition, this sheet prevents food duplication and ensures there is enough food for every guest. Also, the sheet ensures that dietary preferences and restrictions are also considered.
This article will focus on the benefits of using a sign-up sheet for the potluck, how it can be prepared, how to distribute it effectively, and its different types.
Benefits of Using a Sign-up Sheet for a Potluck Event
Potluck sign-up sheets play a crucial role in organizing and coordinating a potluck event. They provide a structured approach to ensure that the gathering runs smoothly and efficiently.
Here are some of the benefits of using it:
Organization
The sign-up sheet creates a systematic way for participants to indicate what dish they will contribute. This helps avoid duplication of dishes and ensures a diverse and balanced menu. This means you will have an excellent variety of meals, including a main course, an appetizer, dessert, side dishes, and drinks.
Dietary restrictions
The sign-up sheet will allow you to have different meals that cater to the dietary needs of every guest. This ensures everyone gets a meal at the event that is suitable for their dietary requirements.
Coordination
Sign-up sheets enable organizers to coordinate the different food categories or types of dishes needed for the potluck. They can include sections for appetizers, main courses, side dishes, desserts, or any specific themes or dietary considerations. This ensures that there is a well-rounded selection and prevents an overload of similar dishes.
Reduced waste
This sheet ensures that there is sufficient food at the event. This means that each guest will bring a specified quantity. This will effectively reduce the number of leftovers and prevent food waste.
Efficiency
Utilizing sign-up sheets saves time and effort for both organizers and participants. It eliminates the need for multiple phone calls, messages, or emails to coordinate dishes and gather information. Participants can quickly review the sheet to see what others are bringing, helping them decide about their own contribution.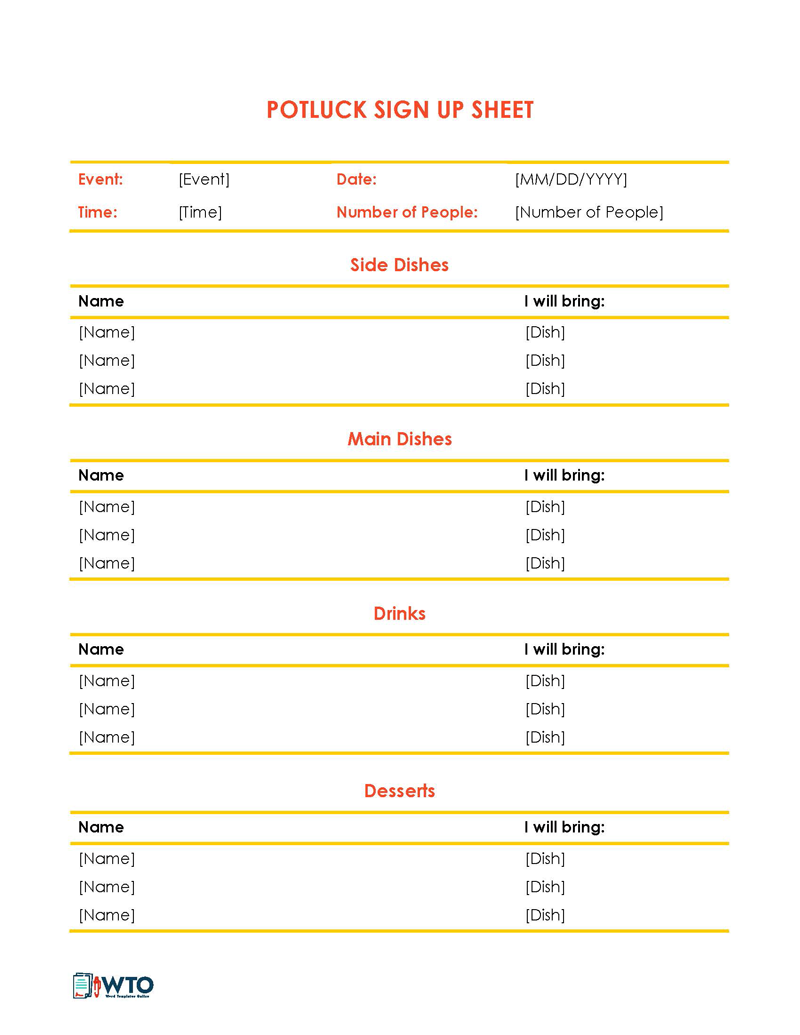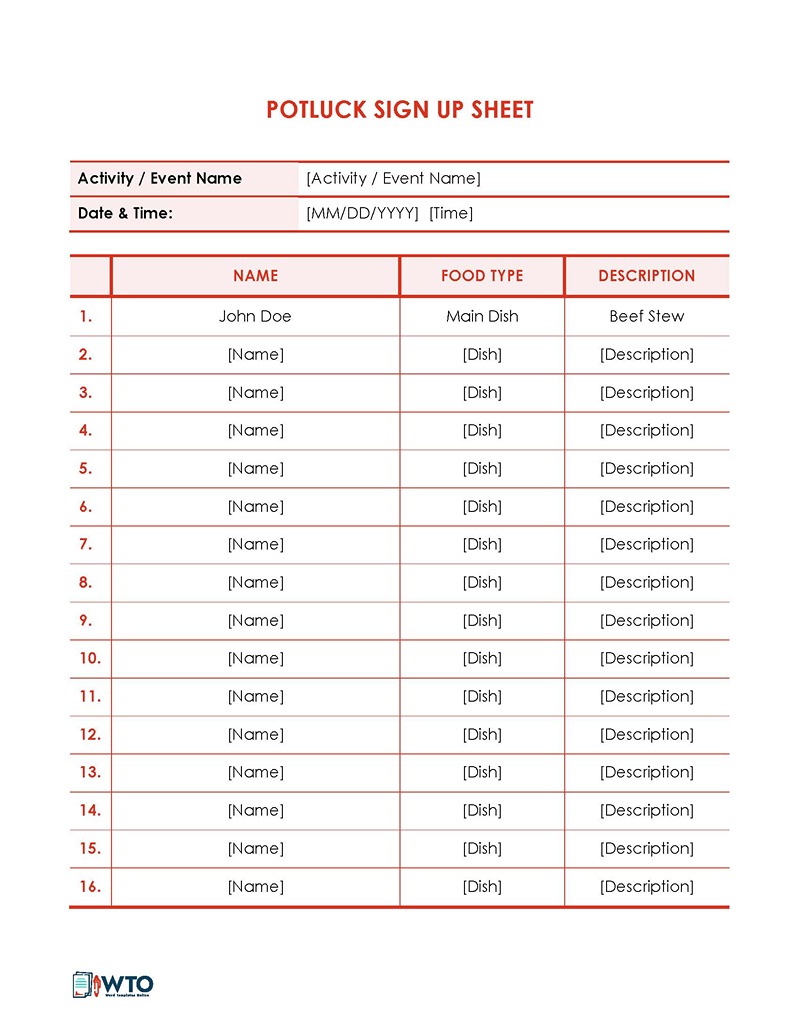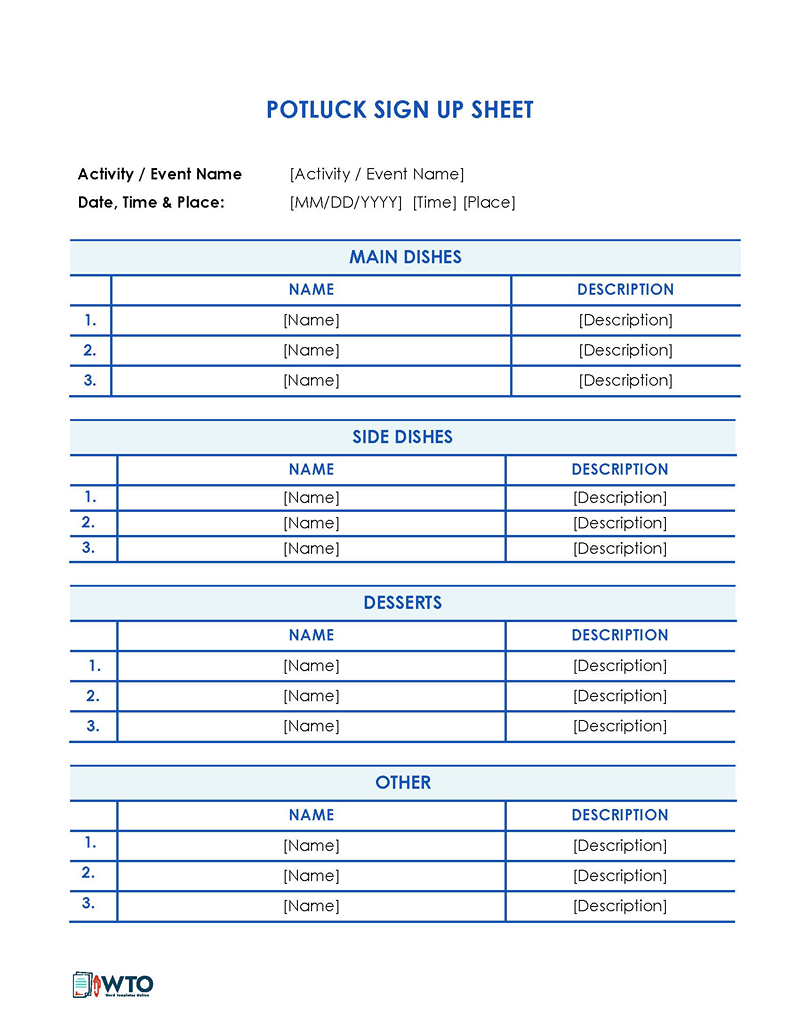 Creating a Potluck Sign-up Sheet: Step-by-Step Guide
It is necessary to consider the number of guests before creating a sign-up sheet for your event. The sheet should be customized to complement the theme of your event while considering different aspects like dietary restrictions, preferences, and allergy information.
Step 1: Choose the format
Choosing a format that the participants are familiar with is important. The format of the document will depend on your preferences, the theme, the specifications of the event, and the preferred method of dissemination. Therefore, you can use a social media event page, a paper-based format, a messaging app, or online collaboration tools. Each format has its own unique features and advantages that you and your guests can benefit from.
Step 2: Include basic information
Here are some basic details you can include in your sign-up sheet for the potluck party:
Title or name of the event: The sign-up sheet should have an appropriate name or title for the event. The title should complement the theme of the event. The title of the event makes it attractive and helps persuade individuals to participate in it.
Date: The sheet should specify the exact day, month, and year of the event. This enables participants to plan ahead of time and select a meal to bring to the event based on the time frame allotted.
Location: Ensure to include the address of the event's location. This allows guests to know exactly where the event will be, reducing confusion on the day of the event.
Start and end time: It is important to indicate the exact time at which the event will start and end. The specified time frame will allow the participants to prepare and have their dishes ready.
Participant's name and contact information: The sheet should contain the names of every participant, the guest's name, and contact details, including a phone number and email address. Having participants' contact information, allows for effective communication before, during, and after the potluck event. Organizers can easily contact participants to provide updates, reminders, or any necessary coordination details.
Section for notes: This section allows you to record important information regarding the event. These are notes you can refer to when planning another potluck event in the future.
Step 3: Determine the categories of food
For this third step, focus on listing all the food categories you want to include in the potluck event. With this list, you can easily inform the attendees of the types of food they should bring.
This can include the following:
Appetizers: These are dishes served before the main meal. Appetizers may include dips, bruschetta, stuffed mushrooms, deviled eggs, etc.
Main dishes: Usually, these are hearty dishes and are considered the main meal of the event. They may include spaghetti, beef stew, chicken, lasagna, etc.
Side dishes: Side dishes are meals that accompany the main course. Generally, they include mashed potatoes, baked beans, roasted vegetables, etc.
Desserts: Desserts are light dishes eaten after the main course. Desserts may include chocolate cakes, oatmeal raisins, cherries, apples, chocolate chips, etc.
Beverages: In a potluck event, you can include both alcoholic and non-alcoholic beverages, which include water, tea, soft drinks, beer, wine, etc.
Suitable Methods for Creating a Potluck Sign-up Sheet
There are several methods for creating a sign-up sheet for a potluck event. Some of them are mentioned below:
Online potluck sign-up websites
Some free websites offer an online platform where you can easily create and manage a sign-up sheet. Usually, these websites offer templates that you can use or customize by adding relevant event details. Also, these websites allow you to easily share these sheets with the attendees. These websites include "SignUpGenius and PerfectPotluck"
Basic Spreadsheets
MS Excel and Google Sheets allow you to create and customize an effective sign-up sheet. This method allows you to edit your sheet by adding columns for dishes, participant details, dietary restrictions, etc. This method facilitates real-time editing and formatting, ensuring no dishes are duplicated.
Printable templates
This method includes accessing and downloading free printable templates online. You can easily customize them to create a sign-up sheet for your event. Usually, they include columns where you can add the details of the participants and the types of dishes to be brought by each one. Note that you can print these templates and share them with the attendees.
Email or text message
For smaller potluck events, you can use text messages or email to communicate with the attendees and share important details about the event. You can request that the participants share their details, i.e., their name and contact details, and the dish they will bring.
Online form
You can also utilize online form builders such as Google Forms or JotForm to create a digital sign-up sheet. Customize the form fields to include participant details, dish descriptions, dietary restrictions, and any additional information you require.
In conclusion, all methods are suitable for creating a perfect sign-up sheet. However, using Excel and Google Sheets is considered the most effective. These are the most commonly used methods because they are simple to use and can be accessed and used on a variety of platforms and devices.
Moreover, Excel and Google Docs enable you to edit and customize your spreadsheet by adjusting the overall layout of your document. Also, you can give real-time updates about the event, share the sheet, and collaborate with your guests.
More Potluck Sign-up Sheets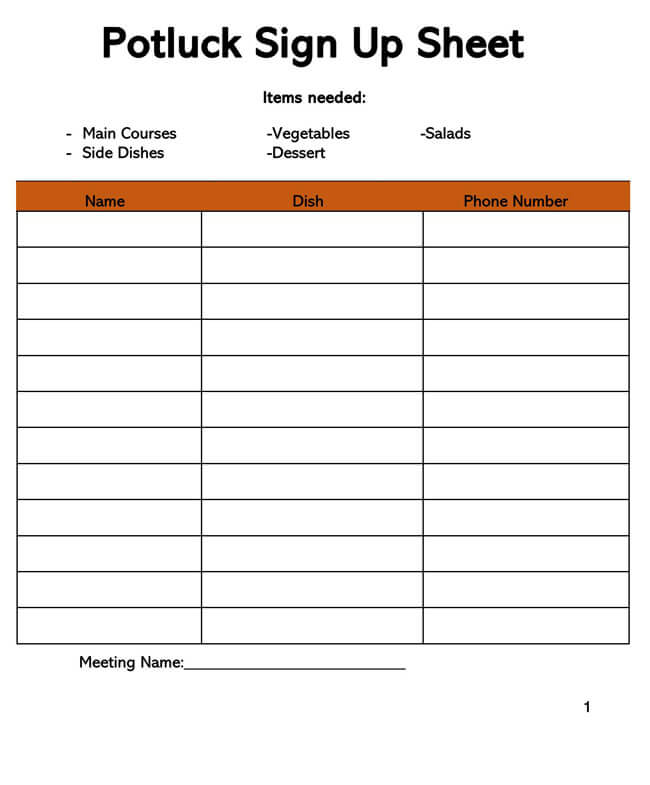 Distributing the Sign-up Sheet
There are three effective strategies for distributing a sign-up sheet for a potluck that you should follow to ensure that all of your guests receive the sheet and are aware of your request.:
Choose an effective method of distribution
You can use different methods to distribute the sign-up sheet. Typically, it can be distributed via email, social media platforms, or by hand. However, the selected dissemination method should allow you to share the sheet and communicate with the participants easily.
Set a deadline for sign-up
After sharing the sheet, setting a deadline for sign-ups for the event is crucial. The deadline ensures that willing participants subscribe to the event within the set timeframe. Furthermore, the deadline encourages the guests to be accountable and commit to preparing their respective dishes on time.
Follow-up with the participants
A follow-up is essential, as it helps remind the participants of the upcoming event. Some participants may have questions or need clarifications regarding the event or the sign-up process. Following up provides an opportunity to address any inquiries and provide necessary information or instructions. You can send a reminder via email, text message, or mail.
Frequently Asked Questions
What should be done if attendees do not bring a dish from a particular category listed on the sign-up sheet?
If participants fail to bring a certain meal, you must prepare and provide the meal. On the other hand, you can write a request letter to some guests, urging them to prepare the meal. Also, if the event can continue without the meal, you can eliminate it from the main menu. 
What happens if multiple participants sign up for the same dish?
If multiple participants sign up for the same dish, you can contact them and suggest alternative options to avoid duplication. Encourage flexibility and variety in the potluck offerings.
How do I manage dietary restrictions and allergies?
Guests can use the sign-up sheet to indicate their dietary restrictions and allergies. Share this information with other participants to ensure consideration and accommodate their needs.
Which sign-up method is preferable, digital or paper-based?
Determining the best type of sign-up sheet depends on factors such as the preferences and technological comfort level of your participants, the size and nature of the event, and the level of coordination and communication required. Digital sign-up sheets generally offer more convenience, accessibility, and real-time updates. However, if your participants prefer a traditional approach or if the event is smaller in scale, a paper-based sheet may be more suitable.