A homework planner serves as an essential tool, similar to a journal, that enables students to keep track of their assignments and deadlines.
Utilizing a homework planner ensures you remain up-to-date with all your homework and assignments, along with their respective due dates.
Employing a homework planner minimizes the chances of overlooking deadlines, helping you stay organized and focused throughout your academic journey.
As a student, possessing a homework planner is crucial in managing your schoolwork efficiently and avoiding last-minute scrambles. This tool allows you to stay informed about upcoming tasks and prioritize your homework based on deadlines and task complexity.
Regardless of whether you choose a physical notebook or a digital planner, having a homework planner simplifies school life management. By utilizing a template to create your personalized homework planner, you can effectively organize your tasks and time, allowing for a more relaxed mental state.
Why Keep a Homework Planner?
You can get many benefits as a student if you choose to keep a planner for your homework and assignments. With it, you will be able to improve your productivity, especially if you have a part-time job. It would be best if you have a homework planner to ensure that you dedicate enough time to each task and complete them all successfully. This way, you will increase your productivity and, hence, achieve better and higher-quality output.
A homework planner will help you plan your time properly. With a planner, you can manage your time wisely, which will help you meet your deadlines and avoid any stress. In addition, a homework planner will help you improve your organizational skills. That means you will be a more organized student with fewer instances of forgetfulness and confusion. You will learn how to keep your commitments and meet your deadlines.
Another important aspect of the planner is that you will be able to track your achievements and goals. Making a list of your assignments, homework, and to-do lists in your planner will help you track what you have completed and what is still pending. The homework planner will also make you more responsible. This means, with a homework planner, you are more likely to develop a sense of responsibility that will ensure you remain focused on your school tasks and achieve all your goals as planned.
How to Create a Homework Planner?
You need to know how to create a homework planner because having one is important and beneficial. You can use any of the ways mentioned below to create your own homework planner according to your requirements.
Explained below are the five ways you can create your homework planner:
Method 1: Design your own homework planner
Choose all the planning sheets you will need in your homework planner. This may include a monthly calendar, a weekly planning sheet, and a daily to-do list. You can use sticky notes to add information to your calendar or choose to use sticky notes to add important details to specific dates.
The next step is to download free templates for different kinds of sheets that you have chosen for your homework planner and then print them. You can use notebook paper, blank printing paper, or other printed papers for printing, depending on your style and planning design.
You should then organize your papers in a way that you want them to appear in your planner. You can start with the monthly sheets, then the weekly ones, and finally the daily papers. Because school schedules are usually divided into weeks rather than months, having separate sheets for weeks and days ensures continuity in planning even if the month changes midweek.
The next step is to create sections for your planner by using color-coded sheets, dividers, tape, or post-notes to mark the presence of two sections or mark important sections.
After that, you can creatively design your homework planner cover by drawing and painting it, decorating it with your favorite stickers, or designing and printing out a cover on the computer.
Since you already have the sections divided, you need to decide what each section will include. You can categorize your planner sections according to subjects. Monthly, weekly, and daily categories can be created within the sections.
The final step in designing your own homework planner is to bind the papers together and put a cover. You can choose to either glue or staple the papers together. Your planner is now ready for you to add information about your assignments and homework. You can use your planner for assignments from one class or different classes. Make sure to highlight each task using a different color of ink.
Method 2: Use a standard notebook
The first step is to choose a planner notebook based on what you need and the number of assignments and homework you might receive for each class, from the various homework planners available.
The next step is to decorate your notebook, a journal, or a composition book. Be creative and either draw or glue decorations on your notebook. Decorating your planner will help you stay motivated when using a planner.
Then, you should divide your notebook into sections like the ones mentioned earlier: the monthly sections, weekly sections, and daily to-do list. You can count the number of sheets you need for each section and divide them using dividers, folding corners of the papers, and using tape or colored sheets.
Ensure that you label all the sections that you have created in your planner to make it easier to indicate the right information in the right place. You can create the label by writing, drawing, or using stickers.
The next step is to draw your calendars so that you can plan your month based on the information in your planner. You should make a calendar by drawing a large box, dividing it into four columns and seven rows, naming the days of the week on top of each column, naming the months, and including the correct dates.
Ensure that you create your weekly planning sheets since these are the ones you will use the most. Most of your homework and your assignment will be included in the weekly sections. You will need to divide it into eight columns, seven for the days of the week and one extra column for notes.
The final step of using a standard notebook to create your homework planner includes the required assignments and homework. Ensure you organize your tasks based on deadlines to ensure you meet all your deadlines.
Method 3: Use a binder
Choose a binder that will fit all the necessary papers that you need to include in your homework planner. This includes the assignments sections, the calendars, and the weekly planners. Try to minimize the number of papers in the binder so that you can easily access information about your assignments.
The next step is to decide how you want to organize your planner for your homework. You should include the monthly calendar, weekly sections, and daily to-do lists. Using a binder will make it easier to add more sections and papers in the future when needed. That means you do not have to focus much on the number of papers for each section.
The next step is to print out your planning sheets, including blank calendars and blank weekly planning sheets. You can edit and download customized homework planning sheet templates and then print them for use. After printing, insert these planning sheets into your binder.
The fourth step will be to divide your planning sheets using dividers so that you can separate and access each section easily. You should also label these sections appropriately. Finally, you should open your binder rings and insert the to-do list, the weekly sections, the calendar, and a special index page to help you with arranging the pages of the homework planner.
The final step is to include your homework and assignments sections. At this point, the binder is ready to be used as a homework planner, and you can start planning and organizing your schoolwork.
Method 4: Use a digital planner
Select a digital planner that can be used on your laptop, iPad, or smartphone. For example, you can use note-taking or other calendar apps as your digital planner for your homework.
The next step is to either take notes or design a custom planner meant to organize your school homework and assignments directly into the apps.
Finally when including details about your assignment, ensure you focus on these three important times; new semester, new year or new season, Sundays, and classes.
For the upcoming semester (year or season), you can include all the set dates for important activities like tests and deadlines. The apps help you update your weekly sections on Sundays, as they mark the start of the new week. Finally, in class, you can use the app to update information in your homework planner for to-do lists, key dates, lengthy assignments, projects, tests, and final exams.
Method 5: Use a template
You can also choose to use a template to prepare your homework planner. A template is the easiest method to use since you will be required to download a premade planner and customize it to suit your homework needs.
You can easily edit a template and fill in the required information. Also, you can choose to download and print it, then paste it in your notebook to use as your daily homework planner. Whatever method you choose, the homework planner template is not time-consuming and guarantees you less stress during the preparation process.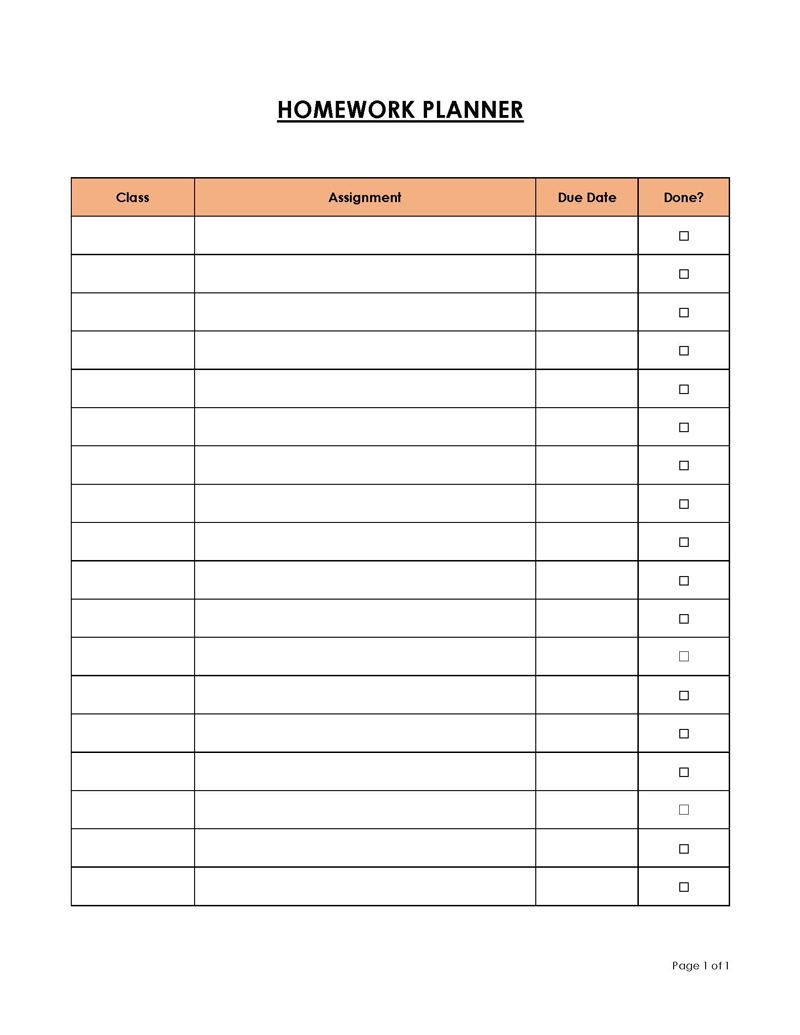 Note: In the case of a to-do list, you do not have to mention every single thing you intend or plan to do during the day. This will be difficult if something unexpected occurs or you decide to do something other than what you planned. As a student, the best way is to organize the tasks you need to complete immediately, the tasks you will complete in a couple of hours, and the tasks you will do on another day. It is about which assignment or homework is the most important.
What to Include in a Homework Planner
The information in this section will help you create a comprehensive homework planner that will assist you in organizing your homework and assignments.
Here is what you need to include in your homework planner once you have created it using any of the methods mentioned above:
Regular times for homework
You need to include a regular block of homework time. This is the time that you have dedicated to doing your homework. Setting regular times for homework is important, as it will help you plan for extra study and other school work you may have.
Due dates of homework assignments
The deadlines and due dates for your homework and assignments should also be included in the planner. This will help you remember what you need to do and when to ensure you submit your work on time.
Dates of tests
Your planner should include information about your homework and the test dates. You need to plan and organize your time to study and prepare for your tests. Including this information will help you stay informed about the upcoming tests.
Any special events to attend
In case you need to attend a dance, party, celebration, or any other special event, you should include it in your homework planner. This is important, as you will not have time for your homework if you have not planned it properly in your schedule.
Deadlines for signing up for standardized tests
Standardized tests like the SATs are important tests for you as a student. If you are interested in taking such exams, you need to note the deadlines for registering for these standardized tests in your homework planner. That way, you can prepare for the tests and stay alert about applying.
Due dates for school-related fees
Your homework planner should also have information about your school fee due date. You have to remind your parents or guardians about paying your school fees, and that is why it is important to include this information in your planner.
Dates of school holidays
Since you will be checking your planner for information about your homework, assignments, and tests, the planner is a good place to indicate the dates of any upcoming school holidays. This will help you remember to do all that is required before the school holiday.
When creating and filling your homework planner, there are tips that you should remember. These tips are some of the best practices you need to adapt and follow for effective homework planning.
Some of these best practices include the following:
1. Choose the right planner for you
It is important to choose the right planner for your homework and assignment needs. Your planner is meant to help with your school life by organizing your schoolwork. That means choosing your planner is the first and most important thing you should do. Choose what is most suitable for you, whether it is a notebook or a digital planner.
2. Set weekly goals
You need to include your weekly goals in your planner. Apart from your homework and assignments, you can also include your weekly goals in the planner. An example of a weekly goal can be studying for about 45 minutes to improve your grades.
3. Keep track of upcoming assignments
For the planner to be beneficial, remember that it is not enough to note your homework and assignment details. As a student, you must track those assignments that are due soon. It will not be beneficial to have a homework planner and still forget to complete assignments on time.
4. Practice time management
When creating and filling in your homework planner, you need to practice time management. As a student, managing school and your personal life requires you to learn how to manage your time. Ensure you allocate appropriate time for each school task, homework, and assignment. That way, you can have more time to indulge in other activities.
5. Keep it positive
Ensure to include positive information in your homework planner. You can congratulate yourself by adding positive notes in the planner every time you complete your work and school assignments. This will encourage you to stay focused on adhering to the homework planner.
As a student, you need to have a method to organize your school work and your personal time. You might feel overburdened or even forget to complete some of these tasks as you balance your homework, assignments, and other schoolwork. That is why you need a homework planner. You can easily make a homework planner to ensure you stay organized and responsible, and always remember to complete your homework. Use our customized templates to create your homework planner today.