Every company will always aspire to establish a strong relationship between its brand and customers. A good brand has to give away what the company does (purpose) and the aspect of the product or service that the company and its customers value most. This will usually be achieved through a mission statement. The statement ensures different stakeholders of the company such as customers, management, owners, employers, and investors are in sync with what the company is offering. Depending on the number of details included in the statement, it can be a single sentence or a brief paragraph.
A well-created mission statement will usually play a vital role in instilling brand loyalty among customers. It reminds them of what the company stands for and what they should expect from its products and services. The statement will typically try to state the company's primary objective (customer and employee experience) while considering the objective's physical, logical, and emotional elements.
Note that a person can create a personal mission statement to guide what they want to achieve and the principles guiding the process of achieving their set goals or fulfilling their duties in their respective field of profession. These are famous among reputable professionals, investors, and businesspersons. A personal mission statement will incorporate different aspects of the person's life such as professional ethics, financial discipline/principle, and spiritual and social outlook.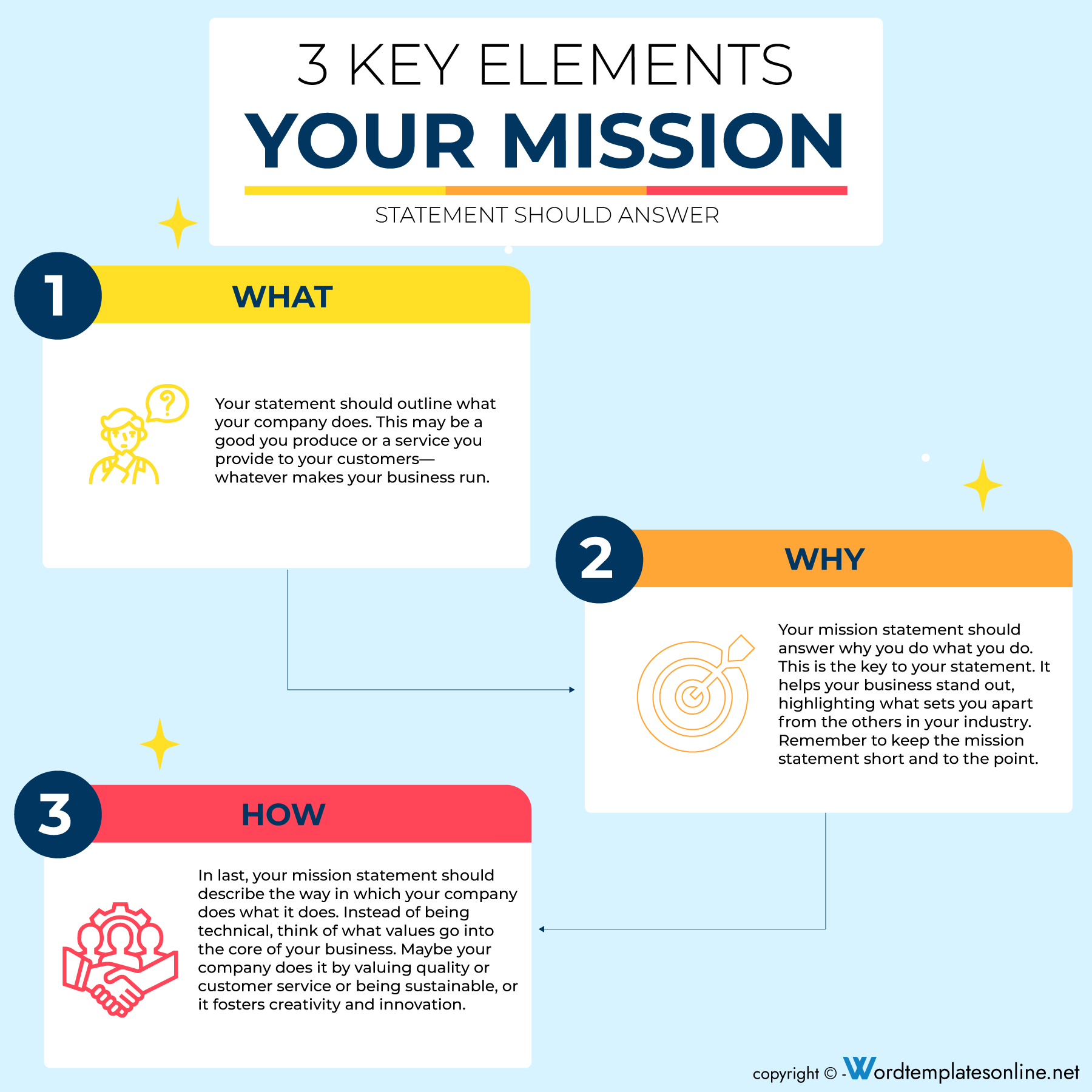 A mission statement is a conclusive summary of the purpose and values of an organization that the company's customers, partners, employees, and shareholders can refer to to understand what they should expect from the company and consequently what is expected from them in their respective capacities. This information is given such that the statement outlines a general description of the company/organization, its objectives, and functions. A mission statement and vision statement are created to serve different purposes within the organization, which form a basis for differentiating the two.
Note that the goals and objectives outlined in the mission statement are set such that they are attainable. Therefore, once they are attained, the organization will have to set new goals to reflect the changes within and without the organization. As a result, mission statements have to be reviewed and revised to accommodate the changes.
How Does it Work?
In a company setting, a mission statement helps keep the employees and the entire organization community on track as to what the company intends to achieve with its product or service delivery. It more or less sets a standard of customer and employee experience that needs to be observed as long as the company is operational.
By highlighting the organization's core values, ethics, culture, fundamental goals, and agenda, it becomes clear to the company's stakeholders, such as suppliers, distributors, employees, and shareholders, how they should relate and work towards its plan. In addition, having it in place helps external parties align their objectives with those of the company.
A mission statement also helps create a pillar around which innovative methods and novel strategies for achieving company goals can be built. Therefore, as much as the new strategy will vary from the previous one, the objective remains the same.
By outlining what the organization does, how, and why it does what it does, a mission statement creates a reference basis for potential investors to refer to when deciding whether to invest in the organization. For example, if an organization's mission is to provide voluntarily non-profit medical services, the organization's interest would not align with that of a for-profit investor.
Mission Statement Vs. Vision Statement
A mission statement highlights what a company does (purpose/goals) and how they do it. On the other hand, a vision statement will describe what the company aspires to do and where it wants to be or the community or world to be in the future. A mission statement is set in the present or continuous tense, which is meant to show what the company is doing and continues to do, while a vision statement is set in the future tense. Both statements can include the company's function/purpose or goals, target audiences, and company deliverables but are very intense (mission takes up present tense while vision takes future tense).
Therefore, a mission statement will be a roadmap for the vision statement, implying that if the company continues to do what they do and how they do it, it will get to where they want to be in the future. It thus shows what an organization's brand can become in the future by focusing on the long-term value of a deal. The mission statement can change throughout the years, whereas a vision statement will typically remain unchanged as it represents a company's aspiration.
What to Include in a Mission Statement?
When creating a mission statement, the company's principal deliverables, purpose, and core values need to be narrowed down to a few words only – a process that can be more difficult than it sounds. In addition, a good mission statement needs to be captivating and specific to make customers and employees to be associated with it.
Therefore, coming up with a comprehensive simple mission statement will usually require the following a few simple steps discussed below.
What your company does
Firstly, it needs to be clear what the company does explicitly at the moment, not in the future. This will require the listing of the products or services offered by the company. A company does not detail the production processes but simply the result of those processes with which the customer interacts.
Use simple terms—examples of different company products and services.
Offer medical care
Taxi services
Sell luxury watches
Sell baby toys
Design websites
Provide cloud storage
Describe how it does
The next item to include in the mission statement is how the company offers its services or products. Several aspects can be described in this section. They include core values, quality, innovation, or customization, etc. This element should not be technical, and it should use simple words to show how the company operates. What a company business does is not the production process but rather the overall business model; how it interacts with the customers and employees. This ultimately shows the value the company brings to the customers and employees.
Examples of different ways companies operate are:
Offer high-quality products
Produce sustainable products
A luxury brand
Ensure safety
Ensure convenient shopping
Encourage and practice innovation
Provide honest and factual information
Offer impenetrable security
A mission statement can focus on maximally two key proficiencies and values that a company can guarantee its customers, employees, and investors.
Explain why your company does it
Lastly, it is expected to highlight the motivation behind the business. This is generally why the company was started. The passion behind a business can range from different things such as improving the quality of peoples' lives, filling a niche, fostering talents and creativity, creating more job opportunities, etc.
Now, the three elements can then be tied together to generate a strong mission statement. For example:
The examples "provide cloud storage," "offer impenetrable security", and "create more job opportunities" can be combined to give the mission statement below:
To offer impenetrable cloud storage services for small online shops to support the creation of online job opportunities.
Examples of Mission Statement
The examples of some well-known brands and companies are as:
Virgin Airways
to embrace the human spirit and let it fly.

Virgin Airways
Tesla
"to accelerate the world's transition to sustainable energy"

Tesla
Starbucks
"to inspire and nurture the human spirit – one person, one cup, and one neighborhood at a time"

Starbucks
Nike
"to bring inspiration and innovation to every athlete* in the world" "

Nike
SPOTIFY
"to unlock the potential of human creativity"

SPOTIFY
TED
"Spread ideas"

TED
AIRBNB
"to unlock the power of sharing space, resources, and support in times of need"

AIRBNB
STARBUCKS
"To inspire and nurture the human spirit – one person, one cup and one neighbourhood at a time.

STARBUCKS
MICROSOFT
"to empower every person and every organization on the planet to achieve more"

MICROSOFT
KICKSTARTER
"to help bring creative projects to life"

KICKSTARTER
SQUARESPACE
"to help people with creative ideas stand out and succeed. We create a modern platform that enables millions to build a brand, share their stories, and transact with their customers in an impactful and beautiful online presence."

SQUARESPACE
THE AMERICAN RED CROSS
"prevents and alleviates human suffering in the face of emergencies by mobilizing the power of"

THE AMERICAN RED CROSS
TWITTER
"to strengthen our communities through our platform, people, and profits"

TWITTER
Facebook
"Give people the power to build community and bring the world closer together"

Facebook
BILL & MELINDA GATES foundation
"to create a world where every person has the opportunity to live a healthy, productive life"

BILL & MELINDA GATES foundation
The Artemis Agency
"Actively helping clients change the world"

The Artemis Agency
Pros and Cons of It
A mission statement has its advantages and disadvantages. This article will look into some of the benefits and shortcomings of using a mission statement in a company.
Pros
The benefits of a mission statement are diverse. However, the most notable benefit is that it states the company's goal(s) to the internal and external stakeholders. This way, everyone has a clear idea of what they are all collectively working to achieve within their respective roles.
A mission statement acts as a morale booster for employees of the company. Having an overall clear objective in place goes a long way in giving the employees a defined purpose they are working towards and having a sense of inclusion as they get to know how their effort is contributing towards a particular product or service.
Using mission statements shows a company's commitment to its purpose. This reassures its investors and customers that the company will continue to deliver on profitability and customer expectations, respectively.
Cons
The use of mission statements is not short of disadvantages. One major shortcoming of having it is the time and money required to develop and effectively implement an excellent mission statement. It can sometimes take years and millions of money that could have been redirected to other company activities to develop a befitting mission statement. This becomes an even greater liability if the resources are spent to develop a wrong mission statement.
Also, sometimes it can be too ambitious and consequently too unrealistic to be feasible. This can impose unrealistic expectations on the employees, which impacts the company negatively rather than the expected positive impacts. 
Concluding All
Once a satisfactory mission has been developed, it should be implemented. It can be incorporated wherever possible, for example, in ad campaigns, and on the company website. In addition, the statement should be visible or accessible to all company stakeholders – customers, employees, and investors such that anyone who interacts with the company will have the mission statement in mind.
It should then be used as the foundation of the overall company operations. All departments within the company should direct their employee and functions to align with the mission statement.
Lastly, with the mission statement in place, the company vision statement can be developed. Mission and vision statements are essential tools in ensuring a business's success and help establish a consistent brand for the business.
A mission statement should state the company's purpose in brief.
One sentence or a short paragraph of maybe two to three sentences will usually be enough to create a cohesive mission statement.
A mission statement helps give direction to the company, thus ensuring that everyone is focused on what the company intends to offer to the customers and community.
A well-crafted mission statement will typically contain details about the customers, products or services, core values, employee concerns, and public image.
Using a mission statement template can make the process of creating a mission statement simpler and faster. Once created, it should be incorporated in different areas such as advertising campaigns, premises, websites, and other places where it will be visible to its target audience.