A 'bid proposal' is a formal plan that a firm submits in response to a call for the same by another firm. It aims at showcasing the steps and modalities that the bidding firm intends to follow to meet the needs of the bidding firm. This document is mainly used when there is a need to furnish some goods and services.
The various firms will usually demand that the companies that want to do business with it submit it for their perusal to determine whether they indeed qualify for the slots or not. A typical proposal of this kind contains the finer details like the cost aspects and the breakdown of the goods to be supplied.
How to write a bid proposal
Step I: Read and understand the project carefully
A bid proposal is usually drafted in response to a previous call. It is hence imperative to read and understand the proposal first and foremost before drafting a suitable rejoinder. That is due to the need to match or tally both documents as nearly as may be practically possible.
Step II: Carry out some background research
Other than merely reading the proposal, you have to conduct some background research of the firm that has called for the bid itself. This will help you to structure the proposal in such a way as to meet the demands of the company wholly. The same applies to meet its own prescribed standards.
Step III: Find out who your competitors are
Obviously, you are not the only one who is scrambling for the said opportunity. There are several other firms, just like you, who are similarly hunting for those very opportunities. It is hence advisable that you find out who these firms are. Such a piece of knowledge will definitely help you to structure your proposal accordingly.
Step IV: Proof-read and edit the proposal
We can never emphasize the need to proof-read and edit the proposal before submitting the same. Considering the high volumes of applicants, you can never take chances. You do not want any slight mistake that may place you at a disadvantage when it comes to determining who to award the bid to.
Step V: Dangle and additional offer or service
At any given time, there are often many others who have equally submitted their bids to you. They, too, have the same degree of expertise and are also willing to furnish the goods and services ordered at the stated price. To stand ahead of the pack, you have to dangle an additional offer or service, usually for free.
Step VI: Include your client feedback history
It is always a good thing to include the feedback history of your past clients. This is to let the firm you are applying to know that you have the relevant experience and are also able to do a better job. The skills and experience have to do with the past projects you have undertaken or the goods you have supplied.
How bid proposal templates can help
Given the complex natures of these documents, you have to rely extensively on a bid proposal template to do the job. These are basically patterns that you follow to be able to achieve the necessary end. By following them to the letter, you will be able to draft a quality article.
Bid Proposal Template 1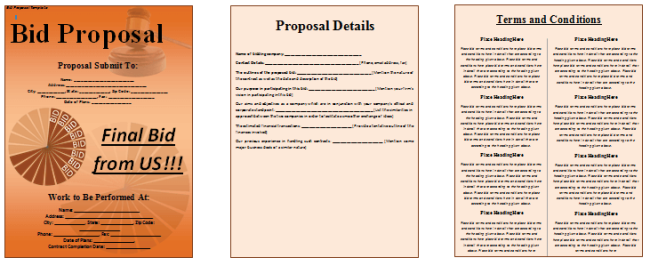 ---
Construction Bid Proposal Template
---
Bid Proposal Form
---
Bid Proposal Template 4
Bid Proposal Template 5
---
---
Sample of Bid Proposal 6
Pro tips for writing a bid proposal
Tip I: Read the job description carefully
Start it out by reading the job description carefully. Remember, a bid is, for a large part, a response to a previous call. You have to structure it in such a way as to respond as nearly as possible to the requirements of the job. This can only happen if you read the description carefully and understand it.
Tip II: Get to know the client deeper
Apart from reading the project proposal's fine print, it is also important for you to get to know deeper about the client. It is impossible for the client to explain to you his expectations of the job in one letter. Knowing a lot about him will definitely help you to adjust your expectations accordingly.
Tip III: Ascertain your strengths and weaknesses
Your own strengths and weaknesses also have a role insofar as meeting the expectations of the clients is concerned. For this reason, you just have to devote some of your time to assess them objectively. Doing this will also let you make any appropriate adjustments that have a bearing on your performance.
Tip IV: Attach supporting documents and credentials
You want your client to get to know more about you also, don't you? It is because of this that you want to attach the supporting documents and credentials. It is these that will give the client a fuller picture of you. That, of course, will up your chances of getting picked for the project or procurement.
Tip V: Break it down conclusively
You have to break down the bid conclusively. You should showcase to the client the finer details of the project, the costs of each stage, and the timelines within which you expect to deliver the goods or services. That will make it easier for the firm to know about how you plan to handle its tasks.
CONCLUSION
Alright, there you have them! We have done the best we can do to acquaint you with the information you need to move on. Having done that, is it too much to ask that you implement the insights accordingly? Just read the explanations keenly and find out how to do so and what you can or should do.