A contingency plan, also known as an emergency preparedness program, emergency plan, emergency preparedness handbook, or disaster recovery plan, is an organized plan that specifies how an organization will handle a crisis.
It involves identifying the risks, evaluating and implementing mitigation strategies, and communicating plans with relevant stakeholders.
Contingency planning outlines the steps that must be taken in the event of an unfavorable incident. This ensures that the organization can continue normal operations as soon as possible after a potential disruption occurs.
As a business manager, it is important to know what steps to take if some untoward incident happens. A contingency plan is a detailed document that tells you how to deal with that situation in the best possible way. In this article, we will look at why you should have a contingency plan, how it works, and how to create an effective contingency plan. We will also provide free downloadable templates that you can use as an example for creating your contingency plan, or you can customize them and print them for use.
Word format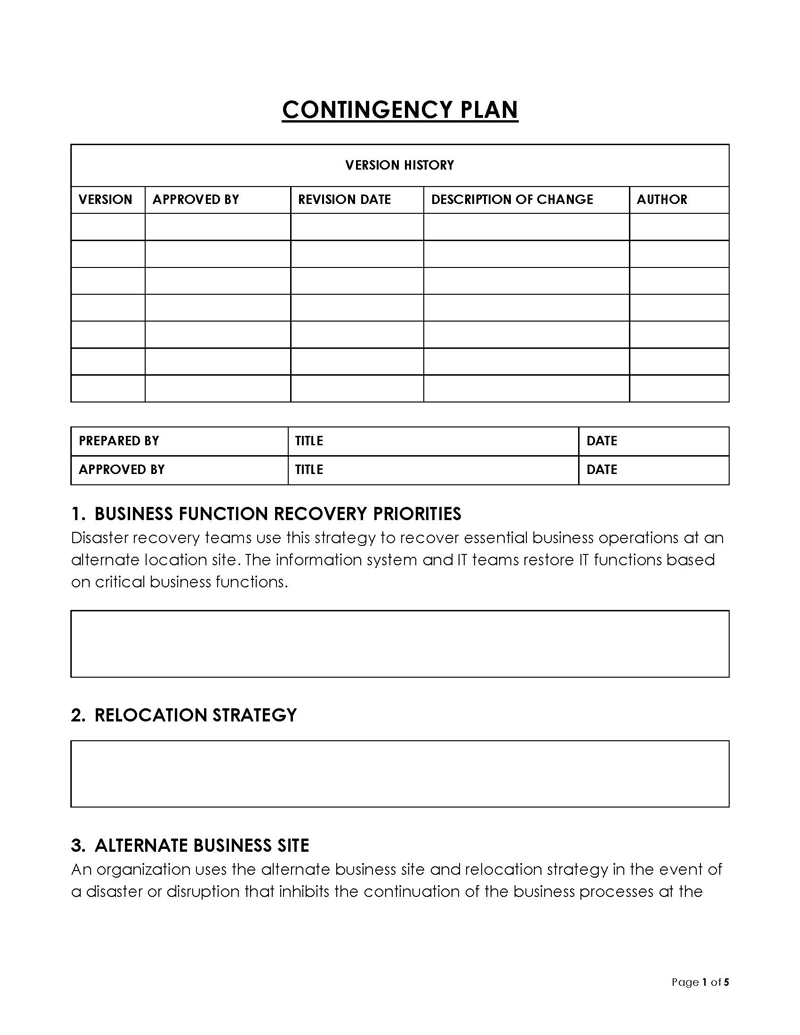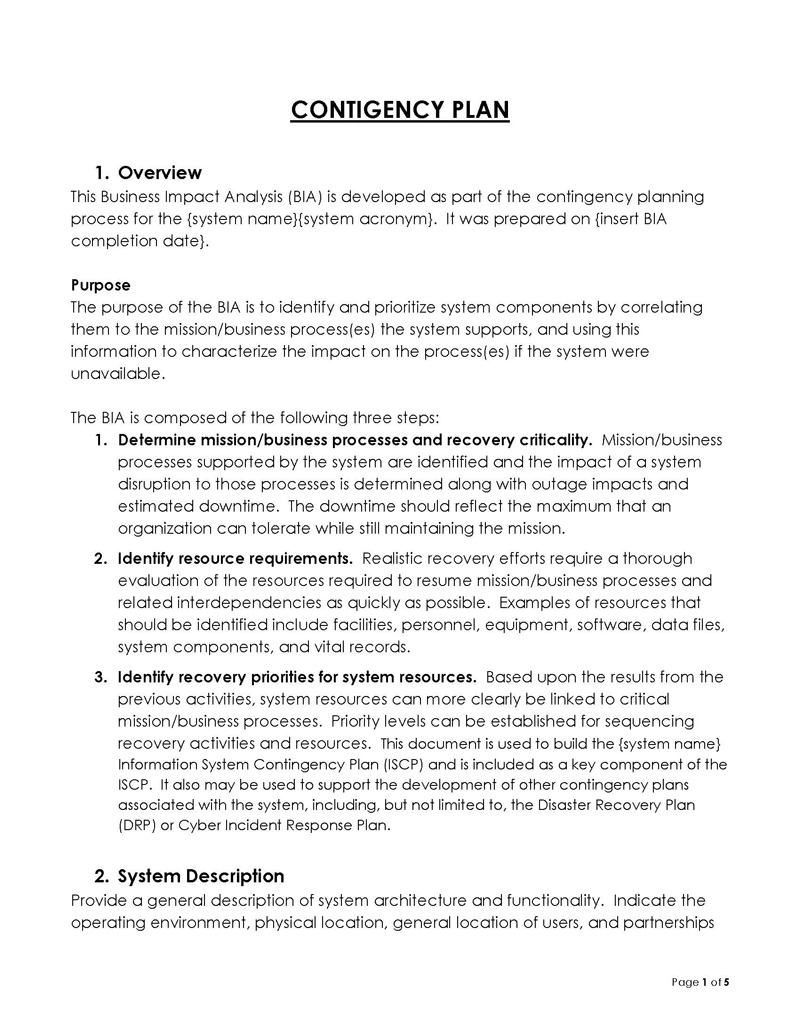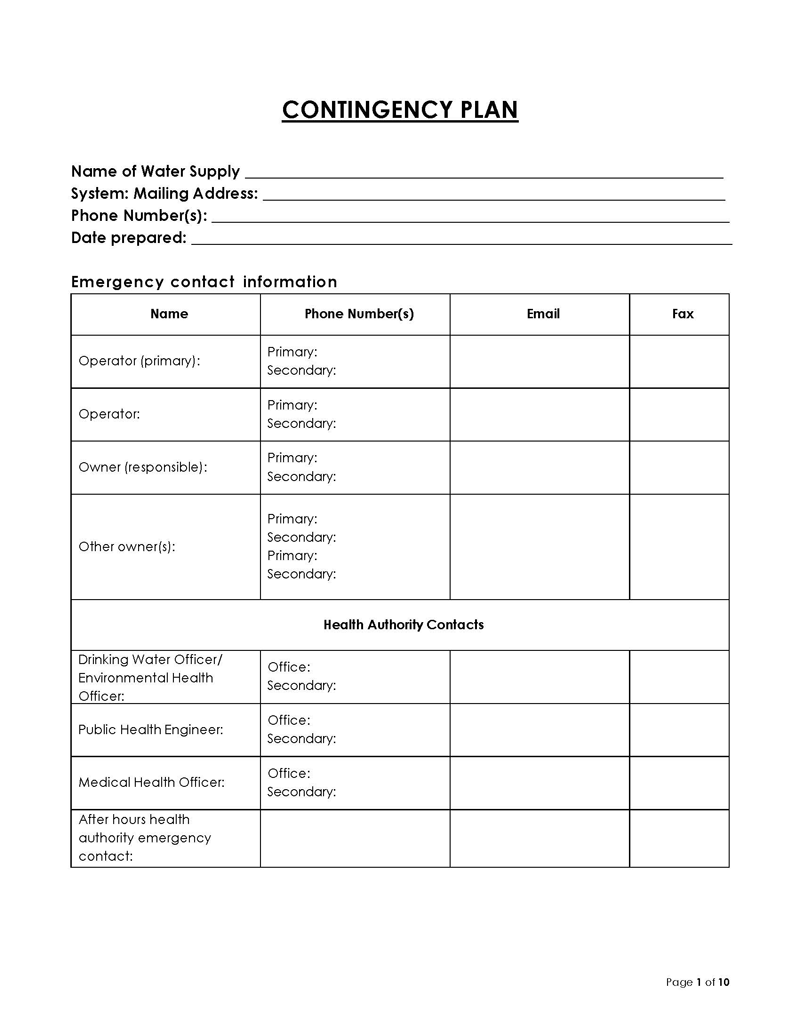 Excel format
PowerPoint
The Significance of the Contingency Plan
There are many reasons you should have a contingency plan. The most important reason to have a contingency plan is that it can help minimize the potential loss, damage, and expenses of a business. A contingency plan gives you an outline of all your alternatives in any untoward situation. It teaches your leadership team how to respond should something happen, and it helps ensure that your survival and continued operations are not compromised in the event of an untoward incident. Without a contingency plan, your leadership team may not know what to do, resulting in disastrous results.
Another reason you should have a contingency plan is that it can help your business be more efficient. If you have a contingency plan in place, you can start taking steps to minimize any potential losses as soon as you become aware of an incident that has the potential to disrupt your business. This is important because it prevents the same sum of money from being used twice to try to recover lost property and stop service and product interruptions.
It is important to note that contingency planning is not limited to planning for major crises such as natural disasters that may disrupt business operations; it can also include planning for how to deal with situations that may not appear to be threatening but can hurt how your business operates. An example of this is that if your supplier does not deliver goods on time, you will need a contingency plan to ensure that your services are not disrupted by this.
The Process: Step-by-Step
Before making any contingency plans, you must determine how likely an event is to occur. This evaluation can be carried out by looking at the past performance of your company or other businesses' plans.
Here is a step-by-step guide to creating your contingency plan:
Step 1: Create an overview of the company's essential processes
Start by creating an overview of all the essential processes that your business relies on. This may include key systems like computer systems, equipment, and people. You might include the procedures and resources used in production, for instance, if your company makes money by manufacturing goods.
This helps you assess which are the most important elements of your business and identify those that need to be protected the most. Then, you will be able to focus on the procedures or crucial factors that are most important for you to take into account when making important decisions.
Step 2: Identify and make a list of the key risks
After creating an overview of the processes that are important to your business, it is important to identify and make a list of all the risks that may affect them. These are critical components of your business that must be safeguarded against potential threats.
For example, if you sell goods, then include things like sensitive customer data or financial data. You will also want to consider the most expensive or critical processes in your business, as they are likely to have the biggest impact because they have more associated risks.
Step 3: Prioritize risks based on their impact
Based on the impact a risk may have on your business, you must prioritize the key elements in your plan for contingency. This means that those elements that have the greatest potential to disrupt your business operations and those that can potentially have the most severe consequences are placed at the top of the list.
For example, if your company relies on selling its products in foreign markets, international disruptions such as inflation, natural disasters, or trade embargoes should be prioritized in your contingency plan.
Step 4: Make a quantitative risk assessment
The most important risks must be identified before you can evaluate their potential effects on your company. It is important to consider these quantitatively, as this will help you prioritize the elements of your business that have the most risk associated with them. Make a quantitative assessment by considering what will happen if these events occur and their likely impact on your business. By giving points to each identified risk and adding them up, you can perform a quantitative risk assessment.
For example, if a fire breaks out in your business and damages your computer system, which prevents you from functioning effectively, you may assign 10 points to such an occurrence. This is because it may have a serious impact on your business.
Step 5: Calculate the potential cost of each risk
Once you have identified the risks that may have the most impact on your business, it is important to calculate how much it would cost to recover from these disruptions. You can carry out this assessment by estimating the value of each element identified in your contingency plan. For example, if you are investigating how vital your computer system and data are to your business, you can calculate how much it would cost to replace them. You can do this by considering the cost of new systems or the amount of time it would take to get these replaced.
Once you have calculated how much it would cost to recover any disruption, you must then sort the risks into three categories: high, medium, and low. This will help you identify the highest risks and focus your efforts on dealing with them first. High risks are your priority, and you should focus on addressing them first.
Step 6: Create a contingency plan for prioritized events
After conducting a quantitative risk assessment, you will be able to prioritize the risks that have the greatest potential for harm. This means that these are the risks that should be considered in your contingency plan. When creating a contingency plan, it is important to remember that the plan should have a smooth progression of actions.
This means that it should not just be a list of actions that need to be carried out in an expedited manner. For example, if your suppliers fail to deliver goods to you on time, you need to prioritize your response and quickly make plans that will ensure adequate supplies are available.
Consider using a pre-made template to guarantee that your contingency plan includes everything. By using a template, you can quickly put together a useful plan and make sure that you take care of all the contingency plan's essential tasks.
Step 7: Share the plan and define key responsibilities
Once you have completed your contingency plan, you will need to share it with the concerned parties in your business. This includes the key people who will be responsible for executing your responses. It is important to get these people involved and engaged in the process so that they are fully aware of their responsibilities when an incident occurs.
By sharing your contingency plan with all of the parties involved, you can ensure that they know what their roles are during an incident and what actions they must take to respond effectively.
To help you create an effective contingency plan for your business, here are some tips that you may want to consider:
Seek advice from outside experts
By consulting people who are not involved in your business, you can get a fresh perspective on your business and its future. This includes experts from various fields or from related industries who might be able to give you advice. This is important as it allows you to see a different perspective on the events that may occur in your industry.
Lead by example
Lead by example when creating a contingency plan for your business. This means that you must set an example for the team as a whole and emphasize the value of a contingency plan. Your employees are more likely to adhere to the contingency plan strictly if you take it seriously.
Keep it simple
It is important to keep your contingency plan simple and easy to follow. This means that the plan needs to clearly define what the major steps are and what the expected outcomes will be. Your contingency plan needs to include a clear definition of these impending events so that you can communicate it to everyone involved in its execution.
Do not overcomplicate your contingency plan by adding unnecessary elements. Your contingency plan will be most effective and serve you well if you keep it as simple as possible.
Keep it up to date
To make sure that your contingency plan is effective, you will need to update it regularly. This means that you must revisit your plan regularly to ensure that it remains relevant to your company's changing circumstances. Keeping your contingency plan up to date ensures that the information is not out of date and can be used when needed.
How you manage the risks associated with your business will have a large impact on its success. By developing a contingency plan, you will be better prepared to deal with risks and unexpected situations. A contingency plan will also enable you to consider the likelihood of an incident occurring and implement appropriate measures to help mitigate the impact of this event.

Contingency planning should always be a part of any organization's strategic planning process. By developing a contingency plan early in the process, you will ensure that any risks that may affect your business are identified and managed properly. It is important to remember that all situations are unique, so it is also essential to adapt your contingency plan accordingly as your business grows and changes.