When you think of a Capability Statement, think of a resume that represents a business rather than an individual. A capability statement brings you out as an approved vendor. Government agencies and a selection of prime contractors require that you submit a capability statement alongside your official bid.
Written for the purpose of impressing prospective clients and government agencies, the document shows the competencies and strengths that shape your business. These can be in the shape of performance-related indicators and unique propositions that give your business a competitive advantage.
A well-crafted capability statement can be anything from several paragraphs to two pages depending on the type, size, and age of your business.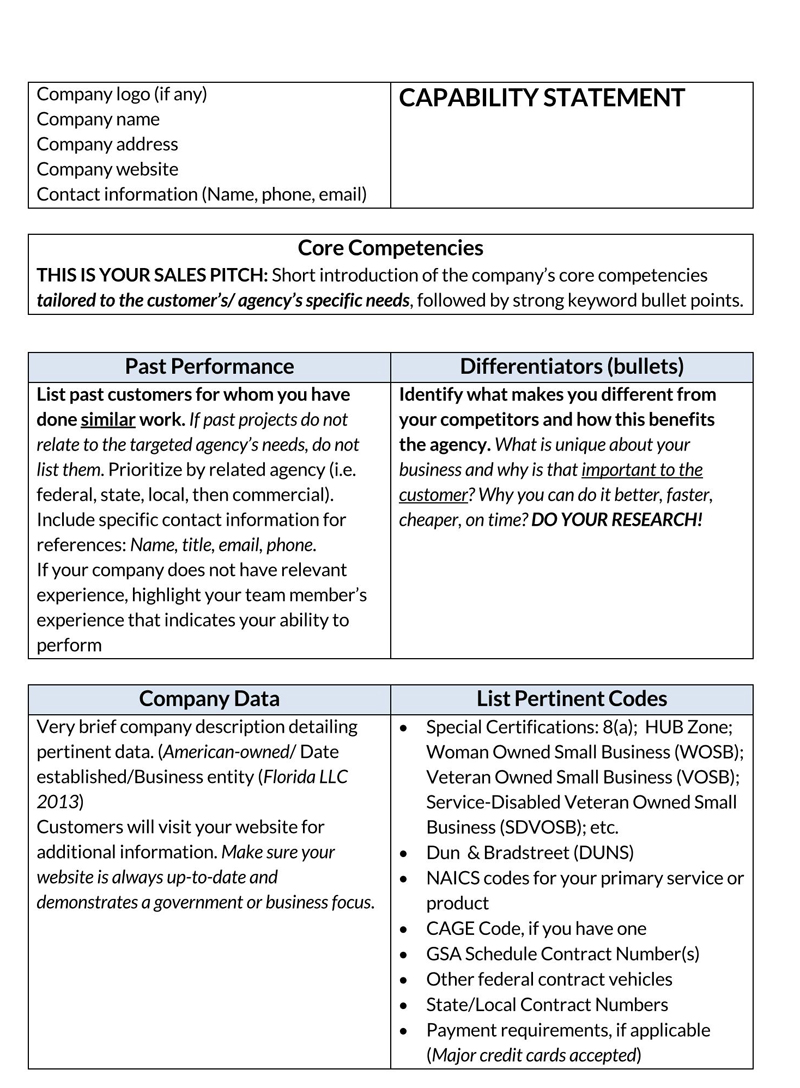 The Fundamentals of a Capability Statement
There are a few basic/primary elements that a proper capability statement is constructed on the basis of.
Primarily, a capability statement consists of the following elements:
Core competencies: A concise description of the services that your business offers.
Past performance: Proof of successful engagement with previous, related clients.
Differentiators: A section that explains why the targeted agency should choose you over your competitors.
Corporate data: A section that illustrates the legitimacy of your business.
Purpose of a Capability Statement
A business with a capability statement that follows all the standard rules is primarily in a better position to land more clients and government contracts.
Here are some of the advantages that a capability statement brings to the tent:
It displays your authority
The economy is a flood with many businesses competing for the same piece of cake. A capability statement displays your distinction over competitors, placing you in a better position of gaining favor with government procurement agents and clients alike.
Bolster chances of winning the contract
The government is dedicated to conducting business with reliable vendors regardless of their size. Presenting a capability statement alongside your bid for tenders allows the agents to analyze if you are a good fit. A rich document will potentially hook their attention and make them want to pick you over other applicants. On the other hand, a poorly done resume is less likely to fetch you a lucrative federal deal.
Helps present as trustworthy business
Trust is a hard element to come along with, especially with the modern business space driven by technology. With a creative and well-articulated capability statement document, you come out as a genuine enterprise, and the government can seriously consider doing business with you. The same goes for clients, who may become loyal and even recommend their acquaintances to join your company.
Means to market your venture
The fact that you took the initiative to come up with a capability statement speaks volumes about your seriousness and willingness to grow and dine at the big table. Even if you do not land the first government tender you apply for, you are already a force to watch in the commercial space. Even better, the government will be aware of your existence and might just consider you the next time an opening becomes available.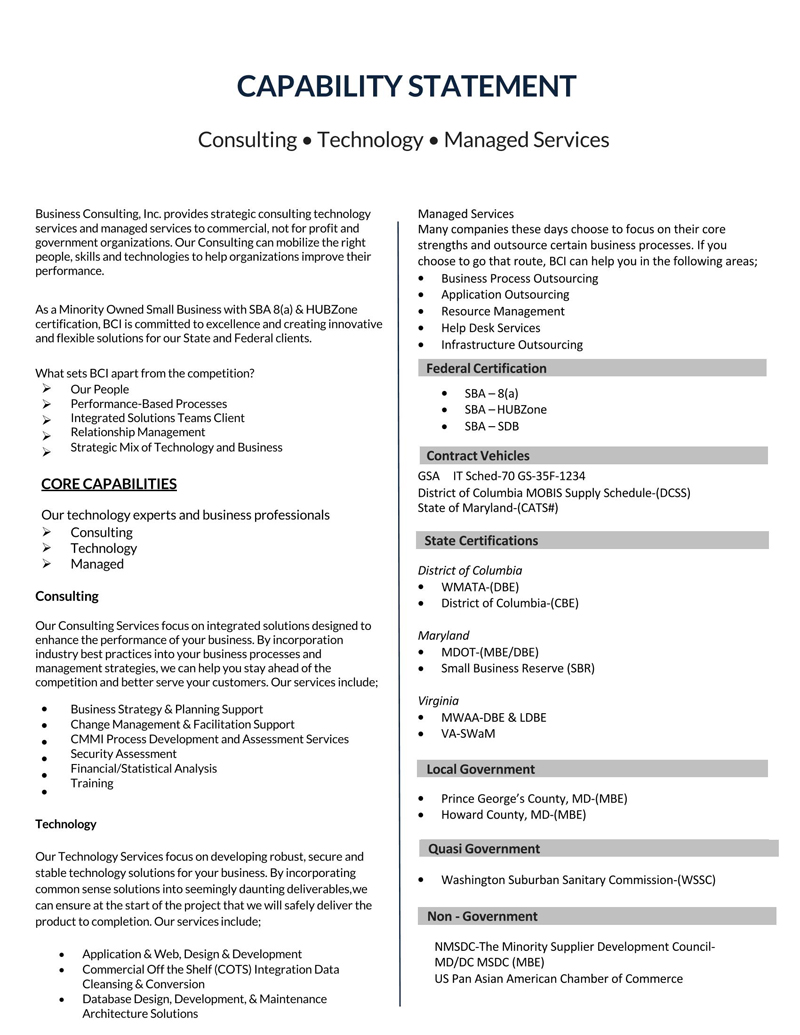 Keys Considerations to a Capability Statement
The quality of a capability statement highly depends on your creativity in tailoring what you have to fit in the agency requirements. This means that your business cannot rely on one capability statement for all applications. A certain performance detail may be a rich addition in one compatibility statement, but a weak point in another, depending on what the subject agency is looking for.
Here are a few accepted guidelines to follow:
Professional formatting
When it comes to formatting, be keen to create your statement as an easily sharable document while focusing on readability, compatibility, professionalism, and consistency. Think of HTML/webpages, PDFs, self-running CDs, and word documents, to name a few. Working on the statement with your target contact in mind helps with customization and inclusion of unique information that is relevant to that particular agency. While formatting your statement, keep in mind that your document should not exceed one page, one-sided. But you may go to the second page if the absolute necessity arises, though this is not advisable.
If you are required to print the capability statement, go for high-quality, thick, and durable paper. Utilize the primary business colors you use for your website, logo, and business cards. Leave some unused spaces on the paper to improve the document's readability.
Analyzing your competition
Remember that the competitors you dread most are also in the game to win. For this reason, sidelining them to land the contract in subject needs more than just an internally well-done statement. You need to understand their strengths and weaknesses so that you can define how best to create the winning statement.
Networking is magical
Capitalizing on connections goes a long way towards determining how your statement will perform. This is especially important if you just started operations and have no history to show good performance. An agency officer who is also a friend could give you a heads up when something you would like to contend for is just about to enter the mainstream.
Prerequisites for Writing
There are a few essential considerations; which if kept in mind before the process of writing a capability statement can ease and smoothen the process to a large extent and also result in the attainment of an effective statement.
Think of the following conditions prior to writing your capability statement:
The purpose at hand
As much as you would like to list everything that your business has ever achieved, it helps to tailor each statement to fall in line with what you are competing for. This means bringing into the picture the mission and vision of the target agency and defining how best to solve their problem. Only then can you succeed in crafting an industry-relevant, consistent, and terminology-appropriate statement that will give competitors a run for their money.
The audience you are writing for
Ask yourself who the specific audience is and what they are really looking to read. For government applications, you can address a contracting officer or a prime government vendor. Understanding your audience will help you in strategizing and coming up with a statement that has the potential of winning your present or future business.
The audience expectations
What are some of the things that the audience expects to understand from reading your statement? By asking yourself this question, you can successfully choose the most suitable collection of company success stories, histories, and references to include in your statement.
How to Write an Exceptional Capability Statement
After completing all the pre-exercise considerations, it is time to convert it all into an actual capability statement step-by-step.
The following procedure will help you come up with a high-quality statement:
Start with precise introduction
Set things in motion by writing a brief company profile that covers who you are and the types of services and products you produce.
Develop an admirable design
While the quality of the text is paramount, and aesthetically appealing design goes a long way towards impressing your target. People look for a professional, yet easy-to-digest design. This means going easy on colors and following conventionally accepted frameworks such as the company logo on top and uniform font. Luckily, the internet is packed with tons of designs and templates to borrow from.
Draft an exemplary company overview
Think of this section as your moment of hooking the reader through providing background information. In this line, highlight a catchy company history before including details such as the elevator pitch, ownership, years in operation, mission statement, service, and even the future goals if you have some space left. Keep in mind that a well-done company overview will leave the reader craving to read the rest of the statement while a substandard one will make them want to move on to the next.
Organize company data
Your company data is vital in advocating for your eligibility because the audience is able to ascertain that you are indeed an operational and legal business. The data could help navigate your way up the elimination criteria, and is especially important if you are looking to get into business with a government entity. Earlier we defined some of the fundamental certifications to feature in this section, including the DUNS, CAGE code, NAICS code, and PSCs. Others include Small Disadvantaged Business (SDB), Women-Owned Small Business (WOSB), and Small Disadvantaged Veteran-Owned Small Business (SDVOSB). Also, feel free to include the number of employees in the company, and the maximum number that it can hold.
State company's core competencies
With a focus on winning the agency's favor, share the services and that describe your business. Go further to show how these services could be of help to the agency based on the contract in the subject. You can achieve this by showing cost estimations, system analytics, project management, and much more depending on your industry. Experts recommend using concise and precise bullet points to outline the points in this section. You can add some visual appeal by starting each point with an icon, being keen not to ever do it.
The idea here is not to include every little detail that your company has ever achieved but to capture the main strongholds of the business. On top of your list should be the specialized services that you offer, followed by other points as long as they are tailored to the needs of the agency you are writing to.
Include testimonials from clients
Optimizing this section requires you to go over your clientele to select only the ones that are relevant to the target in question. The goal is to validate your provision of services and show the reader that you previously solved a problem pertinent to theirs. However, if you are a start-up with limited clientele, you can list any client you have worked with, just to prove that you have experience. You can either list these clients in bullet points or take this as an opportunity to add some aesthetic value to your statement using logos. Consider adding the contact details of these clients so that the government or prime contractors can confirm your information and have an easier time making their decision.
Define what makes you lead
Think about what separates and makes your business different from the rest. Government contracts are extremely competitive. For this reason, you need to discover your company's unique properties that can potentially capture the attention of the government buyer. Ensure that your differentiators are short, clear, pleasant, and tailored to fit the specific needs of the agency in question. Bullet points are preferable in this section.
Things Included in Corporate Data
There are a few essentials that are included in the corporate data involved in your capability statement.
The section contains the following:
Data universal numbering system (DUNS) number
An exclusive 9-digit numeric identifier for a business, assigned upon registration to Dun & Bradstreet. You can confirm if you already have the number by visiting the Dun & Bradstreet website. Do not panic if you don't have the number because acquiring one is easy and free. DUNS might get replaced in the near future, but for now, you need to ensure it is present in your capability statement.
Commercial and government entity (CAGE) code
An identifier for businesses that supply government agencies. CAGE code represents you in the System for Award Management (SAM). Given by the government, it must feature in your capability statement.
Small business administration (SBA) certification
A small business pass for a chance to compete for contracts set aside by the government for small enterprises.
North american industry classification system (NAICS) codes
The NAICS codes identify the precise goods and services that the government can acquire from your business.
Product service codes (PSCs)
Similar to NAICS and NIGP (National Institute of Government Purchasing), these codes are also used to categorize your good and services. Since government agencies can use any of these classification methods to fish for contractors, it is advisable to incorporate them all on your capability statement.
An important note for aspiring government contractors:
Before you can stage your bid on any federal contract, the government requires you to register for System for Award Management (SAM) as well as the CAGE code discussed earlier on. While the registration process for SAM is free, it can be extremely bothersome and time-consuming. Also, it involves a lot of government talk that can be hard to decipher, and the SAM website does not make it any easier. For these reasons, many company officials opt to outsource their SAM registration services.
Using a Capability Statement Template
Attributes such as past success cases and differentiators actively determine the quality of a capability statement. However, sometimes it can be difficult to get everything right, which is why it makes sense to opt for proven, professional templates.
Here are some key advantages that a capability statement template brings to the table:
They simplify of the whole creation process
They are ideal money and time savers
They lessen the workload required, especially if you deal with multiple products
They bolster clarity and foster a proven, appealing look
If you are wondering where to source these templates, Untold Content offers a wide range of templates that are ideal for different industries. Their templates are based on intensive research in the corporate and federal spaces to ensure undisputed quality.
Tips for Maintaining Your Capability Statement
Now that you have successfully completed your first capability statement, is that all? One huge mistake that promising businesses commit is using the same statement to apply for different contracts. That should not be the case.
Here are some maintenance practices:
Update and refresh it periodically
Your company is a living entity that evolves all the time. Items such as contacts are bound to change and improve over time. Further, every type of application calls for a specified statement that captures information pertinent to that exact contract in question. For these reasons, keeping your capability statement fresh and juicy is of utmost importance. The update should be an all-year dedication.
Follow-up could land you the contract
Tendering officers have to deal with tons of applications on a daily basis. It is very easy a possibility that they will never set eyes on your capability statement if you don't follow up. Sending a capability statement once does not cut it. You can show your resilience by resending the statement and contacting the agency through mail or phone until you get a reply. However, be keen not to be overly pushy so that you don't throw a golden opportunity out of the window.
A capability statement speaks volumes about a company's eligibility and competencies. Just like a resume, it outlines a summary of your strengths, showing all the key reasons why prospective government agencies and clients alike should engage in business with your firm. A capability statement can be the thin line between staying out of business and landing a lucrative government contract. For this reason, you need to invest your time and resources to maintain an eye-catching capability statement all year round.