One undisputed fact for every entrepreneur is that their businesses will always have a competitor, if not competitors. For an entrepreneur/ business person to penetrate whichever market successfully, he or she should always identify their competitors. More importantly, they should always establish a competitive edge by forming strategies on how to outdoor their competitors. Therefore, competitive analysis, in its simplest definition, is the identification of your competitors, their position, their strengths and weaknesses as compared to you.
Why you Need a Competitive Analysis?
Well, for every business to thrive in this competitive economic environment, it's vital that you develop an in-depth competitive analysis. First, it will help you get an objective understanding of your market position. Also, a strong competitive analysis helps in articulating the similarities and differences that exist between you and your competitors. The good thing with this is that you will always look for new and unique ways of outperforming them.
How to Properly Do a Competitive Analysis
Doing a competitive analysis can sometimes be easier said than done. However, if you are still wondering where to start, the following steps will help you get started.
Step 1: assemble a list of competitors
First, you need to look around and come up with a list of at least three main competitors. This should be businesses or people who provide similar services or products as your business. For instance, if you run a coffee shop or restaurant in a particular area, then you should list all shops that sell beverages/coffee within the same locality.
Step 2: Brief overview
Once you've identified your top competitors, you need to write a piece of brief information about them. Also, indicate why you strongly believe that they can offer you a competition. This information will help you to have a quick grasp of the competitive climate.
Step 3: Research on their target customers
The next thing you need to do is to find out the nature of customers your competitors attract most. You can achieve this by going through their marketing materials, websites, blogs, and advertisements, among others. Through this, you'll be able to know the audience they are trying to reach. For more help, you can use the following questions to reach your decision.
Do their marketing and advertisement seem gendered?
Do they target the old, middle age or teens?
Do they target the high income, middle income, or the low-income earners?
Step 4: Note down their pricelist
One important factor that affects consumer choice is the price. Therefore, list down the prices of services/products offered by your competitors. This should include the exact price for products/services, shipping fees, installation charges, to mention a few. Compare their prices and that you offer your clients.
Step 5: Itemize market strategy
In most cases, business tends to invest more in their marketing processes. The more familiar or relevant the marketing message is, the more likely your business will attract more customers. Therefore, plan to expand your marketing strategies to make your business more relevant. Concentrate more on marketing your business on social media platforms, websites, print marketing, and blogs, among others.
Step 6: Identify their competitive advantage
The other thing you should do is finding out what makes each competitor unique. There might be something they are doing to outperform other businesses- and this is what you should look for. Ask yourself, why would customers prefer their products over yours? Perhaps they are offering excellent customer service or high-quality products. Other than quality and customer service, the other factors you can look for include location, low prices, decoration, frequent discounts, and promotions, among others. While you are writing this section down, you'll also be able to spot areas you need to work on to improve your service delivery.
Step 7: identify their strengths and weaknesses through SWOT Analysis
Here, you will review your competitor's profile and determine their strengths and weaknesses. First, list their strengths and advantages. Also, ask yourself how well you can adjust to match their strengths. Secondly, list their weaknesses. See whether their weaknesses present an opportunity for you. You can search the businesses and see the customer's feedback, comments, and reviews online. Also, you can use SWOT Analysis as a tool to help you evaluate their success and liquidity.
Advantages of Competitive Analysis
Competitive analysis helps you understand the competitive landscape
It will also show you gaps that exist in a market place
Competitive analysis helps in product development.
Competitive analysis helps to identify market trend
It also helps you arrive at a competitive pricing strategy
Competitive Analysis Example 01
---
Competitive Analysis Example 02
---
Competitive Analysis Template 03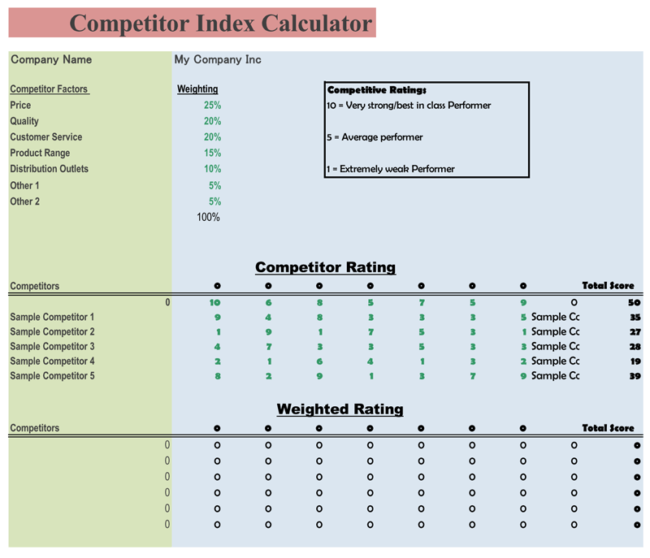 ---
Competitive Analysis Template 04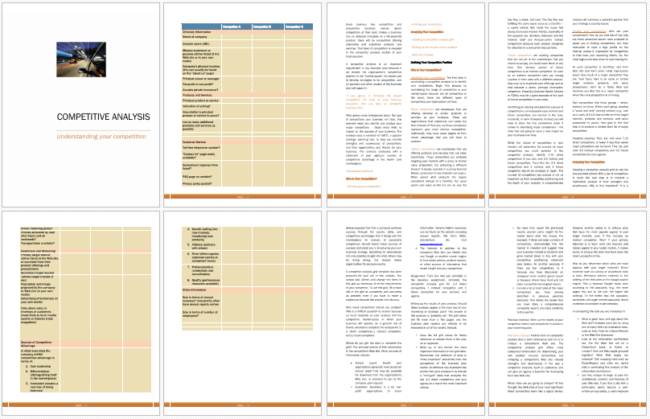 ---
Competitive Analysis Template 05
---
Competitor SWOT Analysis Template 06
Summary
Usually, competitive analysis helps businesses to evaluate their position when it comes to market dominance. It helps businesses penetrate through the market by identifying competitors as well as strategizing on ways to outshine them. Once you've identified your competitor's strengths and weaknesses, you will always be at a position of planning your next move towards prosperity. Therefore, if at all, you haven't done a competitive analysis before, the steps mentioned above will guide you effectively.