Screening is one of the vital phases in selecting tenants. It is a systematic process used to determine if an applicant meets the requirements for being an expected tenant. This includes verifying prospective tenants, verifying current and previous tenancy details, and other important information. A rental verification form can be used at this stage to help ensure that the applicant is a good fit for the property and can also fill in any gaps in expectations.
A rental verification form is primarily a document used to verify the rental history of a prospective tenant. The form also asks questions to determine if the information provided or to be provided by the applicant is accurate. The form includes the current owner of the rental, address and contact number for the rental property, information about tenant(s) residing in the rental (e.g., length of residence, rent, security deposit, and other aspects associated with their current tenancy).
It assists in giving landlords an idea of the risk involved when leasing to a tenant and can help prevent any problems that might come up down the line. Rental verification forms are needed because of the likelihood of prospective tenants lying in their applications which can be misleading and cause a lot of headaches for landlords. However, if verification information comes from a former landlord, there's a higher chance of getting a more accurate picture of how the applicant fairs as a tenant. This way, the landlord can establish what to expect from the tenant. This article will discuss how to verify tenants using a verification form and what to include when creating one.
Free Templates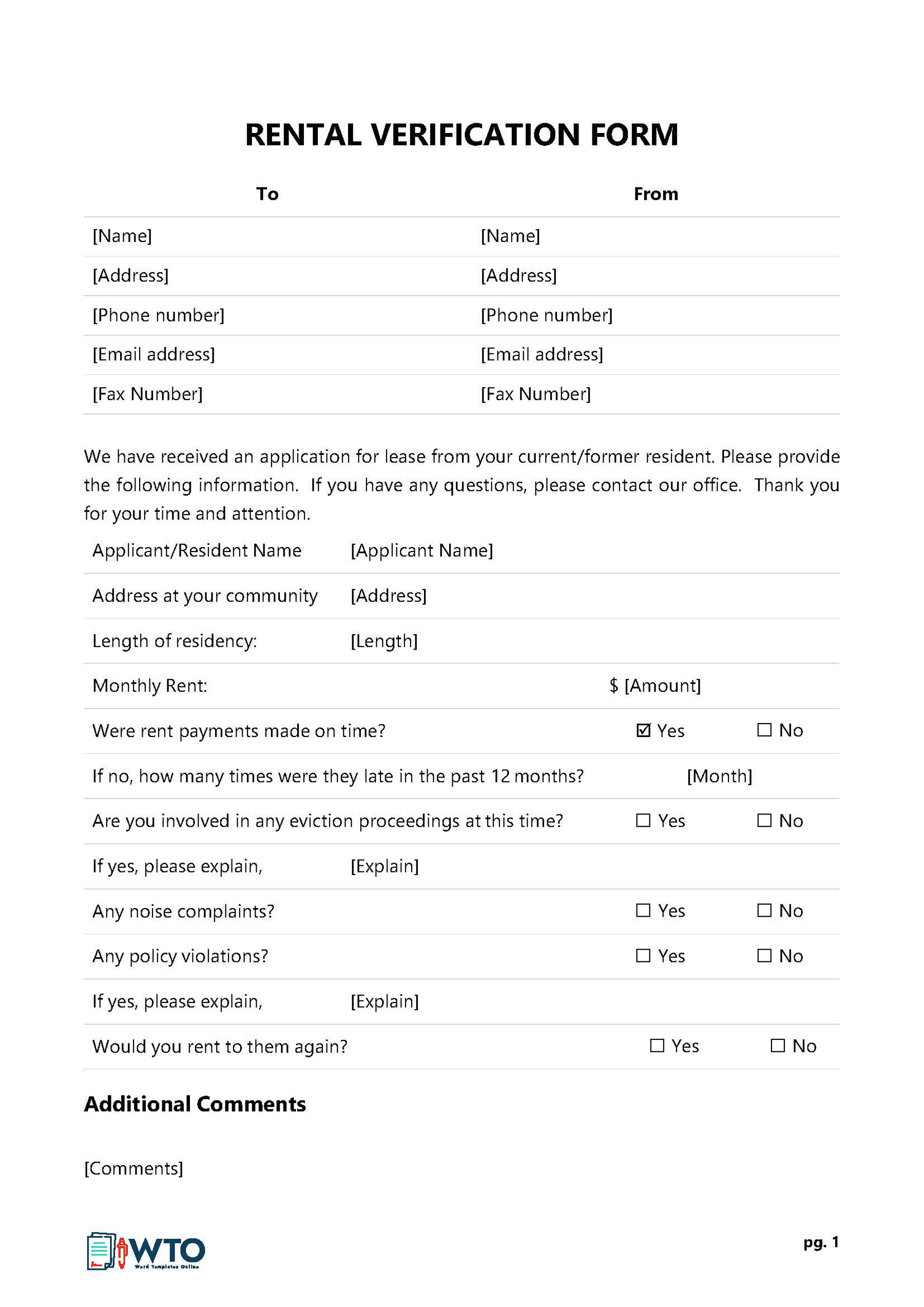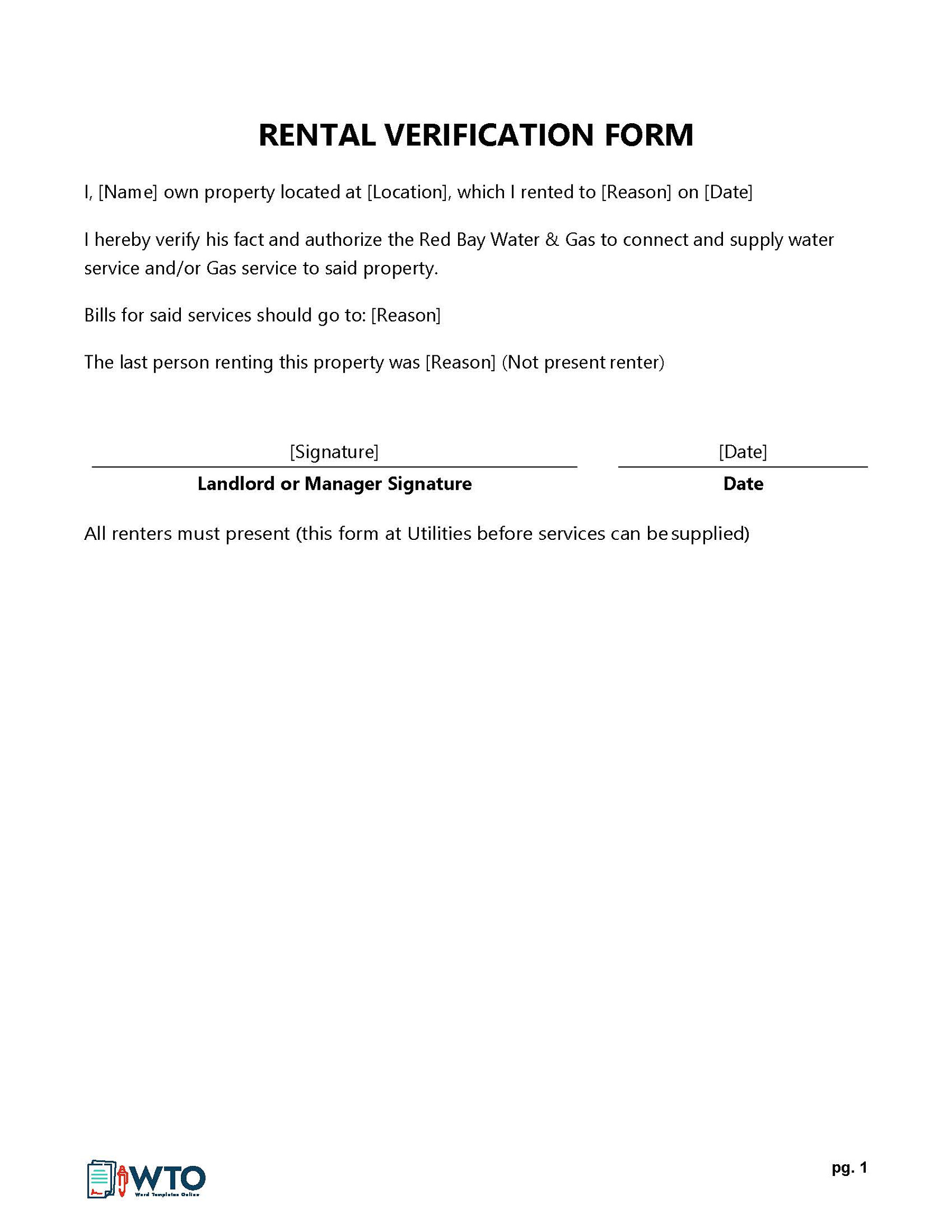 How to Verify
The objective of a rental verification form is to verify information from a tenant's rental history. The rental verification form asks for different types of information that help determine the credentials and quality of the applicant. The entire process of verification ought to be systematically carried out so that the benefits of the verification form can be realized.
Below is a cohesive procedure for undertaking this process:
Step 1: Application and consent
The process begins with collecting information from the prospective tenant through a rental application form. Landlords can request fundamental information that they use to determine the suitability of tenants and details about their rental history, such as the landlord's name, phone number, email, and mailing address. The landlord should gather this information at the earliest possible time frame.
Then, it is important to request written consent from the applicant to collect information from their present and previous landlord. This will help avoid any legal issues arising from information sharing. First-rate applicants will usually have no problem with giving consent.
Step 2: Perform a background check
Next, the landlord should provide the tenant with tenant verification to fill. Once the tenant has provided personal identification details such as full name, social security number, permanent address, etc., the landlord can perform a background check on the tenant.
A credit check, employment reference, and character reference are a few background checks used by landlords. Each type of check produces different types of information from credit score, employment status and history, current address, public records, liens and collections, criminal records, eviction records, and aliases. The type of background check conducted will depend on the information needed to verify a tenant's suitability. These background checks can be performed on different online platforms.
A credit check can provide insight into whether the applicant will be able to keep up his rental payments or if they have outstanding debts that might cause them to be difficult tenants. Employment and character references are two other methods to obtain information about tenants' work history and to determine their trustworthiness as a person. This information can be used to check if the applicant is a good fit.
Step 3: Call the landlord
After completing an extensive background check, the next step is to call a previous or current landlord of the applicant to collect information by asking a series of questions that are designed to determine the suitability of an applicant. This will most likely take place on the phone because it's usually hard to collect all necessary information in writing through regular mail.
If a previous landlord is spoken to, it is important to ask only a few specific questions, such as if the tenant paid their rent on time, the reason for vacating, if they had any security deposit that needed to be returned, and general experience with the tenant and for how long did they stay there. Ensure you verify information already provided by the tenant and try to find additional details that give a clearer picture of who the tenant is as a customer.
Note: Screening forms are usually made up of questions that can be asked on phone calls, face-to-face interviews with landlords, and email communications, depending on convenience.
Step 4: Match the information
Once the information has been collected, it's important to match the information provided by each respective landlord with that provided by the applicant. Look for discrepancies and note them down. Then, hold a meeting with the applicant to discuss the discrepancies. Also, landlords can lie about an applicant's rental history to prevent them from moving out. Therefore, it solely depends on the landlord's discernment. Additional questions can be asked to eliminate doubt as to what transpired.
Step 5: Send the rental verification form
After discrepancies are resolved, the landlord should send a rental verification form to the applicant's current/previous landlord to fill in all required details and ask for feedback on the applicant. This can be done using mail with a return receipt. A small fee can be included in the mail as an incentive for the landlord to give as much information as possible. This fee can be obtained from the applicant.
Step 6: Ask for personal references
Typically, landlords will ask for references that can attest to the applicant's details through the rental verification form. One or two references will often be enough to give a comprehensive idea of the tenant's qualifications. References can be from friends, colleagues, previous landlords, etc.
What to Include
A rental verification form helps landlords identify who they will be dealing with by providing details of the potential tenant, such as relationships they have had in the past with landlords, their rental history, and perhaps contact information that can prove their reliability.
To achieve this, the form has to have certain components as discussed below:
Introduction
The first section of the rental verification form should have the date and the applicant's consent. With the consent, the name of the requestor, the potential tenant's personal details as provided, and the current or previous rental address should be provided.
Method of delivery
This section of the form should explain how it will be delivered to the requestor once completed. It is advised that landlords limit the method of delivery to at most two methods in this section as it can be difficult for the author to select one if multiple delivery methods are included. Fax and mail can be used.
Verification questions
The rental verification form should also include the basic questions that are to be answered by the landlord. These questions can include the rent amount, date the tenant was supposed to move in, contact information, late payment cases, deposit amount, method of payment, notable issues with the tenant, disputes, or any other information that can be used to vet the applicant.
Requester's signature
Lastly, the requester should sign the verification form. The signature is used as a formality to indicate that the landlord attests to the contents of the form. The requester's name should also be provided.
Benefits of Using a Rental Verification Form
There are several benefits to using a rental verification form when vetting potential tenants. When used, you can expect to have a better rental history reference with the potential tenant without calling all previous landlords. This saves the requester a lot of time and the resources needed for conducting background checks on the applicant.
Additionally, by verifying tenants are who they say they are, verification forms help landlords avoid selecting unlawful individuals as tenants. Rental verification forms are also useful documents in tracking crime and unlawful activities since most unlawful individuals are known to rent from one region to the next to cover their tracks.
By helping landlords select quality tenants, a verification form ensures the rental unit is protected, well maintained, and safe for other tenants. Verification forms come in handy for landlords who live abroad and can vet applicants in person. Using verification forms creates a strict sense of compliance and thus arguably instills a sense of responsibility in tenants since they do not want to tarnish their rental history.
Final Thoughts
A rental verification form can be used for several different purposes. It could serve as a means to screen out tenants that may harm the property and also screen in tenants that are good for the property and its reputation. The verification form is usually used after the landlord has received a tenant application and is filled out by both parties. Although they are not the most reliable form of background checks, they can be a good starting point to help you verify the potential tenant's information. It's important to maintain consistency while reaching out to previous landlords; otherwise, inconsistency can lead to trouble down the line as there won't be proven pre-determined criteria to establish the suitability of a tenant.