Whenever you hear about Halloween, the first thing that comes to most people's mind is the crazy costumes.The practice of this tradition started almost 2000 years ago. It is the time that most families bond with their kids away from their busy schedules.
This day is enjoyable to both parents and kids. However, the only drawback about this time, it might be scary for your kids. That is why there are tons of other ways of celebrating Halloween without encompassing the scary aspect of the event. Instead of wearing spooky wizards and ghost costumes, you can replace them with simple food-themed outfits such as broccoli or pumpkin.
Kids always love this autumn celebration, even the littlest ones. Parents need to strive to make the event as memorable as possible. Once you have gauged your companion's fear factor, you are ready to plan your activities. You can dwell on either being funny or frightening during this season depending on your family preferences. Some people even are fond of visiting haunted houses and corn mazes to turn up their fright game.
Here, in this site, we spice up the Halloween event by designing for you awesome Halloween award certificate templates. Be it in the workplace or family; this specially crafted certificates can be customized to fit your requirements. We have a wide range of beautiful Halloween themed designs which are perfect gifts for your loved ones. They can be used either in a Halloween costume contest or in a classroom to reward frighteningly good work.
These certificates are free, and you can download them with just a single click.Just hold that costume party and award your favorite friends with our exemplary Halloween themed certificates. Depending on your preferences, you can download our blank Halloween Microsoft Word Template and fill it with your handwriting. Also, we welcome your creative ideas on how we can improve our certificates' layout to suit your demands. We will be grateful to add it to our extensive unique collection.
Free Halloween Award Certificates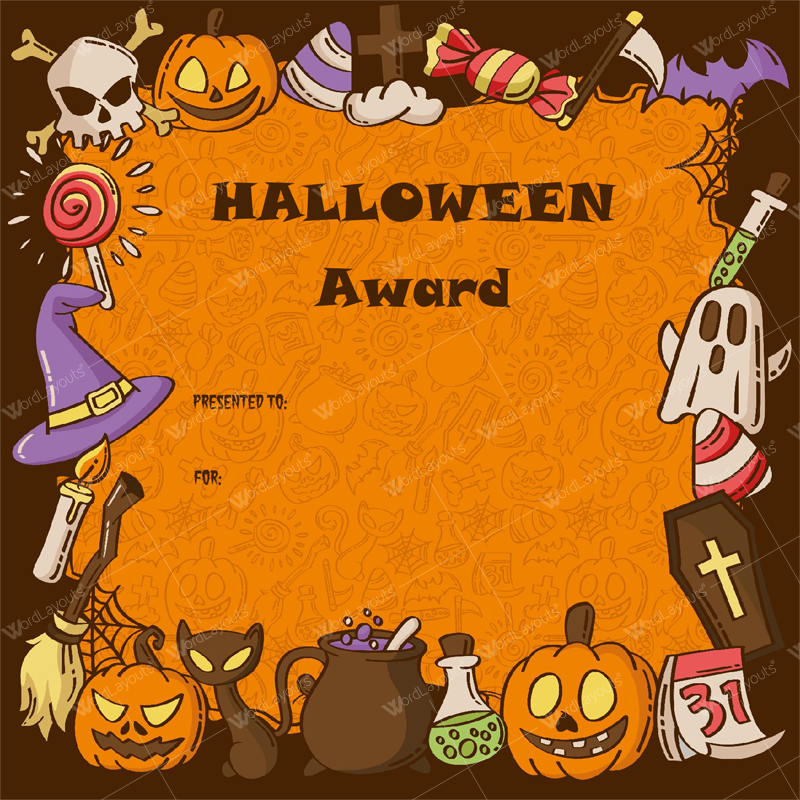 With just three steps, you can quickly print and download your designs.You first choose your style, fill in the name and print your customized award certificates. Pretty simple! Right? Then, what are you waiting for? Select your design now, and reward the people you love. Make their Halloween special, with these awesome certificate templates. You can click on the previews before you begin the process. It is simple as 1,2,3! At any place, any time, you can download and print our customized certificate templates with just one click.