A certificate of origin is a form that verifies/certifies the country in which goods were manufactured, grown, or produced.
It contains confirmation of the destination of the goods being shipped and details about the product. It affirms a product's nationality and acts as the exporter's declaration to meet the conditions set up by the customs or trade department of a country. A certificate of origin also enables cross-border trading based on the terms and conditions of trade agreements and treaties signed among/between nations.
Certificate of Origin Templates
Importance of CO
A certificate of origin entitles business owners to a preferential duty program and determines the duty rates set by importing or exporting countries. This ensures that businesses are fully aware of the commercial requirements set by the country of import or export.
It also enables the customs authority to manage or control imported or exported goods. This helps ease the monitoring of illegal goods in a country and eases the custom clearance process.
A certificate of origin enables authorities to collect data on imports and exports in a country. Countries use this data to create statistical reports on the goods imported or exported and their numbers over time. It also helps international aid trade by determining if goods can be legally imported or exported in a country or not.
It also helps differentiate products that may appear similar to other goods. This helps ensure that countries create clear regulations on specific products without affecting other similar goods. Finally, it ensures that proper marketing requirements are fulfilled by traders, therefore, preventing the prevalence of black-market trade.
When and Who Needs a Certificate of Origin?
Customs officials need a certificate of origin template to determine if the goods are subject to tariff rates. This is because tariffs are accorded based on the origin of the goods coupled with other factors. In addition, some countries use the certificate of origin as proof that the chamber of commerce has reviewed it.
A certificate of origin template may be used by banks, importers, businesses, or private stakeholders for different reasons. For example, businesses may require it to receive goods. A bank may request companies to provide it to issue a letter of credit and enable payment for commodities, among other uses.
It is also needed to enable the clearance of goods through customs. This ensures that goods imported/exported can leave the warehouse for their destination and are legal.
The types and schemes of a certificate of origin impact the decisions made by businesses, companies, or individuals importing or exporting goods in a country. Therefore, understanding them ensures that importing or exporting parties make informed decisions on which certificate of origin is appropriate.
Types
Countries utilize the two main types of certificates of origin. They include:
1. Non-preferential
A non-preferential certificate of origin confirms/certifies that products from a country do not qualify for preferential treatment. Therefore, duties should be imposed on the goods as no trade agreement has been made enabling tariff-free or reduced tariff treatment.
A non-preferential certificate of origin is also known as an 'Ordinary certificate of origin'. It is used is every day in most countries as it helps them manage adherence to government sanctions.
2. Preferential
A preference certificate of origin certifies that products from a country qualify for tariff reductions or exemptions arising from free trade agreements among countries. This type of certificate of origin enables customs authorities to monitor and assess the compliance of the terms of the agreements and ensure appropriate tariff treatment of the destination country by issuing the proper preferential certificate.
Schemes
Preferential schemes are arrangements that enable countries to make tariff preferences agreements. The following are preferential arrangements/schemes facilitated by countries:
1. GSP
The Generalized System of Preference scheme is a unilateral extended tariffs concession implemented by developed countries on goods originating from industrially developing nations. These tariff concessions are on a non-reciprocator basis and are non-contractual as they aim to assist developing countries.
2. GSTP
The Global System of Trade Preference is a scheme between developing countries that have signed a trade agreement to exchange tariffs concessions. Under GSTP, only the Export Inspection Council (EIC) can issue a certificate of origin. This scheme extends to direct trade measures, including medium and long-term contracts and sectoral agreements in these countries.
3. SAPTA
The Agreement on South Asian Free Trade Area is a preferential scheme used by SAARC member states to enable tariff concessions. However, these tariff concessions only apply to signatory nations.
4. APTA
The Asia Pacific Trade Agreement is a scheme that aims to ease tariff obstacles across the Economic and Social Commission for Asia and Pacific (ESCAP) region. India, Sri Lanka, Malaysia, South Korea, Japan, and Bangladesh use the APTA preferential scheme to ease trade.
5. ISLFTA
The India Sri Lank Free Trade Agreement is a free trade agreement struck between India and Sri Lanka. It enables the Exports Inspection Council to issue a certificate of origin for all goods between them.
6. ITFTA
The India-Thailand Free Trade Agreement is an Early harvest scheme made to enable free trade between India and Thailand. Products under the Early harvest scheme are subject to tariff preferences to help improve economic cooperation between the two countries.
The products must meet the terms of the agreement for this scheme to apply. Exports Inspection Council is the sole authority to issue certificates of origin under this protocol.
7. IMCECA
The India-Malaysia Comprehensive Economic Cooperation Agreement was made to facilitate the free trade of goods between India and Malaysia. Therefore, the Economic Inspection Council can only issue the certificate of origin. This agreement was signed on 18th February 2011.
8. CEPA
India-Korea Comprehensive Economic Partnership Agreement was signed to improve bilateral economic links between the two countries. It facilitates bilateral goods and services. The Economic Inspection Council is responsible for issuing the certificate of origin between the two countries.
9. IJCEPA
The India Japan Comprehensive Economic Partnership Agreement is a preferential free trade agreement made between India and Japan. The two countries agreed to abolish 94 percent of tariff agreements for ten years. The certificate of origin issuing body is the Economic Inspection Council.
10. ASEAN-IFTA
The ASEAN-India Free Trade Agreement was a scheme between India and Japan to help accelerate economic growth in the two countries. The Economic Inspection Council is the authorized body allowed to issue the certificate of origin.
Free Samples to Help You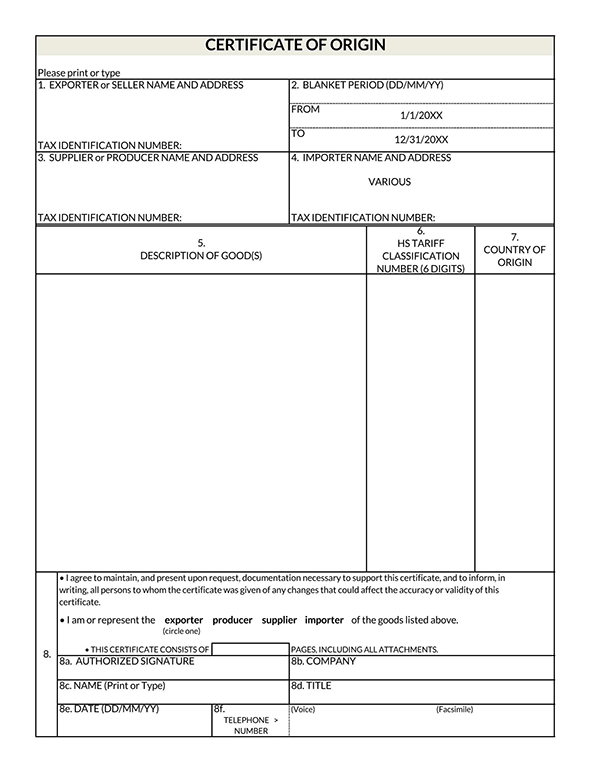 Businesses, traders, or individuals interested in exporting goods must follow a well-outlined process to obtain a certificate of origin. The process will ensure that all legal procedures are adhered to enable legitimate trade or transport of goods from one country to another country.
The following is a step-by-step process on how to obtain a certificate of origin:
Write, complete and notarize an affidavit verifying the origin of the good
Visit different authorized agencies to provide a certificate of origin and provide them with the manufacture's invoice/commercial invoice to obtain the document
Fill in the relevant information in the certificate of origin by type
If necessary or required, attach the exporter's Update Information Form along with other documents
Present the certificate of origin, notarized affidavit, and invoices to the chamber of commerce for stamping
Identify the documents that require to be stamped by the chamber of commerce. These documents will be dictated by the terms of a trade agreement or the destination country's laws.
How does a Certificate of Origin Work?
The certificate of origin must first be separated from the packing list or commercial invoice. The exporter must then sign the certificate of origin and ensure that their signature is notarized. The chamber of commerce is then expected to stamp it. Depending on the destination, customs officials may name the chamber of commerce and request it to prove that the exporter's certificate of origin has been reviewed.
This proof of review may occur through an embossing stamp by a chamber official and a signature by an authorized chamber representative. Buyers may be obligated to acquire a certificate of origin if the letter of credit stipulates it as a required document.
A letter of origin may contain detailed information to be included in the certificate of origin to ensure that it complies with stipulated requirements such as the use of specific language within the certificate of origin or additional certifications that must be indicated in the document.
An electronic certificate of origin (eCO) that a chamber of commerce has electronically signed will suffice in some countries. Once the eCO is submitted online, an electronic certificate stamped by the chamber of commerce can then be obtained. Thus, the use of the eCO helps to speed up the process of verification and is less expensive than using traditional paper certificates.
Who Can Issue the CO?
A certificate of origin is usually issued by the government where the goods originated from. In most counties, the chamber of commerce is usually the authorized body empowered by a country's government to issue the certificate of origin. However, some countries do allow self-certification.
In self-certification, the exporter /manufacturer is responsible for conducting a detailed assessment of the goods then confirming and verifying the country of origin. In such a case, the exported/manufacturer must use a prescribed form.
If there is no prescribed form, the exporter/manufacturer may be allowed to provide a sworn declaration concerning the origin of the products. This declaration may be made on a separate document or incorporated in the trade documents, such as the invoice.
CO and Trade Agreements
The US makes free trade agreements with other countries and utilizes the certificate of origin document so that the products listed in the form qualify for preferential tariff treatment under the specific terms stated in the agreement. Free trade agreements allow US products to be more competitive by reducing or exempting tariffs.
How Can One Apply for a CO?
When applying for a certificate of origin, one must provide the producer's or manufacturer's details. This will identify who the goods were produced by. Next, the name and address of the overseas recipient of the good. If the consignee's name is unknown because the final destination will be decided on transit, the term 'To Order' can be inserted with the country of origin.
Then information identifying the mode of transport used to ferry the good overseas should be provided. Finally, details regarding the goods should be provided. The details provided should be comprehensive to help differentiate the goods from other products.
A certificate of origin declares the country of origin of goods/products to enable customs officials to identify where a consignment originated from and any government-imposed restrictions on the goods like tariffs. It also helps in the monitoring of a country's imported and exported goods. Businesses, banks, customs officials, among other parties, use a certificate of origin for different reasons.

The main issuing body of a certificate of origin is the chamber of commerce in most countries. The chamber of commerce can either issue a non-preferential or preferential certificate of commerce. The type issued is determined by a country's trade agreements with other countries or a lack of it. This impacts whether or not tariffs will be imposed on the goods.