A resume is an important document that summarizes an individual's professional background and educational qualifications. The first time an applicant interacts with a potential employer is through their resume, which provides essential details about their credentials, experiences, and pertinent skills. If you are a high school student who is searching a first job, an internship, or to secure a scholarship opportunity at a college of your choice, you may be required to compose a professional resume.
However, due to the numerous components that comprise a resume, making one without a helpful guide can be difficult. This article will provide helpful tips on how to organize and structure a high school student's resume in such a way that highlights their most important qualifications and captures the attention of hiring managers.
Discover professionally designed examples that showcase the perfect structure for high school student resumes. With our free-to-download examples, you'll gain valuable insights into effective formatting, content organization, and highlighting key achievements. Create a standout resume that impresses potential employers and sets you on the path to success.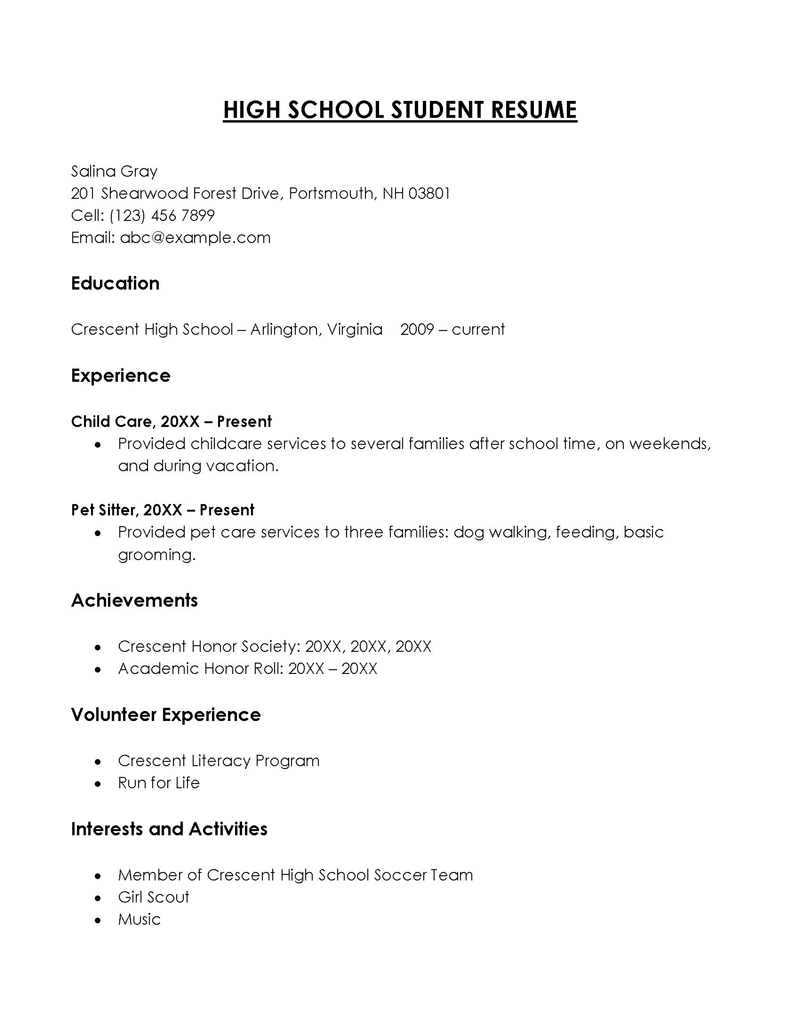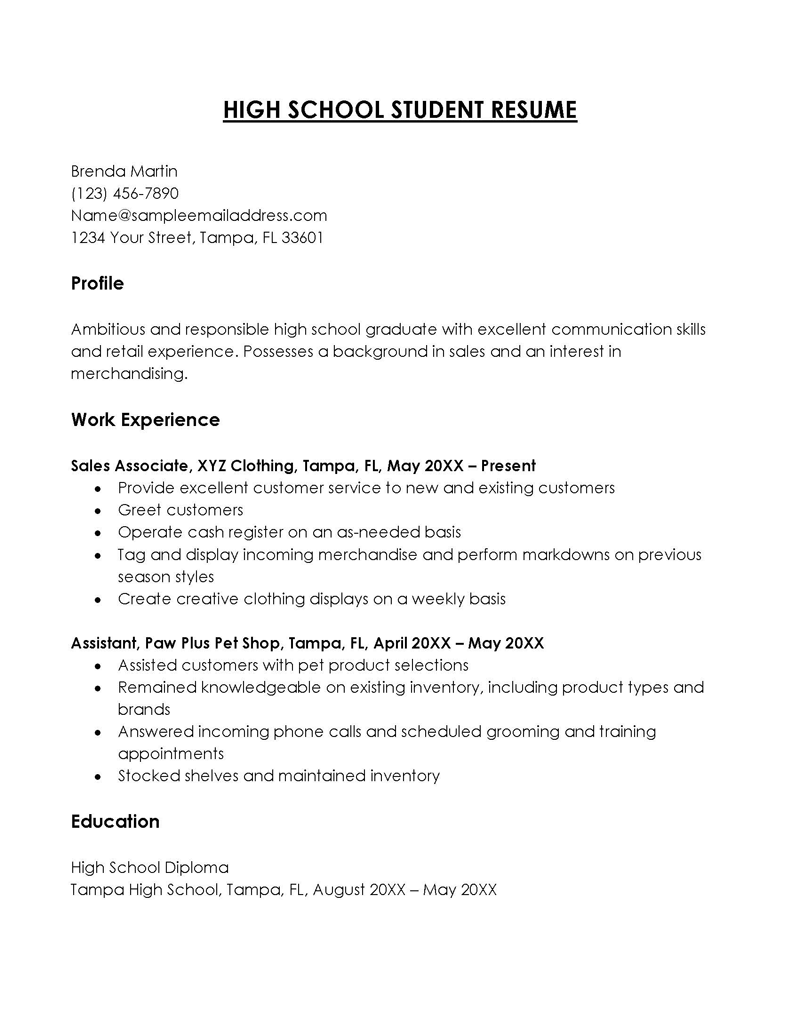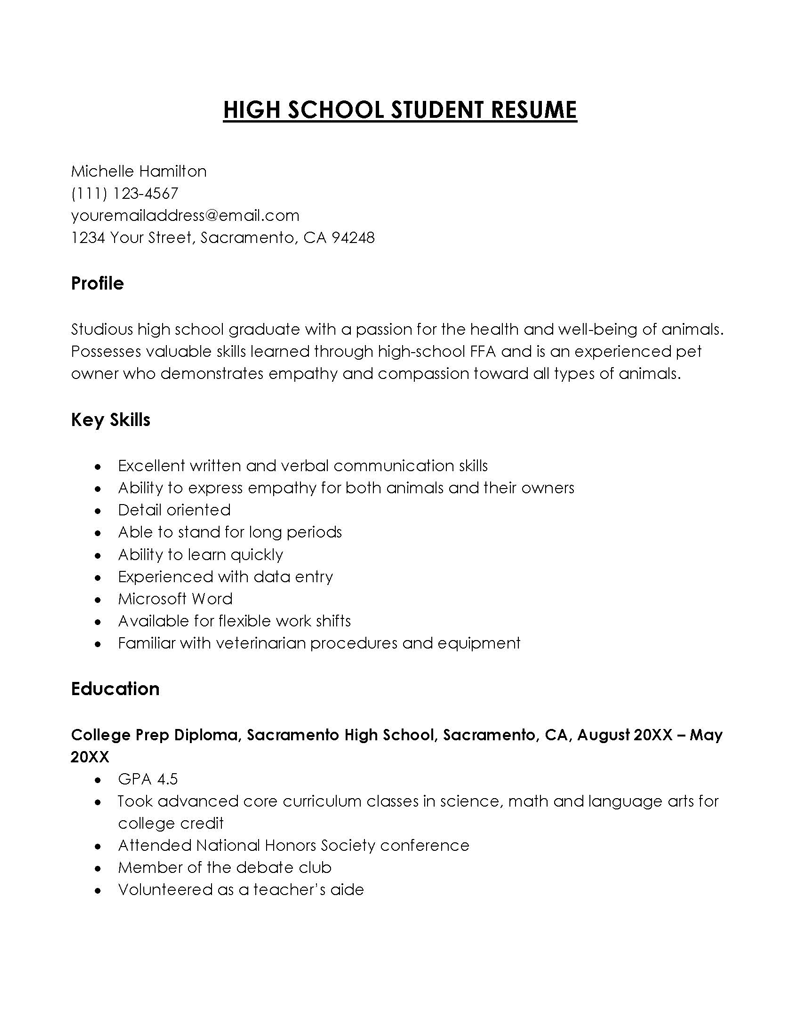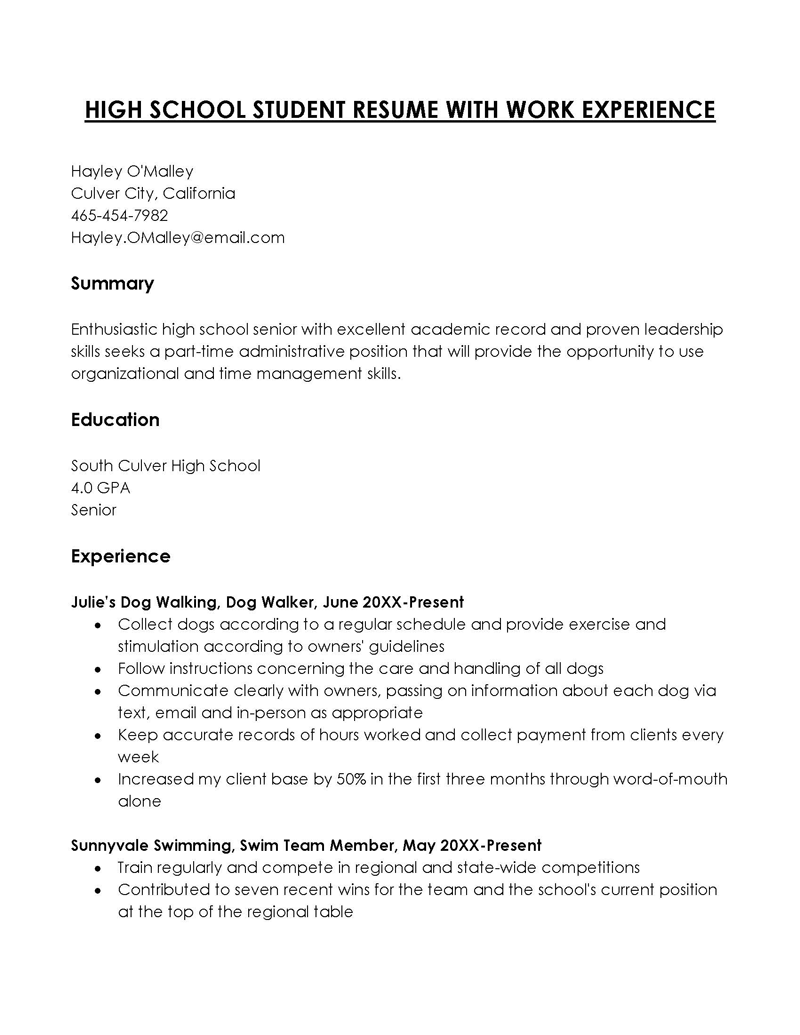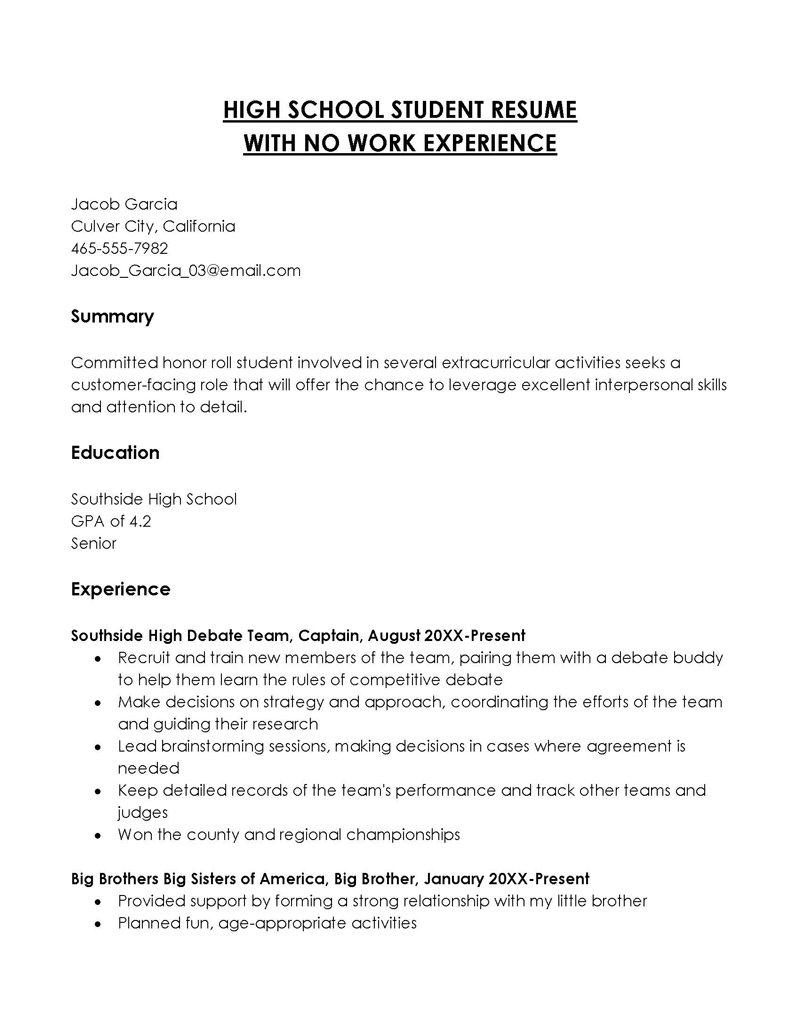 Why is it Important?
Writing a resume can be very beneficial for high school students who are applying to colleges, jobs, and internships or who want to get good recommendations from qualified people to help them secure opportunities like scholarships. This is mainly the case because of the high number of applicants who apply for the same opportunities each year, making them highly competitive. Moreover, many recruiters today are reluctant to hire high school students for numerous reasons, including conceptual lethargy, a lack of relevant work experience, and the student's inability to meet the employer's expectations of a new recruit.
However, drafting an effective resume that emphasizes your relevant skills and achievements and highlights your positive characteristics and individuality can help you differentiate yourself from the rest of the applicants and impress prospective employers. Additionally, developing the ability to write compelling resumes is a life skill that will help you at every stage of your future career.
A resume is typically your first point of contact with recruiters. You must spend some time drafting it to ensure it is effective and be attentive to all its details, including the layout. There are three main resume formatting styles that you can choose from. As a high school student, it is usually recommended that you choose a simple layout that is categorically organized so that recruiters can quickly read about you.
The three resume formats are as discussed below:
Chronological resume
This is the most common and widely used resume format. In this format, the candidate's work experience and educational background are presented in reverse chronological order, with the most recent information highlighted first.
Functional resume
As the name suggests, functional resumes organize and summarize a candidate's information by emphasizing their skills and achievements rather than their chronological employment history.
Combination (or hybrid) resume
A combination (or hybrid) resume is a blend of the reverse chronological and functional formats; it focuses on the candidate's most recent employment experience and skills. This format essentially enables the candidate to list their most recent employment history at the top, with additional sections focusing on their education.
The functional resume format is typically the best option for a high school student with little relevant job experience. Nonetheless, most employers and recruiters prefer the chronological resume format because it allows them to see the exact work history, job titles, dates, and responsibilities.
In addition to choosing the correct format for your resume, you should also ensure that your final document meets the following standards for formatting:
Use clear and simple fonts like Times New Roman or Arial. You should avoid using fancy fonts, as they are usually difficult to read and may seem unprofessional.
Use a 1-inch margin to distribute your information evenly throughout the document to give it an organized and professional appearance.
10 points for font size for body and 12 points for headings and titles are recommended for all resumes.
Use single-line spacing between each line in your manuscript. Use 1.5-inch spacing between lines for headings to give your resume a neat, structured look.
Do These First- Considerations
To ensure that your resume is personalized and effective in successfully presenting yourself to recruiters, you must consider the following suggestions:
Read the job description
One of the many reasons high school students fail to impress recruiters with their resumes is that they cannot draft one specific to the job vacancy. However, this can be easily done by identifying the skills, qualifications, and experience most relevant for the job by carefully reviewing the employer's job advertisement before you begin writing your resume. Additionally, you will be able to modify your resume to the job description and use sector-specific keywords to position yourself as the ideal candidate, improving your chances of being invited for an interview.
Review other samples
Review several samples of similar resumes as yours that are available online to understand better what your resume should look like, the information to include, and what types of skills and qualifications are considered essential for a role such as the one you are pursuing.
Structure of a High School Student Resume
The resume for a high school student should have the following format:
1. Provide accurate contact information
Contact information is typically the first section of any resume and is usually the first thing recruiters notice. To ensure that you write this section appropriately, consider the following valuable writing tips:
1.1 Name and resume headline
List your full name, including your first and last name; optionally, consider including a headline below your name that communicates who you are as a candidate.
For example, suppose you are applying to work in a customer service representative role. In that case, you can maximize the impact of your resume by listing a headline such as
"Personable High School Student Seeking Entry Level Customer Service Experience."
1.2. Mailing address
The next item is your mailing address or physical address. This includes the name of your street address, city, state, zip code, and country.
1.3. Email address
Next, provide a professional email address that will serve as a point of contact for recruiters and companies that may want to contact you for additional information.
1.4. Phone number
Including your reliable mobile phone number is optional, especially if you have provided a valid email address. However, it is still advisable to include it to not miss any potential opportunities. It is also essential to avoid including two mobile phone numbers on your resume because it might be unnecessarily confusing for recruiters to decide which one to contact you through.
1.5. LinkedIn URL
Include a personal URL of your LinkedIn profile, if you have one. This is important because most top companies and recruiters use LinkedIn to find out more about job applicants. Thus, if you do not have a professional-looking LinkedIn profile, consider making one or updating an existing one to improve your chances on the job market.
1.6. Social Media
Add your most relevant social media handles, such as Twitter, to strengthen your credibility as a candidate and demonstrate your versatility in modeling yourself after the company's profile. But before you do, check your online presence to make sure there are not any embarrassing images or videos, and make sure your profiles are set to private.
1.7. Blog or Website
If you have one, include a link to your website, portfolio, or blog. This is an effective way of showcasing your creativity and skills to potential employers.
2. Write Your Objective or Summary
The "objective" or "summary statement" section of your resume is one of the most important sections. This provides beneficial information to recruiters about your personal goals and aspirations. This section also gives potential employers an idea of what to expect once you join the company.
Given this fact, you must consider your objective or summary as an elevator pitch for your exceptional skills, high-level accomplishments, and qualifications rather than an elaborate description of everything you have done. You should also list what you hope to achieve if you are selected for the job and how you intend to achieve what you have listed.
When writing the objective statement, consider starting with a strong adjective that represents your redeeming qualities as a person and demonstrates your eagerness to learn. Examples of such adjectives include:
Enthusiastic
Energetic
Proactive
People-oriented
Self-driven
Dedicated
Passionate
Talented, etc.
Next, briefly describe the position and experience you hope to obtain, along with your career goals. Make sure to emphasize your most relevant skills to show the employer how you can positively contribute to the organization and include any figures or statistics related to your achievements, such as your GPA or position or rank in any competition, to prove your worth.
3. Provide the Details of Your Education
Students' resumes mainly focus on their academic background and educational qualifications because they are less likely to possess the necessary job experience. As such, make sure to incorporate the following details concerning your education:
The name of your school
Your school's physical address, including the street name, city, state, and Zip code
Your Grade Point Average (GPA), if above 3.0
Expected graduation date and year
Class rank, if applicable
Relevant coursework such as Science, Language, etc
Any dual enrollment or AP courses you have taken
Pro tip: Adding your GPA to your resume will significantly improve your chances of securing a job, internship, or scholarship opportunity, but only if it is above 3.0 and as close to 4.0 as possible. Anything below 3.0 will only ruin your chances of securing an interview, and you should avoid mentioning it.
4. Write the experience section
The work experience section of your resume does not have to be detailed because you are a student with little to no relevant job experience. Nonetheless, if you have previously held paid positions relevant to the job you are seeking, they should be mentioned in your resume.
You can also add internships, short-term volunteer experiences, or co-curricular activities that have required some level of responsibility to supplement your resume. This will allow recruiters and employers to learn more about your soft skills and work ethic, which can determine your selection for an interview.
Include specific information in this section, such as the names of the companies you worked for, the titles you held, the duration of your employment with the organization, and brief summaries of your job responsibilities and duties. You should also highlight any notable achievements or awards you attained within those roles.
5. Highlight your relevant skills
You should also list your soft and hard skills because recruiters value candidates with these skills. Hard skills are technical skills, while soft skills are behaviors and personality traits.
Nevertheless, you should not list every single skill that you have. Instead, prioritize listing those most relevant to the position you are trying to secure. Examples of soft skills that you can include are:
Active listening
Problem-solving
Emotional intelligence
Customer-oriented
Leadership skills
Creativity
Critical thinking
Communication skills
Interpersonal skills
Accepting constructive criticism, etc
Examples of hard skills to list in a resume include:
Computer literacy/intermediate proficiency in Microsoft Office/Adobe Photoshop
Basic proficiency in programming languages
Basic proficiency in coding
Proficiency with graphic design software such as Corel Painter and Adobe Photoshop
Valuable skills in Internet/Web development such as HTML, CSS, PHP, SQL, WordPress Marketing skills
Project management skills
Tip: It is a common practice these days for employers and recruiters to use Applicant Tracking Systems (ATS) when hiring new employees to automate the initial screening process. By using software that can scan a resume for relevant keywords, recruiters can more efficiently work through the large number of applications they receive each day and make more informed hiring decisions. Therefore, you must include specific keywords listed on the employer's job advertisement in your resume to ensure the ATS scores your resume easily for employment consideration.
6. Include other relevant information
The final step in writing an effective resume for a high school student is the inclusion of a few other sections that will help you present yourself successfully to the recruiter and get an interview.
These sections include:
6.1. Certifications
List any certificates, licenses, and training courses you have completed that will show how you can meet the job requirements and demonstrate your skills and expertise.
6.2. Volunteer experience
Include any volunteer experience you have had that is relevant to the position you are seeking.
6.3. Language skills
List any languages you can speak fluently besides your native language.
6.4. Hobbies and interests
Include any relevant hobbies or interests for the position you are seeking so that employers can get to know more about your personality.
6.5. Extracurricular activities
Include any extracurricular activities, especially those that demonstrate your leadership skills, such as sports, clubs, and organizations.
Besides choosing a suitable layout, formatting it accordingly, and including all the essential information, you can certainly do other things to make it noticeable. These include:
Provide facts and figures where possible
If you have accomplished some notable achievements, do not simply tell the employers in just a few words. Instead, provide figures and facts to support your statements. For example, mention the exact marks or the percentage if you have achieved a high score or grade in your major. In addition, if you were the president of the school's drama club, provide a list of plays and films you performed and list any awards won during your administration.
Start early in high schools
It is best to start compiling your career-related information early in high school because it will help you prepare to apply to colleges, jobs, internships, and graduate school. Besides, it will give you enough time to build your resume in an effective manner, and you will be more likely to remember critical facts, such as your accomplishments, honors, and activities.
Prepare a functional resume
Your qualifications and skills are listed as the first few headings on a functional resume, which then introduces your accomplishments and key skills. This format is best for students who have limited work experience.
Keep it simple
It is best to avoid too many details and achievements. You can use bullet points to list the details and use headings or subheadings to keep it organized and concise. Also, as a high school student, your resume should only be one page long.
Use easy-to-read formatting
You should use bullet points to make your resume easy to read and understand; keep the font simple and legible; avoid using complicated fonts and text layouts, etc. In addition, each heading text should be in bold to give your document a neat and professional look.
Use action verbs
Your resume will be more appealing and persuasive if you use a variety of action verbs like "planned", " arranged", "managed" etc to highlight your accomplishments.
Be consistent and show commitment
Make sure your resume is consistent from one section to the next, demonstrating your commitment and qualification for this career path.
Do not exaggerate or pad your resume
Do not add false or exaggerated information to your resume. In addition to being unethical, overstating the facts will damage your credibility if you are discovered and you can also lose your job.
Instead, keep the information relevant and stay truthful about your educational qualifications and skills.
Get feedback
Before submitting your resume, consider asking someone to review it on your behalf to ensure that all the information is correct. If any section of your resume needs more detail or needs to be changed, edit it accordingly.
Proofread the resume
Before you submit your resume, check for spelling and grammar errors and edit it accordingly.
Transitioning from high school to the job marketplace can be difficult. This is because students are generally not yet familiar with employer requirements and expectations. Essentially, the resume is the first thing that employers notice about any applicant, so it is imperative that the resume be written and formatted in such a way that it portrays the applicant in the best possible way. By following the comprehensive resume writing guide provided in this article, you will be able to write an effective resume that can impress employers, get you interviews, and possibly get you a job.