A restaurant menu is much more than just a list of meals, appetizers, and beverages. A restaurant menu is, in effect, a type of internal advertisement. After all, the anticipation the customer feels for the upcoming meal is generated by the overall appeal put forth by the menu. If they are anticipating experiencing an authentic Italian meal, then that anticipation will be increased with savory illustrations of traditional Italian favorites, such as bottles of fine wine, warm bread, and healthy plates overflowing with sauce laden pasta. Indeed, according to Tom Feltenstein, CEO of Feltenstein Partners, "The menu is the No. 1 tool…Menus are the purest form of your restaurant's strategic marketing plan."
Restaurant Menu Templates (PSD/AI)
Pre-built templates offer you more convenience and save your time as well. Here is a collection of Restaurant Menu Templates for you.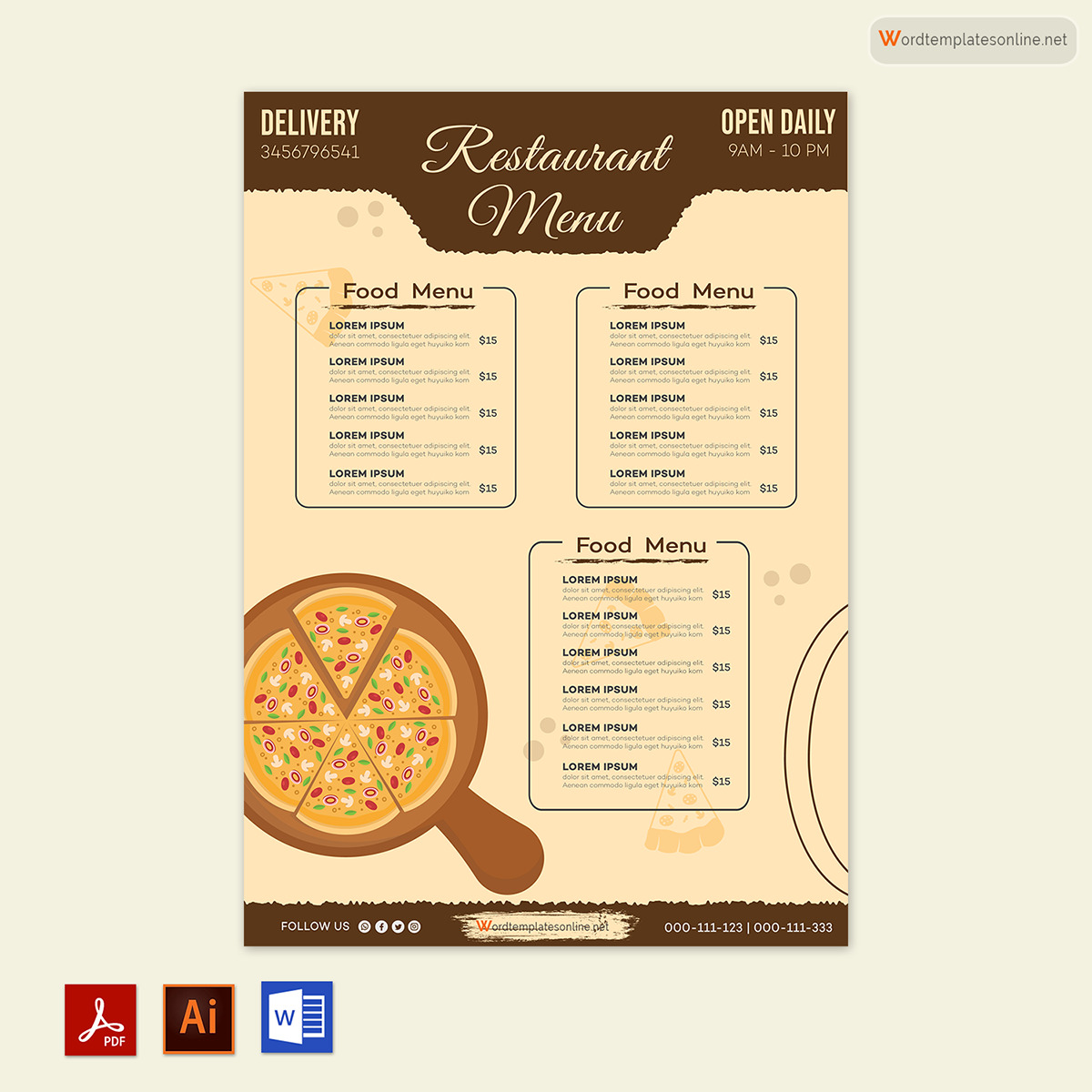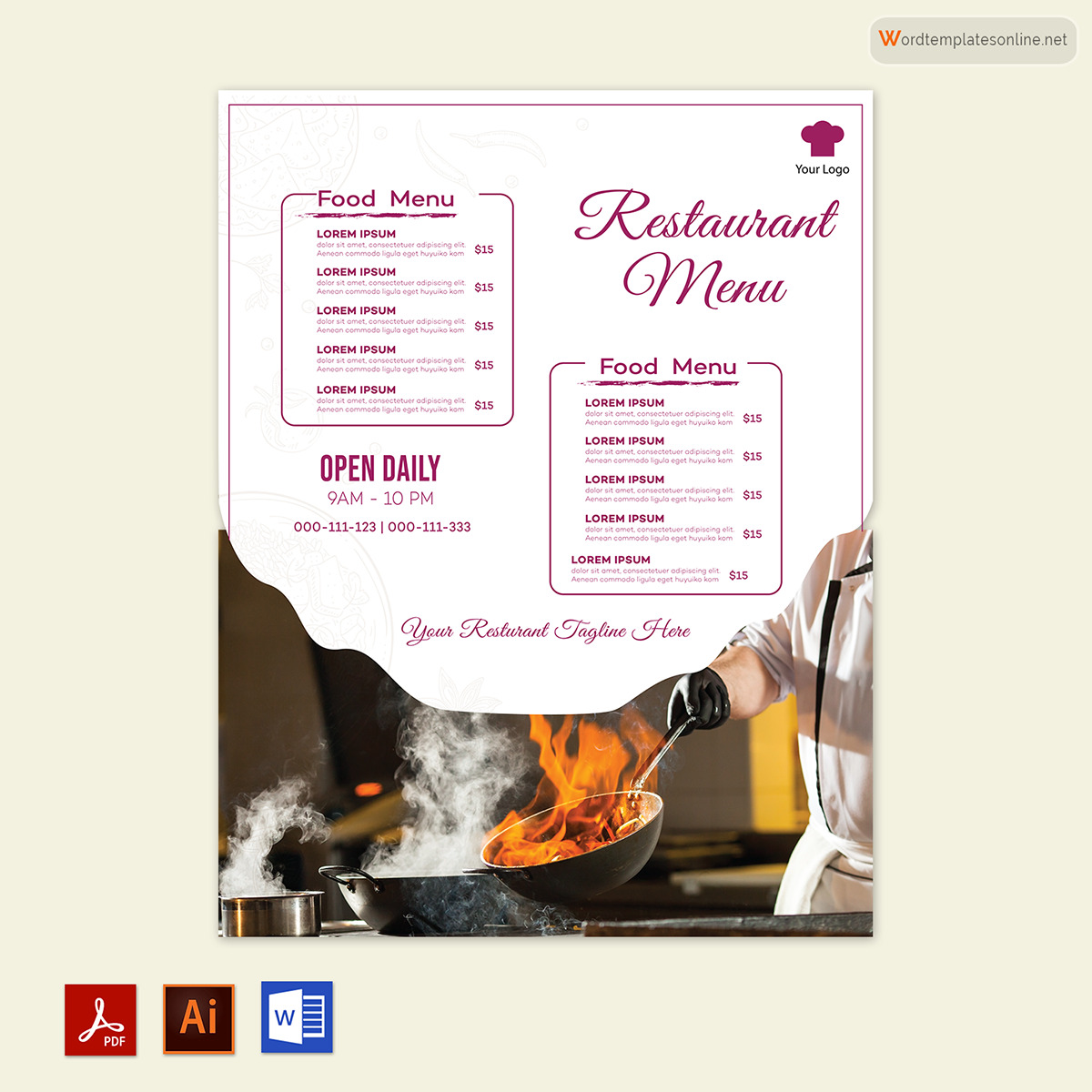 How Restaurant Menu Templates Can Help
As you can see, the act of creating a menu that will serve as both internal advertising as well as bring in a profit is no easy feat. There are so many options to consider that most new restaurant owners hire a menu engineer. However, if that's not an option for you, then definitely consider using menu templates. Templates offer you a cost-effective solution when it comes to menu creation. These professionally designed templates also save you from having to purchase graphic design software, as they have everything you need, right there. Templates offer you another plus, in that they are customizable, which means you are free to play around with the design until you get one just right.
Getting Down to Business: Menu Engineering
Menu engineering consists of putting together all the factors in which a properly designed menu can improve the profitability of a menu, thereby making the restaurant itself more financially stable. In 1970 the Boston Consulting Group helped to create a system to collect and analyze data to improve performance in the restaurant industry. The process for menu-engineering involves the following steps:
1. Cost your menu
To cost your menu is simply knowing how much it costs to create each dish. This is a step in menu design that cannot be left out. If you don't know how much it costs to create each dish, then you cannot properly price a dish, so you'll never know if it is truly profitable or not. Remember to cost a menu; it refers only to the food involved, not the labor involved in creating the dish.
2. Place the items in categories based on how popular they are and profitable
This means to take appetizers, beverages, etc. and place them in the proper category with no overlap. Next, decide which of your menu items belong in the following:
Both highly profitable and popular
Low profitability but very popular
High profitability but not very popular
Both low profitability and popularity
When you do this step, you have a better idea of what to leave in and what to omit. There might be a heavy call for an Oreo cookie shake at the local family eatery down the street, but little profitability for you, if you run a high-end eatery.
3. Complete the design of the menu
By completing the design for your menu, you'll receive a better idea of what may require improvement. Always keep in mind that the menu is not about 'you'. The menu is about the customer, their wants, and needs. For example, why are they coming to your establishment? What drew them here in the first place? The menu serves as a free internal advertisement, so take care to proofread, edit, and add/omit items/sections if need be.
4. Test the menu design
Once you've finished your basic menu design, it's time to give it a test run. This can be anything from asking a few people to evaluate it, to having a professional menu engineer look at it. Don't forget to have your chef, the manager, and employees take a look at the new menu design. Ask them if the menu's theme blends well with the theme of the restaurant, to check for typos, or if the color scheme suits the restaurant. One word about staff. It's critical that you spend time familiarizing your staff with the menu. Tell them which items you want them to promote for that day, always keeping an eye out for the most profitable dishes, ensuring they are suggested first. Make certain that the chef is made aware of any changes, and that you have the supplies to create those changes on hand.
Tips for Designing a Restaurant Menu
1. Utilize Illustrations in Place of Photography
The use of illustrations might not come to mind at first, but using illustrations are a great way to engage your clientele with your offerings. A skilled illustrator can make swift use of color, line, and composition to create a uniquely pleasant dining experience as well as create a strong sense of anticipation.
2. The Menu Must be Divided into Sections
Not every customer who visits an eatery goes there for a main dish. Some may visit a restaurant simply for their cakes, pies, or pastry. Others may only visit a certain establishment for their pasta dishes. Therefore, it's critical to have the items on your menu divided up into sections. These sections include and are not limited to:
Beverages
Main dishes
Desserts
Side Dishes
Breakfast
Lunch
Dinner
To get a good idea of how a successful eatery utilizes sections, you can glance at the Blossoming Lotus, located in Portland, Oregon. As you can see by their Brunch menu, they section their offerings off nicely, using just the right amount of negative space around each section.
3. Proper Use of Imagery
Anyone who dines out on a regular basis has undoubtedly come to realize the difference in menu design with regards to images. For instance, family-style restaurants will usually have an abundance of imagery, while high-end eateries will contain a minimal amount or none at all. This is based on the psychology of menu design. Restaurants such as Denny's or Star-B aspire to present themselves as informal establishments, where friends, relations, and their children can spend time enjoying a care-free meal. On the other hand, high-end establishments realize their clientele are seeking out an elegant dining experience. Finally, never consider taking photos of your food yourself. Always employ the services of a professional food photographer. These photographers have made the photography of food their niche, and they are exceptional at their craft.
4. Prices
A restaurant is a business, and businesses are designed to make a profit for its owner. When you run a restaurant, it's important to deal with the diners' habit of price scanning, or the habit of a diner to scan the menu searching for the cheapest deals. In order to deal with price scanning and thus secure yourself a more profitable dinner, keep the following in mind:
Avoid using currency symbols such as $, as the client's gaze will automatically land on such a symbol.
Alignment of prices should not be vertically or horizontally
Keep the fonts that represent pricing a lighter color. Again, this keeps them from standing out.
Don't employ a pricing hierarchy. In other words, refrain from ranking prices from either low to high or high to low.
5. Add Color to Your Menu Design
Color gives life to your menu, so use it properly. This means you're to incorporate the colors that you use for your overall brand. For instance, If you own an informal diner with a tropical theme with pinks, greens, and yellows, then bring those colors into your menu. Colors also have meaning for some, such as equating green with fresh, and red with appetite.
6. Boxes, Borders, and Lines
By using boxes, borders, and lines, you're helping to organize the menu for the customer. These design elements are used to group certain sections such as desserts, main dishes, beverages, and so on. In today's world, where the number of vegans is increasing each day, some eating establishments are utilizing boxes as a way to separate vegan dishes from dishes that contain meat and dairy. Consider these design elements visual cues to help you to highlight the dishes you wish to sell most. The Crossroads in L.A. utilizes both a three-column design, sectioned off with lines and borders.
7. Typography
We've gone over the importance of color, placement, and use of design elements. However, don't forget the fonts. Fonts refer to the style of lettering used. For instance, if you have a western-themed eatery, it only makes sense that your menu would use a western-style font, whereas if you had an eatery that sold medieval food, you'd be using an old English font style. A good example of a successful eatery is the famous Bunna Cafe. Note how they incorporate an ethnic styled font to enhance the style of foods they offer.
You can also mix font styles up, as long as they stay within the same font style family. This means that you are free to use one font style for the headers, and another to describe the dishes. If the concept of typography is new to you, then here are a few examples of font styles that you've probably seen on several menus:
Script: Script is an elegant font that is similar to the calligraphy you see on wedding invitations
Novelty: A good example of this would be comic-sans. It's informal and fun
Old English: Also known as 'blackletter' font styles, those in this typeface family are what is usually seen in eateries that are traditional and/or historical in theme.
How to Properly Layout Your Menu
In order to create the perfect restaurant menu, it is recommended that one regard such design as a psychological way to reach the customer. For instance, Food Services of America states that when considering the composition of your menu, you follow the following recommendations:
Carefully consider what items are placed on the menu
Ignore what you think would work best, and rely on data and studies first
Placement of representative dishes that are known to represent your establishment and sell well must be placed where diners can see them
Use of imagery should be selective and minimal for upscale eateries
The Golden Triangle
Menu engineers have dubbed the way customers look at a menu as 'The Golden Triangle.'. This simply refers to the way our eyes travel across a menu before we make our final decision. Here, the golden triangle means that when we look at a menu, our eyes head for the middle of the menu first, then the top right corner, and then the top left. It's these three areas, the middle top right and top left, is where you'll usually find the most profitable dishes.
Middle: Here, you'll usually find the daily specials or limited edition items
Top right: After surveying the daily specials and/or limited-edition dishes, they eye then travels to the top right, where restaurant owners place their main course dishes and entrees
Top left: Finally, the gaze of the customer rests here. This is where most menu engineers place the appetizers.
Once you've figured out your most profitable dishes and placed them in accordance with the golden triangle theory, it's time to finish up your menu layout. Using design elements such as boxes, lines, and borders, you can begin to section out your menu. For instance, if you have a family establishment, will the main course include fries, a shake, and a burger? How will you organize the sections if you are offering vegan dishes? When sectioning off your menu, your objective is to be as specific as possible, so you can present your guest with a well-organized, easy to read the menu.
How Menu Panels Affect Layout
Next, it's time to consider your menu's cover configurations. Menu cover configurations refer to the number of panels you'll need. Remember that the configuration you end up with can have either a positive or negative effect on your profits.
One Panel: The simplest design. One panel menus are short and sweet, and generally for eateries that are quite specialized with the cuisine they offer.
Two Panel: The two-panel menu design is the one you'll find most often in restaurants. It puts forth the idea of a full, well-balanced dining experience is to be had here.
Three Panel: This is generally found at eating establishments where they have quite a few options to offer.
Multi-paneled Menus: This configuration is not generally used as much as the other options, and for a good reason: It can be overwhelming to the customer, to the point where they'll end up perplexed and even pass up your more profitable items out of sheer confusion. Keep in mind that you want the customer to have a relaxed, pleasant dining experience, and menus with many panels may cause anxiety in some.
How to Choose the Theme of Your Menu
When it comes to selecting a theme for your menu, the first thing that should come to mind is that it must match your brand. The theme must not only engage the customer but also give them an idea of what to expect. For example, you would not use brightly colored images and a comic-sans font if you were designing a menu for an upscale, pricey eatery. To give you a hand, we've presented you with a few of the more common restaurant themes below.
Family: Family restaurants are devoted to catering to both adults and children equally. The decor will usually reflect fun times and bright colors. Since it involves kids, keep the font style and size larger and easy to read.

High-end: High-end or upscale eateries will usually feature only a small, select group of items per page. In fact, many upscale restaurants may have as few as seven main course offerings, separated with fanciful, classic borders, and a good amount of negative space surrounding each item with little, if any, imagery.

Contemporary: The contemporary theme covers a wide variety of restaurant ideas, from eateries offering meals prepared and served by robots, to establishments devoted to film and/or music. The fonts used for a futuristic robotic based restaurant may include Atari, and may even be metallic in nature. Nostalgic: This includes anything from a roaring twenties to a western theme. If it's from the 1920's you'll probably include imagers from the flapper era, and if it's western-themed, font styles and imagery which reflects the old west.
Final Thoughts
When crafting the perfect menu, which will not only engage customers but increase your profits, there are many issues to contend with. First, one must consider the menu engineering concepts, such as costing the menu as well as the overall theme. There are other considerations, such as the page size you wish your menu to be, how many columns, and placement of your most profitable dishes. Finally, don't go on gut instinct. The restaurant business is highly competitive with a high rate of failure, so this is not the industry where you can just 'wing it.' The menu must be a reflection of both your restaurants' theme, as well as the data collected.