Producing top-quality products and services is one thing but getting people to know about your products and become your customers is another struggle. Marketing sits right at the heart of the existence of a business. If done perfectly with a plan, marketing can provide adequate brand identity, credibility, inspiration, and many other business sales drivers.
From proper budgeting to a strategic organization, a lot goes into building an ideal marketing plan to keep your company on track to realize your mission. First, you have to ask yourself what works and what doesn't for your company goals. Next, the marketing plan you come up with must be timely and feature metrics for measuring success. As your business continues to evolve with time, your marketing plan, just like your business plan, should change with it.
While it may seem like developing an effective marketing plan is a complex undertaking, we have put together this simplified guide to help you throughout the process.
A Marketing Plan is a company-specific, comprehensive guide that governs and helps you streamline your marketing efforts.
An effective marketing plan combines timeliness, organization, and success tracking to help all marketing stakeholders work harmoniously toward achieving the company's goals. A complete marketing plan should list your long-term and short-term marketing objectives, a full account of your target audience (buyer persona), and your high-profile marketing strategies alongside their corresponding tactics.
Creating a marketing plan is no walk in the park. It involves a lot of visuals, charts, and other forms of presentations that would be hard to create from scratch. Below is a collection of the best templates that will guide you and simplify your work by a considerable margin.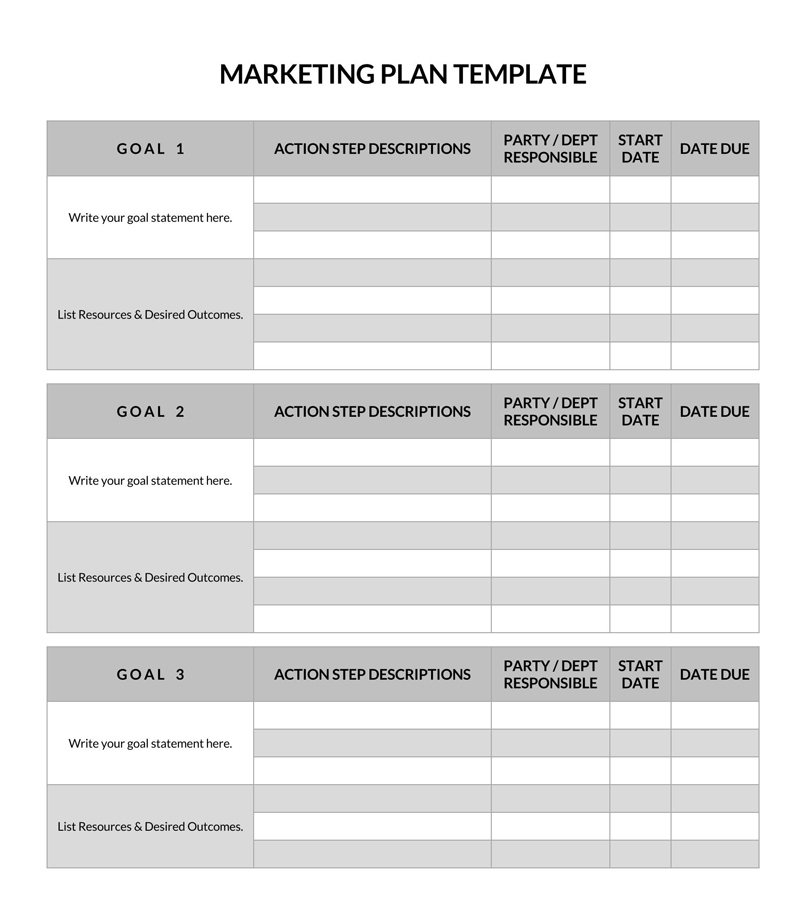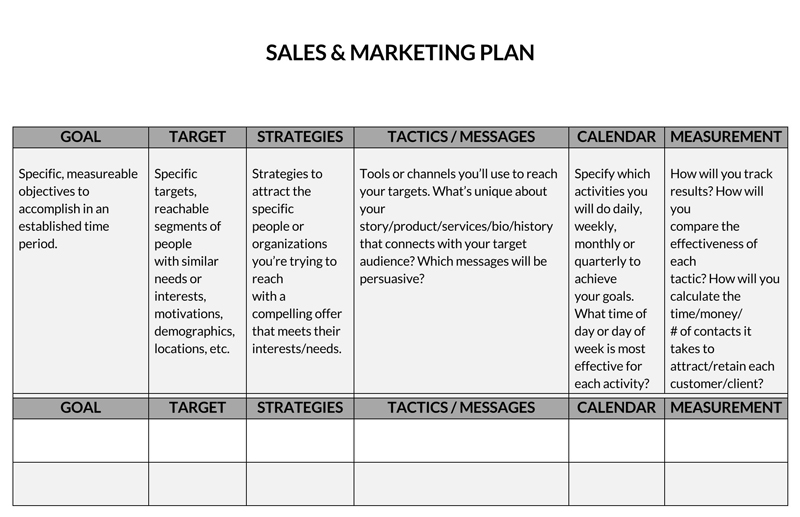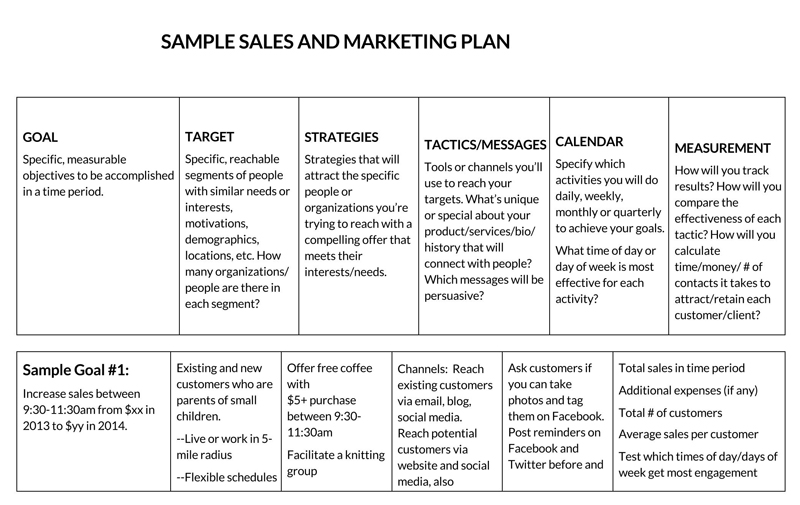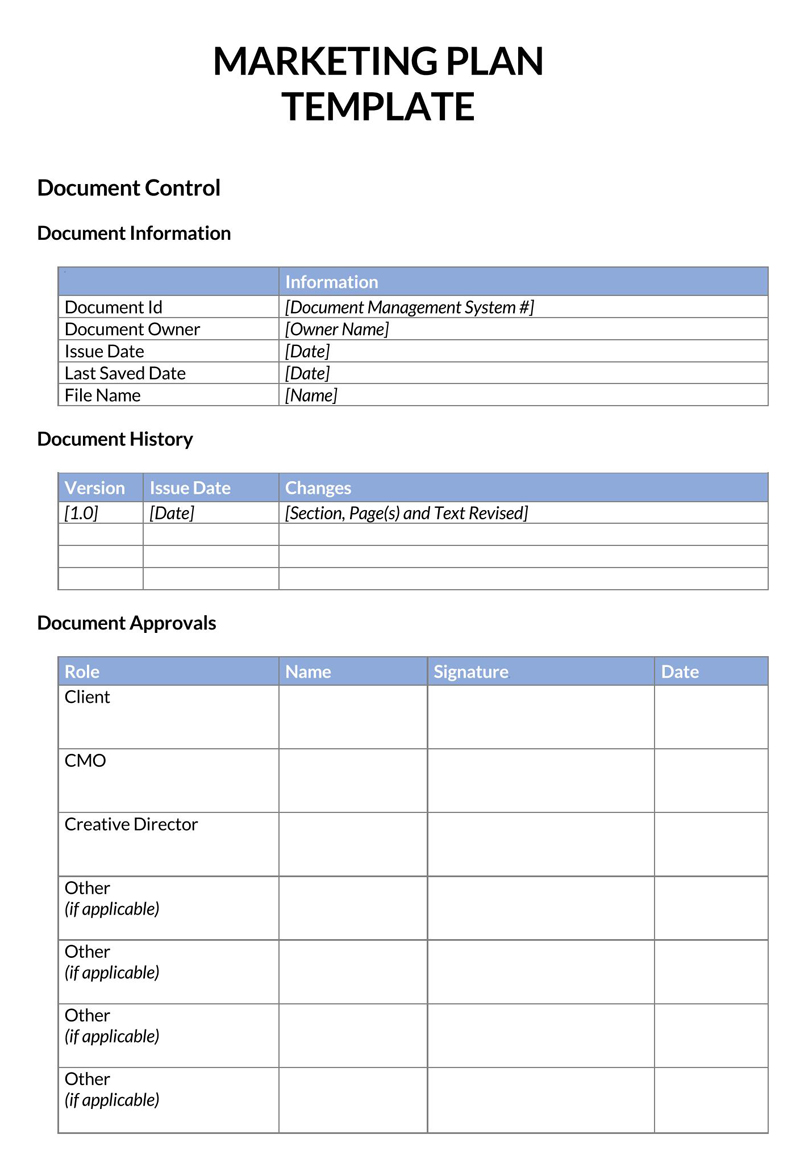 But, Why is it Necessary?
A marketing plan provides a fundamental base for noting your plan and actionable strategies in a concise, systematized, and coordinated technique. By so doing, your marketing team can track the success of its actions so that it keeps doing what is necessary. In addition, your marketing plan goes a long way towards helping you deliberate on various perspectives, including a budget, deliverables, buyer personas, and the mission of each marketing campaign. By consolidating all these pieces of information, tracking, and evaluating the success of your campaign plan becomes more manageable.
Note that making a marketing plan and neglecting it does not cut it. You will need to constantly reflect on it to determine where your marketing actions are headed.
Due to its importance in realizing goals, experts advise that you come up with a separate market plan instead of making it part of the company's business plan. This way, you will be in a better position to build a comprehensive plan to steer your company forward effectively.
Types of a Marketing Plan
Marketing plans come in many types. What you choose for your company should depend on various factors, such as your area of operation, goals, and competitor profiles.
Here are a few common types:
Quarterly/ annual marketing plan
The annual plan is a set of well-defined marketing initiatives that run for a year but can be broken into more controllable quarterly bits that run for three months. Quarterly plans change based on the performance of previous quarters.
Paid marketing plan
Do you intend to implement actions like paid advertising and paid promotions? This plan records such strategies.
Social media marketing plan
If you desire to take advantage of social media, this plan outlines your preferred channels, methodologies, and tactics you want to use.
Content marketing plan
For content-based marketing, this type covers all the plans and strategies and defines how to develop content to create awareness.
New product launch marketing plan
This type of plan comes into play when you outline your plan for advertising your newly found product or service.
Benefits of a Marketing Plan
Coming up with a healthy marketing plan can put a new business on the map or help an existing company expand its business reach. It does this by serving as a real growth driver, among other benefits.
An excellent marketing plan champions the following benefits:
It keeps everyone on the same page: The successful execution of a marketing campaign requires the contribution of multiple departments such as marketing, logistics, and IT. All these stakeholders need to remain on the same rail to produce the required results. By acting as a guideline that offers direction, a marketing plan keeps everyone in line and committed to the specific business goals.
A marketing plan provides a focus and direction: By constantly reminding you of what is required of you, a marketing plan helps to keep distractions at bay. Only then you are able to potentially optimize the marketing capability of your business.
A marketing plan helps to understand your business: Creating a marketing plan involves deep-rooted research on many aspects of your business. Such research could bring to light the strengths and weaknesses and the position of the business for competitors. Also, the process could uncover new opportunities that you may contemplate venturing in.
It clarifies your target market: The research associated with making a marketing plan helps identify the specific target market depending on various factors, like the nature of products and services. Then, once there is enough light on the business's potential customers, the marketing team can easily tailor the strategies to find and impress this population.
A marketing plan helps to compose result-oriented marketing messages: The way that you approach and communicate with your target market matters in a marketing campaign. In this context, the deliberations involved in making the plan help discover the best way to communicate to the target market. In addition, the plan ensures that you come up with messages tailored to the benefits that the products and services are set to offer clients.
A marketing plan aligns marketing and business goals: Marketing, as a solid business endeavor, is part of the larger business goals. Staying on track regarding these goals becomes easier when you form a complex marketing plan around the business goals. As a result, you can manage to live up to your mission and vision.
It helps to come up with better decisions: Business is filled with multiple uncertainties that can sometimes be catastrophic. Equipping yourself with a well-researched marketing plan will ensure that you can handle difficult situations with more courage and assurance. In addition, you can ensure continuity of business by coming up with better decisions because you took your time to plan ahead of time.
Groud Work for Marketing Plan
It would be best to put a lot of thought into creating a marketing plan as it will determine the performance of your business.
With that in mind, here are things to think about before you prepare the actual plan:
Business' current situation
Define your products and services and establish the challenges that you are experiencing in reaching your customers. Also, anticipate any challenges that could potentially affect your business shortly.
Establish your target market
Every successful business out there took time to determine the exact population they wanted to serve. Determining your market starts with establishing the benefit of what you want to put out there and going ahead to analyze the people who need that intervention with the help of target market analysis tools. By defining your market, you will be in a better position to craft compelling content and messages.
Marketing goals
The next thing you will do is to develop quantifiable goals. The reason for this is so that you can diagnose the progress and effectiveness of your strategies concerning the goals.
Marketing tactics
Your tactics should revolve around the best way to reach your customers. If, for example, you are in the real estate field, you might want to consider opening social media pages so that your potential clients can see photos of your properties.
Determine the budget
The budget that you create needs to be exhaustive. It should capture all project expenses such as logistics, and consultations. However, it is advisable not to hold back on necessary things because creating a marketing plan is critical for success.
Spell out how you will execute your marketing plan
Remember that if you have no solid plan to execute your marketing plan, it will not help you achieve the goals you set. Your detailed execution plan should be acceptable to detail. For instance, if you want to publish content on YouTube, spell out information such as recording the videos and the publishing interval. If you want to outsource, capture the fine details of the same. The takeaway here is that your tactics should smoothly integrate into your everyday business activities.
Creating a Marketing Plan
A winning marketing plan should be packed with vital information such as the SWOT analysis and an analysis of the main competitors for your business. While what you include in your plan largely depends on your industry and company-specific dynamics, here are the various steps that form a rich marketing plan:
State mission/vision/value
A good marketing plan kicks off by outlining the company's mission, vision, and value statements. This is because a good marketing plan must work in line with the essence of the company's existence. Therefore, this section is critical as it adds a scope, an essence, and a perspective, setting the path for all other sections. Besides, the section gives readers the plan and an idea of the bigger picture to digest the plan more accurately.
Define target audience
When you think of a target audience, think of buyer personas. These are research-based, projected representations of who you perceive as your ideal clientele. The main reason for coming up with buyer personas is to help tailor business activities, such as product development, to suit target customers' needs.
If you already have buyer personas when preparing your marketing plan, you may go ahead to use them or update them depending on your research. Some of the information that your buyer personas should capture is demographic details like age and income levels. Your description may list the existing need among the audience, the same gap that your product or service will fill.
Define market competition
Now that you know your market, it is time to bring competitors into the picture. In this segment, you should feature the profiles of the companies that you feel are the most prominent players in your industry. Note that competitors do not come from one direction.
For example, one may be competing for a particular keyword on their website while the other may be a well-performing outlet operating in the same locality as your business. When you have a clear view of who you are up against, you can start to develop robust and unique selling points that will give you a good shot at sidelining the other companies.
Details about competitors include their leadership and marketing heads, financial outlines, growth rate, best-performing products and services, and their marketing strategies in terms of video, content, and social media postings.
Assess the current business situation
Determining where you stand should entail deep research in several areas. These can be covered by strengths, weaknesses, opportunities, and threats, otherwise known as the SWOT analysis. The visualization of this information and sharing it with the building team will help them understand areas to concentrate on. It gives an actionable course of steps based on a realistic approach. The team can understand both the existing and the futuristic environments for business, thereby working around them to optimize business. For instance, you can tell what connections you should seek to improve a fragile area.
Come up with SMART goals
The next step is to define the specific, measurable, attainable, relevant, and time-bound goals. For example, instead of just noting that you want to increase followers on Twitter, you can note that you want to achieve a minimum of 5,000 followers in 12 months. Only then can you figure out what to do to achieve this. SMART goals set the path for directional methodologies and keep you on a quantifiable path that can measure success.
Present your marketing strategy
This step requires you to describe the marketing strategies that will help you achieve what you want to achieve. Your marketing plan building team should converge ideas based on data and results regarding what to do, how to do it, and the avenues to utilize.
The presentation should include complete visual aids with deadlines, charts, and a tactical roadmap. You may also use a comprehensive yet easy-to-digest infographic or even a mind map. A mind map visually breaks down all the delicate components that come together to form a full-on strategy. Remember to use all the findings from the steps above to develop a realistic, actionable, and detailed strategy to the core.
Analyze your tactics
You should continue to develop an action-based tactical outline that describes what you need to do to make your strategy work. If your strategy is to raise twitter followers to 5,000 in 12 months, ask yourself what to do to make this projection a reality. For example, how many posts will you be making per day? Will you combine the usage of both videos and images? How many words will be your text-based tweets? Such are the things you should think about when designing this step.
Allocate a budget
Budgeting is a crucial part of a marketing plan which needs to be taken with utmost precision. There is no point in setting a paid advertisements tactic if you do not include the exact costs in the budget. Therefore, your team should develop a budget estimate for each little detail concerning the strategies and corresponding tactics. This includes things that will need to be purchased, both from online resources and physical assets.
Marketing plan vs Marketing strategy
In simple terms, a marketing strategy is part of a marketing plan. How so?
A marketing strategy holds information about your company's methodology of achieving an outlined goal. This type of information can range from the actual campaign, social media channel, software, and success tracking metrics to actualize the strategy. A good example is when your team deliberates on the content to publish on Instagram to achieve a particular number of followers.
On the other hand, a marketing plan is a skeleton on which all strategies are built. It holds together all individual marketing strategies in line with the business goals.
If, for example, you want people to buy your new products through your website, you can create a marketing plan that encompasses a few strategies. These could be publishing short videos on YouTube or Facebook, utilizing paid ads on other websites, and joining affiliate programs that roll back to the site.
Many businesses have made losses or fallen due to operating without a well-researched marketing plan. To ensure your business does not become part of that statistic, you need to prioritize building an excellent marketing plan. It provides the path for successfully reaching out to potential customers, impressing them, and making sales. By following the above steps and using free downloadable templates, you will be in an excellent position to create an outstanding marketing plan.

Keep in mind that you should constantly keep reviewing your initial marketing plan to determine if it is working or not. This means keeping it up to date with changing goals and shifting market dynamics. Such dynamics include the emergence of modern marketing tools, changes in technology, the emergence of a new and vibrant social media platform, changes in pricing due to external or internal factors, and change in supply and demand. An effective way to drive this constant update is by using data analytical tools, sales information, and preset success measuring metrics to discover insights into the plan's effectiveness, being sure to change approaches that are not working.