An affidavit is a written declaration or affirmation produced in court to support a legal or business proceeding. It is usually a sworn statement made by an individual who is personally familiar with the subject of the affidavit and has personal knowledge of it. It must be witnessed and notarized by another party.
An affidavit can be useful in supporting claims, testimony, or just providing proof that something happened as seen on paper. Business entities can use affidavits for varying reasons, including to protect themselves from any liabilities and to provide proof of their claims. Similarly, individuals may find it useful to use an affidavit to prove that a certain event happened for personal reasons.
The document can also be used to prove that someone is who they say they are. It is crucial to note that an affidavit is different from a lawyer's brief or motion because anyone can write an affidavit, and it does not have to be filed with the court once it is completed. The person making the affidavit (the affiant) can give it to a witness, business partner, or friend and ask them to swear to what is written. However, the affiant must sign the affidavit before a notary citizen to be valid. This article is a complete guide on writing effective affidavits.
Types of Affidavits + Templates
There are many types of affidavits, and one does not pertain to another. Discussed below are some of the typical types of affidavits:
Affidavit of domicile
A domicile affidavit is a legal document that can be used to verify the home address of a deceased person. The administrator/executor of the deceased person's estate may be required to produce this document anytime they transfer or cash in stocks or other investment assets of the deceased person.
Affidavit of heirship
The heirship affidavit is a sworn statement used in some states to transfer ownership of property left by a deceased person to their beneficiaries/heirs. It allows the property to be inherited without a will or probate, mainly when the original owner dies intestate.
Affidavit of marriage
An affidavit of marriage is a legal form that must be completed and signed by both parties in a marriage. This is used to prove the marriage's events and to provide evidence of the marital status, especially in cases where one has not obtained a marriage certificate or if the original marriage certificate is lost.
Affidavit of sweepstakes recipients
An affidavit of sweepstakes recipients is a sworn statement used to claim sweepstakes prizes or winnings. This is used to confirm that the individual or group claiming the prize is indeed the recipient and is not trying to fraudulently claim the prize. This type of affidavit must be completed, signed, and certified by the prize officials.
Affidavits in divorce
A divorce affidavit is a written statement sworn under oath by both spouses about their wish to legally call off their marriage. It may be essential for both spouses to file another financial affidavit to divide their financial properties.
Affidavit of small estate
An affidavit of small estate is a document that one completes to speed the settlement of a small estate through probate. It is usually considered legal documentation to distribute an unincorporated business or other assets of less than $75,000 that a deceased person leaves. It eliminates the need for a spouse or family members to go through the long and expensive probate process in distributing a loved one's property to creditors and heirs.
Affidavit of death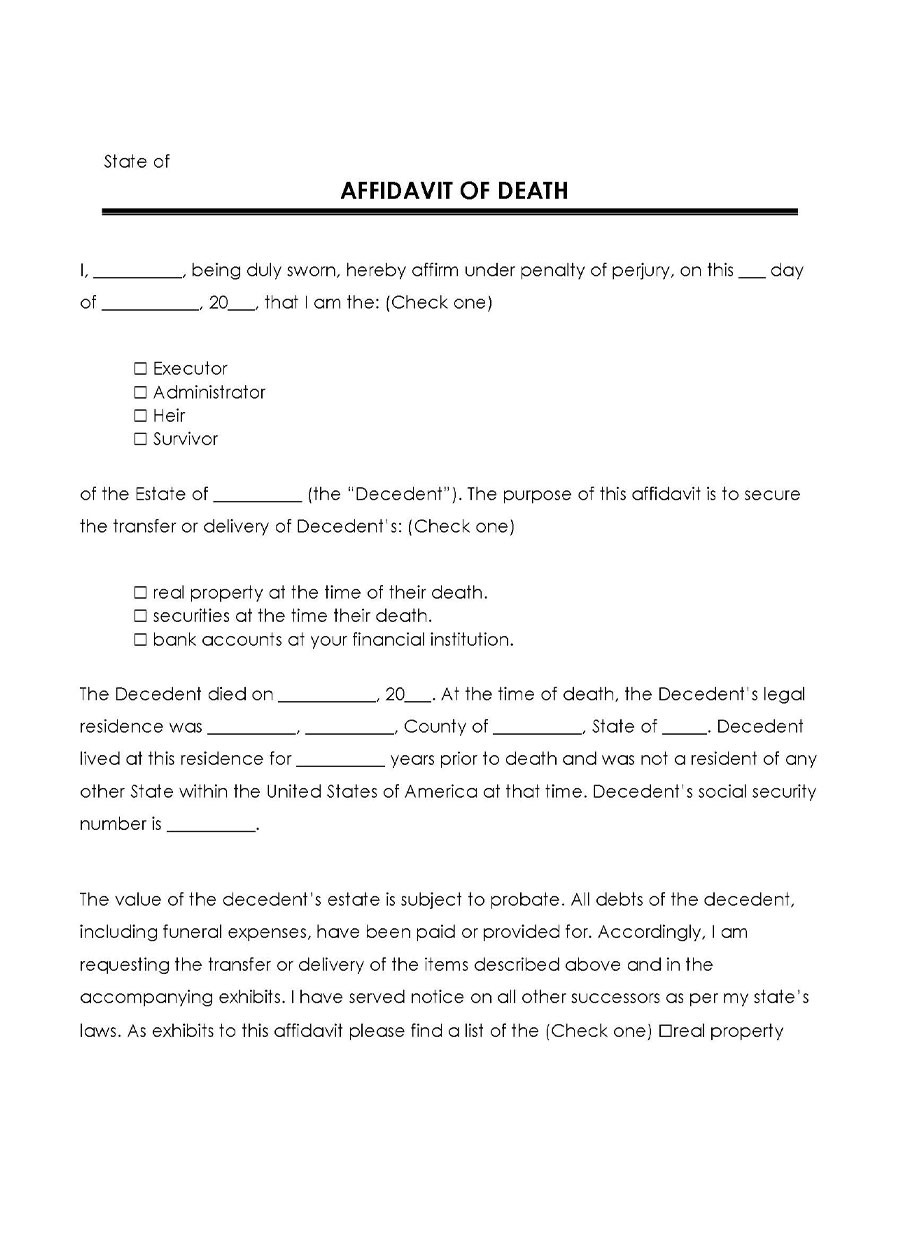 The affidavit of death is a sworn statement that provides official proof of a person's date of death. This can be used for vital records, insurance policies, tax returns, and other legal documents. It is usually written and completed by an immediate family member or qualified representative of the deceased.
Affidavit of residence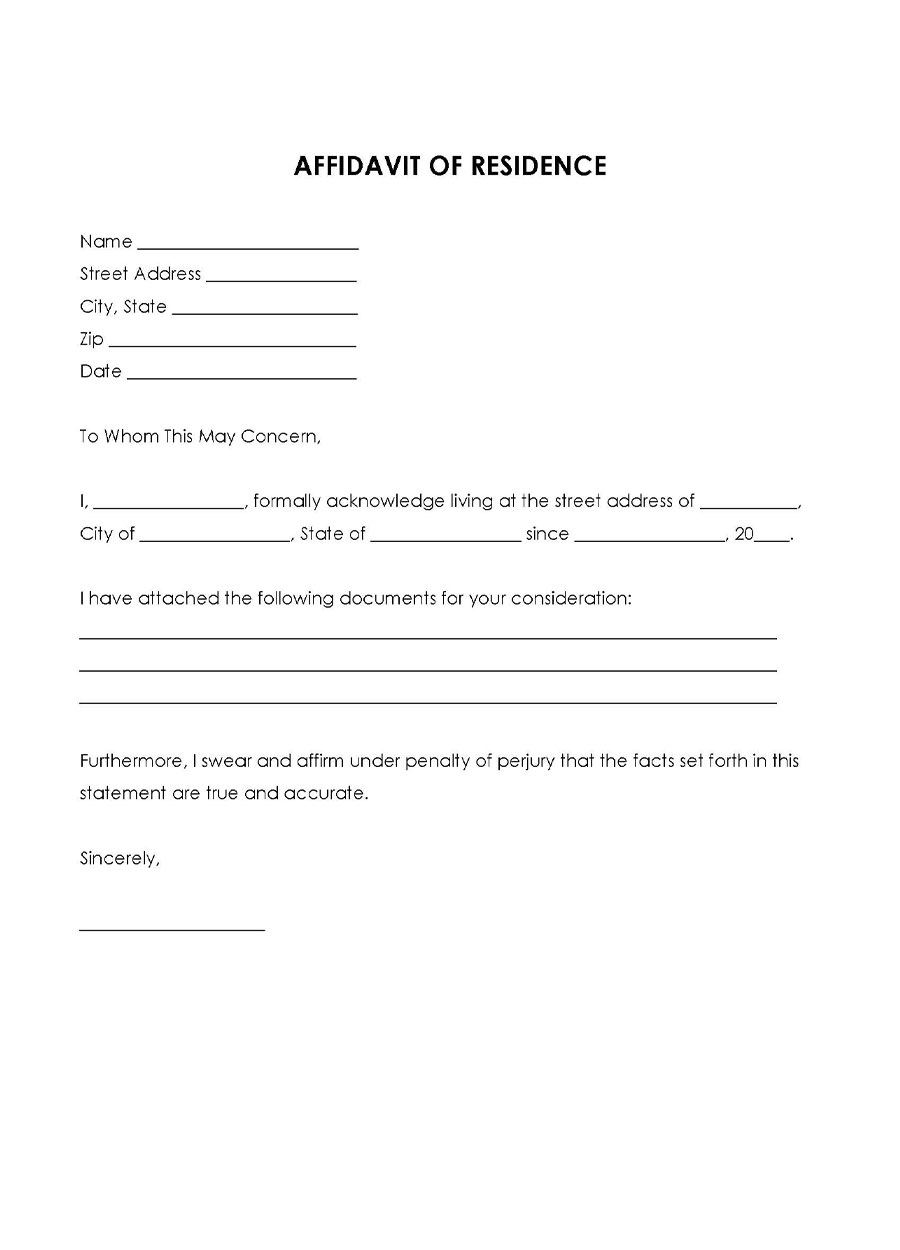 An affidavit of proof of residence is a confirmation of an individual's residence and the residency of anyone living with them. The residency affidavit is often required by a surety for a bond, when applying for certain jobs and visa applications, when opening foreign accounts, in response to a school requesting proof of residency before enrolling a student, court, etc. it is usually sworn before a commissioner for oaths, consular officer, magistrate.
Affidavit of name change
An affidavit of name change is a legal document that is completed and signed by individuals who want to take on a new name. It should be sworn before a qualified commissioner for oaths, consular officer, notary public, or authorized person. The name change affidavit can be useful for anyone using a name that has not been officially changed by a court or changed through marriage.
Affidavit of financial support
This is a legal document that can be used to legally confirm one's financial situation in court cases or business transactions. It allows the affiant to detail their income, expenses, assets, and debts for the record.
Identity theft affidavit
An identity theft affidavit is a document used by victims of identity theft to prove to businesses that their personal information has been used to open a fraudulent account. It includes the affiant's personal information and a formal statement about events leading up to the identity theft.
Affidavit of support
The affidavit of support, also known as U.S. Immigration Form 1-864, is a sworn statement that is used by the USCIS (the United States Citizenship and Immigration Services) office to verify an individual's financial eligibility to sponsor relatives or members of the household for immigration into the United States.
Affidavit of debt
The affidavit of debt is a document that one completes and swears to confirm the amount of debt owed by a person or business. It is often required by creditors to monitor credit transactions, tax forms, and other legal documents. The debt affidavit may also be helpful in the event that a company is winding down or when an individual is involved in bankruptcy.
General affidavit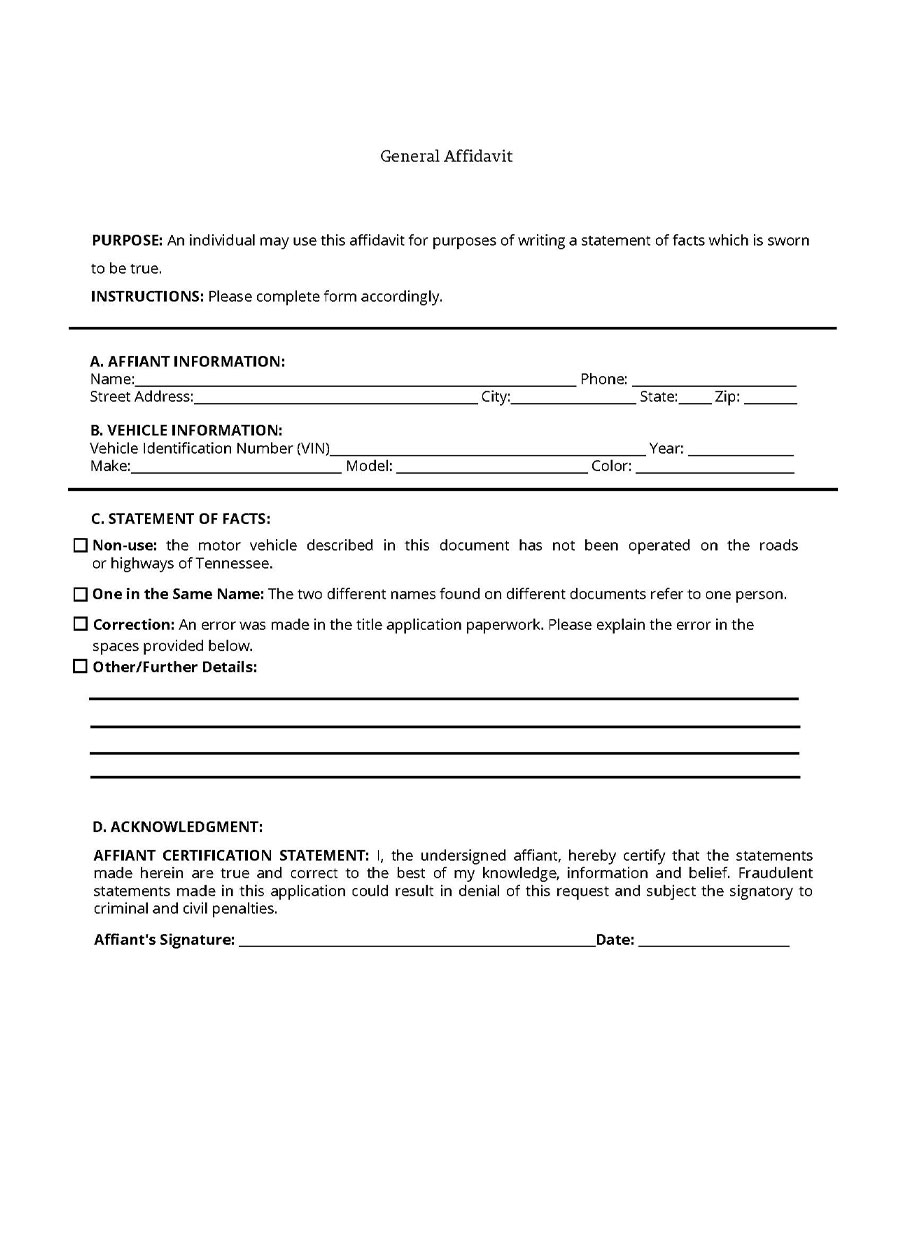 A general affidavit is a document that one completes under oath to acknowledge true and accurate information concerning a transaction, event, or incident. It is unique from all the other types of affidavits because it can be tailored to meet the specific needs of any legal situation. The general affidavit can also be referred to as a "notarized statement" or a "certified copy."
Affidavit of witness
An affidavit of witness is a sworn statement and authorization that a person makes to back up a written account or testimony. It can be used to corroborate statements made by witnesses or documents.
Affidavit of identity
An affidavit of identity is a sworn statement that one completes and swears to confirm the true identity of the person or persons so that they can be listed on official documents like driver's licenses, voter's registration, purchasing firearms, receiving government benefits, and other legal documents.
Affidavit of title
This is a sworn statement of facts that proves that the seller of a given property holds the title to it or is the property's true owner. The document also attests that certain other facts about the property are correct-as, sworn to by the seller, and duly notarized. It is used to transfer or sell real estate or property ownership, particularly in cases where the original title is lost or when one does not have the original documents.
Gift affidavit
A gift affidavit is a notarized sworn statement used to confirm or acknowledge the receipt of a gift. The purpose of this document is to protect the giver from being liable for any taxes that may be associated with the gift.
Affidavit of service
An affidavit of service is usually written to expedite the legal process with a court, judge, or other officials by proving a person has served a writ or legal papers on another party.
Child custody affidavit
The child custody affidavit also referred to as "custody affidavit," is a sworn statement that one must complete, under oath, to get the proper custodian of minor children.
Sworn statement affidavit
The sworn statement affidavit is a document that one must complete and sign under oath to verify factual information about a case. It is regarded as the most important affidavit because it outlines the facts of the case.
Why You Need to Write an Affidavit
You may need to write and sign an affidavit due to various reasons. Some of the common reasons include:
Testifying in court to support a legal or business action, to provide proof that a particular event occurred or did not occur as claimed; while entering into a contract with a business or corporation; when applying for work with government agencies as well as in cases where you need to change your name on any legal documents. You may also be required to write an affidavit in cases where you need to prove your identity and address and in the event that you need to claim an inheritance.
Other reasons for drafting and signing an affidavit include; when applying for a property loan- to show your financial capability and ability to repay the loan, when selling or buying real estate and you need a title, where you need to support your ownership claims or requests of certain documents or items, and in instances where you need to obtain a birth certificate for your child or a death certificate for a family member.
Besides, the affidavit might come in handy when you are unavailable due to unavoidable circumstances or emergencies, as an attorney can use it in lieu of requiring your physical presence in court or any other legal proceeding.
How to Write an Affidavit
An affidavit is a legal document that can prove certain facts in court proceedings and other legal matters. Therefore, while writing the document, you should ensure that everything you provide is accurate and true to the best of your understanding. You must also state the reasons and details behind what you are signing clearly and concisely. The language to include in the document and the specific information to provide should also align with your state jurisdictions because regulations vary by state.
The steps discussed below will guide you through the writing process of an affidavit:
Insert a caption
The caption is the first element of an affidavit, which identifies the document/case in question and enables the attorneys, prosecutors, and legal clerks to recognise it instantly as an affidavit. The information under this section depends on the type of affidavit you are writing and its specific purpose. If your affidavit is a statement given under oath, then you must begin it with the affiant's name and address. For example, "Affidavit of Mary Smith."
If the affidavit is being completed while in the courthouse and under oath, then your case caption must be listed following these formatting guidelines to ensure it is effective:
Create a centered heading containing the courthouse name and level, for example, ABC County Courthouse, Supreme Court.
Afterward, provide the names of the individuals involved (defendant, witness, and plaintiff) positioned below and to the left of the affidavit's heading.
Include the case number and position it below and to the right of the heading.
Title your statement
After providing a well-formatted caption, state the purpose of your affidavit and what type of affidavit you are writing. For example, if you are providing a statement under oath, describe it as an "Affidavit Under Oath." This statement should be written at the center of the page.
Write the state and county
The names of the state and county where the affidavit will be used should also be listed, and they should be written out in full, not abbreviated. The state and county names should be left-aligned, with the state appearing above the county.
Create a statement of identity
Step four of writing an affidavit involves providing your name and personal background information or the affiant's details if you are crafting the document on behalf of someone else. The information to provide in this section includes the affiant's full legal name and address, including the street name, city, county, and state. Other key information to provide in this section includes the affiant's age/date of birth, occupation, immigration status, and the affiant's relationship to any individuals involved in the case.
Describe the facts in a numbered list
The next step involves providing details of the facts of your case because the affidavit is a written statement under oath, you must be specific and truthful in your statement. The facts in the affidavit should be written in list form and in concrete declarative sentences that contain sufficient details to describe what happened without overly generalizing or making assumptions about what may have occurred.

While writing this section, the following formatting guidelines should be applied:
Describe the facts using the first person tense, i.e., "I."
Describe each fact in a separate paragraph
Number your paragraphs
Describe each fact clearly and concisely, including names, specific addresses, and dates, and provide any relevant supporting information/documentation
Organize your facts based upon the timeline of events
Provide only information that you can personally verify, and not any speculations
Refer to supporting documents, photographs, or any other tangible paper items attached to the affidavit, and make sure to attach them to the completed affidavit. You can label these attachments to make it easier to identify them during court proceedings or legal matters.
Write the statement of truth
The statement of truth is a key element of any affidavit as it confirms that the data you are providing is accurate and truthful. Without this statement, the court will not accept your affidavit as valid. Therefore, you should write the statement of truth in a clear, concise, and truthful manner, but not verbatim. It is important to note that affidavits are usually sworn under penalty of perjury. Therefore, providing a statement of truth that is not accurate or true will be viewed as perjury and could lead to severe consequences, such as imprisonment or fines.
Include any relevant exhibits or evidence
If any documents, letters, photographs, or other evidence are relevant to your affidavit, consider attaching them to the completed affidavit and reference them in the document. The relevant supporting documents and exhibits should be organized and labeled using letters or numbers for identification purposes. If an exhibit is not available, you should indicate this by writing "Exhibit Filed Separately" at the end of your affidavit.
Reiterate your statement of truth
You must include a final section that re-affirms the truthfulness of your affidavit. The language of this section should be identical to the statement of truth, which means you should state that the document/statement is accurate and true to the best of your knowledge, recollection, and understanding.
Create a signature block
The second last step of writing an affidavit involves creating a signature block section, which is usually completed in the presence of a court clerk or a notary citizen. Provide a space for filling in the affiant's signature, and type their name below the signature. The date of signing the affidavit should also be written here. A signature verifies the affiant's acknowledgement of the facts provided in the affidavit as accurate and truthful to the best of their understanding, and it renders the document legally binding and valid.
Include a notary or court clerk signature block
The final part of any affidavit contains a court clerk or notary signature block. This is where the name, title, and signature of the person notarizing the affidavit is written. There should also be a space for providing the date of signing the document and an official stamp or seal. The section also contains a statement by the court clerk, notary public, or any other person authorized to administer an oath, indicating that the affiant appeared before them, swore to the written facts, and showed legal identification. To prove that the affiant is who they say they are, the notary public or court clerk may ask for a valid form of photo identification, such as a passport or driver's license, before allowing them to sign the affidavit.
Note: While formalising the affidavit, there are two main types of oath for citizens to take: the acknowledgement and the jurat. The acknowledgement is a simple declaration stating that you swear, or affirm, that a statement is true or that it is their signature that appears on the record.

In this case, the signer is not necessarily required to sign the document in front of a notary public, but they can sometimes physically appear in front of the notary and declare that the signature is theirs. In contrast, a jurat goes into more detail by reading out your personal details before swearing on oath that your statement is true. The completed affidavit must be signed in front of a notary citizen.
Affidavits are legal documents that must be strictly accurate. They are based on facts and not opinions, and any single mistake or inaccuracy in an affidavit can cause a judge or any person requesting it to invalidate the entire document.
Therefore, to ensure you write an effective and valid affidavit, consider the following best practices:
Consult a lawyer
While anyone-not, necessarily a lawyer, can write the affidavit, it is highly recommended that you consult a lawyer while creating one or have them review the final document to ascertain that all the necessary details have been included correctly.
Be brief
The affidavit should be brief, clear, and written in simple language. Avoid including legal jargon or complicated words and phrases. However, be sure to include all the relevant information.
Consult a sample
Before you begin writing your affidavit, it is recommended that you consult sample copies of affidavits to better understand how the affidavit should be written and structured. You can find sample copies on the internet or in bookstores.
Be honest
Honesty is key while drafting affidavits. The document must not contain any lies or fallacies, as these can lead to serious legal problems such as perjury, contempt of court, and civil lawsuits. Possible penalties could include monetary fines, community service, or jail time.
Write in first person
The affidavit must be written using the first person pronoun 'I" statements. Avoid using the third person because it is not legally dependable.
Stick to the facts
your affidavit should stick to only what is related to the case. Avoid including your personal opinions and thoughts about the matter, as this may taint the credibility of your document.
Number each paragraph
Each paragraph in the affidavit should be numbered so that it is easier to refer to each specific point when proving information or addressing details.
Organize your thoughts
Your affidavit should be written in such a way that the main points are placed at the beginning of each paragraph, and supporting details are placed in additional paragraphs. Your thoughts should be organized based upon the timeline of events such that they flow well and make sense.
Avoid inflammatory language
The affidavit must not include any language that can inflame a judge or any person requesting the document. It should also be void of biased opinions, such as arguments or one-sided comments.
Proofread
Your affidavit must be carefully proofread after it is written to ensure it is completely accurate, free of any grammatical errors, and reflects the facts clearly and completely.
Frequently Asked Questions
What is a statutory declaration?
A statutory declaration is a sworn statement offered to prove facts in court. It is generally the same as an affidavit, but they differ in the sense that an affidavit is most commonly used in the United States, while the statutory declaration is written and used in Canada, Australia, and the United Kingdom.
Who are the parties involved in writing an affidavit?
The parties involved in the writing and signing process of an affidavit are:

The affiant: the person providing the written statement and filing it
The court or legal entity receiving the affidavit
A notary public or official authorized to commission an oath: this is the individual that authorizes the affiant's signature, signs the document, and seals it to make it valid.
Witnesses: In most states, at least two witnesses are required to be present at the time of signing the affidavit.
Do you still need to testify in court if you sign an affidavit?
Assuming that you are a party to the case or have witnessed the event in question, you will still need to testify before the court. The submission of an affidavit is not complete without your sworn testimony.
Are there any age restrictions for signing an affidavit?
Assuming that you are a party to the case or have witnessed the event in question, you will still need to testify before the court. The submission of an affidavit is not complete without your sworn testimony.

Any person can sign an affidavit, except minors or persons not mentally capable of understanding the oath. However, there are instances where a minor may be asked to sign an affidavit, such as in a family court matter. In such cases, the minor must be mentally capable of conducting themselves reasonably and at an age where they can fully understand the facts and know they are signing a document that needs to be true and correct.