An affidavit of residency is used for official and legal purposes to verify an individual's status as a resident within a particular jurisdiction.
It provides the necessary information to verify your residence or that of someone living with you. The document must be signed by a witness and notarized.
An affidavit of residence is frequently required by institutions like schools, government organizations, insurance companies, courts, banks, and employers to confirm that a person actually resides at the mailing address they are claiming to have. Additionally, it is wise to have the document notarized, particularly if there is no additional evidence of residency, such as a pay stub, a driver's license, or utility bills.
An affidavit of residency is also referred to as:
Proof of Residence Affidavit
Residency Affidavit
Proof of Residency Affidavit
Notarized Residency Letter
Notarized Affidavit of Residence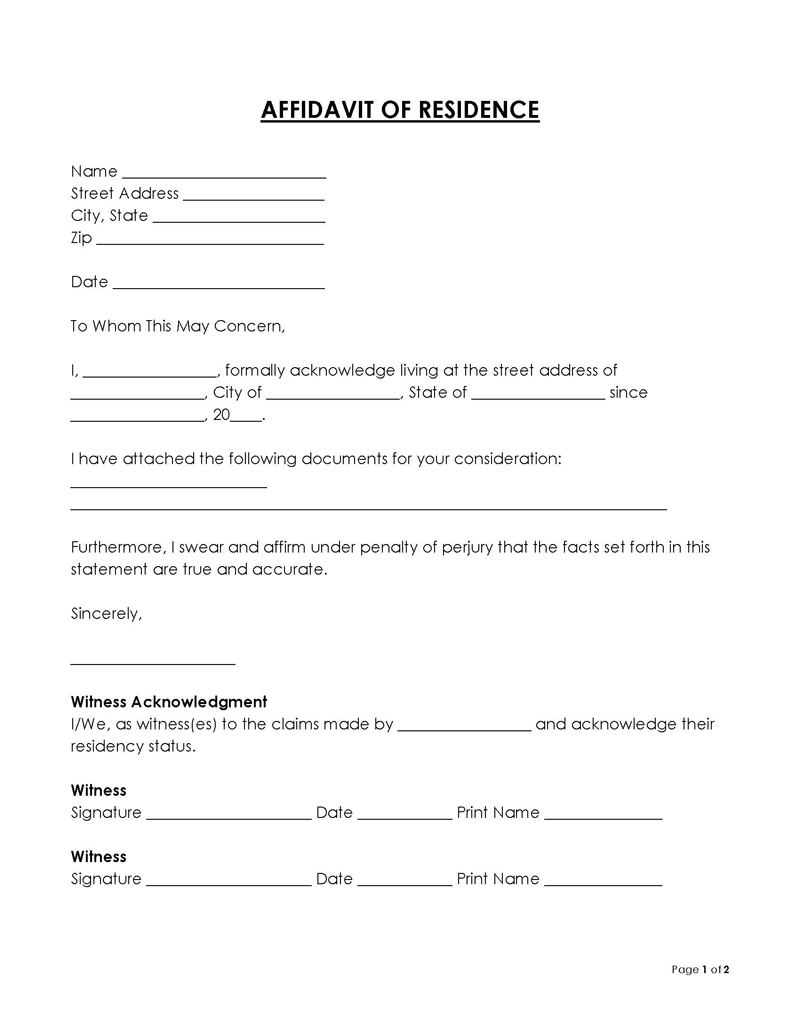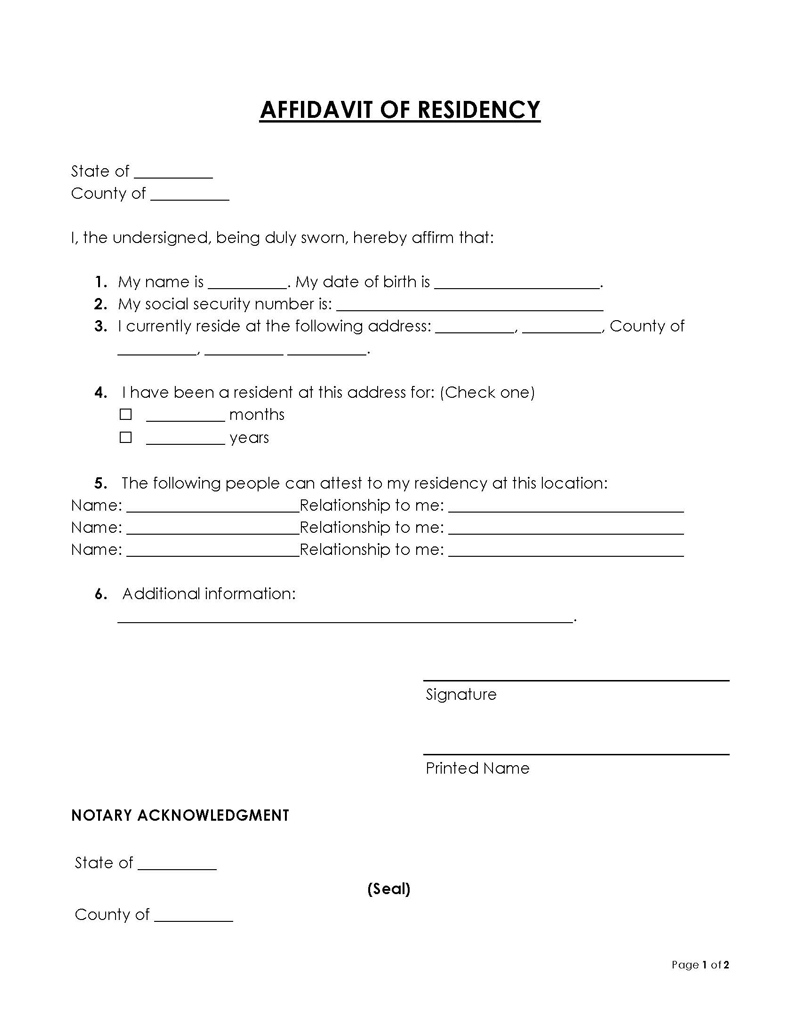 Affidavit of Residence Vs. Affidavit of Domicile
A residency affidavit is used to verify the legal residence of a living person, while an affidavit of domicile confirms the last residence of a deceased person. An affidavit of domicile is needed so the deceased's property, accounts, and funds can be distributed to their beneficiaries.
This article will discuss an affidavit of residence when it is used, the different types of documents, and how it proves residency.
When is it Needed?
Multiple institutions would want to verify an individual's residence and mailing address. As a result, an affidavit of residency is necessary for several reasons.
For example:
If you are moving or relocating from one residence to another, some institutions may require you to submit the document to update their records.
The affidavit is used when enrolling a child in a public school for the first time or in a new school district.
You may be asked to present the affidavit when applying for a driver's license, especially after moving to a new state.
After divorce, the custodial parent must verify their residence for school registration reasons.
Residency affidavits are also used to verify residency for court and business purposes.
Universities and colleges also ask for residency verification if you want to qualify for in-state tuition fees.
You must submit an affidavit of residence when registering for Medicaid and receiving benefits within the state.
Public retirement programs such as the Teachers Retirement System of Georgia require members to verify their residence when registering and receiving funds through the programs.
The affidavit can also be used to confirm the address of both the recipient and issuer of child support.
This affidavit may be necessary when establishing a domicile in a particular place to secure certain benefits. This is done by stating that the affiant has been a resident of the stipulated residence. In such cases, the affidavit must accompany a copy of the death certificate.
Types of Affidavits of Residency
Affidavits that confirm residency vary from one case to another. The differences are due to the purpose of the affidavit and the document's recipient.
Below are examples of some common types: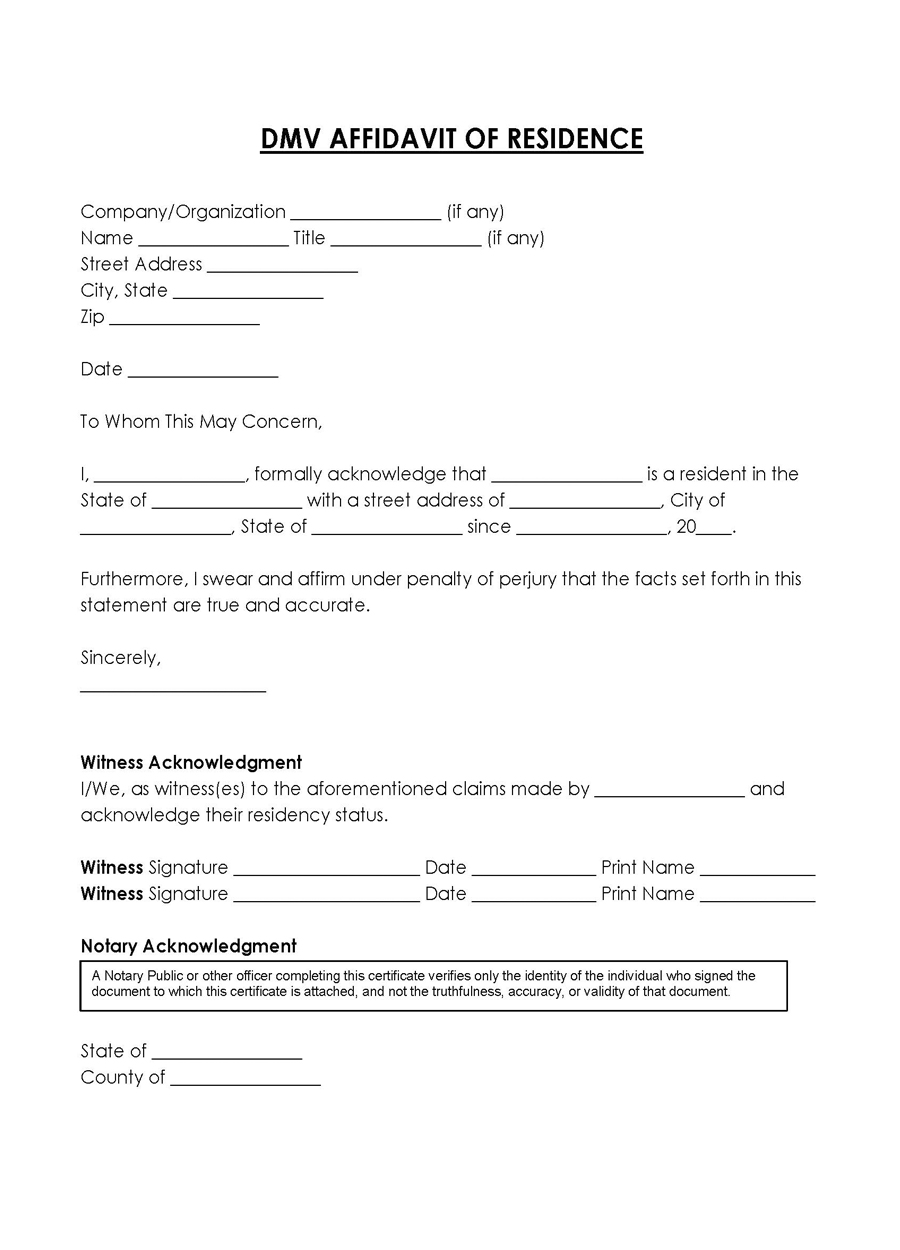 A type of affidavit is sent to the Department of Motor Vehicles to confirm an individual's mailing address and residence. It is typically submitted to apply for a driver's license at the local DMV. The applicant may have to produce a government-issued ID and supplementary documents, such as a utility bill, to accompany this affidavit.
The document is used to verify an individual has been working for a period of time in a specific area or state, at the time stated, or to file IRS Form W-4.
This affidavit verifies that the mentioned individual (family member) lives in a particular residence. Parents or grandparents often submit such affidavits on their children's behalf to the school district, state government, university, etc. Normally, government agencies will require the affidavit to state the start date of the residency or the total time the family member has lived at the given address.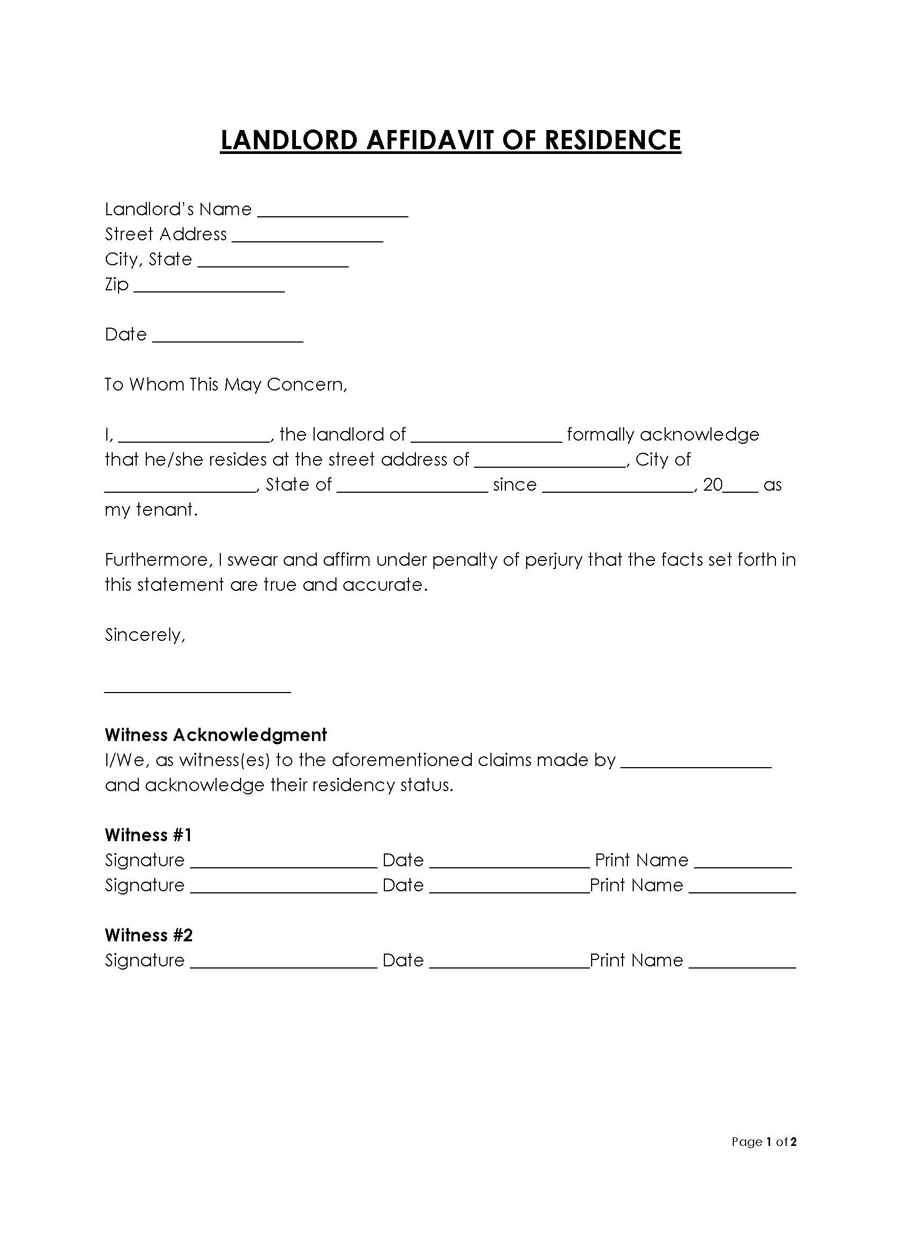 Such an affidavit establishes a tenant's continuous residency at a particular address. The landlord or roommate can issue the affidavit for the concerned parties. It verifies that the landlord was aware of the residence status of their tenants at the time mentioned in the affidavit. If a lease exists between the landlord and the tenant, it should be attached to the letter. However, this is not mandatory, as most authorities deem the landlord's statement sufficient and satisfactory.
This is a notarized affidavit of residence. It contains a sworn statement that the residence details are accurate and is signed in the presence of a notary public. As a result, the affidavit may be governed by the state's perjury laws if its information is found to be false.
This type of affidavit is used for educational institutions such as elementary, middle, junior high, high school, college, and university to confirm a student's eligibility to pay in-state tuition fees. The affidavit must be completed by a third party and not by the student. Additionally, it should be accompanied by supplemental evidence such as utility bills or any other document that can be used as proof of residence.
How do I Prove my Residency?
How does an affidavit of residence establish residency? The document contains information that enables you to prove your residence. Here's how to use the affidavit to ensure it serves its purpose:
Write the proof of residency
The first and most vital step is to write down information that serves as proof of residency. This information helps prove where you are living at the time mentioned in the affidavit.
Write the personal information of an affiant
You should write your name and address as they appear on official identification documents such as a driver's license, passport, Social Security card, or voter ID card. Other details in this section include state, county, name, date of birth, social security number, mailing address, and length of residency.
Write the information of witnesses
You will be required to name witnesses who can attest that you live at the address mentioned in the affidavit. However, the witness must be eligible, must have known you for more than six weeks, and must have lived in the same state as you. A spouse cannot be a witness. You should confirm additional requirements as they vary from state to state. The affidavit must contain the witnesses' names, addresses, and contact details.
Sign the document
Sign the document as an attestation to the content of the document. Once signed, confirm that the content of the document you have signed is accurate. In addition, you should include your signature and the date of signing the document.
Notarize it
After completing the affidavit, you should have a notary public certify it and add their seal to the document. Notarization is the final step in completing the residency affidavit. The witnesses should also sign in front of the notary public.
Attach evidence
You can also attach a rent payment receipt or other expenses related to the property or residence to further support the residency claim. Examples of documents that can be produced as evidence include:
Credit cards bill
Utility bills
Bank statements
Driver's licenses
Mortgage statements
Cell phone bills
Pay stub
Copy of a residential lease agreement
Tax return
Health insurance car
Voter registration card
Vehicle title or Registration documents
Real estate deed
Submit it
After preparing the affidavit and attaching supporting documents, you should mail or submit it to the requestor's specified location.
What Is Included in an Affidavit of Residency?
The specifics of each residency affidavit are different, depending on the requestor's needs and goals. Here is an example of what is included in a standard affidavit:
Full legal name
Official residence address
Duration you have been a resident at the mentioned address
The full names of other occupants at your residence, such as a spouse, children, roommates, parents, siblings, etc.
Your relationship with the occupants and their dates of birth
Acknowledgment – for the affiant, witnesses, and notary public
Signatures of the required parties
Implications of Not Having a Residency Affidavit
If you do not have the affidavit, the requestor may refuse to process the application or transaction. You might be prohibited from doing things like getting a driver's license, enrolling in a certain healthcare program, using the associated bank services, or enrolling your child in a new school district without one, for example. Also, lying or giving incorrect information, such as a relative's address, to enroll your child in the desired school district may result in legal ramifications such as perjury. This is because the affidavit is a sworn statement, and providing misleading information is considered a crime.
Frequently Asked Questions
What is a notarized proof of residency?
Notarized proof of residency is a document that contains the information needed to prove one's residence, and a notary public witnesses its signing. It has an official seal or stamp, a notary acknowledgment, and the notary public's signature.
How do you get an affidavit of residency notarized?
Notarization is done after the document is prepared. The affiant and witnesses then sign the printed copy before a notary public. The notary then signs the document.