To help a potential employer quickly understand the value you could provide, start your resume with a strong statement that helps summarize your skills and experience. A summary statement includes a few sentences right at the top of your resume, highlighting what makes you more qualified for the position than any other applicant.
A summary statement is sometimes also called a summary of experience, a personal statement, a professional summary, a career summary, or a qualifications summary. No matter the name, this resume summary can make the job-seeker stand out, giving the hiring manager a quick look into why you are perfect for the open position.
To write a good summary statement, the job seeker should answer the question, "What would make you the perfect candidate for this position?" and then answer it in two to three sentences.
Even if you have a list of accomplishments you can use to impress the hiring manager, the summary should be brief and mention only the highlights of your professional achievements. Think about the skills and experience that uniquely qualify you for this position and include those in the summary statement.
Any professional with three years of experience or more in a specific field must include a summary statement in their resume. For professionals with fewer than three years of experience, it may be better to write an objective statement instead.
Examples for different professions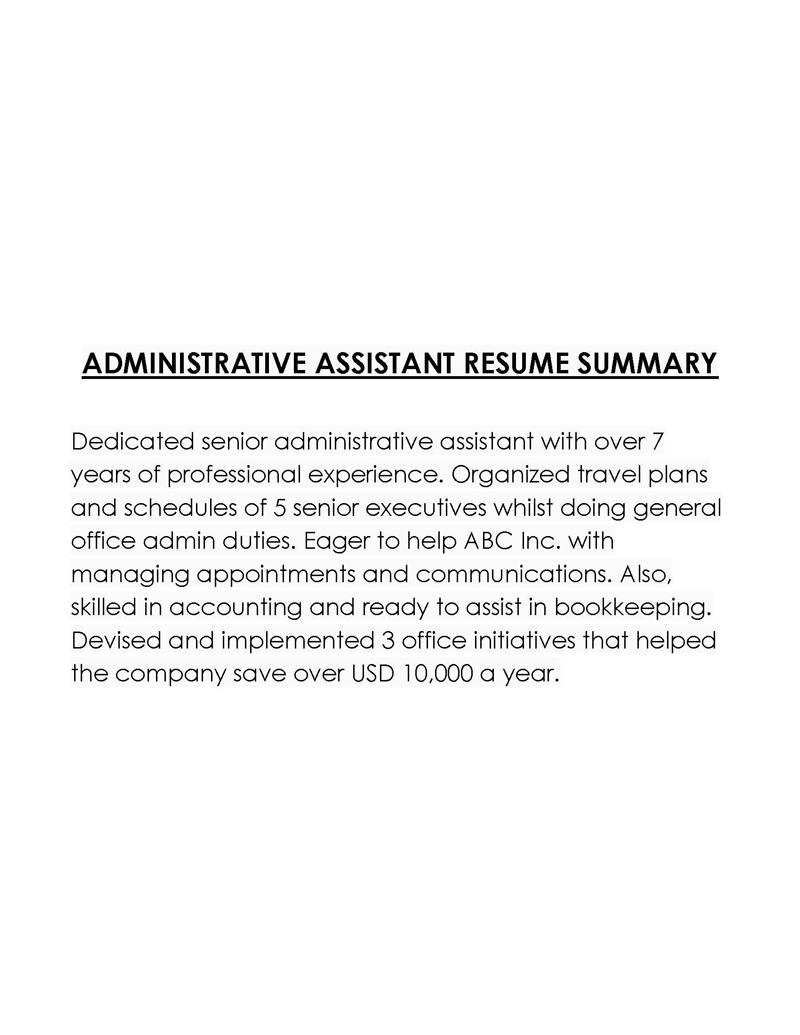 Who Should Use a Summary Statement?
While any job seeker can choose to write a summary statement, this is usually a technique reserved for those who have spent many years in the same professional field and who plan to continue working in that field in a new role. This can assist them in quickly compiling a concise summary of all the pertinent experiences for the hiring manager.
Therefore, it is generally recommended that professionals with three or more years of experience in the same field include a summary statement in their CV.
If the professional has little experience or some more significant gaps in their resume, the professional resume summary will not be a good idea, as you may not have the right highlights to impress the hiring manager. However, a summary statement is not mandatory for a good CV; you can decide if you want to write one or focus only on the details in the CV.
Summary statement vs. objective statement
A summary statement discusses your unique skills and experience as an experienced professional in the field. An objective statement is going to discuss what your goals are in applying for a particular position.
The objective statement will focus more on what the employee is looking for and some of their needs, while the summary statement focuses more on the employer's needs and how the job seeker can meet some of those goals.
After the hiring manager reads the summary statement, they should be able to gather insights about the abilities of the job seeker. In many cases, the objective statement appears vague and superfluous and may make the hiring manager frustrated with the job seeker.
In the past, many professionals would choose to add an objective statement to their resume. But now this technique is redundant. If you want to add something extra to your CV to make it stand out, then the summary statement is a better choice. Since the potential employer already knows that your main objective is to obtain the position you are applying for, there is no reason to write it explicitly in the resume.
How to Write Resume Summary Statement
The summary statement is meant to be short and direct. You need to highlight what makes you unique in just a few sentences to provide insights about you as a candidate.
In order to write the perfect summary statement, you can take the following steps:
Step 1: Analyze work history, skills, and accomplishments
Take a few moments to analyze your own work history, skills, and accomplishments as a professional in this field. The more experience you have, the more you will need to sift through the information and find the highlights that are most likely to impress the hiring manager. To help you organize your thoughts and select the best options later, you can list all the most impressive topics.
Everything in the summary statement needs to be unique to you and not a generic statement. Review all sections of your resume to decide what information should be included here.
When possible, include information about your work history. Look for some patterns you can expand on. For example, have you worked in certain types of industries or at specific sizes of companies? What made you successful working there rather than somewhere else? What skills and accomplishments were you able to achieve while working there?
Your summary statement will look more impressive if you can turn these into quantifiable achievements, with percentages and numbers to demonstrate the practical details of working in those positions. Think about how your past work experience and skills can translate into something valuable for the new employer, and add that to the summary statement.
Step 2: Review the job description
Review your work history, skills, accomplishments, and job description. Then, you can choose the skills and experience matching the job description's requirements.
Step 3: Mention your current job title
Mention your current job title while writing the summary statement. The hiring manager will want to know this information, which can quickly answer the question of who you are and why they should consider you for this open position.
Step 4: Include any relevant metrics and data
Depending on your industry and current position, you may have real numbers and data that prove you are good at your job. Instead of stating that you assisted customers, you could state that you increased customer satisfaction by 15% in your previous role while effectively increasing the sales team by 50 members. Mention all the sales figures, percentages, and other pertinent information because doing so makes the statement more persuasive.
Being mindful of space constraints is important because you only have a few lines to work with. You can explain more details in a cover letter. But adding a summary can be helpful to the hiring manager.
Step 5: Choose resume keywords
If you review the job posting carefully, there will be keywords that are used throughout it. They will help you know exactly what to discuss in your summary statement. You can add some of those keywords by looking closely at the sections for education, experience, and requirements the hiring manager is looking for.
Your chances of being selected for an interview increase the closer your professional resume summary and your entire resume adhere to the requirements of the job posting.
You must develop your own personal brand as a job seeker so you can demonstrate it to prospective employers and convince them of your qualifications for the position. You need to find a way to align that distinctive brand with the company brand of the place you are applying to. A well-written career summary with the best keywords will help make that easier.
Consider adding keywords like "human resources," "legal consulting," "financial planning," "content marketing," "budget evaluation," and "project management" to the summary. Only consider keywords that match your experience and open position.
Resume Summary Statement Examples
Writing a summary statement can be challenging. You need to include a lot of information in a short summary to pique the hiring manager's interest.
The following are some examples of resume summaries to give you some ideas:
Team Manager
Skilled team manager with 7+ years of experience managing teams of 20 employees or more. Experience working in a fast-paced environment, managing schedules, employee conflicts, and customer concerns in a timely manner while following company policies. Focus on a customer-focused approach to gain results while helping reduce employee turnover by 24% in three years.
Regional Sales Director
10 years of sales management experience, leading my team to improve sales in the region by 30% through creative vendor partnerships and unique customer service. Responsible for accurate hiring, training, and motivating employees to accurately perform their jobs and put the customer first.
Communications
20 years of experience working in a customer-facing position with people of varying backgrounds and socioeconomic situations. Focused on providing exceptional customer service and building trust and confidence in clients, encouraging them to continue coming back and being patrons of previous employers. Handled personal and private customer data with a 0% incident rate to keep them safe.
Administrative Professional
Efficient and reliable administrative professional with 5+ years of experience working with CEOs, managers, and other professionals to properly manage their schedules, and get the project done. Proficient in CRM applications and design programs, handling customer requests and complaints, human resources, and account management practices.
Nurse Professional
Nursing professional with 11 years of experience in high-paced medical settings, including ER, NICU, and mental health facilities. Experienced in administering medicines, updating patient charts, assisting with various medical procedures, working well on a team, and assisting other medical professionals.
Benefits of Writing a Good Professional Summary
While you may be able to get your resume noticed by the hiring manager without the summary statement, this is a unique trick that some professionals will use to pique a hiring manager's interest and get them to take a closer look at the resume. It is like a book summary, set up to entice you to look closer at the rest of the document.
There are a few benefits to writing a resume summary statement in professional resume summary. First, it is a good technique to get noticed faster. Many hiring managers will get hundreds of applications for a well-paying position.
The summary statement at the top of the CV will enable the hiring manager to quickly scan some of the content and determine whether it is worthwhile for them to continue reading.
Job seekers can use the resume summary to draw the hiring manager's attention to the most important aspects of their skills and experiences at the beginning of the resume. The hiring manager might overlook some of the unique skills or experiences listed in the CV that make a candidate ideal for the job without this summary.
Frequently Asked Questions
How long should a resume summary statement be?
Your resume summary statement needs to be kept short. Two to three sentences are the maximum that you should use for this. Any additional text will occupy space that should be reserved for the detailed CV. If your resume summary is longer than this, you should revise it.
What should you include in your resume summary statement?
Your resume summary statement articulates your merits as a candidate for the open job position. You can include information on any relevant skills and experience you have, your core strengths, and any other accomplishments that would impress the hiring manager and improve your chances of being invited for an interview. 
What should not be included in the resume summary statement?
Avoid generic skills that anyone can claim. For example, you do not need to list your skills in Microsoft Office since most professionals know how to use it. Instead, use action words and draw attention to your unique qualities as a candidate.