It can be challenging to write a resume for the first time. A resume is a formal document that introduces you and includes all the information about your background, experience, skills, and accomplishments. Typically, these resumes help hiring managers learn about a job applicant and determine if they are suitable for the position.
Note: The term "CV," or curriculum vitae, means "course of life" in Latin. It is commonly used outside of the US and in academia.
Resume for First Job: Free Templates
Often, getting help from examples or using a template is the best way to prepare a resume for your first job. As you have likely never written one, you will want to have a strong foundation for your resume.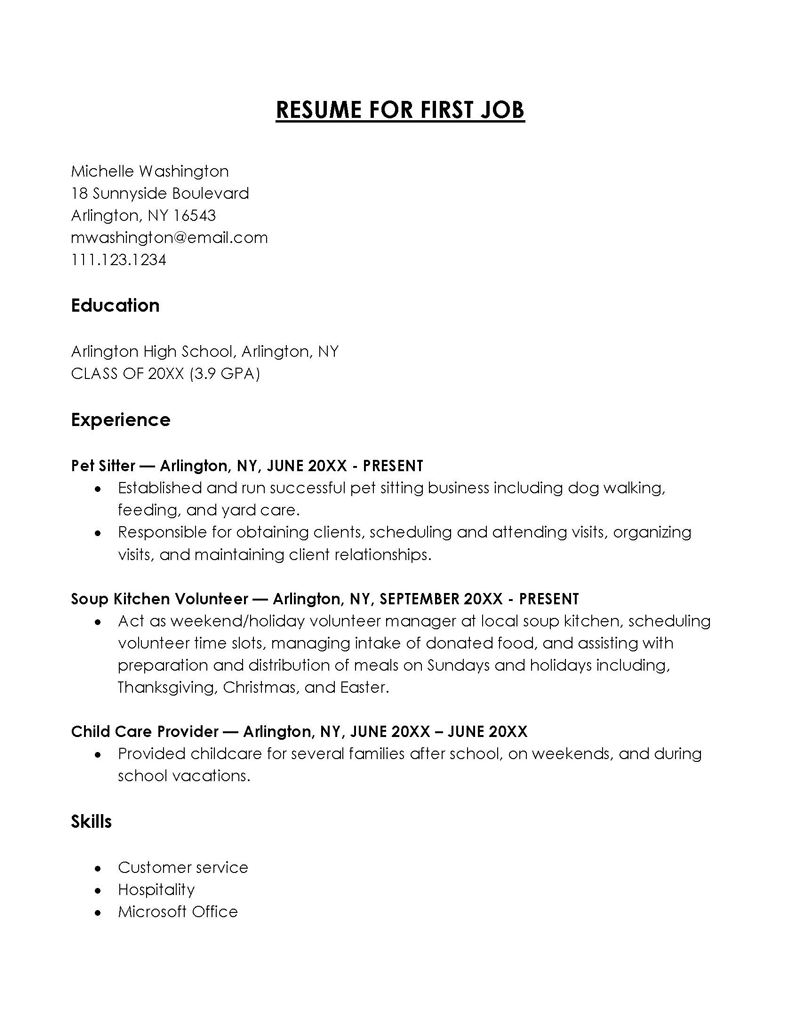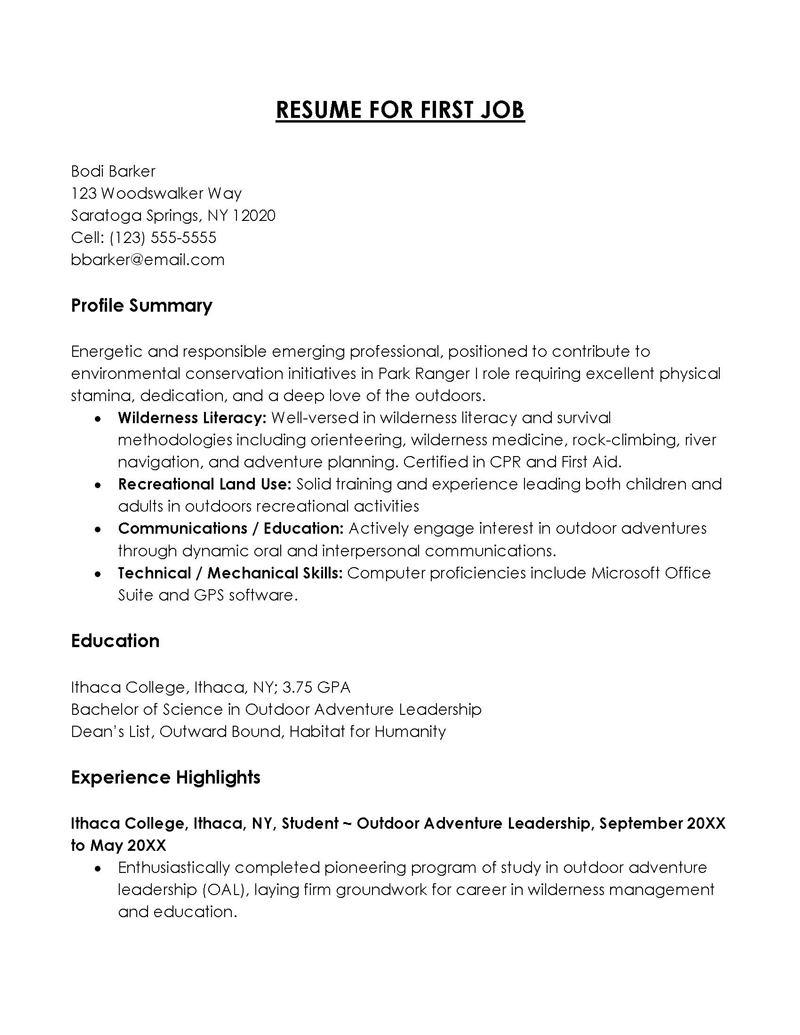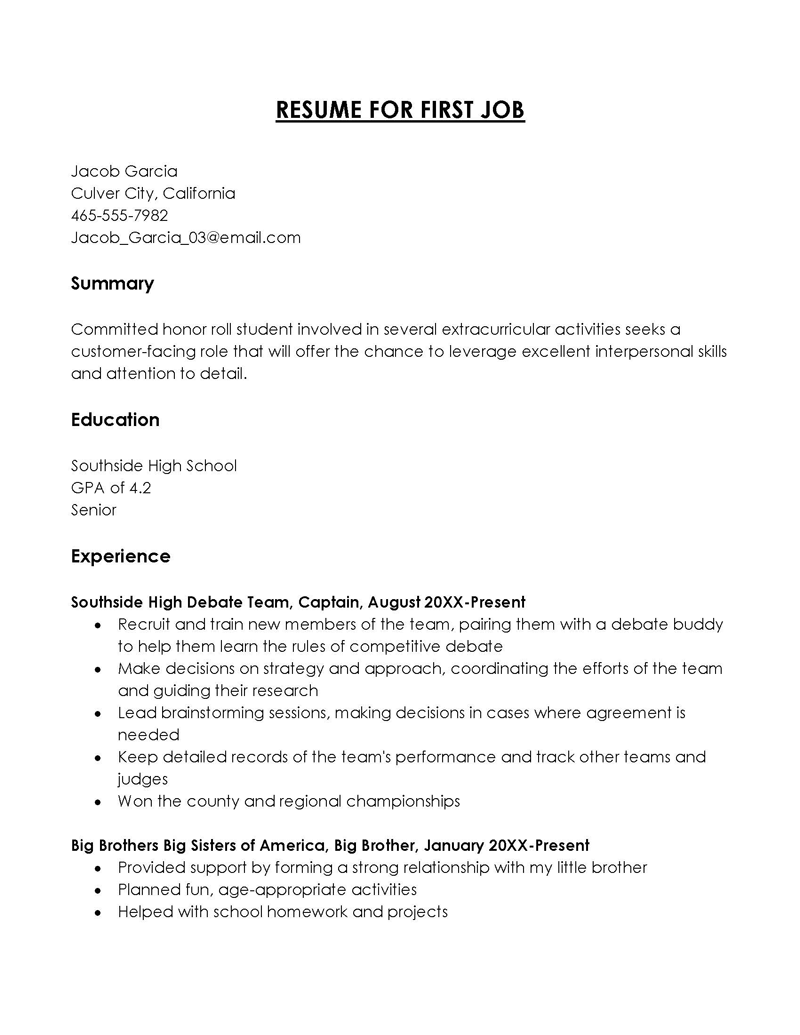 Purpose of a Resume
The purpose of a resume is to describe your skills and experience and highlight your expertise to potential employers. It presents all the information in a persuasive and impressive way to get potential employers' attention. In other words, the purpose of a resume is to match your abilities to the requirements of a job position.
A well-written resume can improve your chances of being shortlisted for an interview with the hiring manager.
How to Make Resume Work with No Work Experience?
Learning how to make a resume without experience can be challenging. As you are actively seeking a job, you want to prepare yourself and present your skills to employers, even if you do not have any work experience yet. Sometimes, there are job openings specifically for people with no work experience.
If you are a teenager with no experience in any job, you can still add several items to your resume. The following items should be included:
You can add your school grades when applying to your first job if they are applicable. For example, if you have scored multiple A grades, that is a great way to show you are diligent and competent.
It would be best to demonstrate your drive and determination as reasons for wanting a potential position.
Apart from grades, you can also list your extracurricular activities that may be relevant. As volunteer work and extracurriculars can teach you valuable hard and soft skills, they may impress your hiring manager. For example, you can describe your volunteer work as an experience that has helped you develop problem-solving skills or teamwork, which are essential for employers.
Finally, you should not worry if you do not have any work experience, especially when applying for an entry-level position. Instead of work experience, you can highlight other experiences and skills, such as internships, inspiring projects, and after-school activities.
There are several types of formats you can use for resumes, depending on personal preference or industry standards. The three resume formats are reverse chronological, functional, and hybrid.
Reverse-chronological resume
This is the standard format most people are familiar with. The job experiences are listed in reverse chronological order, with the most recent ones listed first.
The functional resume
A functional resume places less emphasis on your experience and concentrates more on your skills and achievements. This is excellent for recent graduates who do not have work experience.
The hybrid resume
A hybrid resume is only helpful in particular situations. This type of resume is used to describe both your skills and your work experience.
As a job applicant with no experience, we recommend using the functional format for your resume. To use this format, you will want to:
Use a two-column layout.
Add your skills and contact information on one side.
Add your skills and educational qualifications on the other side.
Use a simple font like Times New Roman or Arial in 10-12 points.
Keep your resume to one page in length.
Use 0.5" – 1" margins to keep the content easy to read.
Tip: If you are unsure how to format your resume, using a template is the easiest solution. This way, you can adjust the information available without worrying about the formatting.
How to Write Resume for First Job?
As you learn how to make a resume for your first job, you will want to ensure that you include all the relevant information.
When you start writing, do not forget to include the following sections:
Provide a header having your contact information
You must mention your accurate contact information in the header so that the hiring manager can contact you if they need to.
You need to include your first and last name, email address, and phone number. It is often also relevant to include your location in the application. You do not need to give a full address; rather, the city and country you live in should be sufficient.
Additionally, adding your LinkedIn profile, relevant social media, and any websites you own is also helpful. You want these sites to provide additional information that proves you are a good candidate for the position, so only include them in the header if necessary. Ensure that all the contact information is correct so that the hiring manager can easily contact you.
Write an effective summary statement
In the summary statement, highlight your knowledge, education, and skills and emphasize how the job can help you develop them. You might also mention a specific goal you may reach by working in this role. You can describe your career goals and how you hope to achieve them.
This section should be persuasive and encourage a hiring manager to invite you for an interview. As it is the only section likely to be read in detail, make sure it is written in a compelling way.
Mention your education
It is crucial to emphasize your education on your resume for your first job. You will want to list the specific school you have attended and the dates. If you are still enrolled in a study program, you can state "in progress" or leave the date section blank without an end date.
After that, make sure to highlight:
Relevant coursework: Those classes can be listed if you've taken any classes directly related to the job description.
Strong GPA: If you have an excellent GPA, this may be your employer's key indicator that you are a hard worker. It shows them that you have the skills and motivation to succeed.
Academic awards: If you have achieved any awards at school, this is an excellent place to list them. This shows your employer that you stand out from the rest of the applicants and are a good choice for the position.
Extracurricular activities: These are especially important to list if they are relevant to the job. For example, if you are a member of a sports team, it shows your collaboration and time management skills.
Certifications: Nowadays, online training and certifications are common. If you have any certifications, this is an excellent place to highlight them.
Internships: These are some of the best experiences to include in your resume because they highlight the practical experience you have earned, often in a relevant industry. In addition, it shows you are able to work in a professional environment and get involved in larger projects.
Volunteer work: These experiences are also excellent for resumes, as they will show that you possess soft skills, are passionate, have a positive attitude, are motivated by things other than money, and have the willingness to help. These are attractive attributes for any employer.
Tip: Do not forget to arrange your resume in a way that makes it look organized. If you have a considerable amount of volunteer experience, that should be placed higher on your resume than other elements so that it stands out.
Mention your hard and soft skills
If you are looking for a job with no previous experience, then it is essential to be able to highlight ways in which you will perform well. One way to do this is by mentioning soft and hard skills. In addition, it is crucial to mention the skills the company is looking for when applying.
Soft skills are often considered personality traits that either cannot be acquired or are hard to acquire through traditional education, although they are transferable.
The following are excellent soft skills that many employers are looking for:
Time management
Leadership
Critical thinking
Adaptability
Dealing with ambiguity
Working under pressure
Attention to detail
Hard skills are also known as technical skills and are acquired through education or formal training. These are specific skills required for a specific position, and employers demand that employees are competent in these skill sets.
Some common hard skills are:
Proficiency in Microsoft Excel
Familiarity with specific computer programs
Understanding JavaScript
Write the optional sections
If you have some space left on your resume, you can use it to mention additional skills like language competency or hobbies.
Before you start writing, there are several best practices to keep in mind so that your resume is as effective as possible.
By using a template and following these tips and tricks, you will be sure to get a job.
Be honest and factual
Never lie on a resume. This is not only unethical, but you might lose the job because you provided false information or misrepresented facts. That is why it is best, to be honest, and get hired for your actual qualifications and skills.
Find value in everything you have done
You may not have an extensive resume full of experience, but you should be able to find value in every one of your non-work experiences. Extracurricular activities help you develop specific skills that can be useful in your career. Even playing on sports teams can help you develop time management and cooperation.
Keep it to one page
Your resume should be short, especially if you have no experience. Be articulate and mention your information in an organized way.
Use action verbs
Sentences should always start with a strong action verb. This could be things like "created," "established," "managed," etc. Action verbs draw attention to the skills and qualifications you have mentioned in our resume.
Write according to job description
If you are applying for a position at a large company, they may use an applicant tracking system to filter job applications. Therefore, using some of the exact words and phrases in your resume as in the job description is essential.
Customize resume for each job
Every single job has different keywords, requirements, and needs. So, while you do not necessarily need to write a new resume for every job application, it is important to personalize each resume to each job posting. Even if you only tailor it slightly, it will improve your chances of getting an interview.
Proofread your resume
Make sure that your resume does not have any mistakes. Spelling, punctuation, or grammar mistakes can make the hiring manager believe that you are not attentive, which is a basic expectation from any candidate, so review your resume several times before submitting it.
Frequently Asked Questions
How should I write the experience section in my resume when I am applying for my first job?
If you are applying for your first job, it is obvious that you do not have any work experience. It will be likely that you will apply to jobs that are specifically for fresh graduates. However, it is vital to mention any internships or volunteer experience that you have had in your resume. 
Do I need to make a resume for my first job?
Yes, it is necessary to make a resume for your first job. Even if you have minimal experience, you should highlight what you have to demonstrate that you are an excellent candidate. It is important to emphasize your educational qualifications and any academic awards or achievements in your resume for your first job.