The letter of intent for nursing is a document filed by a registered nurse to a healthcare hospital, clinic, or other health care facilities. When you write a letter of intent for a nursing job, it is to clarify why you are interested in the job, what aspects of your history would be specific to the nursing job and what you want to do. High-quality letters of intent will assist you in your career objectives.
The letter's purpose is to express your interest in employment while showing your enthusiasm for the institution's mission.
Typically, you submit this letter alongside a resume, and it will serve as a personal introduction. The letter should contain a history of your education and relevant work experience, nursing skills you possess, and an invitation to reach you for more information.
Free Templates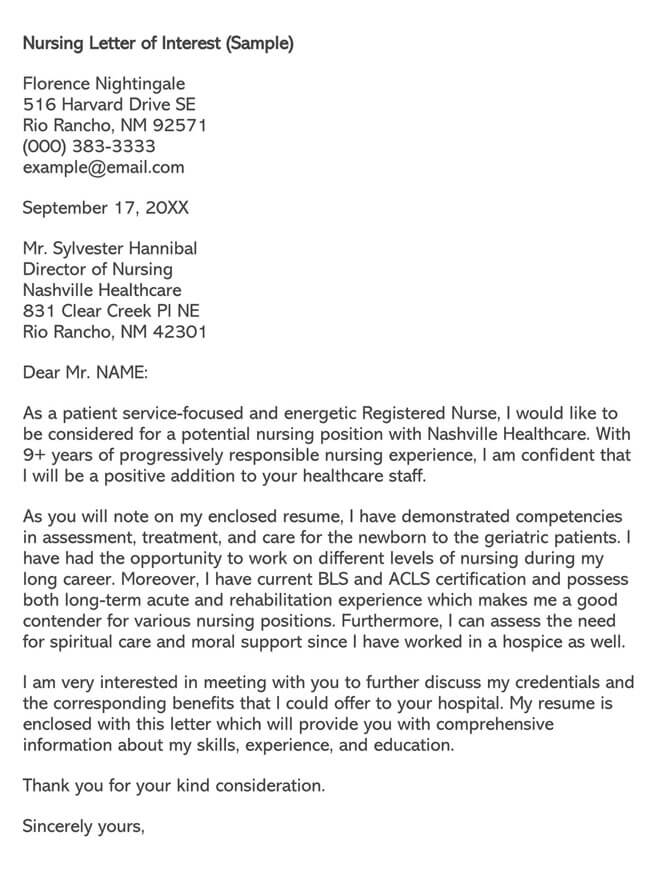 Nursing Skills to Include in the Letter Body
Nursing is far more than a career; it is a calling. In times of need, you need a special kind of caring nature, a cool head, and internal strength to care for others. Apart from the strict standards in training and research, a great nursing career calls for several unique skills. Below are the essential skills you require:
Urgent and emergency care- Nurses look after people in the most fragile and terrifying times of their lives and usually serve as the most reliable and effective contact point for patients and families. You will be required to perform your work efficiently while displaying compassion, concern, and compassion for every person they serve.
Checking and monitoring vital signs- Vital signs are a significant element in the treatment of patients. Taking vitals consistently will help evaluate an individual's general health, provide insights into potential illnesses, and show advancements towards recovery.
Patient and family education- A large part of your work includes patient and family education. Patients can boost their health status through education. If families and patients are involved, they are more likely to undertake procedures that improve chances of positive results. Especially after discharge from the hospital, you will give the patients and their families instructions on how to continue with a patient's treatment at home.
Patient safety- Your role is to preserve patients' safety and prevent harm in both short and long-term healthcare environments when providing treatment. Therefore, nurses play a vital role in maintaining patient safety by monitoring patients for health decline, detecting errors and near misses, awareness of care procedures and shortcomings in some structures, and carrying out numerous activities to ensure high-quality care.
Technology skills- Nurses use machines to schedule employees, order medicines or materials, and research. In certain facilities, the nursing staff uses computers for all patient care data using electronic health records programs. There's a wide variety of technical skills essential you need when using technology to exchange knowledge about patients and families, track vital signs, and keep patient records.
Communication- Communication skills are one of the most critical requirements of a nurse's job. Patients who are suffering or sick may not in a condition to speak up for themselves. In this situation, patients and families will depend on you for verbal communication. Help involves supporting a patient when you anticipate a problem or see a problem that needs to be dealt with.
Critical thinking and problem-solving skills- A perfect nurse is good at judging and can quickly think about anticipating and dealing with issues. Excellent health care can also be very complex and unpredictable. It helps if you are capable and willing to adapt and versatile to any unexpected situation. It is usually up to nurses to handle busy schedules and conflicting demands daily, make calm decisions, react quickly to unforeseen incidents, and sometimes find new ways to make a difference in a patient's health in the limited time you spend with them.
Time management and stamina- Time management allows you to organize and prioritize patient care, internal administrative tasks, educational and personal duties. While the nursing career is challenging, nurses who establish strategies to control their time better can balance their work when there are time restrictions. Your patient will benefit when you keep time, especially for administering medications and during feeding hours. Stamina is also necessary as your patient may require 24hr monitoring, or you may be assigned several patients at a time.
Nursing Job Letter of Intent Template
_(your name)
_(your address)
_(your email)
_(your contact)
_(date)
_(name of the hiring manager)
_(his/her title)
_(name of the hospital)
_(hospital address)
Dear Mr./Mrs./Ms/Dr._,(name of the receiver)
I am writing this letter to ¬¬¬¬¬¬______(Reason for writing this letter ie apply for a nursing position) in your organization______________(name of the hospital). I believe my experience, education, and qualifications make me a suitable candidate for this position.
I received a Master's Degree in ________(write where you received your degree from), and I have ____(number of years experience you have in nursing). and I have worked in _____(write where you have worked before). In my current position as __(your position and the hospital you work in), I oversee _____(the role you undertake). My supervisors will relay that ___(your characteristics according to your superiors, for example, caring, hardworking, etc.)
For the above reasons, I believe _____(write about how you will benefit the company). I look forward to _________(State that you are eager to meet soon to discuss further your qualifications and interview dates).
Sincerely,
__(your name).
Nursing Job Letter Of Intent Samples
Letter of Intent for New Nurse
John Knight
334, Luther St, Boston, MA 33345
johnknight@email.com
(332) 887-0098
August 25, 2020
Jeff Jones
Director of Nursing
King James Hospital
James St, Boston, MA 22234
Dear Mr. Jones,
I am pleased to apply for a new nurse position at your reputable hospital as a recent nursing student. My passion for outstanding patient care and improving lives makes me a great addition to your staff.
Through my university, I had a chance at the Glasgow Medical Center to obtain clinical practice. I enjoyed having a positive effect on many patients and their families during my stay. In addition, I have shown my commitment to developing a nursing career by earning A bachelor's degree from 3.9 GPA in nursing, graduating in 2020, starting a blog with valuable tools for the passionate nurses, which attracts over 5000 visitors every month, and aiding in organizing an influential three-day workshop for almost 150 doctors, nurses, and administrators.
To discuss my qualifications further and the advantages I might bring to your hospital, I am very interested in meeting you. My cv is included in this letter to notify you about my skills, education, and experience.
Sincerely,
John Knight
Letter of Intent for Experienced Nurse
Betty Brandt
JK St, Boston, MA 33345
bettybrandt@email.com
(779) 332-9908
July 30, 2020
Julia Krentz
Director of Nursing
John Hopkins Hospital
GH St, Boston, MA 222456
Dear Mrs. Krentz,
I am writing to you about the nursing job opening you advertised on Nurse.com. I was excited to discover that the job is an excellent fit given my education and skillset, and I am sure that I can handle the challenge.
I have a degree in nursing and five years of work experience. In that time, I learned how to provide excellent health care and support to patients. I've been trained to track patients and update vital signs and record information to monitor their health accurately. As a mentoring nurse at Langham Hospital, I was responsible for evaluating patients' conditions and ordering and developing diagnostic tests. I am confident that I can bring the energy and commitment required to succeed in your hospital.
As described on my resume, my competencies and skills are closely aligned with the requirements stated in your job description. For example, as a clinical practicum in critical care, I learned how to conduct emergency medical procedures such as basic and advanced cardiac life support and other condition stabilizing procedures. I've honed my skills in collecting and interpreting medical information to assess my patients' health status and needs. Furthermore, I have excellent communication skills, which enable me to effectively communicate with patients, families, physicians, and other health team members.
It would be my pleasure to meet with you soon to discuss my qualifications further and set an interview date. Thank you.
Sincerely,
Betty Brandt.
Final Thoughts
Both the letter of intent and a cover letter similar. Both documents are sent along with a resume to inform the reader about your intentions of writing the letter. You explain why your skill sets are most suited to the concerned designation in this letter. Show your enthusiasm about joining the organization. The letter formatting and language tells a lot about your personality. It is important to write an intent letter because it will help you impress the hiring manager.