The first step to getting an interview for your ideal engineering job is to create a resume or CV. Whether you are looking for an entry-level or senior position, creating a professional resume is the best way to start your job search. It is essential to draft an effective one before applying, as it will help you stand out from other candidates and improve your chances of being shortlisted for an interview.
To help you in this process, this article will discuss the following:
Effective resume templates
Proven tips to enhance your engineering resume's value
How to write a resume that will get you more interviews
The different sections within an effective resume
Engineering Resume Templates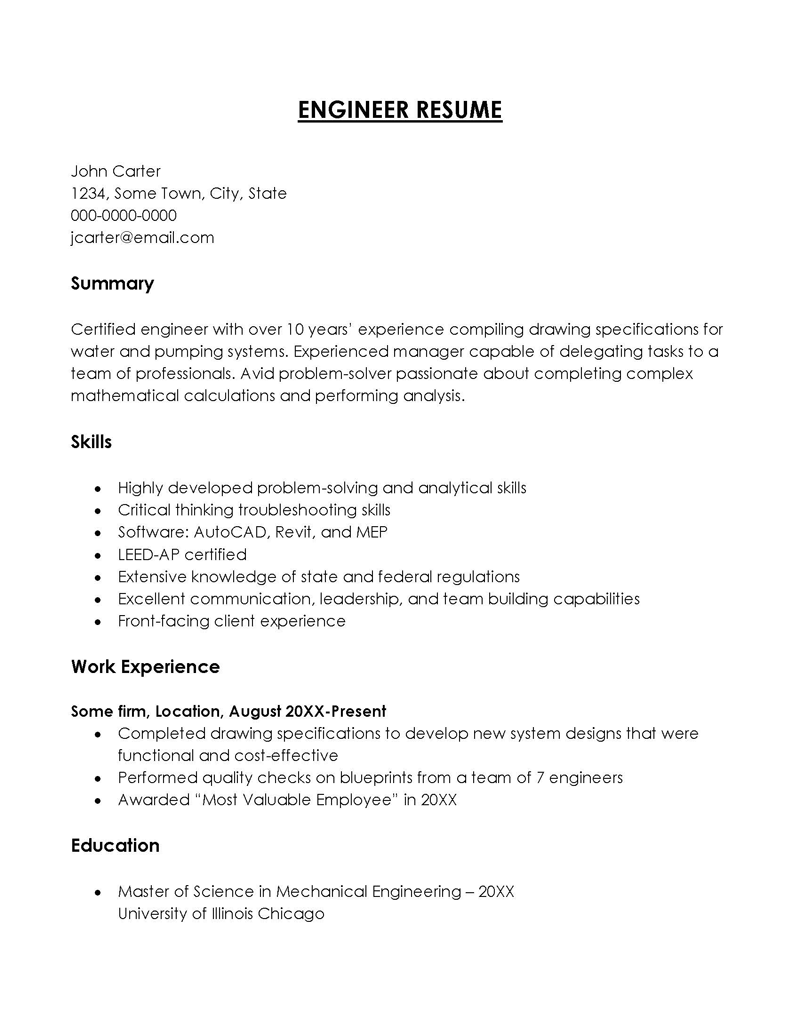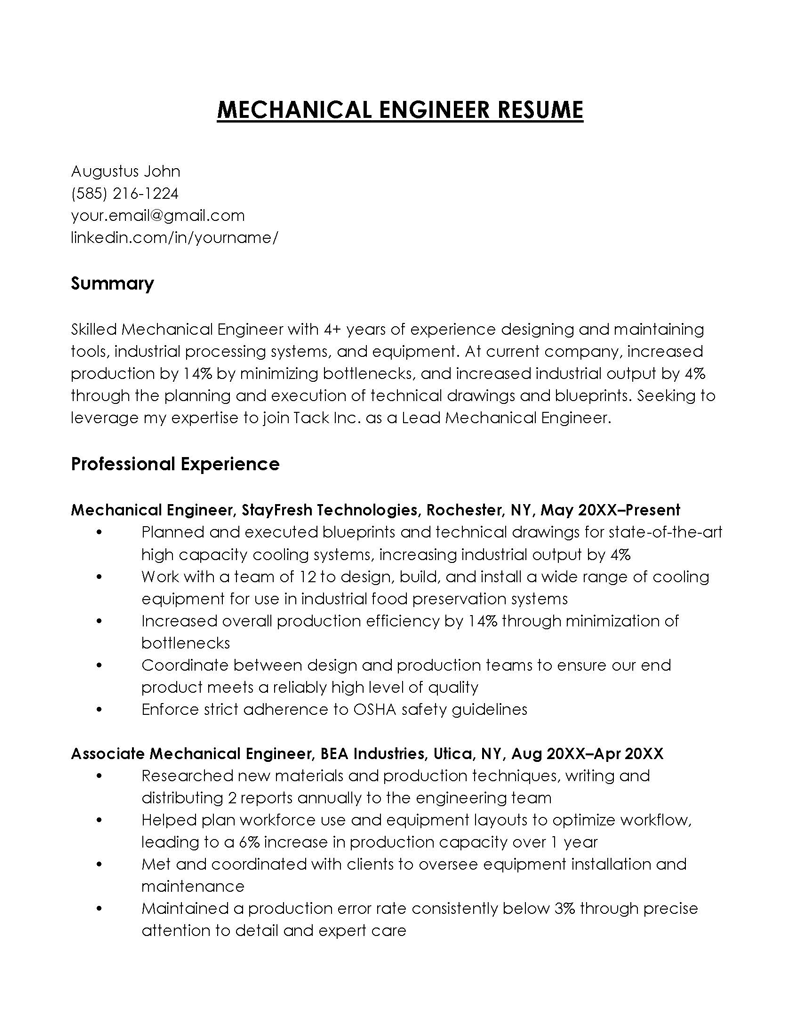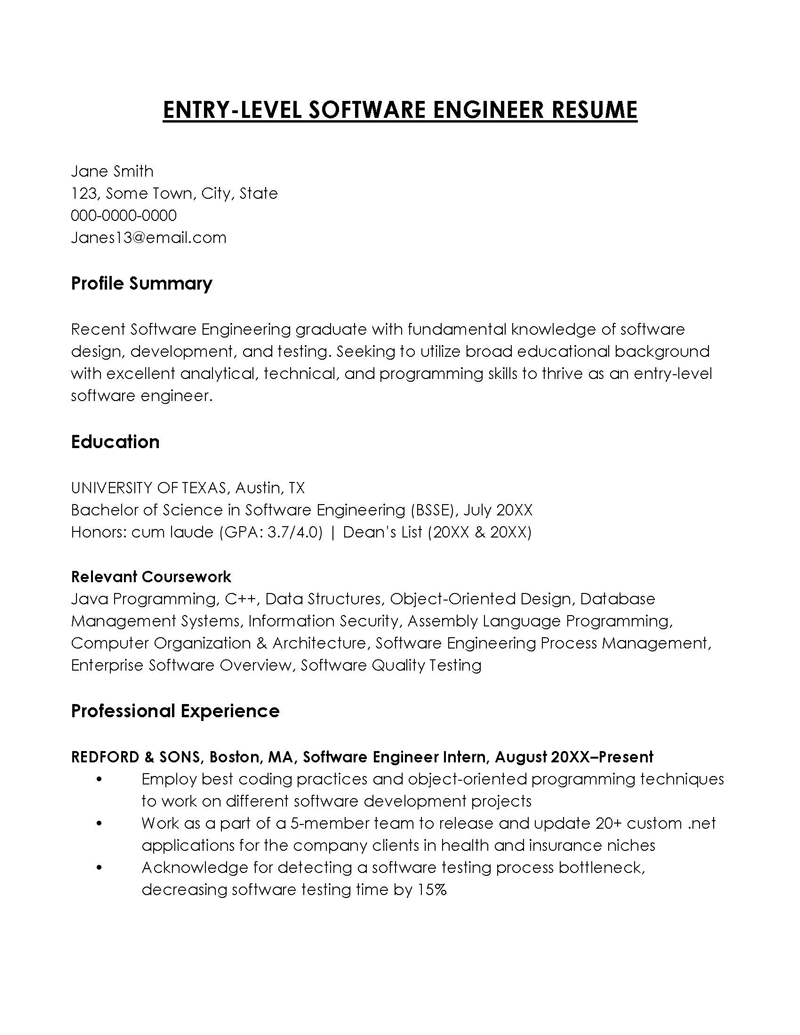 The first step in creating a resume is to choose the most suitable format. As there are three main types, you will want to make sure to choose the format that is most suitable for you. The three primary resume formats are reverse-chronological, functional, and hybrid.
1. Reverse-chronological resume
This is the standard style of resume that most employers are looking for. You first list the most recent job experiences in this format, working backward. This is the most effective format and the one we recommend. However, if you are a recent graduate without experience, you may want to consider other options.
2. The functional resume
A functional resume is one with less emphasis on work experience and more on a candidate's actual skills. In this format, you will highlight your capabilities first, and your work experience will receive less emphasis.
3. The hybrid resume
A hybrid format can be useful in certain situations. It is called a "hybrid resume" because it takes elements from both other resume types without focusing solely on one or the other. This may be an appropriate choice if you have an even mix of academic and professional experiences. Here, you will often have two columns listing your abilities and work experience side-by-side.
Follow Standard Formatting Instructions
Almost all engineering resumes should have standard formatting to make them as effective as possible:
Choose an aesthetically pleasing resume template to start as the base.
Choose the correct format. We suggest the reverse-chronological format if you are unsure.
Only use professional fonts, such as Arial or Times New Roman. Make sure all entries are either 11 or 12 points, with names and section headings going up to size 16.
Make sure you have 1-inch margins on all sides.
White space helps make it visually appealing. Add blank lines between sections to make it easy to read.
Use a one-page resume if you have less than five years of experience. Otherwise, you can expand it to a maximum of 2 pages.
What to Include in Resume?
Although each resume will be slightly different, several main elements are likely to be present in every engineering resume.
The following are some of the most common aspects that should be included:
Provide a header
The header should be at the very top of your resume and include your name, contact information, city, and state, as well as links to relevant professional sites like LinkedIn. You can place this information under your name or at the top of a professionally designed sidebar.
Write your summary statement
Your "summary statement" explains your experiences and your professional skills. Therefore, it should be concise and impactful and guide the reader to understand the rest of the resume. It should be about three sentences or bullet points that highlight your skills. For example, you can include your most impressive skills, any significant projects you have done, and personality traits that make you a suitable candidate.
For example:
Certified software engineer with five years of experience designing innovative programs at Google. Experienced problem-solver with a passion for finding creative solutions. Experienced team player, able to collaborate with colleagues to streamline workflow.
Include your objective statement
As with the summary statement, you should include some information that describes your career goals in an easy-to-read paragraph that instantly gets the hiring manager's attention. Again, it should correlate with the summary statement and list specific goals you have for your professional development. Ideally, these objectives will align with the job description provided by the company.
Here is one example of an objective statement:
Creative civil engineer with a Master's degree from Berkley. Three years of experience working for the CA State Department to improve transportation efficiency in rural areas. Looking to join Road Company to deliver innovative construction engineering and improve the community's access to quality transportation.
Tip for you: It is helpful to write objective and summary statements last, even though they are at the top of the resume. Once you have listed all your skills and experiences, you have to choose the most impressive parts and add them to the summary and objective statement.
List your work experience
Your work experience details are one of the most critical sections of your resume. You will want to make sure you:
Include precise details which mention figures and statistics
Use strong action words
Use one sentence per bullet point
Include the most relevant experiences to the position
Quantify accomplishments that impress employers
Here is an excellent example of a section from one work experience:
BioChem Company, Baton Rouge, LA
Chemical Engineer
September 2015-October 2019

–Collaborated in over 300 patented projects
–Implemented strategies that streamlined production designs
–Maintained detailed notes of all experiments for further study
Include specific skills
There are many different kinds of engineering disciplines, so the skills you list should be specific to the job you are applying for. First, however, you must list the soft and hard skills you are confident about.
As you create your skill list, try to follow these steps:
Check for keywords in the job posting. These are important to pass the applicant tracking system.
You must consider adding 4 or 5 relevant hard skills.
You should list more hard skills than soft ones. Also, only relevant soft skills must be added.
Keep it concise.
Your skills should be based on the experience you have.
As an engineer, there are many skills that you can add to your resume, depending on your experience and work history.
Therefore, you may be interested in including the following skills:
Hard skills
Python
JavaScript
Blueprint Design
Lab Procedures
Math and Physics
Soft skills
Project management
Critical thinking
Analysis
Research
Analytical Thinking
Interpersonal Communication
Provide your education details
Almost every engineering position will require at least a bachelor's degree. In the education section, you should outline details about your credentials that qualify you for the position.
Make sure to include:
The name of the specific degree(s)
The university or institution you attended
The date you completed the degree
Expiration dates of any certificates
For example, a common way to design the education section of your engineer resume is as follows:
Education
Massachusetts Institute of Technology, Cambridge, MA
M.S. Civil Engineering
May 2022
University of Virginia, Richmond VA
B.S. Engineering
May 2020
Make your resume effective with the help of adding other sections
In many cases, you will not have space to add information about any interests or hobbies, as you often need to maximize the amount of space when listing your skills and experiences.
However, if you are looking for an entry-level position and have little experience, it may be helpful to provide this information. Listing your interests and hobbies may create a personal connection with the hiring manager and work in your favor. This is especially true for startup companies looking for a specific personality to join their team.
It may also be helpful to include information to highlight your passion for the specific position you are applying for. You may want to provide additional information about any industry awards you have won or conferences you have attended.
Likewise, listing any specific training or certifications is also a welcome addition. For example, if you have taken part in any non-work-related activities, are doing volunteer work, or have any relevant blogs, in that case, these are all excellent pieces of information to make your application stand out.
Before you begin to write your resume for an engineering position, you must consider some best practices. You will want to ensure you are able to impress hiring managers, who could be receiving many job applications a day.
So the following is a list of proven tips that will improve your chances of getting hired:
Keep the resume focused
Ensure to include information that is relevant to the position you are applying for. It would be best to keep your specific career goals in mind and clearly state them. If your goals are aligned with those of the employer, that may be an indication that you are a suitable candidate for the job. Even if you have many other skills, focus on the ones most relevant to the job posting. Adding these skills is also a great way to give your resume some personality and make it stand out.
Tailor the resume for each position
You may be applying to various vacancies, and every single one of your resumes should be customized to the specific position you are applying to. You will not receive many invitations for interviews if you send a generic resume to multiple job openings.
Instead, it would be best if you tailored your resume according to the description of the job you are applying for. You may need to adjust some bullet points and skills that the ATS system is looking for. It is not that time-consuming but it will make sure that your resume receives attention from the hiring manager.
Create an ATS-compatible resume
Many employers use the Applicant Tracking System software to discard unsuitable applications. Therefore, if your resume is difficult to read or is missing specific keywords, it is unlikely to be read by the hiring manager in the end.
To ensure that your resume is compatible with most ATS programs, use simple bullet points and keywords that you found on the job posting. Using complex charts or images is also unwise, as the program may not read them. Likewise, permanently save your document in either .pdf or .doc formats.
Use action verbs
Another critical tip is to always use strong action verbs in your writing. You want to use them to effectively highlight your skills and make your resume more persuasive.
Avoid using personal pronouns
It is best to avoid using personal pronouns such as "I" to avoid redundancy and keep the resume concise. The resume is about you, and it is always clear that the details included in it refer to you. Instead, focus on including action verbs to highlight your experience.
Use keywords
Due to the ATS system, you must include keywords in your resume. Not only because it increases your chances of being shortlisted for the interview, but it also shows that you have taken the time to read the job posting. Make sure to understand the specific requirements of the job you are applying for and use the appropriate keywords.
Edit and proofread
Finally, it is fundamental to proofread and edit your resume to perfection. A position as an engineer requires you to be incredibly detail-oriented, and simple errors like spelling mistakes will lead to your application being instantly rejected.
Review the resume several times. You may also consider using an online resume checker and proofreader to guarantee that it is error-free. You can also ask a friend or colleague to review it to ensure it is professional and error-free.
Frequently Asked Questions
How do I list references on a resume?
Unless a job posting mentions it, it is best to avoid adding references to your resume. Most modern approaches no longer require references, so unnecessarily adding them will give the impression that you are unaware of modern industry practices.
However, many managers will still want to see your references. If they do, a separate section may be available for you to submit this information, or they may provide you with specific formatting and submission requirements.
What's the best way to show I work well in a team in the resume?
As engineers frequently need to collaborate with others on large-scale projects, it is essential to have the teamwork and communication skills mentioned in your CV. Examples can range from mentoring junior engineers to giving presentations to senior managers. 
You may explicitly state such skills in your resume. You can demonstrate this capability by mentioning the effectiveness of your soft skills, for example,  by listing previous experiences and metrics on how you effectively worked with colleagues to achieve certain goals.