A bathroom remodel estimate template is a pre-designed document used by contractors to provide a comprehensive estimate of the costs associated with renovating a bathroom.
Also known as a bathroom renovation estimate template, the document has fields to input details such as the scope of work, materials needed, labor costs, and additional expenses. It provides a structured framework for itemizing expenses for each aspect of the renovation process, including plumbing, electrical work, demolition, flooring, and fixtures, among others. Using a template can help calculate the overall cost of the project and provide an accurate estimate to potential clients.
Creating a bathroom remodel estimate allows you to plan and allocate your finances effectively. It helps you determine how much funds you must set aside for the project to prevent overspending. The estimate provides a breakdown of the costs associated with renovating a bathroom, such as materials, labor, and permits. This information helps you decide which aspects of the remodel are essential and where you can potentially save money. An accurate estimate also provides a timeline for when the project will start and end, allowing you to coordinate with your client and staff.
This article will discuss why you should use a template to create a bathroom remodel estimate, what it contains, and helpful tips when using it. Free printable templates and samples in Word format have also been provided for your ease.
Benefits of Using a Template for Bathroom Renovation Estimate
Using a template for a bathroom remodel estimate accords you many benefits, including:
Accuracy and comprehensive coverage
The template has pre-defined sections for all the essential elements of a bathroom remodel estimate, such as labor, material costs, and scope of work. This helps ensure you do not leave out any pertinent details and provide your client with a comprehensive and accurate quote.
Consistency and professionalism
A template ensures that all your estimates have a consistent layout. This makes it easier for your clients to compare different estimates and for you to track and analyze your estimates over time. Using a template also adds a professional touch to your estimates, making them look polished. This can help you make a positive impression on prospective clients and increase your chances of winning the bid.
Adaptability and customization
While a template provides a structured framework for drafting the estimate, it also allows for customization. You can easily modify the template to align with the specific requirements relevant to each project, such as adding or removing line items, adjusting quantities, or including additional information.
Enhanced project management and budget control
Using a template for a bathroom remodel estimate allows you to plan your budget and allocate resources effectively. With a well-structured estimate, you can track expenses during each aspect of the remodeling process, helping prevent overspending and cost overruns. It also allows for seamless communication between you and your client, ensuring both of you are in agreement regarding financial and project expectations.
Free Templates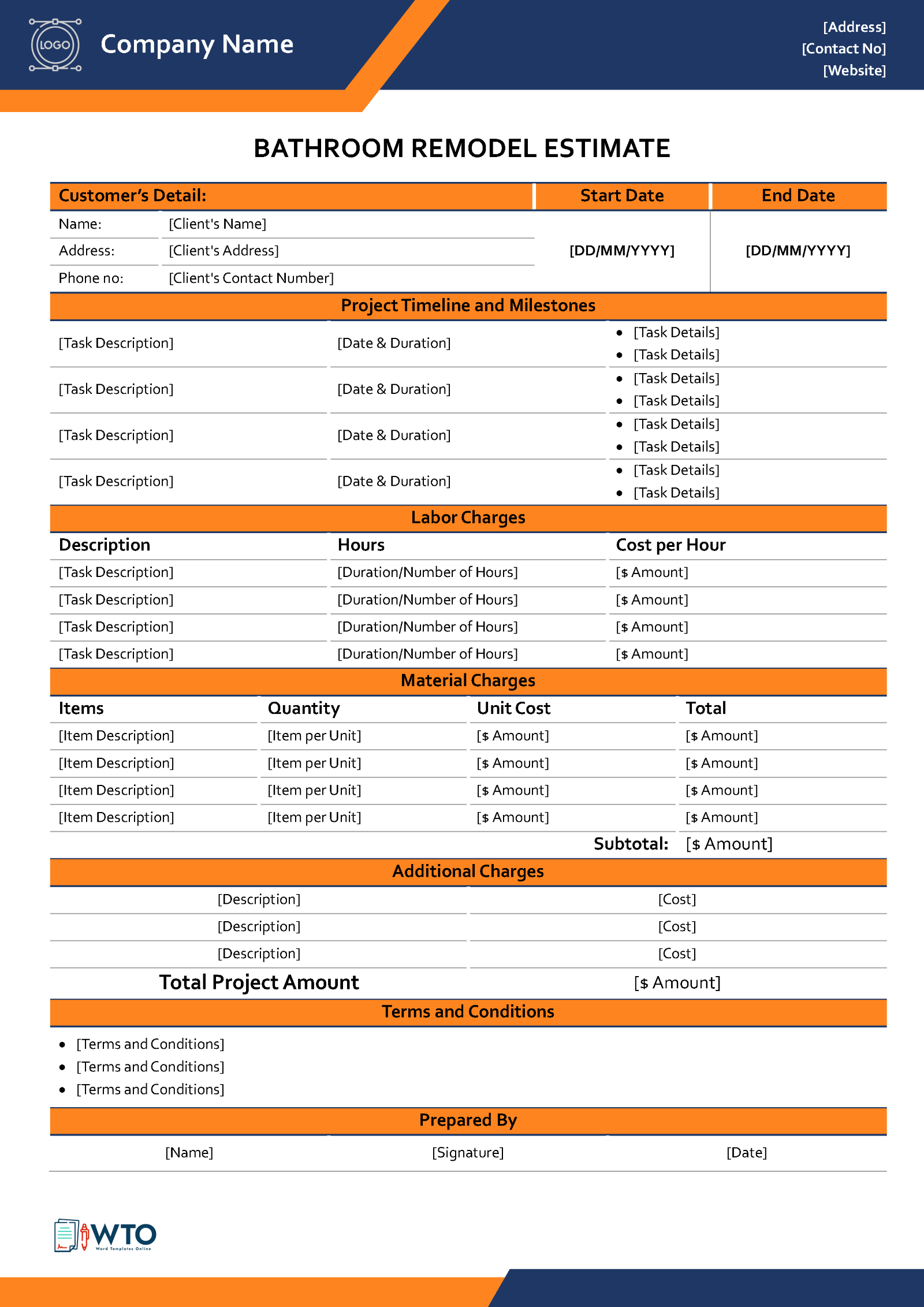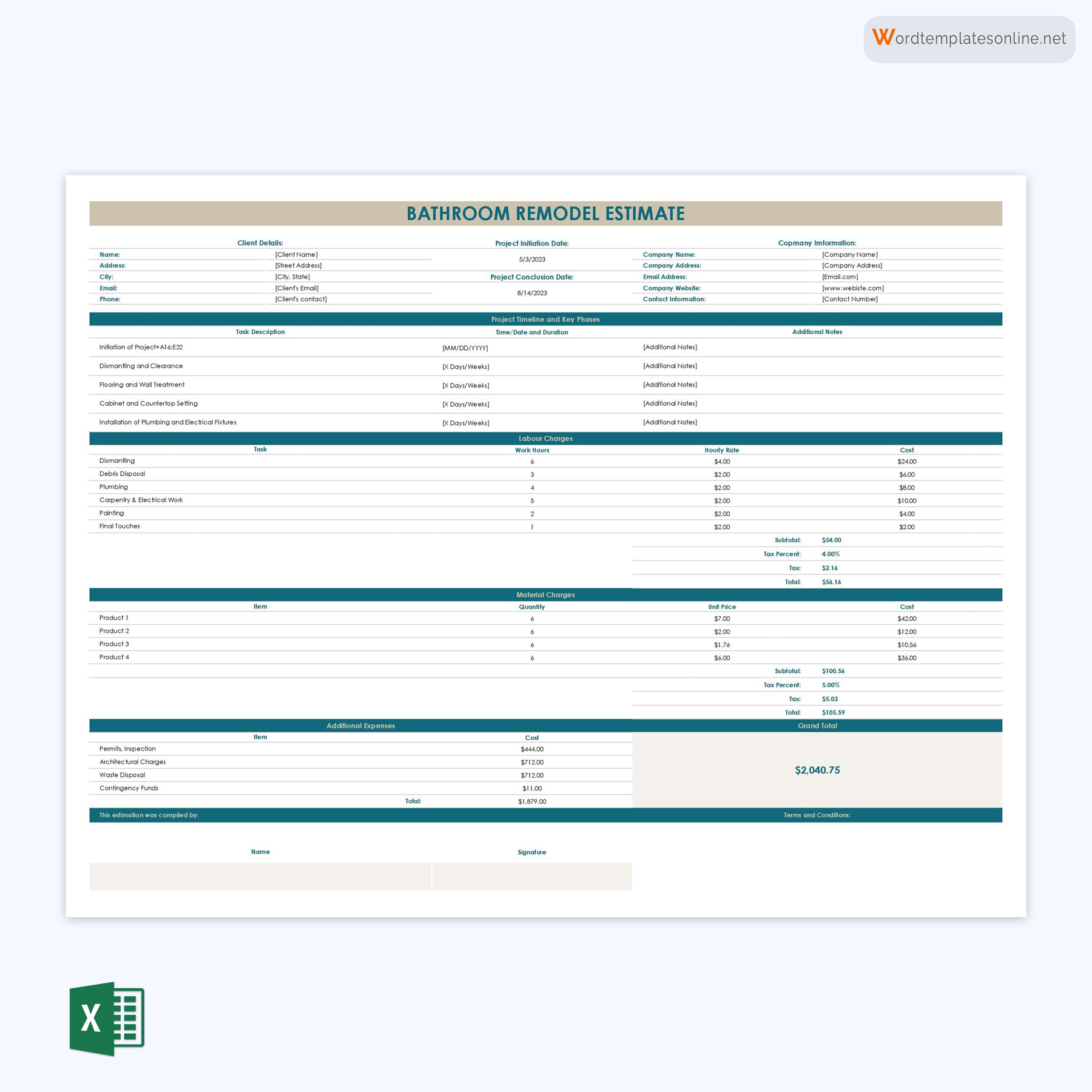 Components of a Bathroom Remodel Estimate Template
The specific elements of the template can vary depending on the scope of the work. However, a comprehensive estimate template for bathroom remodeling should include the following components:
General information and licensing
The first section of the template has fields for including your company name, contact information, and logo. Include your client's details and the project start and end dates to give the client a general idea of the project's timeline. This also includes the location or address where the work is to be performed.
Timeline and project milestones
The next section of the template is used to outline each project milestone and the estimated duration for completion. This allows you to plan your resources and manage client expectations to ensure the renovation progresses smoothly.
Scope of work and specifications
The template has fields for addressing the specific tasks involved with the renovation. Clearly define the specific tasks and objectives of the bathroom remodeling project based on the client's requirements. This allows you and your client to be on the same page regarding project and financial expectations.
Labor costs
In this section of the template, include a detailed breakdown of the labor costs involved with the renovation. Provide comprehensive descriptions of tasks such as plumbing, debris removal, electrical and carpentry work, painting, and finishing. By providing labor costs, you can create a comprehensive quote that accurately captures the scope of the work.
Material costs
The template has fields for specifying the types, quantities, unit costs, and total estimated cost of the materials required for the renovation. These items include plumbing fixtures, wall coverings, countertops, cabinets, and other accessories. This information helps your client understand the material costs involved with the renovation.
Additional costs
This section of the template has fields for itemizing additional expenses beyond labor and materials. These include permits, design fees, waste disposal, cleanup costs, and a contingency fund for unexpected expenses. You can ensure the estimate is transparent and comprehensive by including additional costs. This ensures the client understands the total investment required for the remodeling project.
Terms and conditions
To guarantee a smooth working relationship, the final section of the template outlines terms and conditions that protect the interests of both parties and establishes expectations. These terms may be related to payment terms, change order policies, warranties, or other contractual policies. Follow this with your name, signature, and date.
Tips for Using a Bathroom Remodel Estimate Template
When using a template to create a bathroom remodel estimate, here are some tips to keep in mind:
Organize and customize the template
Organize the sections of the template according to the specific needs of the project to give it a professional look. To customize it, you can add graphic elements such as logos, accent colors, and vector images. You can also modify fonts and add or omit lines when itemizing items.
Familiarize yourself with the template
Go through the different components of the template to ensure you are familiar with what is required in each section. Ensure you understand the structure and layout of the template to ensure you can utilize it effectively.
Use clear and concise language
When filling out the template, use clear and concise language to outline the breakdown of costs. Avoid complicated jargon or technical terms that may confuse your client and make it harder for them to understand the scope of the work.
Double-check for accuracy
Before sending the quote to your client, review all the details and double-check the calculations to ensure accuracy. A comprehensive and accurate quote demonstrates your commitment to your client and quality service delivery.
Update the template as needed
After completing projects, consider updating the template to improve it based on the lessons you learned. By updating the template, you can simplify the estimation process and have a relevant and efficient template.
Key Takeaways
Using a template for a bathroom remodel estimate can streamline the process of planning and budgeting for a renovation project.
It provides a comprehensive breakdown of costs, allowing you to make informed decisions and avoid unexpected expenses.
By using a template, you can easily customize and adjust the quote to fit your specific needs and preferences.
A well-structured template can help ensure you do not leave out any pertinent details, saving you time and money.
Take advantage of the convenience and accuracy offered by our wide variety of free printable templates.
Simply choose and download one that best suits your needs and fill out the details before presenting it to your client.