Landlords and agents often use a rental application, also known as a tenant application form, to assess a potential tenant's background history before giving them the lease for a property, such as a room, apartment, or house. A rental application allows a landlord to collect a tenant's personal and employment information in order to run a consumer report (credit check). A non-refundable fee may be required that is commonly equal to the landlord's cost for screening the tenant.
Due to the diverse use of these forms and the different types of properties that tenants rent out, they may go by other names, including:
Rental property application
Application for a rental property
Property rental form
Landlord rental application form
Tenant application form
These application forms should help you collect standardized information from potential tenants, templates can be used to make the process more efficient. A rental application template is a pre-designed document you can use to collect necessary information from prospective tenants interested in renting a property. This standardized template typically includes fields for contact information. employment and income details, rental history, references, and other relevant information.
By utilizing a template for a rental application, you can ensure that you obtain all the essential information from potential tenants consistently and efficiently, which can streamline the rental application process and allow a fair and objective evaluation of applicants.
This article discusses the advantages of using templates for rental applications and what information to include in the form. It also discusses the tips and tricks for preparing an effective application form.
Given below are blank rental application form templates:
Form types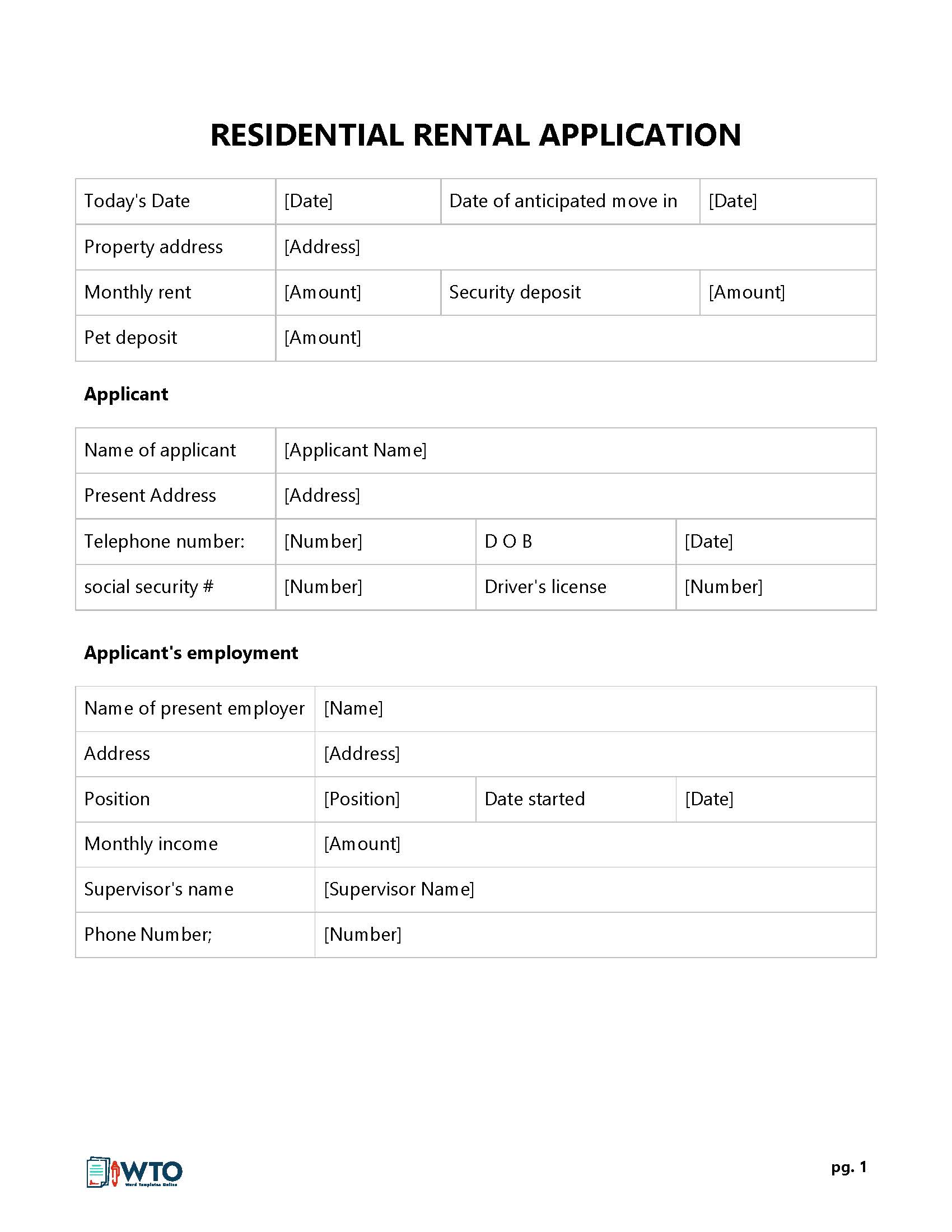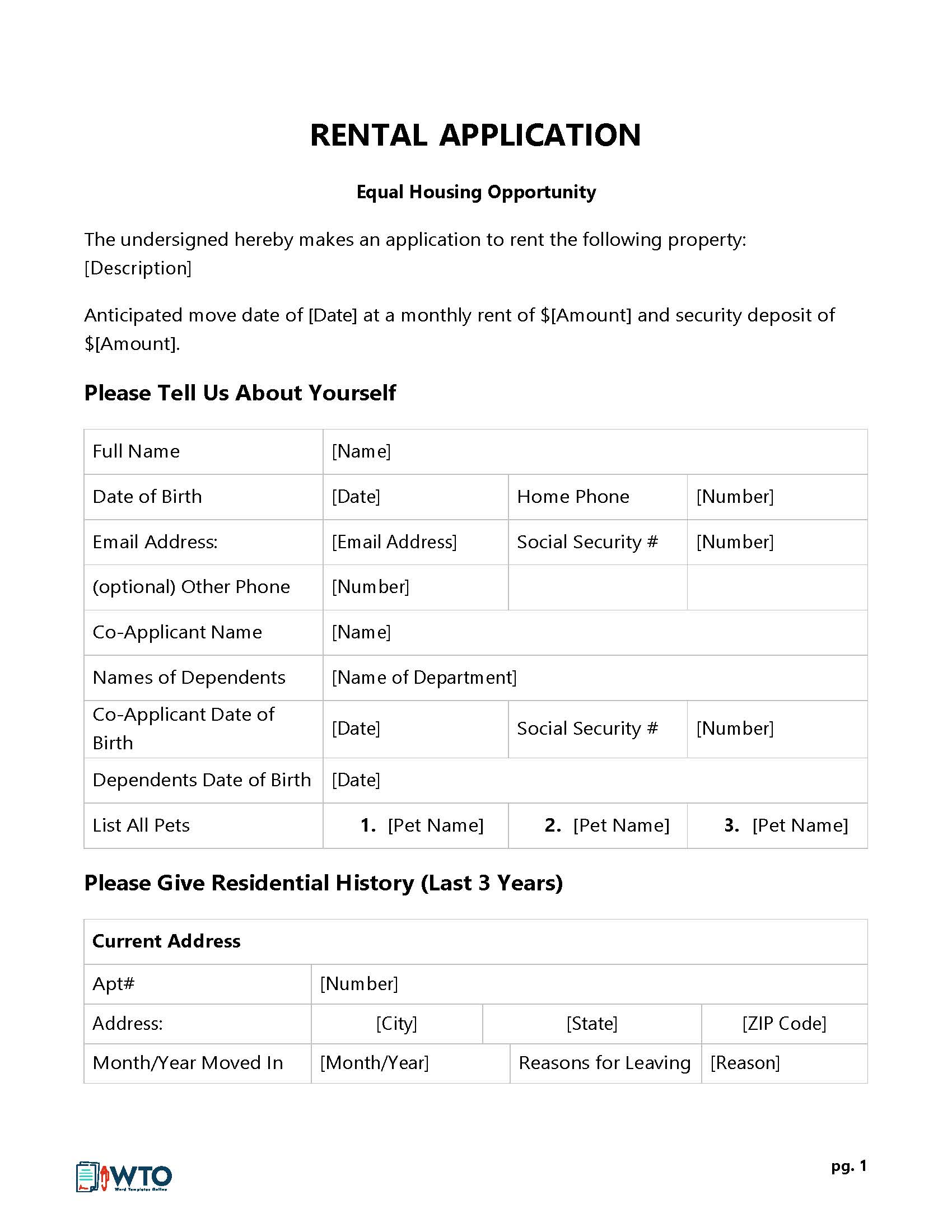 Forms for U.S.
Advantages of Using a Rental Application Template
Besides helping you gather tenant information, these templates for rental applications offer many other benefits.
They include:
Saves time and effort
These applications often require the tenant to fill in information on many aspects of their lives, including contact information, addresses, and employment history. The applications may take longer to prepare, it is more efficient to prepare a template with all these fields and share it with potential tenants. With a well-prepared document, you can save time and effort by simply editing the template to create a new application that can be printed and handed to tenants.
Ensures consistency and accuracy
Since the information provided on the application will be used to screen applicants, it is crucial to seek the most accurate details of your potential tenants. A good template should be consistent to help you collect all the important information from your potential tenants. You can also organize your template to seek standard and uniform details that you can easily compare when screening your potential tenants.
Facilitates screening and selection process
Screening and selection is the process of assessing tenants to evaluate whether they can fulfill the terms of the agreement. With the information provided on the template, such as employment information and references, you can investigate and vet tenants based on your chosen criteria.
Reduces legal issues
Applications must be prepared considering the Fair Housing Laws. With such a template, you can have a pre-designed application that is already compliant with these laws, which helps you avoid legal issues. You can also include a clause exempting you from legal liability for any claims arising from the rental agreement.
Provides documentation
It is important to keep documentation for future reference, especially because you will vet potential tenants based on their provided information. Furthermore, the information can be essential in tracking individuals. They can also be used as proof of consent, especially where both the landlord and tenant sign the application.
Helps mitigate potential risks
With a comprehensive template, you can prepare an application that will help you gather enough information from the tenant and inquire about their character from previous employers. Information collected on the criminal background, employment history, and character references is useful in vetting a tenant. You can then gauge whether the tenant satisfies your requirements.
Key Components of the Rental Application Form
Like any other form, the rental application must have compulsory sections to make it identifiable and effective. While they may vary depending on the type of application, including the following sections in your form can help you gather the information you need to select your tenants.
They include:
Property address information
A section should be added in the form for a rental application to include the type of property, for instance, an apartment, home, or condominium, the size of the property, the number of bedrooms, and the amount to be paid in rent. This section should also include the address, street address, city, state, and zip code.
Applicant's personal information
This section of the form should identify the potential tenant's full name, date of birth, social security number, and contact information. It should seek all the necessary information that may be used to contact the applicant; in most cases, an emergency contact should also be included as one of the fields.
Rental history
The rental history section of the form should include information on previous landlords and residences, such as their names and contact information. The information should also include the dates of tenancy and the reason for the termination of the contract.
Employment history
Like the rental history section, this section of the form should have a space to include information on the applicant's former and current places of employment, their employer's name, position, title, and duration of employment. It helps you gauge whether the applicant can pay the rent you will charge without defaulting.
Financial information
This section of the form should request information on income, the sources of income, and the tenant's expenses. The information in this section should help you assess your potential tenant's financial situation.
Credit history
A section should be added in the form for a rental application to include the tenant's details related to credit history. You should include fields for the applicant's credit cards and loans that they are servicing. These fields may also include the lending institution, balance due, and date. This is necessary when evaluating the applicant's income against their expenses to confirm whether they can pay the rent required.
References
This section should provide the references' names and contact information. You can outline whether you want personal or professional references or both to vouch for the tenant's character and their ability to pay rent.
Agreement & consent to a background check
Since you will conduct background checks using the information provided, including a section in the form where the applicant consents to the check is important. You may be required to provide proof of this consent at different places, especially when conducting credit checks.
Disclosures
This section should provide additional information on the property that may not have fit into the other sections. You may also include information on the application process that is unique to your agreement and information you think the applicant should provide.
Additional sections and verification
A section should be added to the form for additional information you may require from the applicant, including questions on pets and parking. You may also inquire about the applicant's expected move-in date. Additionally, you can include information on restrictions for activities such as smoking.
Signatures of the parties
This section comes at the end of the form after the applicant has filled all sections and read and understood the terms of the application. It may include a checkbox for the applicant to affirm the contents and to sign. You should also sign the application as proof that you have received the form.
Types of Rental Application Templates
Since there are different types of properties you can rent out to your potential tenants, there can be just as many corresponding templates as you can prepare.
They include:
Property rental application template
These templates are mostly used for commercial properties, land, and vacation homes, commonly used temporarily or for business purposes. The applications will often contain a section for a description of the property and its use.
Apartment rental application template
These applications are used when renting apartments in buildings with many units. The information provided always includes the size of the apartment, the amenities available, the restrictions, and other terms of leasing.
House rental application template
These templates are used when preparing rental applications when renting houses. They often contain information about the size of the house and the number of rooms, and the size of the compound in terms of acreage. They may also include information on parking and a list of activities that are permitted.
Room rental application template
These are applications used when renting rooms in shared apartments or houses. They often contain descriptions of the common areas, a list of the rules and permitted activities, and the terms of the contract. Other templates may also contain the amount to be paid in rent and the rules of usage of common areas.
Best Practices for Creating a Rental Application Form
When creating an application form, you need to have an objective in mind and criteria for selecting your potential tenants. Often, the criteria you choose will determine the number of details and questions you will ask in your form.
In addition to the above, there are popular practices that can help you prepare an effective rental application form; they include the following:
Keep the form simple
Tenants are more likely to fill out a form written in simple language. It is also easier to provide more accurate information when they understand the form's contents. It is, therefore, advisable to avoid technical terms, unnecessary questions, and legal jargon.
Ensure compliance with fair housing laws
Housing laws apply throughout the rental application process. They also carry huge penalties and fines if you do not comply with them when looking for prospective tenants. When creating your rental application form, ensure the language, terms, and stipulations comply with Fair Housing rules to avoid legal issues. You should ensure you do not ask questions on race, religion, gender, or other basis that may be considered discriminatory.
Include clear instructions
When preparing your rental application form, you should include instructions on how you expect the tenant to fill the form. For instance, indicate whether the checkboxes will be crossed, marked, or ticked. You should also provide clear instructions on the types of documents you may want to be attached. For online forms, you may indicate your preferred format for submitting the form.
Provide ample space for the applicant's responses
If you require the applicant to provide detailed descriptions, it is important to provide enough space for them to fill in the information you need. Besides encouraging the applicant, it will also ensure your form appears neater when filled.
Consider utilizing an online application
If you have a website, it is advisable to prepare and upload your rental application form online so potential tenants can access and fill it out. These forms are more convenient, especially because anyone can fill them with access to a phone or computer. It also increases your pool of prospective tenants allowing you to select the best ones.
A rental application form is used when screening and vetting potential tenants.
If you use templates constantly for rental applications, it is important to use one that can help you save time and get essential information for background checks.
You can create your template using word processing programs like MS Word or Google Docs or download premade templates from the internet.
Use a simple layout for your template so your potential applicant finds it easy to read, understand and fill out the form while providing accurate information.
Your questions should be comprehensive and easy to understand so tenants can provide accurate information.