Among the best way to manage a rental property is to identify the right tenants. Having your tenants fill out a rental application form can be worthwhile. The form basically allows a landlord get information about his or her tenants.
How Rental Forms Assist Landlords Identify the Right Tenants
A prospective tenant with a record of missing rent payments and overspending are definitely not the kind of tenants you'll want to rent your apartment to. Fortunately, a rental application form and rental reference letter allows landlords to sort out such prospects. What's more, you can opt to integrate your management by use of online property management software such as Rentalutions.
Rental application forms can help uncover some nasty red flags about prospective tenants. Should they have a history on theft, drug abuse, vandalism; just to mention a few, you'll have an easy task selecting the right tenants for your rental apartments. Some cases can be overlooked where as some are a real deal breaker!
Sample Rental Application Letter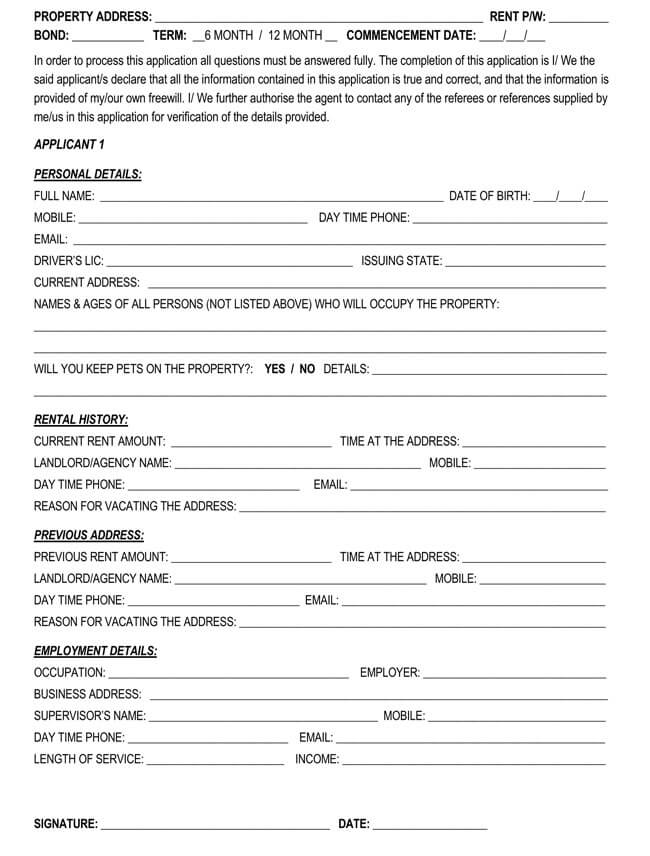 Simple Rental Application
It is very important to understand the employment history of your prospective tenants. Do they switch jobs quite often? What kind of industry are they in? of course, unstable employment of a tenant could simply mean unsteady rent payment. While switching jobs shouldn't be much of an issue, you'll want to confirm that he or she doesn't take long in between the switching of jobs.
What a Proper Rental Application Includes
Applicant's Personal Information: Here, you can ask for the name, age, phone number, social security number, dependents and pets if any.
Residential History: Here, you can inquire about the previous addresses, duration of stay, and the reason for shifting. You can also include the name and contacts to the owner of the previous premise.
Credit History: Here, you can inquire about whether the applicant had been declared bankrupt in the past seven years. Also, you can inquire about prior eviction from a residential property alongside late rent payment history and late credit card payment history. Here, you can also inquire about the employment status and history of the applicant. Below are some of Rental Application Form Templates.
Rental Application Template