For you to understand why and when you need a Proof of Funds letter, you need to know its meaning.
A POF letter is a document that highlights that a buyer has enough funds (cash) to buy a home.
Whether you are an individual, an institution, or a company, a seller will not take the house off the market unless you show evidence of enough funds to buy the home. A POF letter is mainly requested when a buyer is dealing with cash; hence, the seller can confirm enough funds for a down payment and closing the deal. This letter provides a guarantee that the buyer is willing to make and commit to the deal of buying a home.
A POF letter is also needed when the home you want has received other offers from several prospective buyers. When you have this letter, it helps to show that your offer is legitimate. It also helps to raise your offer to the top of the list.
You must understand that this letter is different from a mortgage pre-approval letter. While a POF letter shows the buyer's commitment to buy a home, the mortgage pre-approval letter is a document from a lender that shows they are willing to loan the buyer what they owe on the mortgage. Although the two letters are different, as a buyer, you must provide both of them to a seller before you can buy a home.
Free Templates & Examples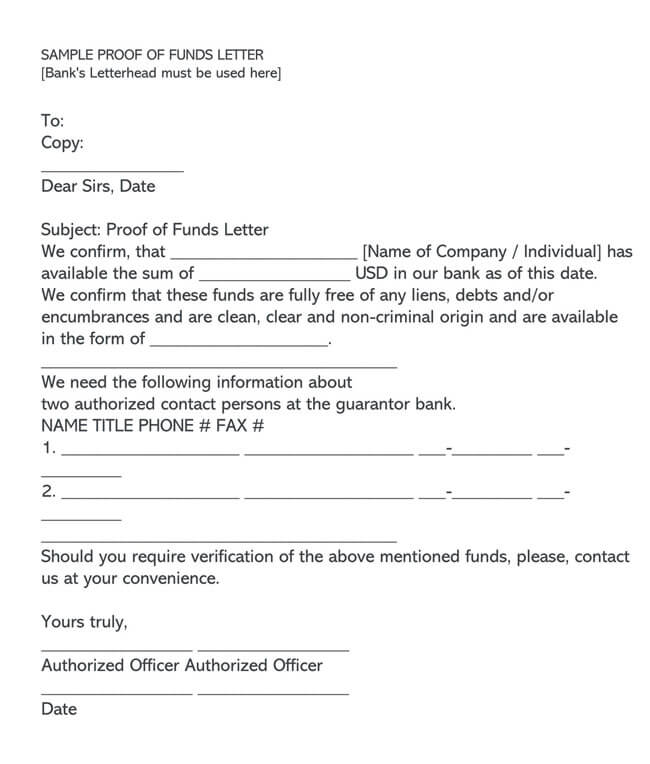 Requirements of a POF Letter
In real estate, several items must appear on the POF letter for it to be legit and usable. These items are mentioned in your POF letter for validity purposes. In other words, these items are what make up your Proof of Funds Letter:
Bank's name and address
The bank must verify that the buyer has the funds that he/she claims to have. The bank will have to mention that you truly have an account with them and state the funds present.
Official bank statement
An official bank statement can either be printed or found online. It shows the transactions that you make through your bank of choice, that is, deposits and withdrawals.
Online banking statement copy
this is a copy of a bank statement that the account holder can download. It shows the account activity. Your bank account activities include wire transfers, cash withdrawals, payments of bills, and many more.
Authorized bank employee's signature
To verify that the Proof of Funds letter is legit, the letter must include the title and signature of an authorized bank employee.
Bank certified financial statement
A bank certified financial statement helps with confirmation of your business activities via your established bank account in terms of taxes, finances, and investments. This information makes it easier for one to trust your fund's source and maybe even agree to sign the deal.
Money market statement and balance
This copy is used to highlight any amount of cash that comes from the money market and will be used for the transaction. A money market statement and balances display all the interest gathered and hence, total funds raised.
Balance of funds
A Proof of Funds letter requires information on the balance of funds in checking and savings account. This is because the cash needed for the transaction can also come from checking and saving account. The main focus is it should be easy to withdraw and should not be in form of debts.
Bank paper
A POF letter should be printed on an official bank paper. Furthermore, it should have the bank's letterhead and an official signature at the bottom as explained above.
Information to be added
The last and most important thing is that a POF letter should have the account holder's name (you) and your current balance.
Proof of Funds Letter Sample
Date
Name of Bank
Address of Bank
To whom it may concern/Dear (Name),
This letter and the enclosed financial statements certify that (Name of person or Name of Company or Institution) has been banking with us since (year).

(Name of person or Name of Company or Institution) has a total combined balance of cash deposits with our bank of USD (Amount).

We have also attached copies of the statements for each of (Name of person or Name of Company or Institution) accounts at our bank.

If you require any further information or have any questions, please do not hesitate to contact us directly at (Email and/or Phone Number).
Sincerely,
Signature
Name of Bank Personnel
Title
Information about POF Letter
You should have the Proof of Funds prepared and ready even before you spot your dream home. This will make it easier for you since you will not have to struggle to prepare one when you want to make an offer.
You can send a POF letter to the seller on the day you make an offer on a home. Also, you can submit it within 48 hours after making an offer.
Always remember; If you have investments that are not liquid, that is cash or mutual funds, these funds won't be count as evidence in the POF letter.
In case you wish to use some of your non-liquid investments to your funds, then sell the investments you need and transfer the cash to your bank account.
It might sound hectic and complex to grasp the idea behind having a POF letter when you just want to purchase your dream house. Well, let's breakdown for you the reasons and instances for requiring a Proof of Funds letter.
A POF letter is needed during the following circumstances:
A POF letter is needed when homeowners are selling their houses to ensure the buyer's legitimacy and commitment.
Real estate agents working on behalf of sellers also need a Proof of Fund letter from buyers before they can take the property off the market.
Buyers who chose to pay in cash need to have a POF letter to show that the funds are available and are not a loan.
Anyone selling a business will require a POF letter from the buyer to hold the business for them until the transaction is complete.
Now, the question is, how can I get it? Do not be worried! Although it sounds complex, getting a POF letter is not difficult. You can get it by requesting one from a financial institution or bank that holds your money. Ensure that the money you need is not in someone else's account or in the form of assets.
With that in check, your bank can get back to you with the letter within 2 days.
What is the difference between a pre-approval letter and a proof of funds letter?
A pre-approval letter is a document from a lender that shows they are willing to loan a buyer the remaining amount that he/she owes on their mortgage.
However, a Proof of Funds letter is a document that establishes and provides evidence that a buyer has enough funds to buy a home.
Does pre-approval count as proof of funds?
No, it does not count as a POF letter. However, a pre-approval letter is needed together with the POF letter before the sale of a home can occur.
Many of us get hindered from realizing our dreams since we lack knowledge on how to go about it. When it comes to real estate, without proper knowledge of the requirement, you might never get the chance to buy a home, let alone own land or property. That is why you need to get to know more about a Proof of Funds Letter.

This document is essential if you want the seller to consider you for the offer you have made about buying a home. Ensure you have all the requirements for an official POF letter, as it will make it easier for you to purchase that dream home.

Check out our list of requirements for an official POF letter. Better yet, download and use our free proof of funds letter templates to make the process easier.