There are many benefits to making a vendor registration form, but it is also necessary to ensure it is prepared correctly. Many businesses register their vendors and suppliers as part of their business process, but they do not have any formal documentation process for this purpose. This means they cannot access information about them or even contact them if needed or if something goes wrong with the deal. Also, these businesses may be missing out on valuable opportunities by not having an updated list of vendors and suppliers in place. In this article, you will be taken through some of the critical things to understand about the vendor registration form. You will also be guided on what to include and give practical tips to ensure your form is effective.
A vendor registration form is a document that acts as a repository for all pertinent information that you need to know about your vendors and suppliers.
It helps you keep track of their contact details, company name, and other relevant information like licenses and registrations for easy reference when needed. It is useful to create this form to keep the process organized and save time in case you need any of their details.
Vendor Registration Forms
Vendor registration is a crucial part of the onboarding process. However, it can be difficult to create a registration that is both thorough and easy for vendors to fill out.
With the templates, all the questions will be covered without overwhelming new vendors who may not be as experienced working with businesses like yours.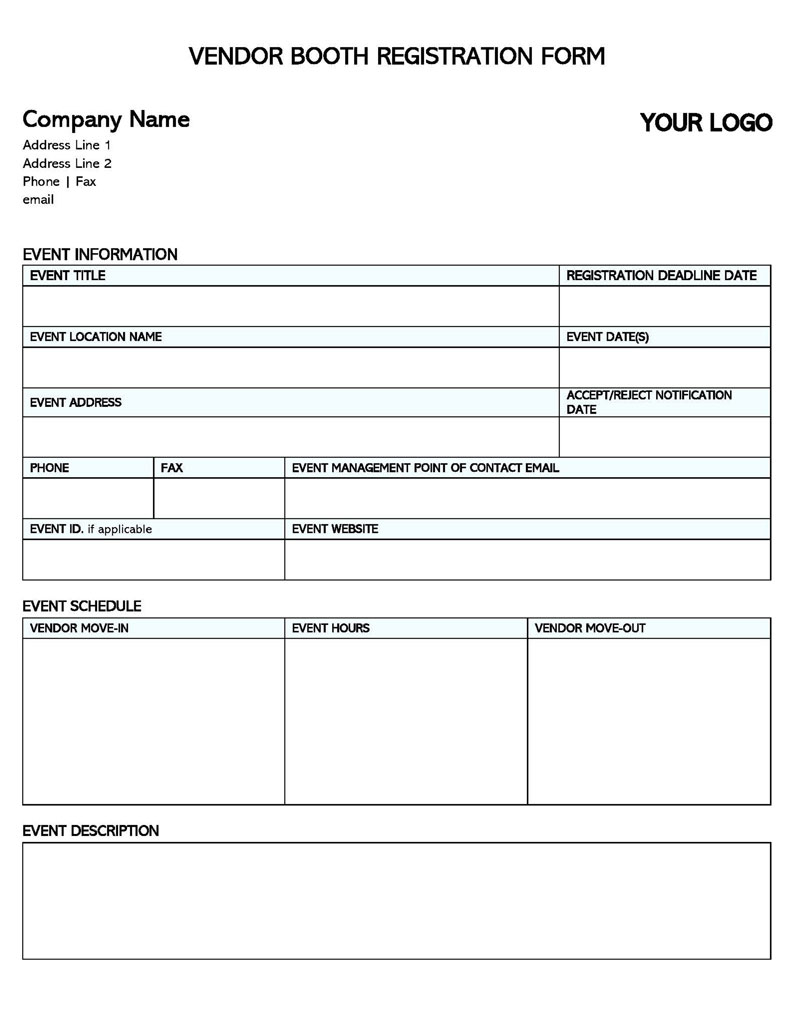 Importance of Using Form
Registration is one of the simplest ways to keep track of your vendors and suppliers. When looking for new vendors or suppliers, it is crucial to have a formal registration system. In addition, it can help you document pertinent details about your suppliers and vendors, which will be helpful if you need to contact them for business purposes in the future.
The vendor registration form can also help you keep track of all the contact information and other vital details, like products and services, etc. Having this information organized and in one place will make it much easier for you to conduct business with different suppliers and vendors without problems.
You will need to include several pieces of information in your vendor registration form. These things are definite and will depend on your business needs.
However, some essential information to include is as follows:
Vendor's information
You will want to record the name of your vendor or supplier on this form. You should also include their contact information, like the company name, contact person's name, phone number, etc. Additionally, it is essential to list their physical address and other information like their website address, email address, etc.
Business description
You will also need to describe the work or business this individual or company is involved in. This information can be helpful if you are looking for multiple suppliers for a particular product or service and want to know who would best suit your needs. Other things that you may want to record here include the date of establishment, gross annual sales, business legal structure, business type, and target market. Again, this information will help you understand the company and whether it would be a viable supplier for your business.
Certification statement
This is an important part that many businesses forget to include on their vendor registration form. It is a good idea to get a certification statement from your vendors and suppliers that indicate their compliance with any relevant laws and regulations. This is particularly important for businesses that regularly do business with government agencies.
In addition, you may want to include other essential certification statements like environmental compliance and a privacy policy. It is crucial to know whether or not the business you are doing business with is adhering to laws and regulations for your protection and theirs.
Bank account and payment information
You will also need to collect banking information from your vendors and suppliers. This is important for any business transactions you may be doing with them over time. It is good practice to get their bank information early so that you can do business with them and avoid problems in the future if they end their business with you or close their account without notifying you.
Questionnaire related to the registration
You may also want to include a question or questionnaire related to the registration to get more information about your vendors and suppliers. This can help you understand their business practices and technical background better. Questionnaires usually contain questions like what type of business they are, what types of products and services they provide, etc. This information will help you better understand whether they would be suitable for your business.
When preparing a vendor registration form for your business, there are a few tips that you should keep in mind to make the process as smooth as possible for both you and the vendors you work with.
Below are some tips that will help you make the form more effective:
Prequalify the vendors
This is particularly important for any business that intends to do a significant amount of work with vendors over time. It may be helpful to have a standard set of questions or qualifying criteria in your vendor onboarding process so you can quickly prequalify vendors who apply for your program and only invite the best ones to work with you.
Check the competency of the sellers
You must also check the competency of your sellers before working with them. This can be done by requesting relevant samples of their work, checking their references, or even doing a trial run with them if possible.
Be proactive
One of the essential tips to remember when creating your vendor registration form is to be proactive. This means things like checking references, verifying licensing or certifications, etc., so you don't have any problems with your vendors later after you start doing business with them.
It is important to note that not all suppliers will be as enthusiastic about the processes as you are, and that is why it is essential to have all the details about your suppliers to follow up with them. So make sure to have the suppliers provide all the necessary information in the form to make your work much more manageable.
Keep the form simple
Another good tip to remember is that your form should be kept simple for your vendors to make it easy for them to complete. The simpler the form is, the more likely they will fill it out and provide you with all the information you need. This can reduce problems in the future when working with them.
Frequently Asked Questions
How can the vendor registration form improve my event?
It is an integral part of recruiting new vendors for your business. It enables you to learn important details about them beforehand, assisting you in making wise decisions about who you will collaborate with in the future.  This can significantly reduce problems when you are working with them.
What do I do with the completed vendor registration forms?
Once you have received a completed form, it is essential to review it carefully and ensure all the information is correct. If there are any discrepancies, you will need to contact the vendor to correct them before proceeding further. Once everything is verified, you can add them to your vendor list and begin working with them.