A Cleaning Checklist is simply a list of the cleaning tasks you must complete to establish cleaning routines and keep living spaces well-maintained and under control.
Whereas a cleaning checklist template is a premade list of cleaning tasks you can use to guide your routine. This ensures you don't miss important tasks. Many people do not clean as often as they should or skip many steps, but researching checklists can prevent this. Templates are available in a variety of options, from a 30 minute clean to an annual checklist.
Cleaning checklists typically specify where the tasks are needed, what days/times tasks will be completed, and how often each task will occur. Without a list, it's easy to forget subtle cleaning tasks like dusting.
It can be useful to have multiple cleaning checklists based on when your cleaning tasks will be completed. Grouping daily tasks into one checklist, monthly tasks into another, etc., create a more comprehensive plan. Trying to squeeze all your cleaning routines into one checklist can make it cluttered and unreadable.
The cleanliness of your living space is very important, both to create a visually appealing space for guests or your peace of mind or to sanitize filthy places (like your kitchen and bathroom) for health reasons. Cleaning checklists help you visualize and organize all your chores and create a plan for their completion. This structures your cleaning routine by emphasizing the specific frequency of tasks and their assigned days and times. They can even help you assign chores to specific people if you do not live alone.
Creating a plan helps you commit to a cleaning routine and takes away the stress of wondering what you need to do and when. A cleaning checklist compiles all the information you need to establish a consistent routine. It may take effort to create, but it only needs to be done once. It is much easier to refer back to a cleaning calendar to decide what to clean than to re-evaluate your home's cleanliness constantly.
A balanced cleaning checklist lets you pace yourself with consistent cleaning progress without getting burned out or feeling overwhelmed. With the exception of daily checklists, cleaning checklists ensure you don't have to do all tasks in one day. This way, you can clean a little every day to feel in control and keep your living space in an acceptable state, so you don't have to do a deep clean every time.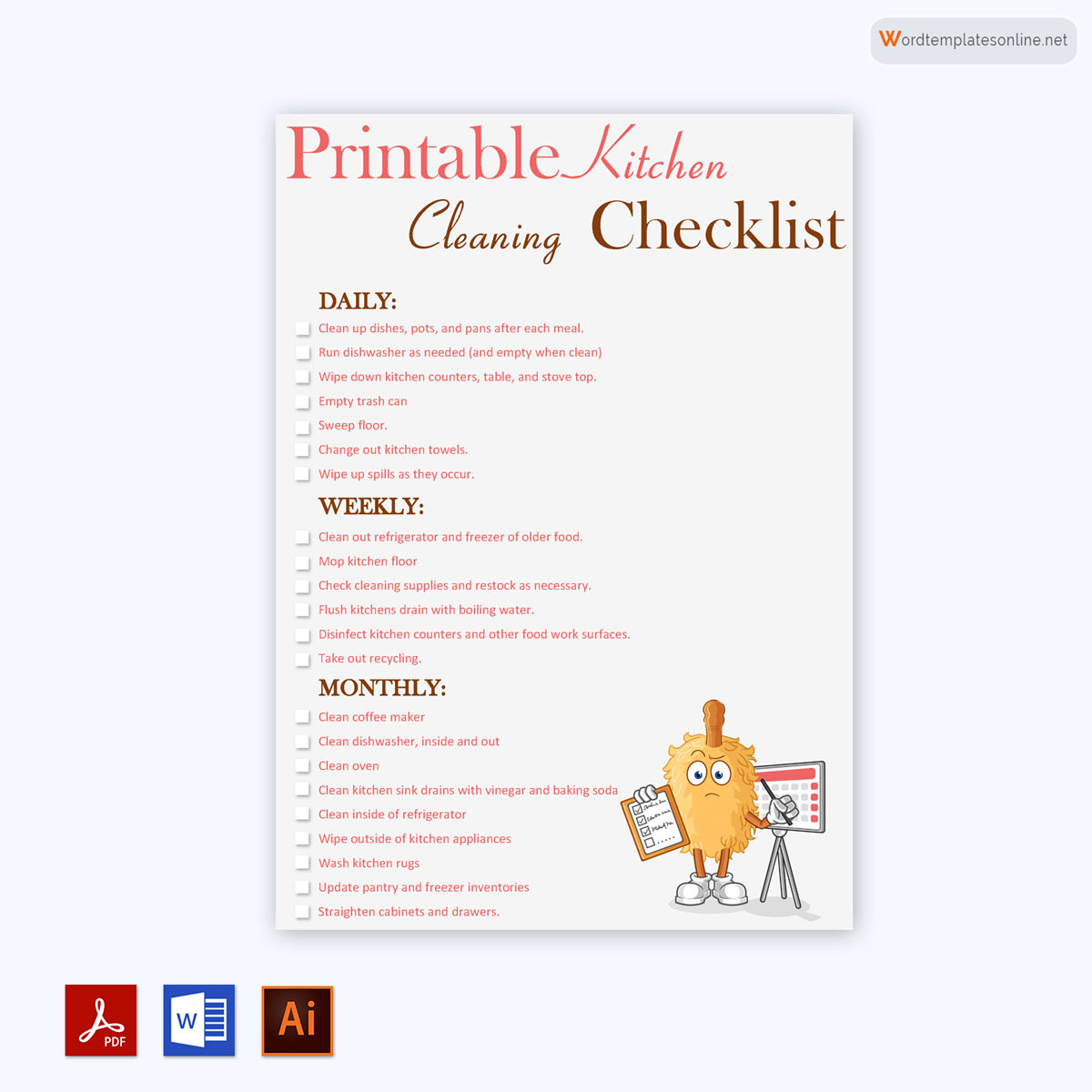 Preparing a Cleaning Checklist Template
To prepare a cleaning checklist template, begin by writing down all the cleaning tasks needed in your space. It can be helpful to group the tasks by room, including a category for hallways, misc., and a general category for tasks that apply to the entire space. Further divide the tasks by how often they need to be completed (daily, weekly, monthly, or annually). You may even wish to narrow down the time they will be completed (morning, afternoon, or evening).
Furthermore, you can assign specific tasks to different members of your house by writing their names next to the assignment. With this information, you can organize a checklist in whichever way helps you visualize your cleaning process the best.
Discussed below are four different ideas on creating a cleaning checklist and what you can include in it:
Daily housework checklist
A daily housework checklist addresses the main cleaning priorities and areas that must be cleaned every day. It serves partially as a preventative measure because if you can commit to cleaning each day, you can extend the time between deeper cleaning sessions. This checklist is the most difficult to follow because it requires a lot of commitment, and it is quite easy to make an excuse about being too busy to clean on any given day. However, if you can stick with it, it will pay off.
The key is to make a list simple and quick so that you do not struggle to complete it on a daily basis. Customize your checklist to your space, routines, and priorities. There is no need to include every possible chore on this list.
What to include
Here are some items commonly included on a daily housework checklist:
Living room
Tidy up (fold blankets, put back books, etc.).
Straighten couch pillows and cushions
Kitchen
Clean dirty dishes (don't leave anything in the sink overnight)
Empty dishwasher
Wipe down surfaces
Clean used kitchen appliances (coffee machine, toaster crumb tray)
Sanitize/scrub sink and run the disposal
Sweep floors
Bathroom
Clean toilet
Wipe down surfaces
Sanitize/scrub sink
Clean shower walls
Bedroom
Make bed
Pick up any clothes
Misc.
Do needed laundry
Take out trash
Clean spills
Vacuum hallways
Sort mail
Clean litter boxes/pet areas
Tips
Daily housework can be tiring, but there are ways to maximize your time and effort:
As you clean, carry a basket for items out of place and return them as you go.
Place a hamper in each bedroom to keep laundry contained
Have a place for everything (including cleaning products). Clutter can make cleaning overwhelming, and knowing where your tools are can save lots of time.
Delegate tasks to other members of your household
Play some music to create a motivating environment
Save time cleaning floors by leaving shoes at the door
Use a lightweight vacuum for everyday tasks
Keep counters as clutter-free as possible so they can be wiped quickly
If you have a dishwasher, chances are pre-rinsing your dishes is actually unnecessary and a waste of time
If there are kids in your house, create and enforce an organization system for their toys
For sink sanitization, the easiest method is to wipe with a product like the Mr. Clean Magic Eraser and then fill the sink with warm water and a tablespoon of bleach. Then, rinse it out after letting it sit for a couple of minutes.
To clean a coffee machine, use warm water and soap for removable parts or a dishwasher for any dishwasher-safe components. Give the exterior pieces a quick wipe.
To ensure you stick with your schedule, have a special jar that you must deposit a dollar in every time you don't finish the tasks on the list.
Weekly cleaning checklist
Typically, a weekly checklist involves more in-depth cleaning to make sure your space is properly maintained. It targets the spaces that don't get dirty every day but shouldn't be ignored for a month.
Weekly checklists can be separated into days of the week, with each day tackling different areas and tasks. Just because there are chores you only have to do once a week doesn't mean they all need to be crammed in one day. You will have more energy to put into the tasks if you balance them out over several days. At the same time, you may want to schedule heavier cleaning on a day where you are not usually as busy.
What to include
This list excludes items listed for daily cleaning. Therefore, it presents only tasks that are commonly done once a week and is not a comprehensive list of cleaning tasks.
Read below for common items included on weekly cleaning checklists:
Living room
Kitchen
Mop floors
Scrub surfaces
Disinfect doorknobs
Wipe down appliances
Clean microwave
Toss stale, expired, or unwanted food
Organize the fridge/pantry
Bathroom
Mop floors
Scrub surfaces
Disinfect doorknobs
Clean toilet bowl
Clean shower
Bedroom
Vacuum or sweep floor
Change bedding
Misc.
Clean mirrors
Dust furniture, surfaces, lamps, and picture frames
Sanitize sponges
Tips
Follow these tips and life hacks to make the most of weekly cleaning:
Use weekly schedules in tandem with daily cleaning schedules.
Dusting with a microfiber cloth decreases allergens and elevates the air quality of your space.
To clean bathroom surfaces, use a grout cleaner alongside an eraser like the Mr. Clean Magic Eraser.
When cleaning floors, it's best to start at the farthest corner and make your way to the entrance. If you're using a mop, don't forget to rinse!
To clean a microwave, fill a bowl with a mixture of 1 cup water and a couple of tablespoons of vinegar and heat it in the microwave for several minutes. The window should be steamy. After this, give five minutes for cooling before opening the microwave. Finish it off by wiping the inside with a sponge.
Organizing the pantry and fridge is a great time to multitask by planning your upcoming meals.
As you go about weekly cleaning, keep an eye out for unwanted items that should be donated. This only helps you have less to clean and organize the next week!
Ensure that there is still space in the vacuum bag before using.
To avoid streaks on glass surfaces, it's best to use a microfiber or cotton cloth with a glass cleaner.
Place a damp wipe at the end of a broom to get rid of hard-to-reach cobwebs.
You can sanitize sponges by soaking them in a mixture of ¾ cup bleach and 1 gallon of water for five minutes, then rinsing.
Monthly cleaning checklist
Some deep cleaning is typically required every month. Therefore, it's essential to come up with a plan, or you might find yourself having to dedicate an entire day to it every month. It's easy to forget tasks you don't need to do often, so writing them down is an important step. A monthly cleaning checklist will help you look ahead and see the big picture. This saves stress as you can see exactly how the deep cleaning process will unfold.
What to include
This list contains some of the everyday tasks that only need to be done monthly:
Living room
See dusting and damp-wipe list below in misc.
Kitchen
Dust and damp-wipe cabinets
Dust top of the refrigerator
Clean dishwasher
Bathroom
Dust and damp-wipe cabinets
Bedroom
See dusting and damp-wipe list below in misc.
Misc.
Dust (lights, blinds, lodge ledges, chair rails, window sills, baseboards, door panels, and ceiling fans)
Vacuum vents
Vacuum woodwork
Damp wipe door panels/frames
Clean laundry machine and vacuum
Tips
The following advice can help make monthly cleaning more manageable:
If you're not used to deep cleaning, it may be difficult and time-consuming at first. However, as the months go by, you will find the tasks natural and perform them more efficiently.
As always, delegate!
There is often a clean washer cycle on washing machines, but if not, you can run a normal cycle and add a specialty cleaner.
Certain months might mean there are seasonal items, like Christmas trees, scattered around your house. Make sure to save space by moving these items to storage within a month or two.
Change the bag of your vacuum once it is ¾ full. If you wait, you could damage the machine. Don't forget to replace the filter when necessary as well.
Some tasks are done more commonly every few months than every month. This includes washing pillows, cleaning the inside of an oven (using a sponge, the self-cleaning function, removing and washing racks separately), and washing shower curtains/liners.
You can clean a dishwasher by placing a measuring cup containing 2 cups of vinegar on the upper rack and running it without detergent. Skip the heat dry function as well.
Annual checklist
Tasks that only need to be repeated annually are the easiest to forget. If you skip them, you might not notice them right away. Therefore, having a cleaning checklist for these tasks is essential.
What to include
Here are some common cleaning tasks that need to be done annually:
Living room
Kitchen
Bathroom
Bedroom
Misc.
Deep clean windows and carpets
Clean trash cans
Clean around vents
Clean ceiling fans
Clean curtains
Clean out files/paper
Clean out gutters
Wash walls
Wax wood furniture
Tips
These tips can help you stick to your schedule and complete annual tasks easily:
Annual cleaning tasks may seem unnecessary, and like you are going above and beyond, which may dampen your motivation. But, remember, having a clean environment improves your health and protects you from many hazards (including fires!) that can be found in homes.
Another way to motivate yourself is to remind yourself of the satisfaction of crossing items off a list.
While they're not cheap, the best way to deep clean carpets is to invest in a specialized cleaner.
To clean window screens, remove them and use a bristle brush to scrub with an all-purpose cleaner and warm water mixture. Then, rinse with a hose, dry, and place back in the window.
To deep clean window panes, dust, and use a glass cleaner on a microfiber cloth.
The crevice function on a vacuum can be used to remove dirt and fuzz from your vents and around the dryer.
Remember that a practical cleaning checklist specifies the time frame like daily, weekly, monthly, or annually. It's recommended to take one of each of the four categories.
Your checklist should also be comprehensive. Use templates and research to make sure your checklist actually includes all the necessary chores.
Even when using a template, it's helpful to add customizations or search for one tailored to your type of home. Houses with pets and children, for example, require different cleaning routines. You may have items that others do not, like gym equipment, that require a cleaning regimen.
While it's important to spread out tasks and not save them all for one day, it's definitely helpful to assign lighter and heavier loads to certain days based on your work schedule or general busyness.
Though it's great to establish routines and intend to follow them, you likely won't be perfect. Making up a missed task or two on the following day won't throw off your routine forever. You also may need to go beyond your checklists to tackle spontaneous messes or use extra sanitation in special circumstances (like a sick person in the house).
Lastly, while it's hard to stay motivated, it's helpful to think of how much better you feel when you keep your cleaning manageable. Daily chores may get irritating, but not quite as irritating as a mountain of dirty dishes at the end of the week. With a comprehensive cleaning checklist, you'll have peace of mind and a pristine living place to go with it.