Most of the interactions that you will have with local businesses will be enjoyable. You will receive great customer service and a product that you can use well. Unfortunately, we have all had a company that has mistreated us or caused us a grievance. Some of these we just brush off and ignore, but when we are injured or harmed due to the actions of the company or from their products and services, it may be time to consider writing a formal complaint letter to the company.
What is a Formal Complaint Letter?
A formal complaint letter is simply a method you can use to inform a company about wrongdoing on its part. This type of letter is written by a consumer to address any offense, grievance, or wrongdoing that arises from a product or service you have received from the company. In addition, it can be used to raise valid concerns about an unfair situation and how you would like it fixed for you.
If you have been hurt by a product that you purchased because it is unsafe, then you could write a formal complaint letter. If you are an employee mistreated, you could write a formal complaint letter to let corporate or someone else know of your grievances. The point is to alert the proper authorities of the issue and give them time to make the situation better.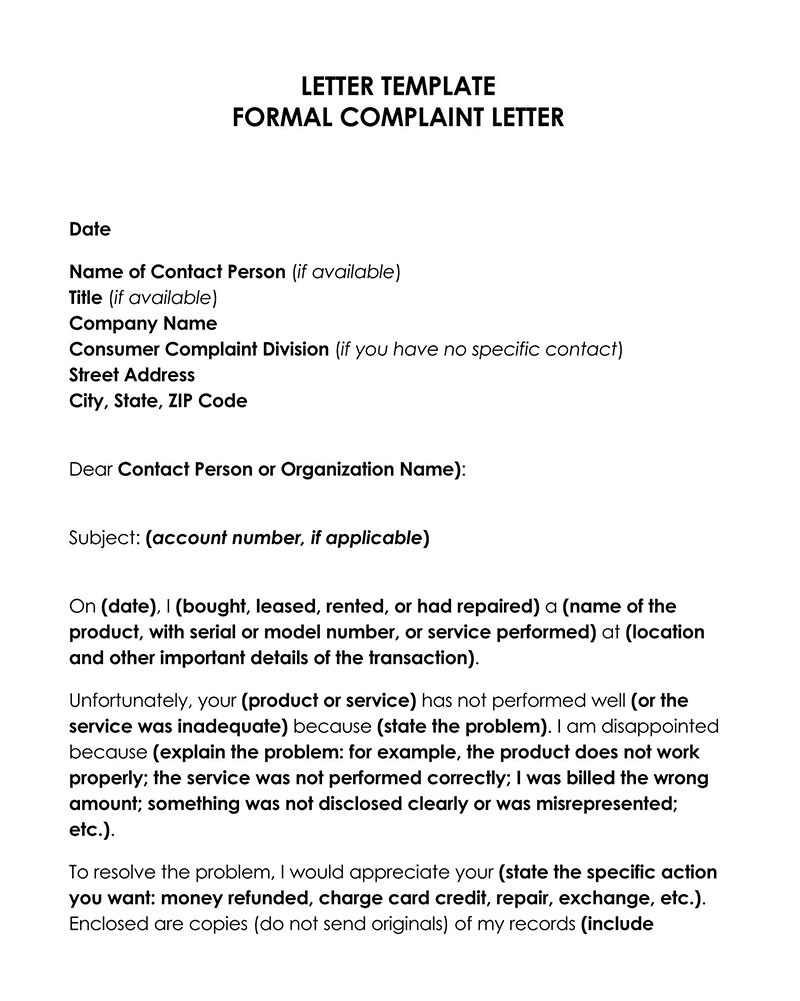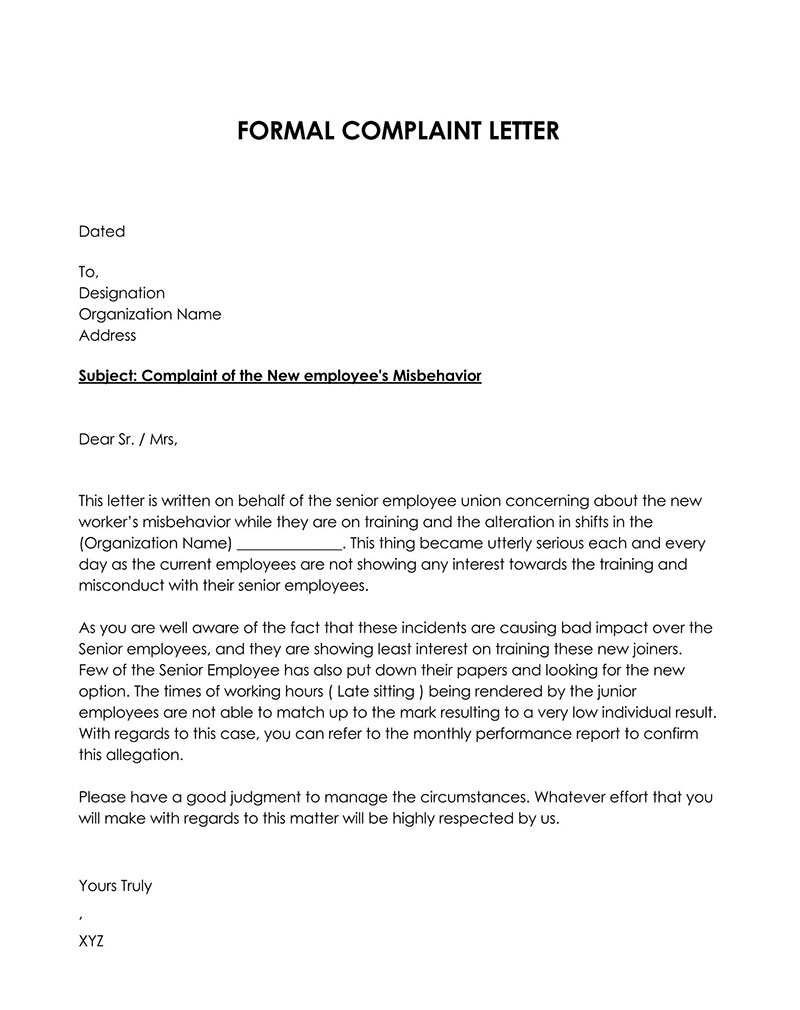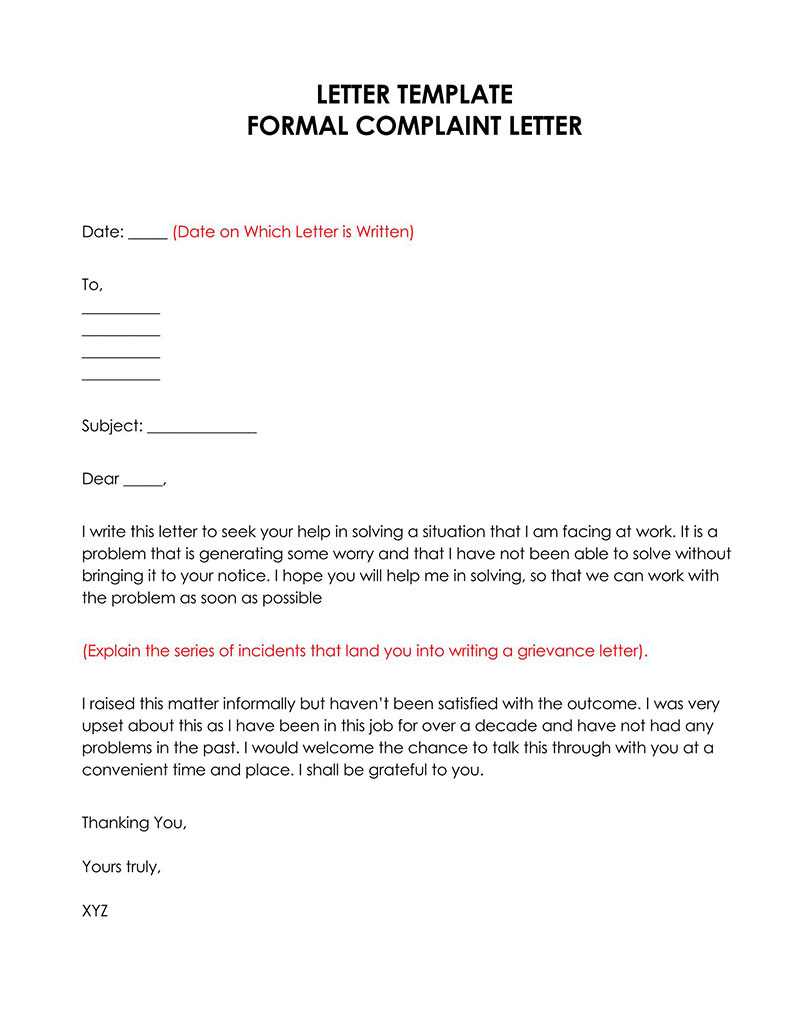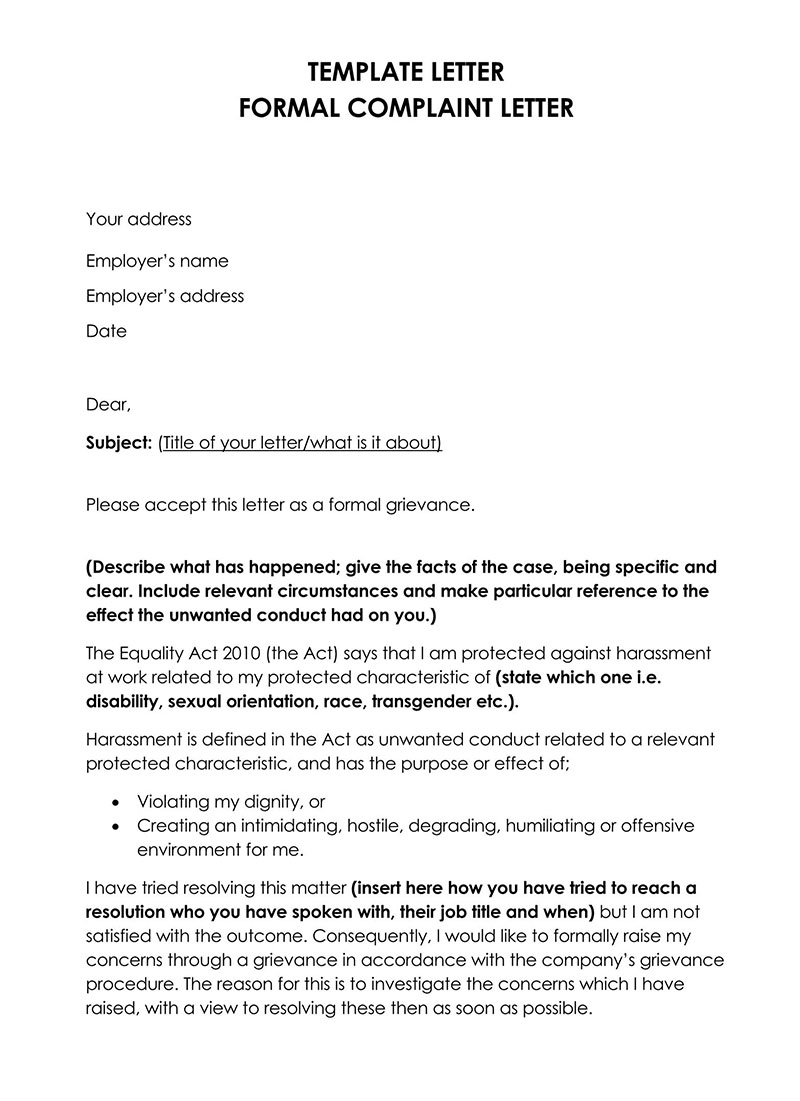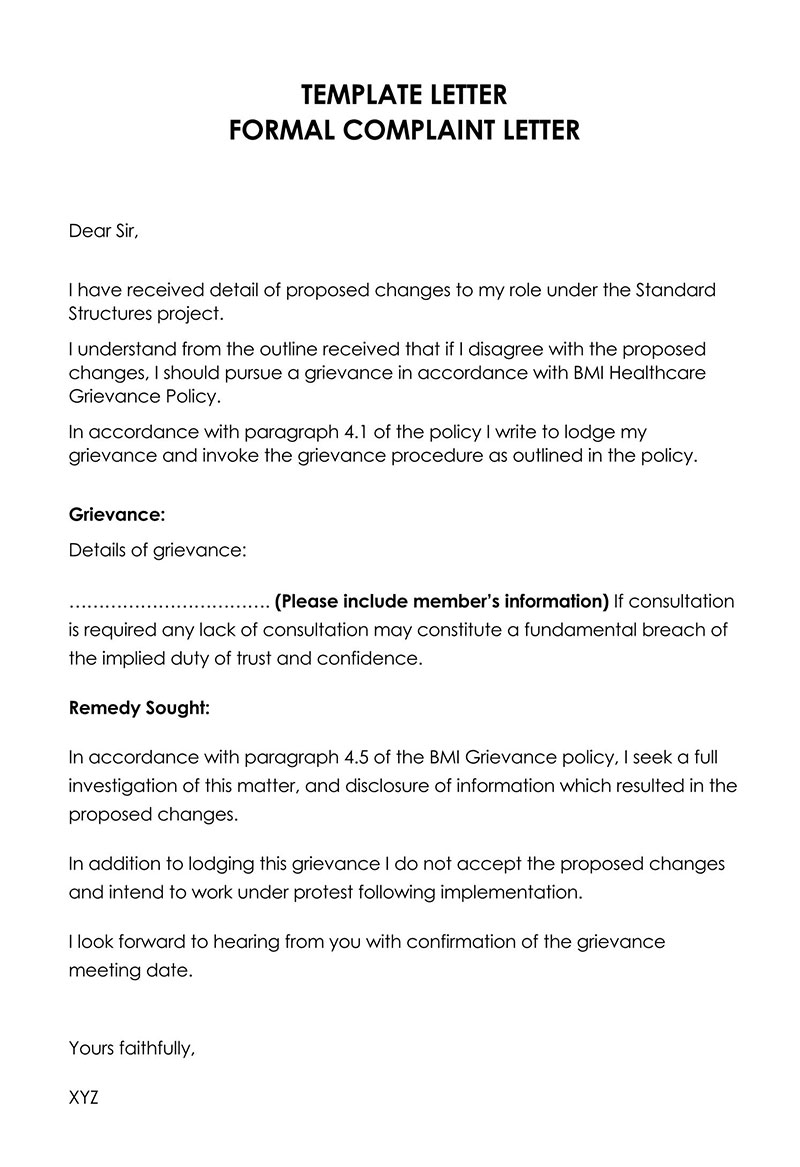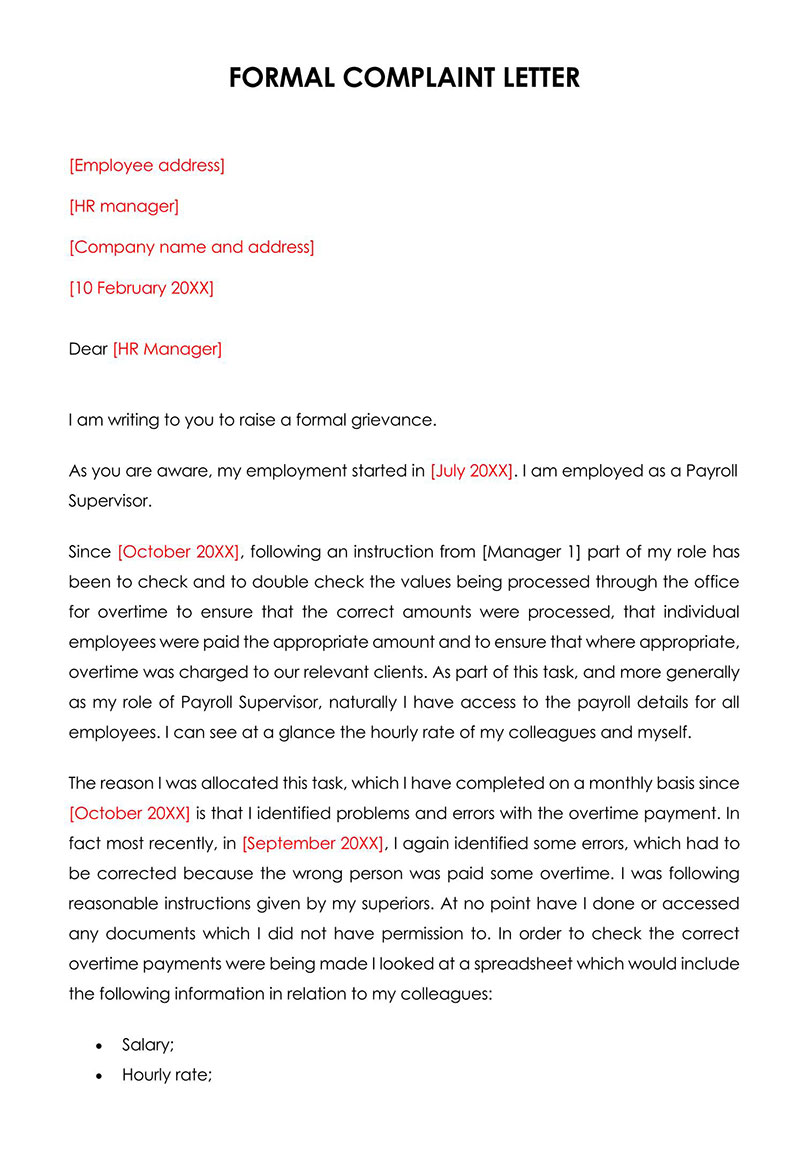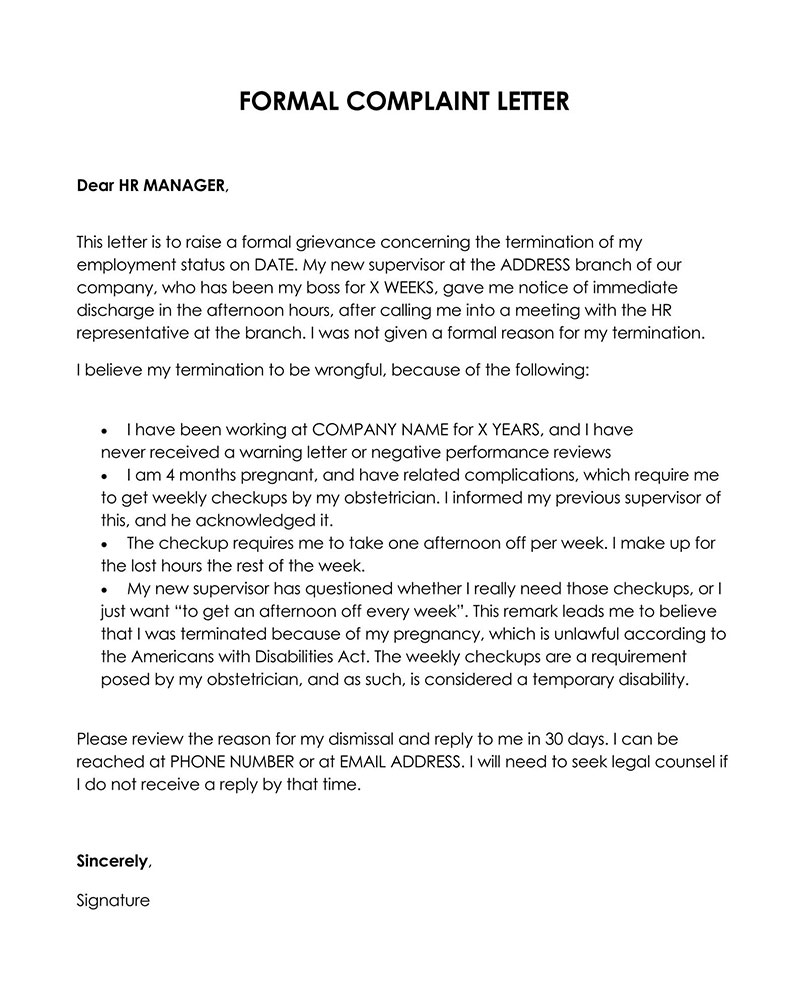 Types of Formal Complaint Letters
There are two main types of formal complaint letters that you can choose to write. Writing the proper one will help make sure that you can address the proper parties well and get a response. The two types of formal complaint letters include a professional complaint letter and a personal complaint letter.
If you are a customer who has visited a store and is dissatisfied with some of the service that you have received or you have a defective product of some kind, you will need to write a personal complaint letter. These allow you to write to the business and let them know that your experience was less than ideal.
Sometimes an employee will need to write a formal complaint letter concerning their employment with the company. If the employee is dealing with workplace harassment, unfair pay for their work, or other unethical practices at work that oppose the Fair Labor Standards Act, they will need to write a professional complaint letter to solve the issue.
When Should You Write a Formal Complaint Letter?
You may choose to write a formal complaint letter for many reasons. This letter is meant to give you a way to speak out and let the company know why you are upset formally and professionally. Some of the situations in which you may choose to write out a formal complaint letter include:
When you receive goods that are damaged
When you have complaints about the product or service you got
When you are dissatisfied with an employee and how they treated you.
When you are an unhappy employee
After harassment in the workplace
Complaints about insufficient salary
Each of these provides you with a chance to alert the other party about some of the wrongs you have faced and can give them a chance to fix the issue if they choose.
How to Write a Formal Complaint Letter
Writing a formal complaint letter does not need to be difficult, as long as you make sure to add in the right facts along the way. Some of the steps you can use to write a formal complaint letter include:
Step 1: Start off with a greeting
Begin each letter with a quick greeting. Something simple like Dear Mr./Mrs., or to whom it may concern, and then add the name of your contact person too. This will help you get the letter off to a good start and show that you have taken the time to research and prepare your letter, rather than going on a rant with your complaint.
Step 2: Briefly introduce yourself
Take a few sentences to introduce yourself. This will show your tie to the business or how this problem relates to you. You may write something like, "I am Jane Doe and have been a customer of Company X for the past five years." This is a simple way to show why they should listen to your complaint in the first place.
Step 3: Give details about the reason for your complaint
Now it is time to get into the meat and potatoes of your complaint. You will use this space to talk more about your personal complaint and why you are writing to the business. This part needs to have details in it. It is not enough to tell the company that you are upset with them. Let them know more about it so they can figure out how to correct these problems in the future.
For example, you can't say that the product hurt you, and now you want money. You can tell them that you purchased the product on January 22, 2022, and after reading the applicable directions and trying out the product, you were injured. Then go into detail about the type of injury and what medical attention you needed to receive if any. The more details, the more you can bolster your case.
Step 4: Explain the steps you took to resolve your issue
If you took the time to resolve the issue on your own, then you need to stop and explain which steps you took to make this happen. List them all out to show the work that you had to go through.
For example, you may have visited the store or given them a call to talk to a manager and discuss what happened during the situation. The manager may have been able to help you out, or they may have been limited in the actions they can take. It will depend on the rules of that particular company.
Your goal in this section is to explain in detail all of the steps you took to rectify the situation. Since you are writing this formal complaint letter, your problem was not rectified, but this does show that you did make a good-faith effort to get the problem fixed but without any luck.
Details are important here. List out when you visited the store to resolve the issues and who you talked to while you were there. Do the same with any phone calls you make to the company too. If you spoke to the company more than once, you can write each of these down to explain what happened and why you feel the situation has not been resolved.
Step 5: Attach copies of relevant supporting documents
If you have any relevant supporting documents to include too, this is the time to add them. You can keep notes in the original document to let the company know you are attaching these supporting documents and why they are pertinent to the information. Pictures of the product being broken after one use could be relevant, for example. Only include documents that actually support your claim.
Step 6: State how and when you want the issue resolved
With all of the evidence listed in the formal complaint letter, it is time to let the company know what they can do to make you happy and fix the problem. Would it be a refund or a replacement product? Would you like them to do something else? Finally, choose a date when you would like to see the issue resolved.
Step 7: Sign off
Finish your letter with a sign-off. You can keep it simple by adding something like "Yours Sincerely" followed by your name and signature.
Sample Letter
The hardest part about writing a formal complaint letter is getting started. You need to take the time to figure out the best ways to get this started and create a letter that will get noticed and can get results. When you need inspiration on how to write your complaint letter, take a look at some of the samples below:
Sample 1
January 28, 2022
Customer Care Assistant
Customer Department Store
Ms. Jolene Saunders
On January 23, 2022, I visited one of your local stores in Omaha, NE, and purchased one of the available products for sale from there. When I got home, I found that the product was broken and did not function as intended. Due to this, I attempted to return the product later that same day. However, I was told by an employee, Dan Smith, that I would need to wait until later to get it handled. 
I waited two days to hear a reply, and on January 26, 2022, I called the store to talk to one of the managers. I was connected with the manager, Derrick Johnson. He stated that they could not provide a refund, and he was sorry for the inconvenience. Unfortunately, I was not able to get this changed at all. 
Since I originally received a defective product from your store and attempted to return it right away, I would like a refund and a replacement product from your store. I expect to hear back concerning this issue within two weeks, on February 11, 2022, at the latest. 
Thank you for your time, and I hope to come to an amicable solution as your loyal customer. 
Yours Truly, 
Mary Larson
Sample 2
April 2, 2022
HR Department
Mart Department Store
Dear Mr. Michael Larson
My name is Sally Mason, and I have worked as an employee of Mart Department Store for the past three years. Recently I have become a victim of workplace harassment at your Sunnyville location. 
This matter has been brought to the attention of both the assistant manager, Megan Hartman, and the regional manager, Margaret Love, on multiple occasions, including on March 25, 2022, February 19, 2022, and January 31, 2022. All three times have been recorded and written down, but no actions have been taken. 
I have found this workplace harassment to be detrimental to the work that I am able to provide to the customers of Mart Department Store. Therefore, I would like this taken care of promptly and my concerns addressed by April 15, 2022, or I will need to consider other courses of action. 
Thank you for your time.
Yours Truly, 
Sally Mason
As you are writing out your formal complaint letter, it is a good idea for you to take time and care with it. You want to be concise and do it the proper way from the beginning. This makes it more likely that the company will pay attention and take it seriously.
Some of the best practices that you can use when writing a formal complaint letter includes:
Be concise
While providing details is essential when you talk about the problem and how you would like it fixed, you also do not need to ramble at all. Take some time to think about what you write. Even if it takes a few days for you to cool down from your anger, utilize this time to formulate your thoughts and come up with a concise and clear point while writing the letter.
Find the right recipient to address
Your letter will look more professional if you address the right person within the company. It will also get the letter to someone who can actually do something about your complaint faster. Research ahead of time to whom you would like to send the letter.
Finding the right recipient for the letter may take a little research. The first place to look is for a toll-free number that will direct you to the customer service department. This can be found online or on the packaging of the defective product. You may be able to talk to a customer service representative to help solve your problem right through that number.
If the company does not provide a toll-free number for its customer service department, other options are available. You can choose to:
Check the company website to see if they provide information on the right contact.
Check the product label for information on the name and address of the manufacturer.
Visit your local library. They may have some reference manuals that can help you find your letter's corporate address and officers.
Use the Thomas Register online to direct you to the right person in a company.
These steps can help you find the right person to address your formal complaint letter.
Set a time limit
You need to choose a time limit for the company to respond. Give them enough time to get the letter and give you a response. If you do not put a time limit on it, you will find the company will decide to ignore you and put you off.
Maintain a polite tone
It is easy to get angry when you are working on your formal complaint letter. This is not the time for anger and swearing in the letter. It is important to keep the tone polite the whole time.
Request in the form of a question
Your goal should be to ask your request in the form of a question. When you send your request in as a question, you will give the other party a chance to respond without feeling like you are attacking them. You want to learn how the company plans to fix the issue for you, to make the situation better, so you will stick around as a loyal customer. You have had a problem with the company, and now the manufacturer has to take control and figure out how they will keep you around.
Keep it formal and polite without all of the attacking. Your question should be clear and easy to understand, all while avoiding sarcasm and being as genuine as possible. This is why you may want to wait a few days before writing the letter.
Don't blame the person you are writing to
While it is tempting to write the request out to the person directly that you plan to write to, it is not time to blame them. It is unlikely that the person who can solve your problem had anything to do with the situation at hand, and they did not make the product you are mad about. They are an impartial third party who wants to improve it, but they won't be kind to you if you attack them.
Research the company's laws before making a complaint
There may be special rules and conditions with the company that will void your formal complaint. Reading up on some of the company's rules can help out with that. Also, look up the warranty and other agreements concerning your situation to see what options are available to you.
Proofread
After you write out the letter, take some time to read through the letter and look for any spelling and grammar mistakes. It is a good idea to have someone else take a look at it too. Your letter will look more professional after you edit it.
Keep a copy of the letter
Do not send your only copy to the company you want to complain to. You want to keep a copy for your own records too. If you plan to type the letter, you can just print off a second or third copy and then keep it someplace safe in case you need to pull it out later.
A formal complaint letter can be a great option for you to choose when you would like recourse for a product or service that caused injury or greatly disappointed you. Writing it allows you a way to air your grievance directly to the business at fault while also giving them a chance to respond back to you. Following the steps outlined in this article will help you write the best formal complaint letter and make it more likely that you will get a favorable response.