A level 10 meeting is a weekly, every Monday morning, 90-minute senior leadership meeting.
It allows leaders to collaborate and spend time highlighting, prioritizing, discussing, and overcoming business problems or challenges. This meeting uses strict time blocks and requires each participant to be well-prepared. It is unique in a way that at the end of each meeting, all participants must rate it on a scale of 1 to 10 based on its productivity level. A perfect score is encouraged, but a slightly lower score allows room for improvement. This meeting was introduced by the Entrepreneurial Operating System (EOS). The EOS is a management framework aimed at helping businesses, organizations, and companies execute plans and meet goals.
EOS suggests that an effective level 10 meeting should be held on the same day, same time, and with the same agenda. They should also start positively by reviewing updates, listing all issues, prioritizing them, and then solving them. That means that these meetings are time-copped, goal-focused, and issue-centric. They provide a clear structure, and their focus on resolving matters results in effective meetings. However, they require extensive pre-work (attendees must arrive with already prepared scorecards and an updated issues list), strict facilitation, and meticulous documentation.
For businesses, companies, and organizations that follow the EOS framework, this article will guide you on how to use a template for your weekly level 10 meetings. It will discuss the sections of the template alongside the tips for customizing it. You can also use the free, customizable, and printable templates for level 10 meetings, available in both Excel and Word formats, for your ease.
What is a Level 10 Meeting Template?
A level 10 meeting template is a pre-structured framework for productive and effective meetings.
It is mainly used by organizations that observe the EOS. This document offers a clear agenda and guidelines for how to conduct a successful and goal-oriented meeting. It is divided into several sections focusing on completing specific purposes, such as resolving business obstacles and providing updates. Some template sections include check-in, a scorecard review, and a to-do list review.
Free Level 10 Meeting Templates
Given below are level 10 meeting templates: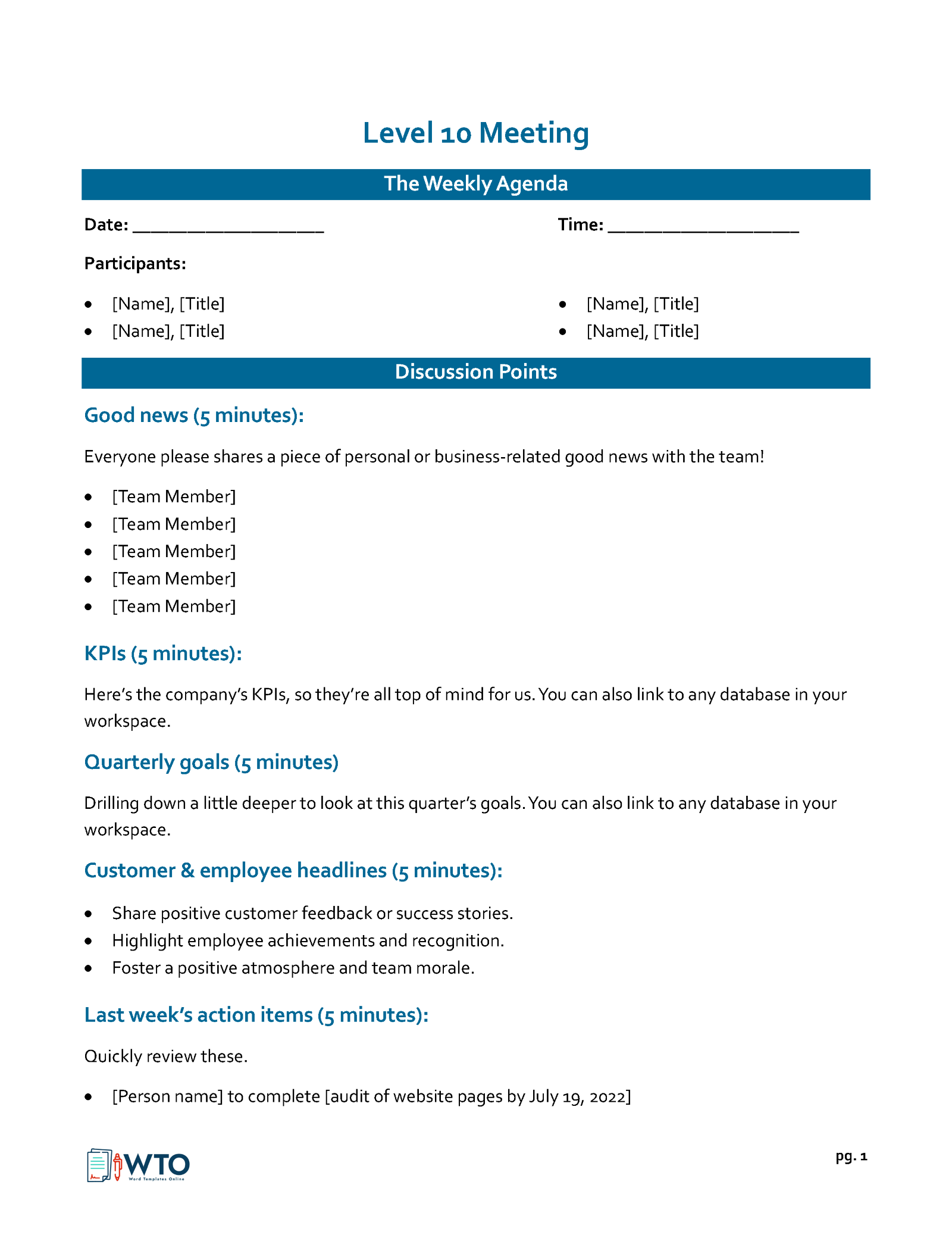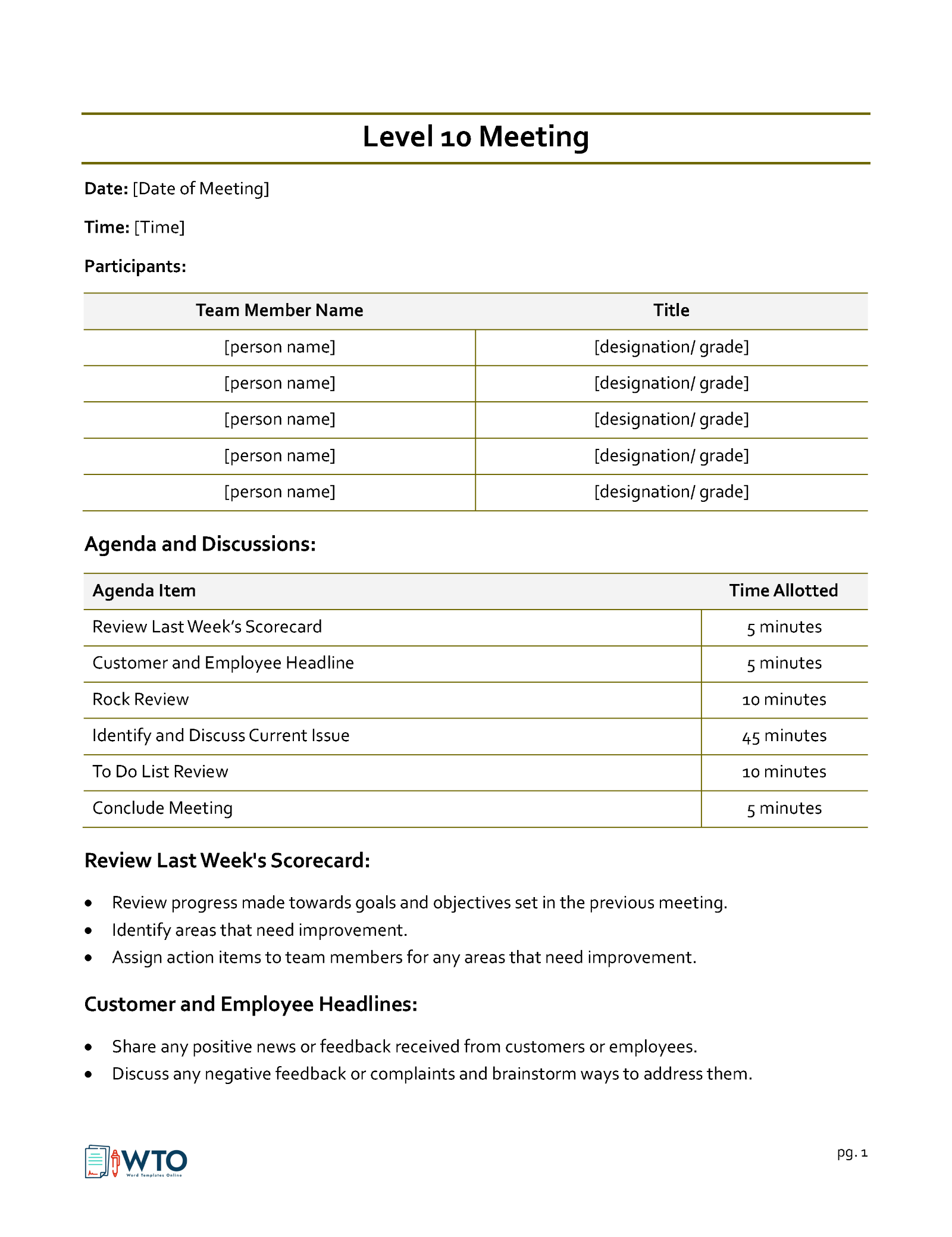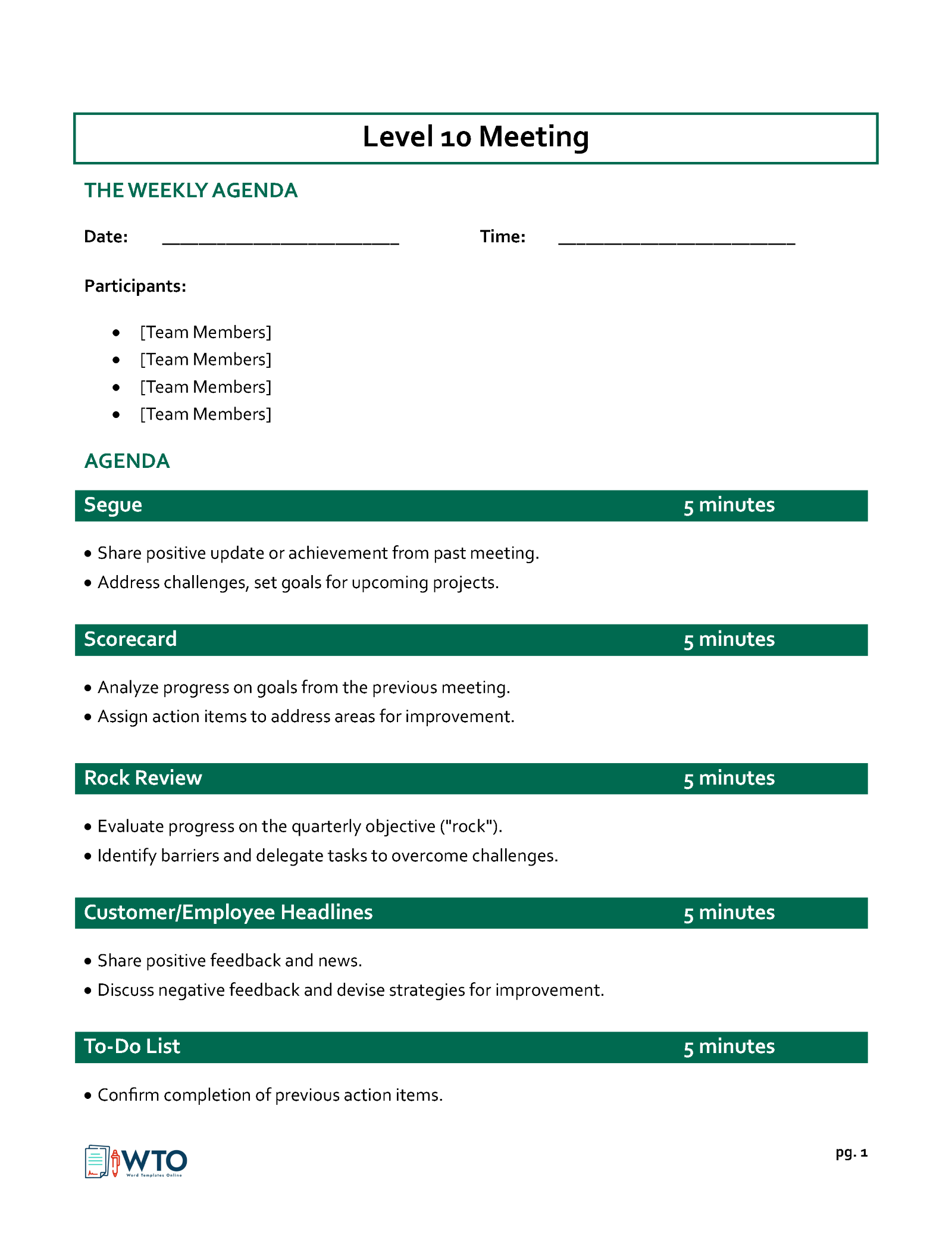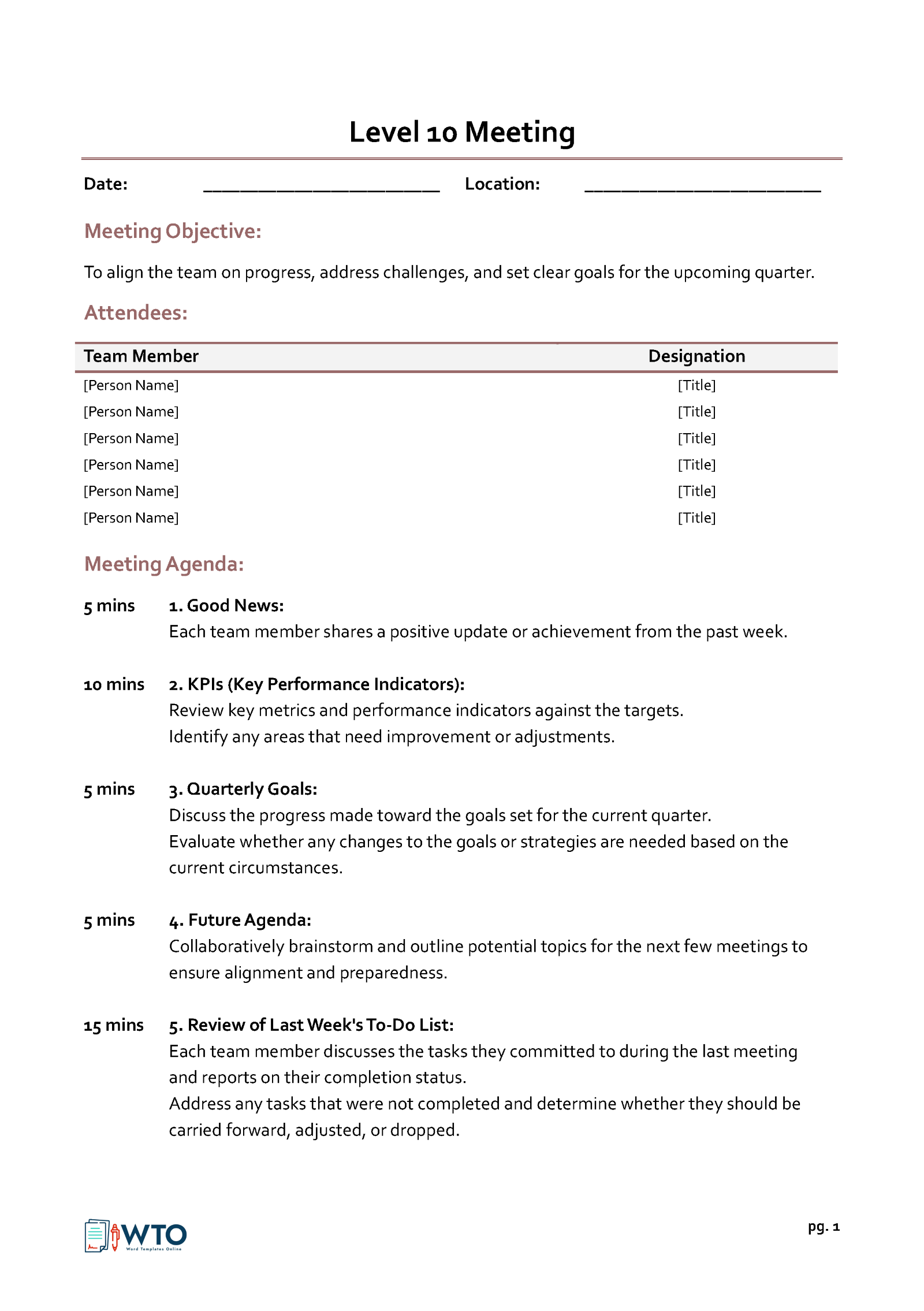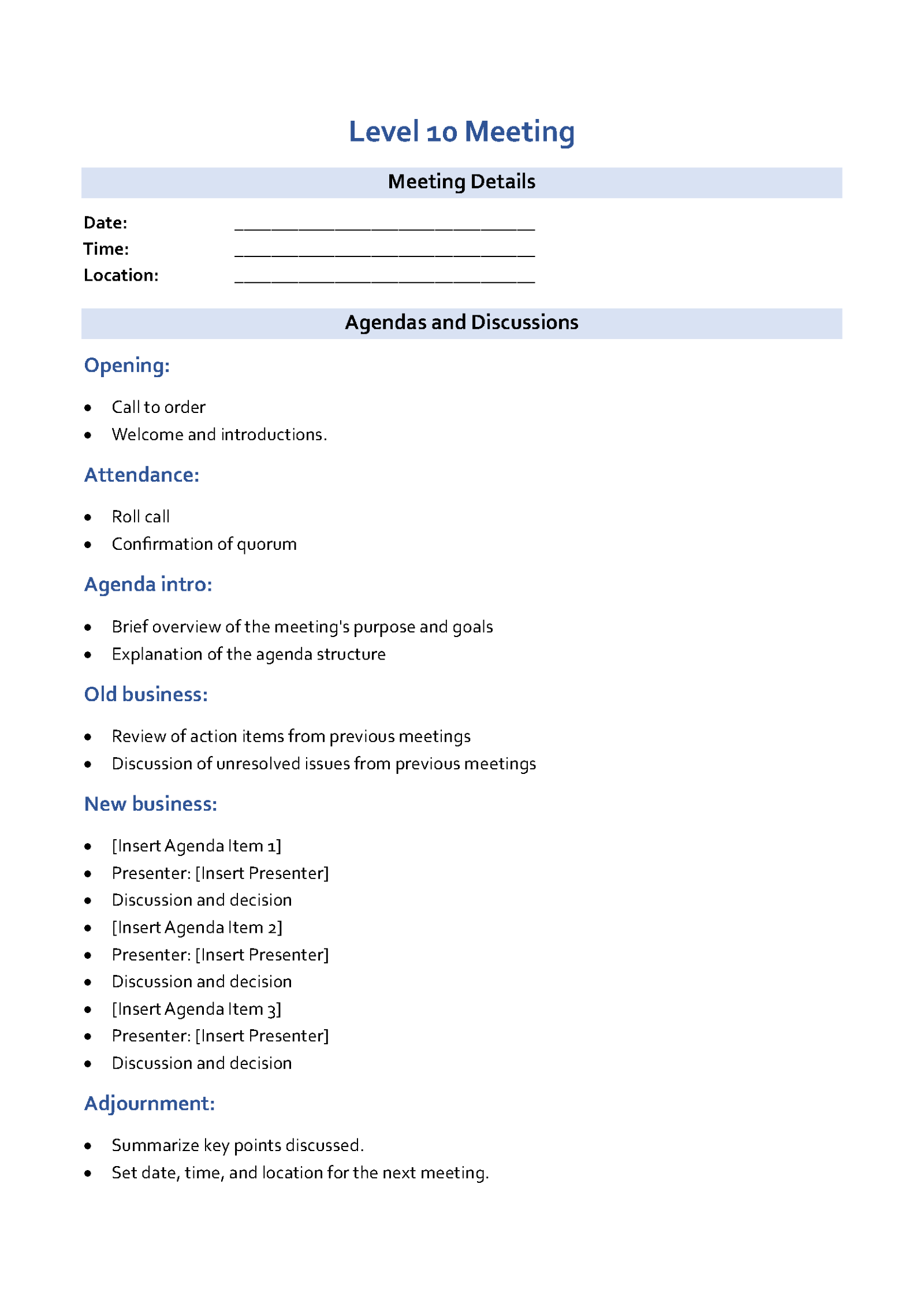 Sections of a Level 10 Meeting Template 
Level 10 meetings have become increasingly popular in the corporate world. These meetings are meant to bring together different leadership teams to discuss significant hurdles in the company and business. A template for a level 10 meeting has various sections meant to aid leaders in accomplishing the meeting's objectives.
These sections include the following:
Segue (5 minutes)
The Segue is the transition section of a meeting template. It aids attendees in transitioning from a previous meeting or task to the current session or agenda. This section entails a brief introduction by the meeting coordinator, which sets the meeting's tone. Each participant is then allowed to share positive personal or business news. The idea is to add a human aspect to the discussion for smooth conversations.
Scorecard/KPIs (5 minutes)
This section offers your leadership team a chance to review key metrics and performance indicators meant to track the company's progress in achieving its goals. For the scorecard section of the template, the information should have been shared earlier. The participants should then prepare and arrive ready to discuss any off-track areas and the causes of the inconsistency.
Rock review/quarterly goals (5 minutes)
In this section of the template, each leadership team member is required to share a review of their quarterly goals and report their progress towards realizing their specific "rocks." Rocks are a set of three to seven critical objectives, which should be accomplished in the next 90 days to help you achieve your long-term vision. Meeting participants must update the team on their progress status and, if necessary, receive feedback from the team leader.
Customer/employee headlines (5 minutes)
For this section of your template, your leaders have a place to share details regarding customers and employees. The team should have headlines prepared beforehand to deal with customers' and employees' vital issues or updates. They can share positive and negative feedback while the team leader guides them in dealing with the problems identified.
To-do list/ action item review list (5 minutes)
The action review list section of the template allows your team to document any issues that might arise and indicate tasks assigned to each team member. This way, each leader is held accountable for accomplishing their task or handling their issue. Once everything is completed, the team leader should mark each item as complete or assigned to keep track of the items in the list.
IDS (60 minutes)
This is the most extensive section of this template. It focuses on crucial issues and challenges hindering you from achieving your goals. Apart from that, your team should also address the issues mentioned in the previous sections. Each member of your leadership team will tackle each problem based on priority to ensure the company is back on track and progressing toward achieving its goals.
EOS suggests using the following three steps in this section: (IDS)
Identify– The real issues should first be identified to ensure each team member knows what should be handled.
Discuss– They should discuss the issue through open brainstorming conversations where the team can have different options, solutions, or ideas.
Solve– The team should choose a solution to resolve the issue and include one or two action points in the next week's to-do list. The action points are meant to execute the solution.
Conclusion (5 minutes)
This is the final section of the template where the team can summarize their decisions, assign action items and identify the next steps toward achieving company goals. In this section, each team member should know the tasks they must complete before the next meeting.
To achieve this, your team should:
Recap the to-do list to ensure everyone is on the same page about what is essential, what needs to be done, and who needs to do it.
Highlight any information from the meeting that needs to be shared with others in the organization.
Rate the meeting on a scale of 1 to 10 to determine how well it observed the agenda, whether it started and ended on time, and if it was generally productive.
Note: Eight is the ideal minimum digit you should score. If your score is below eight, your team must discuss the reasons for it and make plans to get a higher score in the next meeting.
Creating this template from scratch is difficult and time-consuming. There are many free printable templates online that you can customize and use. Choose a template with the required sections and edit it to suit your business, company, or organization's specific needs. It will save you time and effort while enabling you to remain effective.
Tips for Customizing the Template to Your Business Needs
Once you have downloaded your template, you must customize it to suit your business's specific needs. Below are some of the tips that you should consider when customizing:
Customize the IDS section
The IDS (Identity, Discuss, and Solve) section is where the team will spend most of the meeting time. Ensure you customize this section to focus on specific business issues and challenges. The aim is to prioritize and address these issues to progress toward the company goals.
Adjust the time allocated for each section
Each section has a specific time, which might not work for your organization. If so, focus on your needs and adjust the default time to ensure you address all crucial matters. For example, you might need to add more time for the to-do list section and reduce the conclusion time.
Include additional sections
You can include additional sections to your template if you have extra topics for discussion—for instance, sections for financial discussions or marketing updates. Whatever section you choose to add, always have the meeting time in mind.
Use a digital platform
Using a digital platform for your template is preferable, as this will streamline the process. You can access different software options to aid you in meeting preparation, note-taking, and tracking action items.
Get input from all attendees
Only finalize the customized template after getting input from all attendees. This way, everyone's concerns will be prioritized and addressed. Furthermore, the meeting will be more effective and productive if everyone's opinion is included.
Key Takeaways
A template for a level 10 meeting introduced by EOS is a vital tool meant to help organizations realize their goals by providing a framework for productive and effective meetings.
Held by the senior leadership team weekly, this meeting is complex and requires extensive pre-work. That means using a template will save you both time and effort.
Ensure that you include all the sections mentioned in the article. If you have downloaded your template, customize it to fit all the essential and additional sections.
The idea is to identify issues, prioritize and address them while ensuring all team members are part of the decision-making process.
According to EOS, organizations, businesses, and companies that use this framework for their meetings are more focused, goal-oriented, and successful in achieving their mission.