A Media Kit, also referred to as a Press Kit, is a collection of information and/or promotional material about the brand, product, event, or company to help the media, journalists, magazines, publicists, and any other interested parties to learn more about the product, brand, event or company.
A media kit is a collection of information that provides an overview of the brand or company, its business, and its operation. A media kit can vary in layout but typically includes; contact information, social media statistics, product images/links, photos of team members (if relevant), official logos (in all forms), including vector files for cutting, printed materials (if available) and past press clippings.
They are commonly used by companies interested in having their brand or company featured in the media, PR companies, brands/companies that have just launched a new product or service, etc.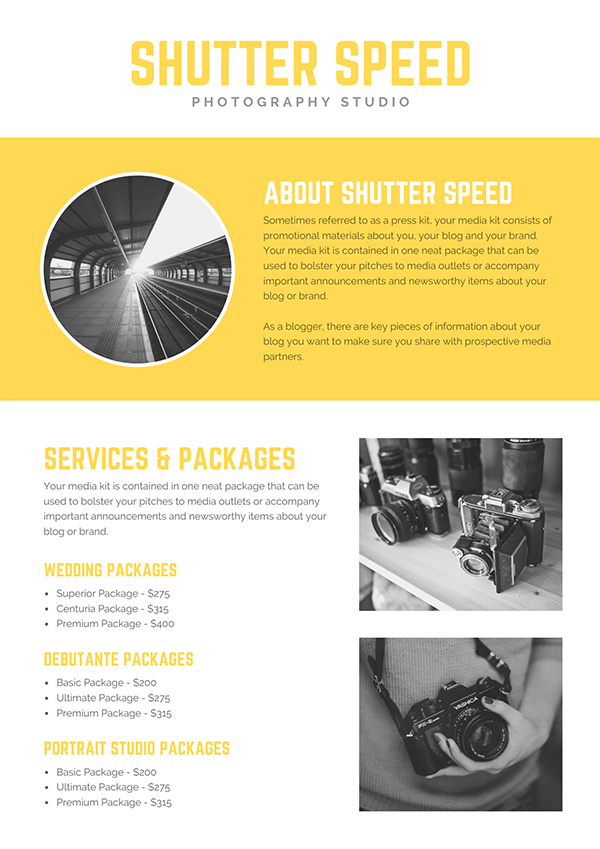 The contents included in a media kit will vary depending on the brand/company and their industry. However, some basic items must always be included.
These include:
Bio
The bio or "About Us" section should include a short paragraph that introduces the brand or company. It should then be followed by a more detailed/expanded version of the same information. The expanded bio section typically includes the history of the brand's formation, milestones achieved to date, and future aspirations. Use colors, visuals, and font styles that represent your brand.
Company background
The company background section can take various forms. For example, this section can be about the company's founders, the story behind how your brand or company started, any awards you have won, etc. This section must be written with the media or journalist in mind as you try to sell them on why they should cover you/your brand/company. Also, keep in mind that this section isn't about selling your products but rather selling your company's story and what makes it special.
Brand overview
The following section in the media kit will typically include an overview of the current product range and/or service offering. If possible, highlight any new products or services that will be arriving in the near future. This section should also include details about where to buy, pricing, and any other relevant information.
Media or PR contact information
The next item to include in your media kit is the contact/PR information. This should be a person whom journalists can call for comment or further information. It is important that this person is not just a PR or Marketing executive; it needs to be someone who genuinely knows and understands your brand/company. This person should be able to answer questions in an informed and accurate way.
Leadership biographies and headshots
A media kit will typically include a short biography about each leadership team member (e.g., CEO, Head of Sales, etc.). This should include their experience and any significant achievements that relate to your brand or company. Including this information gives journalists or other interested parties a better understanding of who is behind your brand and what makes them the right person to be heading it.
Graphics and photos
The photos and graphics included in a media kit should be of high resolution, preferably those taken during product photoshoots or lifestyle shoots designed to help market your brand or company. The images in your media kit help give journalists and other interested parties a visual impression of the brand or company. They may also be used in articles featuring the brand/company as part of an article's visuals (with credit).
NOTE: Images can include team members, individuals who have helped your brand or company succeed, images of your products/services used by customers, or anything that will help people connect to the brand. Images should be high-resolution and free from any watermarks.
B-roll footage
B-roll footage is short video clips taken during a photo shoot that can be used to easily "dress up" an article. The B-roll photographs should support the story being told in the body of the article. For example, if an article is about how your brand developed from a small startup into a major player, including photos and/or videos of the evolution will help journalists understand your story better.
If an article is about creating a brand that resonates with customers, then including B-roll footage of real people using your product/service will go a long way in helping the journalist understand this point. It is important to remember that B-roll can include images that will help journalists tell your story better in an article.
Social stats
Media kits may also include social stats (e.g., Facebook likes, Twitter followers, etc.). It is important to stay up-to-date with your brand's social media profiles and regularly check how many fans or followers you have gained/lost since the last time you checked. If possible, try to keep this section updated weekly.
Demographics
Another section that may be included in a media kit is demographic information. This should include your brand or company's target market(s), e.g., whom you are trying to sell to and how old they are. If journalists can see the people your brand/company is targeting, it will help them understand your brand better and connect with you.
Advertising opportunities
If possible, include an advertisement schedule in the media kit. This will allow journalists to see what ad space is available and when it will be released to media buyers/sellers. If a journalist can see that a certain date is filled with advertising opportunities, it builds trust between the journalist and your brand.
It allows them to know that you are a serious company with a regular ad schedule, which will, in turn, help them gain a better understanding of your brand and its messages.
Important or recent press releases
Another section that may be included in a media kit is a list of your most recent press releases. If possible, try to keep this section updated weekly. Including the latest news about your brand or company helps give journalists an impression that you are active in the media and open to sharing information.
This will also help them better understand what is going on with your brand/company and what the news is about in a concise, summarized form.
Previous partnerships and case studies
Another section included in a media kit is information about previous partnerships you've made with other brands or companies and case studies of clients who have used your services. If journalists can see that other brands are using your service/product, they will better understand why their readers might want to do the same. It also helps them connect with you by sharing which companies have chosen to work together in the past.
Other elements
If possible, include any other elements that will help journalists tell your brand's story better in an article. A media kit is a great opportunity to include anything about your brand that you think would be helpful for a journalist to know – from the name of your Social Media Manager to previous ad campaigns you've worked on or any interesting tidbits about how your company was founded.
Ideas about collaborating
Be sure to include a section in your media kit where you list any ideas of possible collaborations with another brand or company. This is a great opportunity to let journalists know that they can work together to create a stronger story that will benefit both parties and the readers they serve. If journalists know that there may be a benefit in including your brand in an article, they are more likely to take you up on the offer.
Testimonials
Include a section in your media kit where you list any testimonials from either journalists or other brands/companies who have worked with you before. Including positive feedback from other people about your company is a great way to show that you are an established brand that has worked with companies/sources in the media before. It shows journalists that their peers are open to working with your brand, which will hopefully encourage them to do the same.
Frequently Asked Questions
How can you distribute your Media Kit?
You can distribute your media kit by sending it via email to relevant contacts in the media, uploading it to online distribution channels, and sometimes even creating a physical folder with all of the content you leave at influencers' offices or stores at conferences. You can also post your media kit online on a dedicated website to make it even easier for journalists and writers to access all of your content at one time.
How can you build a better Media Kit?
Creating a better media kit means making your information as easy to access and digest as possible. Journalists and writers are busy people, so give them the information they need at their fingertips by using simple language over industry jargon and designating different sections clearly with colors or numbers. Color-coded cards/banners can be used to separate business data, contact information, various kinds of content in your media kit, and so on.
What is the engagement rate, and how can you calculate it?
Engagement rate measures how many online readers interact with a particular article, post, or page. The engagement rate is calculated by taking the number of people who engaged with your content after seeing it and dividing that number by the total number of impressions you received.